BREED TYPE / MIX
ENERGY
SHEDDING
TRAINING
TEMPERAMENT
ADULT WEIGHT
ADULT HEIGHT
LIFE SPAN
Goldendoodle Reviews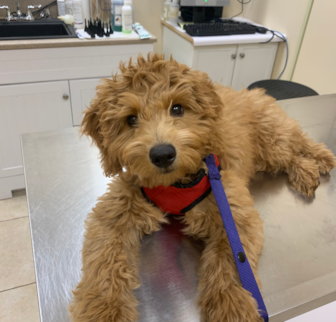 Finn (formerly Donato)
Goldendoodle Puppy
in Rhode Island
Finn is one of the best dogs we have ever had. Premier Pups answered all my questions regarding his parents and how he was handled before coming to our family which includes 4 kids. They were very understanding and pleasant to work with. They drove him to us and we met in a central location. He was fed, calm, clean and very happy. He is by far the smartest dog we've had. He's quick to learn and is extremely social with dogs and people. He's been the perfect addition to our house.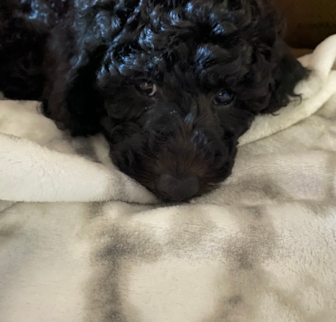 Hugo
Goldendoodle Puppy
in Monterey, CA
Just picked up my new puppy Blitzen (aka Hugo) yesterday and he's already made a big impression on our family. Everybody loves him. He is the sweetest puppy ever. Very lovable, playful, cuddly, and smart. He loves to run around and play even with the little kids and other pets in the family. But he also loves to take time to cuddle and rest. Thank you so much to Premier Pups for going above and beyond with their customer service to make sure I got Blitzen as soon as possible even with the holiday and covid. He is the perfect little puppy.

Baxter
Goldendoodle Puppy
in Connecticut
Jo-Ann and Mario
4/17/2020
We received our puppy Baxter, now Dude in November 2018. He was shipped from Premier Pups. He came in a carrying crate with food, water and preventative medicine. The vet was impressed and so were we on his arrival. We immediately fell in love when we saw him. He is so smart, friendly, and loving. He gets along with every dog and human he meets. As first time dog-owners, we could not ask for a better dog or experience than we had with Premier Pups.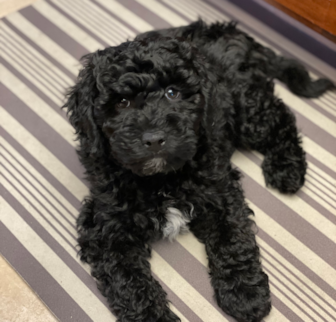 Charlie (was Rebel)
Goldendoodle Puppy
in Clovis, CA
Aaralisa Crouch
3/21/2021
We love our guy! He has caught on to training and does very well with our children! Premier Pups has checked in on us and offered so much guidance! We couldn't be more happier with the company and the puppy we chose!

Connie changed to Kona and Basil changed to Ziggy
Goldendoodle Puppy
in Avondale AZ
Theresa Lanzarotta
4/18/2020
On April 10 my second mini golden doodle from Premier pups arrived. Her name is Connie and I changed it to Kona.. She is the most adorable petite mini golden doodle ever, she's sweet she's playful she's funny. In the picture is her older sister who is 14 months old who name was originally Basil and I renamed her Ziggy. She also came from Premier pups. The two of them together are nothing but bundles of love and roly-poly craziness. I can't thank you enough both purchases were flawless and follow ups were great.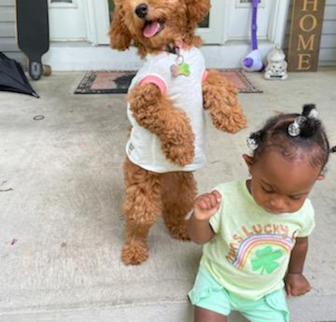 Khole
Goldendoodle Puppy
in California MD
I adopted khole, now renamed Hennessy may 2021. I have now had her for going on three months and she is striving. Hennessy is very healthy my vet said she's in Excellent shape. Hennessy is so good with children and other dogs.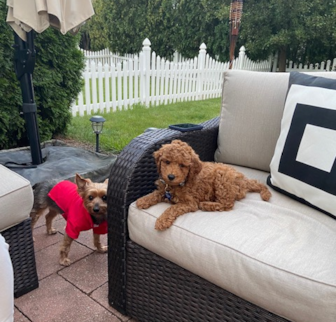 Spencer (Ollie)
Goldendoodle Puppy
in New Albany, Ohio
We picked up Spencer (Ollie) about a week and a half ago and know that we made the right decision. Ollie is the perfect addition to our family and Premiere Pups was the right company to go through. We heard of Premiere pups through our friends that live in Los Angeles. We originally had a deposit on a Goldendoodle in SC but when we heard about how great the staff is at Premiere Pups, we decided to look to them for our next addition. It didn't hurt that they are literally located less than 10 miles from where we live. They have answered all questions that my wife and I have had regarding Ollie's care - couldn't be more satisfied with our decision. Thank you John especially but to everyone that we have been in touch with. Ollie & Benson (wearing the OSU shirt - go bucks!) are even starting to warm up to each other. -Lee Gunn