NationWide Shipping
CALL OR TEXT ANYTIME 740-809-3074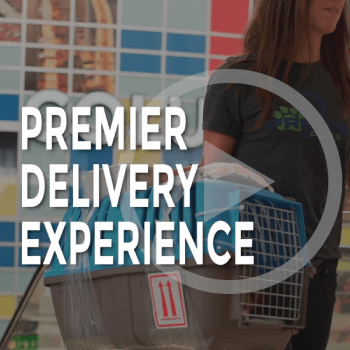 Picking Up Your Puppy from the Airport
If you're outside of our area, our knowledgeable staff will make sure that you have everything you need to smoothly pickup & transition your pup from flight and into your home.
-Watch video above-
---
Please contact our Customer Care with any flight-related questions
Shipping Your Puppy
Shipping Options & Flight Requests
Here's the shipping options, and what type of flight requests we accept with each option.
Please contact our Customer Care team if you would like to upgrade
your shipping option and make a special request.
Puppy receives first available day and flight we can find after all Priority & VIP pups have been booked. you cannot choose the day of your puppy's flight. If you want some flexibility on the arrival day, please choose Priority. If you have already placed your order, you can upgrade to Priority. Call our Customer Care line to upgrade. NOTE: If you request a change in your puppy's flight, a fee of $100 will be charged to upgrade to Priority.
Puppy receives first available flight and takes priority over basic shipping. Customer is able to change the day of flight to one of our other flight days to accomodate schedule. This does not mean we will hold the dog for an extra length of time, it simply means we will accommodate to your schedule as well as possible and you will have more options.


Your puppy will have a personal concierge through the entire process. Customer will have a direct contact with their puppy concierge. Your puppy can fly on any day, and we will attempt to accommodate customers timing requests as best as possible. We will attempt to fly the puppy on a direct flight if available. With VIP service, your puppy is transported to the airport by itself with no other pups, receiving full attention of their appointed concierge.
About your puppy's flight
Your puppy will be flown in an Airline-Appoved Pet Carrier (with food & water) and always in temperature and pressure-controlled environment. We recommend getting the optional Comfy travel Package (includes a soft bed and toy) to ensure your puppy's flight is first class-comfort!
Once we receive notification that you have completed the adoption process, we will coordinate the best time and date to fly your puppy to your nearest major airport. You will receive an email with your puppy's flight details and our Puppy Care Guide. You will pick up your puppy at the cargo service area of your puppy's destination airport.
With industry-leading services, the airlanes we use provides safe transport of your puppy. Their programs address the special needs of your puppy by providing a comfortable traveling experience for your puppy through temperatured-controlled vans and holding areas to prevent exposure to extreme heat or cold temperatures, unparalleld customer service from a dedicated team of professionals who help ensure a seamless journey for your pups, and specially trained ground handles for personalized care on the go.
How to track your puppy's flight
You will find your puppy's flight information in an email from us with subject "Puppy's Flight Info & Care Guide".
Below you will find links to track your puppy's flight and to look up your cargo facility's location.
Make sure you track your puppy's flight prior to leaving the airport in case of a delay / change.
Typically your puppy will be ready for pick up about 30-45 minutes after their arrival time.
If tracking # begins with

If tracking # begins with

If tracking # begins with