WATCH VIDEO - WELCOME TO PREMIER PUPS
At Premier Pups we strive to deliver the nation's premier puppy adoption experience. We appreciate and celebrate the difference our puppies can make in the quality of one's life.
Small Breed Puppies for Sale
Puppies with a GUARANTEE
10 Year Health Guarantee
The health of your new family member is our primary concern. We take all necessary precautions from vet inspection of our pups to their parents requirement to pass annual exams. If there's something undiscoverable at 8 weeks of age that later comes up as hereditary or congenital, you're covered. We stand behind our pups with up to a 10 Year guarantee.

Pre-Screen Puppy Blood Evaluation: A comprehensive chemisty profile ideal for canine screening; the Chem 10 allows for a thorough look at the puppies organ function, which helps detect mainly issues with liver and kidney function. This initial bloodwork can offer insight on the health of your puppy at a fraction of the rate your local vet would charge. Detecting issues with organ function is impossible at a normal vet physical. Know your pup's baseline and start off with maximum peace of mind with the Idexx Chem 10 test.
Nationwide Puppy Delivery Options
Pro Stop Ground Delivery: Our professional delivery team will bring your new puppy via our first-class in-person delivery service. Let our trained staff travel with and care for your new family member.
Airport Delivery: Your puppy will fly in comfort via commercial airline transportation. Our experienced travel team will coordinate the best flight possible for your little fur baby.
Customer Pickup Experience
We welcome any customers to come and visit our home in Central Ohio. At Premier Pups We can't wait to see the excitement and happiness every puppy brings to their new owner. Our staff will make sure you are comfortable and prepared to take your puppy to their forever home.
Customer Photos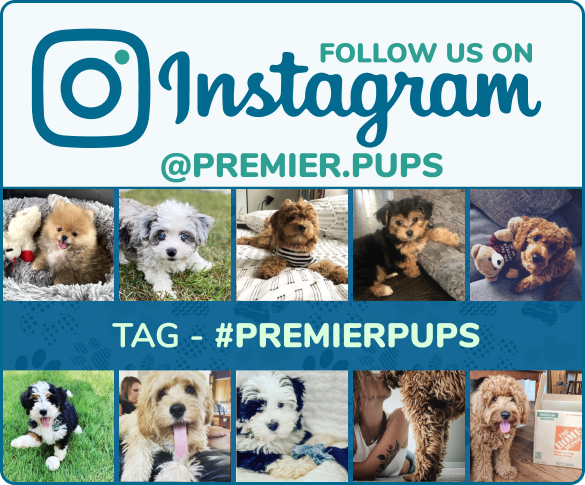 Premier Pups provides updated content daily of all our family members across the country. Remember to tag @premier.pups in stories, photos and reels for a feature on our page. We love to highlight our fur babies from our loving families for everyone to enjoy. Follow us on our Instagram page today!
** Discounts subject to approval and are subject to change at any time. Maximum available discount is 10%. Discounts may not be available in all states. Renewals are not eligible for this promotion. Not valid with any other offer. This offer is subject to change at any time without notice. All coverage and limit options may not be available to all customers and are subject to underwriting approval. Exam fees based on average costs. Televet may not be available in all states.
Breeders with INTEGRITY
Our breeder partners are our allies in serving the interests of our clients in bringing to market the highest quality puppies available. We seek breeder partnerships that share our concern for social responsibility and the environment. We have a zero tolerance for substandard breeders.
Breeders with COMMITMENT
Developing long-term, personal relationships with breeders means we can work closely with the people, who raise the puppies we provide. We frequently visit our breeders to ensure our puppies and the practices used to raise them are always improving. With our breeders, their pets and pups are their main focus and priority.
Frequently Asked Questions
How big do Cavapoos get? The average weight of an adult Cavapoo is between 15 to 20 pounds with a height of between 18 to 14 inches.
Are Cavapoos hypoallergenic? It depends on which parent breed they take after more. If your Cavapoo has more Poodle in their genes then there is a good chance that it will be more hypoallergenic then if they had more Cavalier in their genes. It is important to note, that no dog is truly 100% hypoallergenic.
What is the difference between a F1 and F1b? A F1 generation is a Maltese and a Poodle. This is a result of crossing a Maltese with a Toy Poodle. F1b generation is a Maltipoo (F1) and a Poodle. This is a result of crossing a Maltipoo back to a Toy Poodle.
Is it difficult to train a Maltipoo? No. As with any puppy, you have to be patient and very consistent with your training.
What is a Mini Portidoodle? A Mini Portidoodle is a doodle breed, a mix between a Portuguese Water Dog and a Miniature Poodle.
Are Mini Portidoodles hypoallergenic? Yes. Although no breed is 100% hypoallergenic, the Mini Portidoodle is a great choice for owners who suffer from pet-related allergies.
How big do Mini Goldendoodles get? At full growth the average height of a Female Minature Goldendoodle is between 17-19 inches with an average weight of 20-35 lbs. For Male Miniature Goldendoodles their average height is between 16-17 inches with an average weight of 18-30 lbs.
What types of coats do Miniature Goldendoodles have? They can have a straight, wavy or even a curly coat. You can best tell what type of coat your puppy will have when they reach about 6 weeks of age.
What kind of dog is a Teddy Bear? Teddy bears are designer dogs, which are the result of two or more breeds. Most commonly, their parents are Shih Tzu and Bichon Frise's, Shih Tzu and Maltese or Bichon-Poodle mixes.
What are the Teddy Bear breeds? The Teddy Bear breed includes the Zuchon, Pomeranian, Poochon, Shih Poo, Mini Goldendoodle, Maltipoo, MorkieSchnoodle, Cavapoo, Malshi , Cairnoodle, Cockapoo, Westiepoo, Shorkie, Pomapoo, Yorkipoo, Pomchi, Peekapoo and Cavachon.
What is a Maltipom? A Maltipom is a designer cross breed between the Pomeranian and the Maltese.
What were Maltipom's bred for? This breed was developed for companionship?
What is a Pomsky? A Pomsky is a designer dog breed that is made from a female Husky and a male Pomeranian.
Are Pomsky's hypoallergenic? No, these pups have a double coat of heavy hair that sheds.
What is a Shih Pom? A Shih Pom is a designer breed, a mix between a Shih Tzu and a Pomeranian.
Are Shih Poms hypoallergenic? The Shih Pom is considered hypoallergenic and is good for allergy sufferers. It's important to note that no dog breed is 100% hypoallergenic.
How big do Poodles get? Poodles come in three sizes: Standard, Miniature, and Toy. The Standard measures over 15 inches at the shoulder and most are in the 22-27? range. The Miniature measures between 10 and 15 inches at the shoulder and most are in the 13-15? range. The Toy measures 10 inches and under at the shoulder.
How much grooming do Poodles require? Poodles should be brushed a minimum of once per week with regular scheduled grooming appointments have 5 to 6 weeks.
What type of dog is a Havanese? The Havanese is part of the Bichon canine family, but they are a pure breed on their own. They are short-legged with a sturdy gait.
How big is the Havanese? The height ranges of a Havanese are between 8-1/2 to 11-1/2 inches with weight ranges from 7 to 13 lbs.
What is a Cavalier King Charles Spaniel? The cavalier is a toy spaniel that was originally bred to warm the laps of queens of England in drafty castles and on chilly carriage rides.
Are Cavaliers good with children? Cavaliers are excellent with children, but the age of the children is an important factor in choosing a puppy. Because Cavalier puppies are so small, many breeders will not sell young puppies to families with children under the age of five. An older puppy or adult dog will be more suitable for such families. Small children should always be well supervised when around a delicate puppy.