WATCH VIDEO - WELCOME TO PREMIER PUPS
At Premier Pups we strive to deliver the nation's premier puppy adoption experience. We appreciate and celebrate the difference our puppies can make in the quality of one's life.
Small Breed Puppies for Sale
Puppies with a GUARANTEE
10 Year Health Guarantee
The health of your new family member is our primary concern. We take all necessary precautions from vet inspection of our pups to their parents requirement to pass annual exams. If there's something undiscoverable at 8 weeks of age that later comes up as hereditary or congenital, you're covered. We stand behind our pups with up to a 10 Year guarantee.
Breeders with INTEGRITY
Our breeder partners are our allies in serving the interests of our clients in bringing to market the highest quality puppies available. We seek breeder partnerships that share our concern for social responsibility and the environment. We have a zero tolerance for substandard breeders.
Breeders with COMMITMENT
Developing long-term, personal relationships with breeders means we can work closely with the people, who raise the puppies we provide. We frequently visit our breeders to ensure our puppies and the practices used to raise them are always improving. With our breeders, their pets and pups are their main focus and priority.
Accident & Illness coverage at the VET of YOUR CHOICE!
Low monthly payment
covers up to 80%
of the following treatments:



IDEXX Pre-Screen Blood Evaluation Tests
A comprehensive chemisty profile ideal for canine screening; the Chem 10 allows for a thorough look at the puppies organ function, which helps detect mainly issues with liver and kidney function. This initial bloodwork can offer insight on the health of your puppy at a fraction of the rate your local vet would charge. Detecting issues with organ function is impossible at a normal vet physical. Know your pup's baseline and start off with maximum peace of mind with the Idexx Chem 10 test.
Nationwide Puppy Delivery Options
If you're outside of our area, our knowledgeable staff will make sure that you have everything you need to smoothly pickup & transition your pup after flight or ground delivery. Premier Pups offers airline travel, ground delivery as well as premium in person delivery options.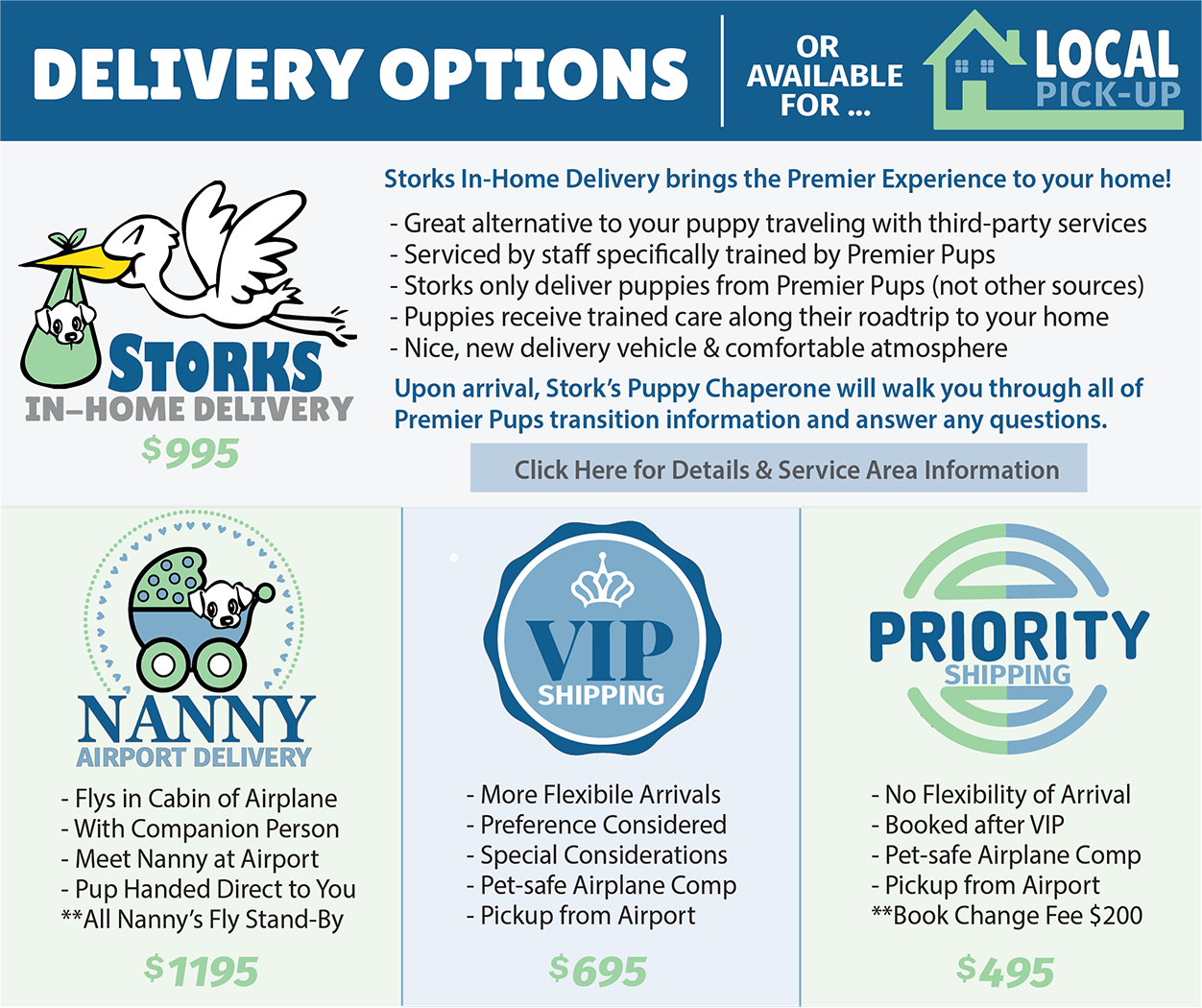 Customer Pickup Experience
We welcome any customers to come and visit our home in Central Ohio. At Premier Pups We can't wait to see the excitement and happiness every puppy brings to their new owner. Our staff will make sure you are comfortable and prepared to take your puppy to their forever home.
Customer Photos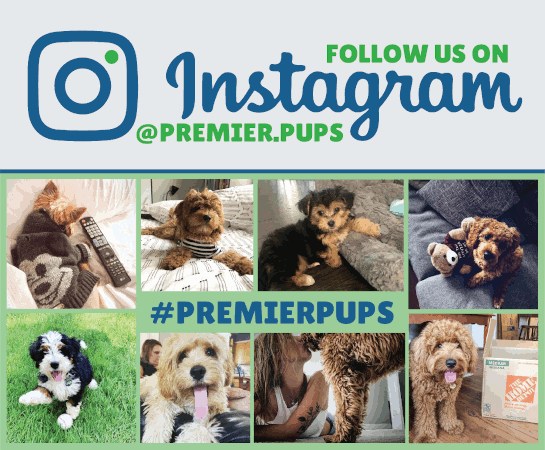 Premier Pups provides updated content daily of all our family members across the country. Remember to tag @premier.pups in stories, photos and reels for a feature on our page. We love to highlight our fur babies from our loving families for everyone to enjoy. Follow us on our Instagram page today!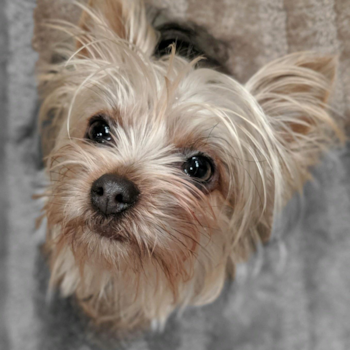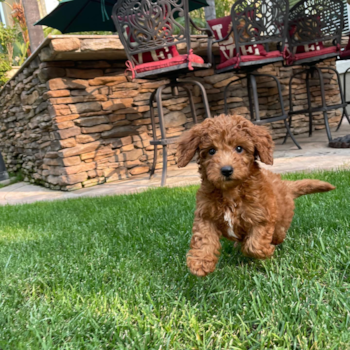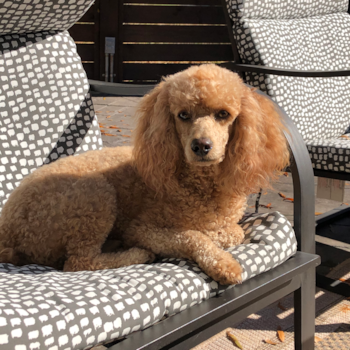 Post photos of your puppy as it grows! Premier Pups and our network of trusted breeders love receiving updated photos of the puppies. Posted pictures will appear in the puppy photo gallery and breed information page for everyone to enjoy.
Customer Reviews

Janet - now Daisy
Teddy Bear Puppy
in Ridgewood, NY
Maciej Swieboda
8/14/2021
After extensive research we decided to go with Premier pups, we are so glad we did. Our dog arrived in excellent condition, healthy and super happy. That was back in March. The pup brought a lot of joy to our household. She is one happy fur ball. Thank you Premier Pups :)

LouLou (Kylie)
Mini Goldendoodle Puppy
in Naples, Florida
We got LouLou at the beginning of May and have loved her since the minute we got her! She is the biggest bundle of joy and brings us all so much happiness. Premier Pups was so wonderful through the entire process, and they answered all of the (many) questions we had! We couldn't be happier!

Ollie
Pomeranian Puppy
in NJ
Iwona Wadolowski
7/10/2021
We got ollie in 2017. Everyone in the family is obsessed with him. We cant imagine life without him.

Bradley
Havanese Puppy
in Dayton, Ohio
The Rubin Family
5/21/2020
our kids have been wanting a dog forever! The problem has been our allergies until we found a Bradley at Premier pups. there were a few pups we liked and we took the drive on New Year's Day 2020 not knowing if we were going to get a dog. In the end… Bradley was meant for us! His personality matched ours and not one of us felt any sort of allergy with him. He is now seven months old and we could not imagine him not in our family. He's absolutely the best dog ever!!! we highly highly recommend Premier pups top-notch facility. Staff super super nice, knowledgeable, hands-on. gain premier pups… Follow Bradley to have a Nice on Instagram

Mosa (formerly Winslet)
Pomeranian Puppy
in California
I adopted Mosa (formerly Winslet) last month! I was so nervous to purchase a pup online and have been wanting a Pomeranian for so many years now. She's amazing and we are so in love! Premier Pups was so helpful and there for you every step of the way. Truly made the transition as seamless as possible!! Highly recommend.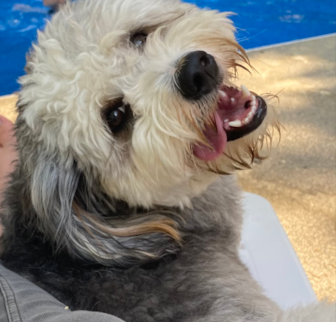 Pippa
Mini Bernedoodle Puppy
in Cortlandt, NY
When we decided to get a dog, I was so hesitant to do so from a website. However, this has been the most incredible dog, and the experience was seamless! We got a mini Bernedoodle for our young family, and she is a dream. She is about 1.5 years and the sweetest girl in the whole world. There is not a single mean bone in her body - which is exactly how I wanted it! I would be too stressed to have a serious "guard dog" in the home that needed to be trained so as to not hurt people. She is smart and super loyal - doesn't like to let me or my husband out of her sight. She is also not too hyper after the first year, which is a exactly why I picked this breed over the Goldendoodle. I highly recommend a mini Bernedoodle, and I highly recommend Premier Pups!

Kobe (was Jared)
Cavapoo Puppy
in Florida
We have had Kobe for a month now (he is nearly 14 weeks) and we are so happy! My twin 10 year old girls finally have their pup. His flight was delayed multiple times because of bad weather, but I was kept well informed of every change. He was definitely in the too excited to eat category initially but I just followed Premier Pups and Dr Pup's instructions and now he loves his food (and I can use it for training)! He is sleeping through the night with no accidents in his crate (or even the house)! He is so clever with his training already - we are proud of him! Also, our vet commented that he was such a lovely healthy dog too. Premier Pups you have made our whole family so happy - Thank You!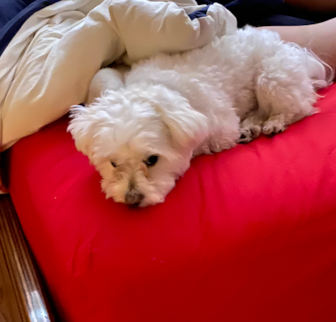 Lennox
Maltese Puppy
in Whitehall PA
We bought Lennox around Mother's Day in 2018, for my mom (and the rest of us) it was love at first sight and we had made our decision.Currently he is about 2 years and 2 months old he is very adventurous, is very alert, loves meeting new people and new dogs, he is the absolute cutest dog in the world, a amazing friend, and loves laying next to or on you.If you are looking for small dogs or a dog general I recommend premier pups they have the best customer service and cutest dogs.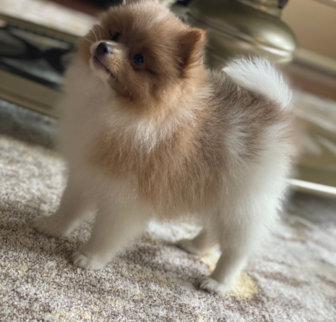 Salem
Pomeranian Puppy
in Michigan
This is my first time give a review!! I honestly couldn't be more happy with my pom he's so clean happy and healthy !! We named him milo he add so much joy to are family I would highly recommend primer pup their customer service is amazing ????

Enzo (previously Maserati)
Mini Goldendoodle Puppy
in Arizona
I got my puppy in July 2021. Was skeptical about buying online and not having met him in real life. In the end, it was the best decision I made! He's so smart, fun and loving. And he's beautiful and healthy! Although pricey, I would absolutely buy again from premier pups.
Frequently Asked Questions
How big will my Mini Goldendoodle get as an adult? At full growth the average height of a Female Minature Goldendoodle is between 17-19 inches with an average weight of 20-35 lbs. For Male Miniature Goldendoodles their average height is between 16-17 inches with an average weight of 18-30 lbs.
What types of coats do Miniature Goldendoodles have? They can have a straight, wavy or even a curly coat. You can best tell what type of coat your puppy will have when they reach about 6 weeks of age.
How big do Cavapoo's get? The average weight of an adult Cavapoo is between 15 to 20 pounds with a height of between 18 to 14 inches.
Are Cavapoo's hypoallergenic? It depends on which parent breed they take after more. If your Cavapoo has more Poodle in their genes then there is a good chance that it will be more hypoallergenic then if they had more Cavalier in their genes. It is important to note, that no dog is truly 100% hypoallergenic.
How big does a Poochon get? A Poochon will reach an average height of 9 to 12 inches and an average weight of 6.6 to 11 lbs.
What is the temperament of a Poochon? Poochon's are sweet, loyal and eager to please. They love their humans and make for the ideal companion dog.
What is the difference between a F1 and F1b? A F1 generation is a Maltese and a Poodle. This is a result of crossing a Maltese with a Toy Poodle. F1b generation is a Maltipoo (F1) and a Poodle. This is a result of crossing a Maltipoo back to a Toy Poodle.
Is it difficult to train a Maltipoo? No. As with any puppy, you have to be patient and very consistent with your training.
What type of dog is a Havanese? The Havanese is part of the Bichon canine family, but they are a pure breed on their own. They are short-legged with a sturdy gait.
How big is the Havanese? The height ranges of a Havanese are between 8-1/2 to 11-1/2 inches with weight ranges from 7 to 13 lbs.
What is a Cavalier King Charles Spaniel? The cavalier is a toy spaniel that was originally bred to warm the laps of queens of England in drafty castles and on chilly carriage rides.
Are Cavaliers good with children? Cavaliers are excellent with children, but the age of the children is an important factor in choosing a puppy. Because Cavalier puppies are so small, many breeders will not sell young puppies to families with children under the age of five. An older puppy or adult dog will be more suitable for such families. Small children should always be well supervised when around a delicate puppy.
What is the life expectancy of a French Bulldog? The average life expectancy is 10 to 12 years.
Does the French Bulldog shed? Yes, but because this breed has a single coat it sheds far less than most other breeds.
How big do Poodle's get? Poodle's come in three sizes: Standard, Miniature, and Toy. The Standard Poodle measures over 15 inches at the shoulder and most are in the 22-27? range. The Miniature Poodle measures between 10 and 15 inches at the shoulder and most are in the 13-15? range. The Toy Poodle measures 10 inches and under at the shoulder.
How much grooming do Poodle's require? Poodle's should be brushed a minimum of once per week with regular scheduled grooming appointments have 5 to 6 weeks.
What kind of dog is a Teddy Bear? Teddy bears are designer dogs, which are the result of two or more breeds. Most commonly, their parents are Shih Tzu and Bichon Frise's, Shih Tzu and Maltese or Bichon-Poodle mixes.
What are the Teddy Bear breeds? The Teddy Bear breed includes the Zuchon, Pomeranian, Poochon, Shih Poo, Mini Goldendoodle, Maltipoo, MorkieSchnoodle, Cavapoo, Malshi , Cairnoodle, Cockapoo, Westiepoo, Shorkie, Pomapoo, Yorkipoo, Pomchi, Peekapoo and Cavachon.
What is a Pomsky? A Pomsky is a designer dog breed that is made from a female Husky and a male Pomeranian.
Are Pomsky's hypoallergenic? No, these pups have a double coat of heavy hair that sheds.
What is the difference between a Cavachon and a Cavapoo? A Cavachon is a cross breed between a Bichon Frise and a Cavalier King Charles Spaniel, whereas the Cavapoo is a cross breed between a Poodle and a Cavalier King Charles Spaniel.
Are Cavachon's hypoallergenic? The Cavachon is not truly hypoallergenic, though they have a coat very similar to their Bichon Frise parent and therefore shedding is minimal to none making them a great option for those who suffer from pet allergies.
What breeds make a Morkie? The Morkie is a crossbreed of the Maltese and Yorkshire Terrier.
How big is a Morkie? A Morkie on average measures 7 to 9 inches at shoulder in height and weighs between 4 to 7 lbs.