WATCH VIDEO - WELCOME TO PREMIER PUPS
At Premier Pups we strive to deliver the nation's premier puppy adoption experience. We appreciate and celebrate the difference our puppies can make in the quality of one's life.
Small Breed Puppies for Sale
Puppies with a GUARANTEE
10 Year Health Guarantee
The health of your new family member is our primary concern. We take all necessary precautions from vet inspection of our pups to their parents requirement to pass annual exams. If there's something undiscoverable at 8 weeks of age that later comes up as hereditary or congenital, you're covered. We stand behind our pups with up to a 10 Year guarantee.

Pre-Screen Puppy Blood Evaluation: Maximum peace of mind with the chemistry evaluation test; the chemistry evaluation allows for a thorough look at the puppies organ function, which helps detect mainly issues with liver and kidney function. This initial bloodwork can offer insight on the health of your puppy at a fraction of the rate your local vet would charge. Detecting issues with organ function is impossible at a normal vet physical. Know your pup's baseline and start off with maximum peace of mind with the Chemistry Evaluation test.
Nationwide Puppy Delivery Options
Pro Stop Ground Delivery: Our professional delivery team will bring your new puppy via our first-class in-person delivery service. Let our trained staff travel with and care for your new family member.
Airport Delivery: Your puppy will fly in comfort via commercial airline transportation. Our experienced travel team will coordinate the best flight possible for your little fur baby.
Customer Pickup Experience
We welcome any customers to come and visit our home in Central Ohio. At Premier Pups We can't wait to see the excitement and happiness every puppy brings to their new owner. Our staff will make sure you are comfortable and prepared to take your puppy to their forever home.
Customer Photos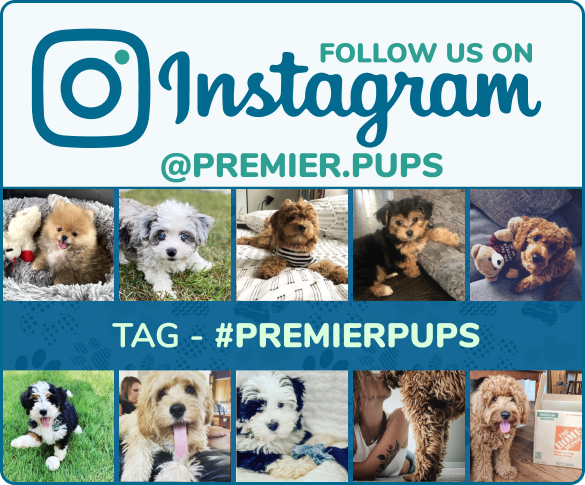 Premier Pups provides updated content daily of all our family members across the country. Remember to tag @premier.pups in stories, photos and reels for a feature on our page. We love to highlight our fur babies from our loving families for everyone to enjoy. Follow us on our Instagram page today!
** Discounts subject to approval and are subject to change at any time. Maximum available discount is 10%. Discounts may not be available in all states. Renewals are not eligible for this promotion. Not valid with any other offer. This offer is subject to change at any time without notice. All coverage and limit options may not be available to all customers and are subject to underwriting approval. Exam fees based on average costs. Televet may not be available in all states.
Breeders with INTEGRITY
Our breeder partners are our allies in serving the interests of our clients in bringing to market the highest quality puppies available. We seek breeder partnerships that share our concern for social responsibility and the environment. We have a zero tolerance for substandard breeders.
Breeders with COMMITMENT
Developing long-term, personal relationships with breeders means we can work closely with the people, who raise the puppies we provide. We frequently visit our breeders to ensure our puppies and the practices used to raise them are always improving. With our breeders, their pets and pups are their main focus and priority.
Frequently Asked Questions
What makes our dog breeders unique in the puppy sales industry? Our dog breeders aren't just professionals; they are passionate about their work. Each breeder ensures the puppies are from parents with excellent genetic traits.
How do we select breeders for dogs? We select breeders for dogs who are dedicated to improving breed standards. They meticulously match dogs to ensure high-quality, healthy puppies.
Are there local puppy sales near me? Yes, we offer nationwide delivery, so no matter where you are, you can get a puppy from Premier Pups.
What is the smallest dog breed available at our store? We offer various small breeds, including teacup Maltipoos, Chihuahuas, and Pomeranians, known as some of the smallest dog breeds globally.
What should I expect when ordering a puppy from our nationwide "puppy sales near me" service? Expect a simple ordering process, timely nationwide delivery, and the peace of mind of a 10-year health guarantee on your new puppy.
What steps do we take to ensure the health and well-being of our puppies? We work closely with dedicated, professional dog breeders who utilize premium quality health screening practices. Each puppy is guaranteed a 10-year health plan that underscores our commitment to their longevity.
Why is it important to choose a puppy from registered dog breeders? Choosing a puppy from registered breeders helps to ensure that your new pet is healthy, well-socialized, and has been bred responsibly.
How do you make sure your puppies are healthy? Our partnership with professional, passionate dog breeders who use advanced health screening practices helps us ensure the wellbeing of our puppies.
Should I go for a purebred or a designer puppy? What's the difference? Purebred puppies have predictable traits in terms of size, temperament, and potential health risks. Designer puppies can offer the best of two breeds. Either way, we can help guide you to choose the perfect fit based on your lifestyle.
Can you tell me more about your 10-year health guarantee? Our 10-year health guarantee shows how confident we are in our breeding practices. It's designed to cover any genetic disorders, giving you peace of mind when you adopt from us.
Do your puppies get to play with other dogs and people before I bring them home? Yes, all our puppies are raised in nurturing environments, where they can play and socialize with other dogs and humans. This helps them to become well-adjusted adults.
After I buy a puppy, can you give me some advice on training? Yes, we offer comprehensive support for all new puppy parents, including advice on training, behavior management, and general care.
How do you choose which dogs to breed? We select parent dogs based on their health, temperament, breed standards, and excellent genetic traits. This ensures that we breed only the highest quality puppies.
How do you make sure puppies are safe and healthy during delivery? We follow strict protocols during nationwide delivery, ensuring your puppy arrives in excellent health, safe, and ready to become part of your family.
I want to adopt a puppy. What is the process? Our puppy adoption process is designed to ensure the best match between the puppy and the owner. We provide full guidance and make it as smooth and enjoyable as possible.
What does it mean when a puppy is AKC registered? An AKC registered puppy means the pup is recognized by the American Kennel Club as a breed standard. This registration provides reassurance about the puppy's lineage and health.
What are your dog breeding standards? Our dog breeding standards align with the best industry practices. We choose parent dogs based on their health, temperament, and excellent genetic traits. This ensures we breed high-quality, healthy puppies.
How do you select your dog breeders? We choose our dog breeders based on their dedication to animal welfare, ethical breeding practices, expertise, and experience. We only partner with breeders who share our commitment to breeding healthy, happy puppies.
What sets your breeders apart from others? Our breeders prioritize the health and well-being of our puppies above all. They follow stringent breeding protocols, ensuring each puppy is carefully bred from parents with the best genetic traits. Our breeders are also passionate dog lovers who have been pet parents long before they became certified dog breeders.
How can I be sure the puppies come from reputable breeders? We hold our dog breeders to rigorous standards. Each breeder we work with is thoroughly vetted to ensure they uphold our values of responsible, ethical, and professional dog breeding.
How does the puppy sales process work? Our puppy sales process is designed to be seamless and transparent. Once you choose your puppy, we guide you through every step, including payment, financing options, preparation for your puppy's arrival, and delivery arrangements.
Are there any warranties or guarantees with your puppy sales? Yes, we offer an unmatched 10-year health guarantee on all our puppies. We stand behind our breeders and the puppies we offer, ensuring you're getting a healthy, well-bred pet.
What type of veterinary care do the puppies receive before sale? Prior to sale, our puppies receive comprehensive veterinary care including vaccinations, de-worming, and thorough nose-to-tail health checks to ensure they are in perfect health when they arrive at their new homes.
Are your dog breeders knowledgeable about breed-specific health issues? Absolutely, our breeders are experts in breed-specific health issues and ensure parent dogs are screened for these conditions to minimize health risks.
Are there any hidden fees in your puppy sales process? No, we uphold a policy of full transparency in our sales process. Any costs associated with your puppy purchase will be clearly outlined and discussed with you.
How do your breeders ensure the puppies are mentally and physically healthy before they are sold? Our breeders perform regular health checks and provide a stimulating environment for the puppies to ensure they are mentally and physically healthy.
How can I trust that your puppy sales are legitimate? Our business operates with transparency and integrity. We offer a 10-year health guarantee for all our puppies, provide all necessary paperwork, and ensure you meet your puppy before finalizing the purchase.
Do you offer post-sale support and advice? Yes, we offer ongoing support and advice even after the puppy sale, ensuring you have all the help you need as your puppy grows.
Do your breeders specialize in any rare or unique dog breeds? Our network of breeders includes specialists in various breeds, including some that are considered rare or unique. We encourage you to reach out to us with your specific needs or interests.