Maltipoo Breed Information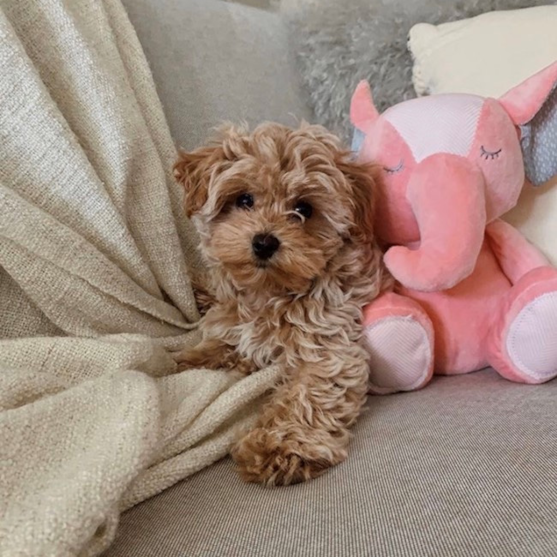 A cross between the loving and joyful Maltese and the clever and agile Poodle, the Maltipoo puppy is one of the most popular and sought-after designer doodle dogs in the country. Checking all the boxes for brains, looks, and personality, the Maltipoo puppy can turn any house into a happy home. This Maltese Poodle mix is affectionate, fun, easy to train, and even easier to love.  
Puffy like a cloud, friendly, loving, playful, and brilliant, the Maltipoos are certainly as gorgeous in appearance as they are in personality. They have classic puppy eyes, endearing floppy ears, a cute button nose, and a soft fluffy coat.  
BREED TYPE / MIX Doodle Hybrid / Poodle crossed with a Maltese ENERGY Moderate SHEDDING Minimum TRAINING Responsive TEMPERAMENT Affectionate, Energetic, Gentle, Intelligent, Loving ADULT WEIGHT 5-10 lbs ADULT HEIGHT 9-12 in LIFE SPAN 10-14 yrs
Maltipoo Characteristics
The Maltipoo is also commonly known as Maltepoo, Multipoo, Maltese Poodle mix, and Teddy Bear Maltipoo
Patient, kind, with a calm temperament and a sweet disposition, the Maltipoo is an excellent therapy dog  
The Maltipoo is best suited for large and small families, with or without children, singles, and seniors  
Maltipoo hypoallergenic qualities. The Maltipoo sheds very little and is considered one of the best hypoallergenic dog breeds.
The Maltipoo puppies tend to not show favorites. As family-attached dogs, Maltipoos love every family member equally  
Loving, outgoing, and playful, the Maltipoos make fast friends with everyone they meet – they are friendly with cats, other pets, children, and even strangers  
Maltipoo hybrid vigor. The Maltipoo lifespan is 12 to 15+ years  
The Maltipoos are highly adaptable – whether it's a small apartment, a big house with or without a yard, the Maltipoo is quick to adapt to any living situation  
Easy to train, groom, and love, the Maltipoo dogs are an excellent choice for first-time pet owners  
The Maltipoo size is small to toy with the rarest being Mini Maltipoo (Miniature Maltipoo), Toy Maltipoo, and Teacup Maltipoo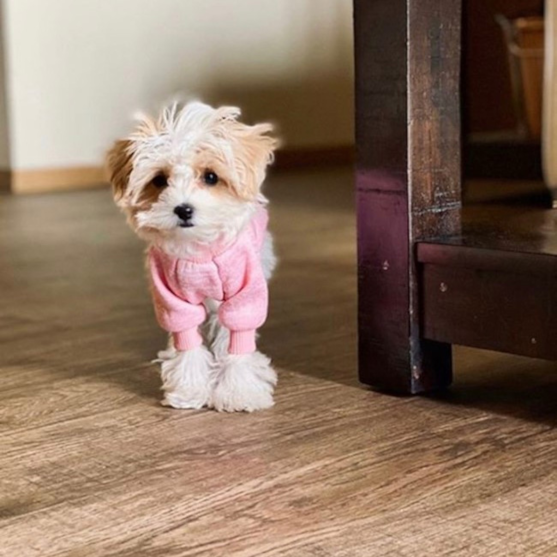 Maltipoo Breeders
WATCH VIDEO of our Breeder Care
Here at Premier Pups, we work hand-in-hand with our breeders. It truly takes a special breeder to assist with nourishing and raising a Maltipoo puppy properly. The footage produced in our videos is 100% real. We directly take un-staged, unedited, and only authentic scenes at our breeder locations. We only align ourselves with the best Maltipoo breeders whose standards are much higher than the rest. Like people, the most critical moments in a puppy's life starts in the beginning. Providing a safe, natural, comfortable, and healthy environment for the nursing mother and her baby is essential. Only the nation's highest-rated Maltipoo breeders can provide the best quality of life. We spend consistent on-site time with our selected breeders and can undoubtedly say that our puppies come from a very caring environment.
Maltipoo Appearance
True to their parent breeds, the Maltipoo dogs inherit the small size of both the Maltese and the Poodle standing at 9 to 12 inches tall and weighing between 5 to 10 pounds fully grown. Depending on which parent genes dominate the most, a full-grown Maltipoo can stand on either end of the scale, with the most common size being 10 inches and around 8 pounds for a Maltipoo adult. A full-grown Teacup Maltipoo is on the lower end of the scale with a height of up to 8-9 inches and a weight of 5 to 7 pounds.  
With a sweet puppy face, beautiful dark round expressive eyes, an adorable dark button nose, and endearing floppy ears, the Maltipoo is one of the most sought-after doodle puppies and it's easy to see why. These dogs appear joyful and friendly, and their attitude inspires affection. Their step is bouncy and they always seem ready for a cuddle and a friendly chase.  
The Maltipoo coat is hypoallergenic and low–shedding has a fluffy soft wool-like texture, varies in length from medium to long, and in appearance from slightly wavy to curly. The Maltipoo coat can have different colors such as cream, white, black, brown, chocolate, red, apricot, and silver, or combinations of these and other colors. Maltipoo colors are split into two categories:  
Common and popular:  
Apricot Maltipoo
Blue Merle Maltipoo
White Maltipoo
Black and white Maltipoo
Brown Maltipoo  
Rare and sought-after:  
Black Maltipoo
Golden Maltipoo
Chocolate Maltipoo
Silver Maltipoo  
With their cuddly puppy-like looks and happy demeanor, the Maltipoos are truly gorgeous companion pets for any lucky family. These delightful forever-young dogs also retain their puppy-like appearance well into their teen years.  
Maltipoo Temperament
The Maltipoos have kind and loving personalities. Their nature is caring and gentle and their behavior adoring. These sweet dogs lack aggression and are cuddle-oriented pups that make the perfect companions for children, singles, seniors, and everyone in between. Thanks to their friendly nature, these puppies are very fond of social interactions, especially when they happen during their daily walks. They love being doted on by strangers and family members alike and are very enthusiastic about being involved in every family outing.  
Easy to train, groom, and love, with an easy-going eager to please personality, and a sweet gentle nature, the Maltipoo is an excellent candidate for first-time pet owners as well.  
The Maltipoo puppy is clever as can be and easy to train. A quick learner equipped with sharp intelligence, an eager-to-please attitude, and a curious nature meant to impress even the most experienced dog trainer. Maltipoo puppies love their training lessons and are fond of the praise that comes with a well-performed trick or command.  
Patient, fun, and playful, the Maltipoos are natural-born entertainers. They are known to be fantastic with children, other pets, cats, and strangers. These dogs love to play games and very much enjoy showing off their new tricks.  
The Maltipoos are loyal and kind dogs. They are charming and they make the best family dogs that are dedicated to loving and entertaining their humans.  
Gentle, confident, loving, and happy,  the sweet Maltipoo has the ideal temperament to be trained for therapy work.  
Maltipoo Reviews

Cocoa (formerly Sweat Pea)
Maltipoo Puppy
in New Jersey
she's perfect and has a little attitude but overall she's very good shes my dream dog she's 5 months now and weighs 6 pounds so happy to have her

Lacey
Maltipoo Puppy
in Schaumburg, Illinois
Sandra Lavskis
11/30/2020
We got Lacey 1 year ago and we couldn't be happier! She is a very loving, caring and very smart companion! We love her so much and enjoy her daily! Premier Pups made the entire experience easy and very enjoyable. I'm so grateful we found you and trusted in you! Thank you for my sweet baby girl Lacey!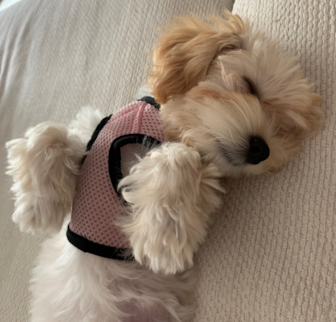 Lola
Maltipoo Puppy
in The Villages, FL
Steve Schneider
11/25/2021
Purchased Lola from Premier Pups after searching most of the East Coast for a reputable breeder. Could not be more pleased with the results and experience! Premier Pups was extremely accommodating prior to us purchasing Lola and the entire process before, during, and after has been really great. Premier Pups is extremely well run, thorough, and a real professional organization. Great to see in an industry that sometimes gets a bad rap. Have had Lola for four months, she is smart, healthy, full of life, and would highly recommend Premier Pups to anyone looking for a new family member!

Leo (previously Cheerio)
Maltipoo Puppy
in Sacramento, CA
Alesia and Mikita
2/16/2021
This king has arrived and now is a part of a family! Leo (previously known as Cheerio) was received by two loved ones a few days ago. He is just amazing! We love him soo much! Leo is always ready to play, eat, and sleep, exactly like his new parents?? welcome to the family, Leo!

Yuki
Maltipoo Puppy
in Chaska MN
Terry Carpenter
9/17/2020
After lots of research we decided to get our Maltipoo pup, Yuki (formally Kashmere) from Premier Pups in Oct 2019. Great service and care! This is our first puppy and they provided a lot of info and support for our pup. Yuki flew from OH to us in MN and did amazing when we picked her up at Delta cargo. Delta called us when she was ready to be picked up. She was just under 2 lbs. did well on the flight. She is so playful, sweet, loving and gentle. She ate her kibbles right away when she arrived at home. We trained her on the potty pad in 2 days and did well during crate training. No crying only woke us up to potty and sometimes play for a little bit lol. Never pee or poop in her crate. We continued with royal canine food as recommended by Premier and Yuki has not had any GI issues. Poops solid since day one! I did a DNA test for fun and health and Yuki is 100% Maltipoo! I've seen so many people being told they were sold a Maltipoo but ends up being a mixed pup only. Yuki turned 1 year old in August 2020 and is healthy, so calm and sweet. She does well with my rough, naughty 7 year old daughter! Yuki has no separation anxiety. We socialize/exposed to lots of noises as soon as we got her per the info/sites recommended by Premier. Yuki only started barking at our door when she was 8 months but we trained her right away not to. She still tries sometimes but knows it's a no no. She thinks she a big dog hehe. Yuki does well on walks. No barks at all even when other dogs are barking at her from across the street she just looks at them and then moves on. She loves people and other dogs of all sizes. We took her to our neighborhood park (pre COVID) and about 8-9 kids swarmed around her taking turns holding and playing/petting her. Yuki was in heaven. She just loves playing so much! Yuki is very heathy. So far only sick vet visit is for 1 ear infection due to water in her ears. She is fully grown now at 5 lbs and 4 oz. right on per Premier's estimate (5-7lbs). How big was important to our family because of our lifestyle. She's so perfect and such an amazing dog! This has to do with great breeders! Thanks Premier Pups!

Luna
Maltipoo Puppy
in Delray Beach, FL
I cannot say enough good things about Premier pups. From the first day I purchased the dog until the day I received her and the follow up has been absolutely amazing. The dog is in pristine health, she is extremely smart, lovable and just a joy to have. Our last maltipoo died a year ago and it took us a while to get another one until we found the perfect one. We searched for a very long time until this puppy showed up and I couldn't say no. Thank you Premier pups.

Snoopy (Alfredo @ Time of Purchase)
Maltipoo Puppy
in Clinton, NC
We purchased our fur baby Snoopy 2/2020 and he came home to us 3/2020. The buying experience was great from start to finish. Premier Pups resolved the few "hiccups" that we had promptly. We were blessed with a healthy 3 pound bundle of joy. On his first birthday on 1/23/21 he weighed in at 6.5 pounds and is the picture of health. Thank you Premier Pups

Nico (formerly Richie)
Maltipoo Puppy
in Chicopee, MA
Kristy Destapado
4/1/2021
We adopted Nico in May 2020 during the pandemic. Premier Pups drove him from Ohio to us in Massachusetts and we couldn't of been happier with him. Any questions we had were quickly answered and they called to check on him a few days after he arrived. He loves to play and absolutely loves to be around people!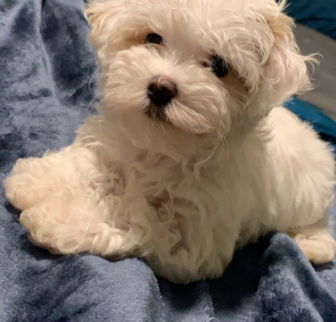 Denise
Maltipoo Puppy
in Venice, Florida
For years I have wanted a small puppy, but in the past I have been quick to buy and there were issues with the breeding which caused health issues. My first mistake was I should have done my research. So in late March of this year I set out to do just that. I did my research called local facilities and breeders and just wasn't impressed. I furthered my research and came across premier pups at first I was a little skeptical as I would have to pay in full and hope I like the puppy, I was also a little concerned since the puppy would be flown in. After reading reviews and doing my research I fell in love with premier pups. They answered any question I had even if I called 15X a day. As many know a lot of states have been in lockdown due to COVID-19 this worried me even more because I had already purchased her and was scared I wouldn't receive her, But Mike and Lacie went above and beyond and flew his own jet in to deliver our puppies. I would recommend premier pups especially if you have had a bad experience in the past with buying a puppy. Hands down best puppy facility ever, I will never buy from anyone except them! Thank you all for your hard work!

Kashmere
Maltipoo Puppy
in Columbus Ohio
She so calm and observant.. My Mom loves her! ❤️
Maltipoo Insights

Maltipoo vs Poochon Comparison
Doodle breeds are the stars of the 21st century. These delightful dogs are hypoallergenic, effortless to train, and easy to love. Between the 35+ Doodle breeds that exist today, The Maltipoo and Poochon stand out with astonishing looks, brilliant minds, fun personalities, and off-the-chart popularity. If your choice comes down between the two, read on to find out which one fits your lifestyle best.
A puppy's love is a pure thing and, here at Premier Pups, we aim to give our...

Hollywood's Latest Trend – Doodle Dogs
Ever since the 1950s, Doodle Dogs have been an ever-rising trend around the world. Apart from their astonishing looks, allergy-friendly qualities, and big brains, these gorgeous pooches have also been 'labeled' and seen as fashion dogs. They've been owned by pop singers and movie stars, and some of them even made it to the White House.
The craze with these dogs started just as the new doodle puppies...
Maltipoo Care
Maltipoo Grooming
Maltipoos have moderate grooming needs. Their gorgeous coats should be brushed daily or at least every other day, and they should be bathed monthly in order to keep their coats clean, healthy, soft, and tangle-free. They also require their teeth brushed, nails trimmed, and ears cleaned regularly, preferably once a month. Maltipoo puppies will benefit if their grooming sessions start as early as possible, as it will give them time to get used to the grooming tools and smooth out the transition between home grooming and professional grooming.   
Maltipoo Exercise Needs
Maltipoos are moderately active dogs. They much prefer some quality playtime indoors as opposed to active play sessions outside. Cuddles, canine games of hide and seek, treat hunts, and puzzles are among their favorite activities. A short walk or two every day coupled with some fun indoor activities are enough to keep the Maltipoo fit and happy.   
Maltipoo Health
The Maltipoo is generally a very healthy dog with few possible health conditions. As a crossbreed, these dogs are less prone to the health issues that affect their purebred parent breeds. Although they benefit from hybrid vigor and better health, there are a few common conditions Maltipoos can be prone to such as: 
Epilepsy
Vision loss
Cataracts
White shaker syndrome
Patellar luxation
Hypoglycemia
Maltipoo Life Span
The Maltipoo lifespan is between 12 and 15 years. The Maltipoo life expectancy can increase to 18+ years if the dog is healthy, well taken care of, and fed high-quality dog food.  
Maltipoo Training
Maltipoos are easy to train. They inherit the intelligence of their Poodle parent and the eagerness to please of their Maltese parent. They are attentive students and eager learners who can pick up on just about anything when it comes to training. They are quick to learn basic commands and tricks and can take on more difficult tasks in obedience, rally, and agility training.  
Leash training and socializing Maltipoos should go smoothly as they are easy-going and open to making new friends.  
Maltipoos are not overly dependent dogs and can be left alone for up to 8 hours a day. Supplying them with interactive canine toys and puzzles is a great way to ensure they don't get bored when home alone. Maltipoos are not generally prone to separation anxiety, but it is best to start training them early and getting them used to some alone time when they are still puppies in order to avoid potentially destructive behavior.   
Maltipoo History
During the 1990s in the United States, breeders aimed to gift the world with a sweet, playful, loyal, and brilliant little dog by crossing the agile and intelligent Poodle breed with the joyful and loving Maltese breed. The Maltese Poodle mix impressed from the get-go with an abundance of qualities inherited from both parents and additional qualities that develop as a result of crossbreeding like better health, a longer lifespan, and minimal shedding.
Because the Maltipoo popularity has been on a steady rise since their debut, they now come in three size variations:
Mini Maltipoo or Miniature Maltipoo
Toy Maltipoo
Teacup Maltipoo
Although highly popular, the Mini, Toy, and Teacup Maltipoo are very rare. Other rare variations of Maltipoo Poodle mixes are:
the Maltipoo Chihuahua mix – Malchi Poo  
Maltipoo Shih Tzu mix – Malshi-poo  
Maltipoo Yorkie mix – Morkie Poo  
Because the Maltipoos are very new compared to other dog breeds, they don't have a well-documented history. To learn more about this doodle dog, we can take a look back at the history of the Maltese and the Poodle dog breeds.
The Maltese, a member of the canine world aristocracy, has been represented in paintings, ceramics, and literature around the world for centuries. Sweet, joyful, loving, and eager to please, the Maltese has always been highly appreciated and loved at royal courts and among noble and royal families, often being referred to as "a living piece of jewelry". Known to be extremely friendly and sociable, the Maltese dogs pass on their outgoing nature to the Maltipoo puppy. Other traits that the Maltipoo puppies get from the Maltese parent are their forever-young looks, eagerness to please, and playfulness.  
The Poodle, which now holds second place as the most intelligent dog, has been depicted in paintings and other artworks since the 13th century in both France and Germany. Highly intelligent, proud, agile, and elegant, the Poodle has been a favorite at royal courts throughout history. The Poodle is now an adored companion pet, a famous star in movies and cartoons, and a champion in dog sports. Poodles have been at the top of the popularity charts in many countries for hundreds of years. For this reason and for their many exceptional qualities, they have been selected for the creation of Doodle dogs like the Maltipoo, Cavapoo, Goldendoodle, Cockapoo, and over 40 other dog breeds.   
Other names the Maltipoo goes by are Maltepoo, Multipoo, Maltese Poodle mix, and Teddy Bear Maltipoo. 
Frequently Asked Questions
What is the difference between a F1 and F1b? A F1 generation is a Maltese and a Poodle. This is a result of crossing a Maltese with a Toy Poodle. F1b generation is a Maltipoo (F1) and a Poodle. This is a result of crossing a Maltipoo back to a Toy Poodle.
Is it difficult to train a Maltipoo? No. As with any puppy, you have to be patient and very consistent with your training.
Do Maltipoo's shed? Maltipoo's have minimal to no shedding.
Are Maltipoos good with children and other pets? Yes, they are good with children of all ages and with other family pets. Always, supervise young children around smaller dogs as they are more delicate because of their size.
What is the temperament of a Maltipoo? They are very intelligent and loving dogs. They are full of affection and have an eager to please attitude. They make for excellent companion pets.
How big will my Maltipoo get? Maltipoo's grow to between 8 to 14 inches and will weigh between 5 to 12 lbs.
Do Maltipoo's need a lot of exercise? Maltipoo's are energetic, but they do not require too much exercise.
Is the Maltipoo hypoallergenic? No dog is 100% hypoallergenic. However, the Maltipoo has hair, not fur, so they are considered low-allergenic.
What type of coat will my Maltipoo have? There are 3 types of coats so it will depend on which parent breed they take after more. They can be straight and silky, thick and curly or wavy and wiry.
How often should I feed my Maltipoo? Between 2-3 months old it is recommended to free-feed a puppy. This means that fresh food should be available to the puppy at all times. Between 3 months - 1 year your Maltipoo should be on a schedule of eating 3 meals per day. From 1 year and on most adult Maltipoo's need to have at least 2 meals per day.
How much should I feed my Maltipoo? General guidelines for feeding a Maltipoo are: • 2 to 4 lbs. 1/3 to 1/2 cups per day. • 5 to 8 lbs. 1/2 to 3/4 cups per day. • 8 to 10 lb. adult = 1/2 to 3/4 cups per day. • 10 to 12 lb. adult = 3/4 to 1 cup per day. • 13 to 16 lb. adult = 1 to 1 and 1/4 cups per day.
Do Maltipoo's bark a lot? They love to hear themselves bark! This makes for an excellent watch dog and will alert you of anything suspicious. Their barking can be controlled if nipped in the bud at an early age through proper training and socialization.
Can I leave my Maltipoo outside when I'm not home? Never leave your Maltipoo outside unattended. Although they are active and should receive daily walks they are best left indoors. Their small size makes them an easier target for predators.
What is the lifespan of a Maltipoo? The average lifespan is between 12 to 16 years.
How often should I bathe my Maltipoo? Baths should be given every 3 weeks. Any more than this can cause their skin to become very dry and flaky.