PHOTOS FROM OUR CUSTOMERS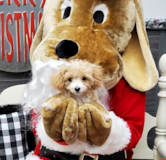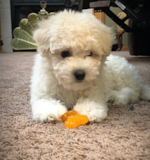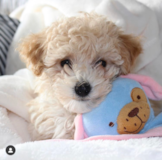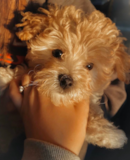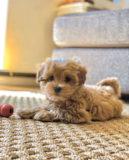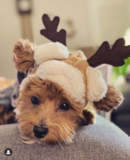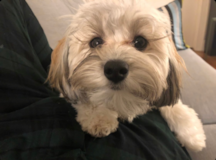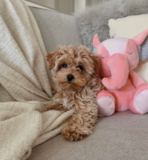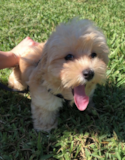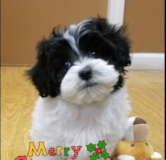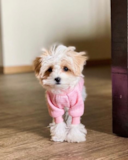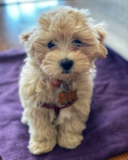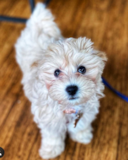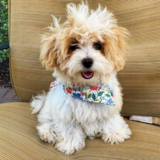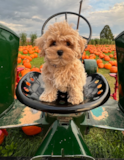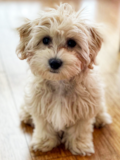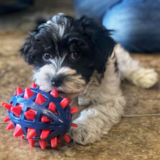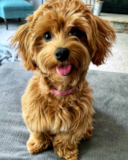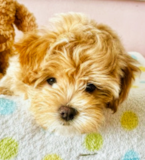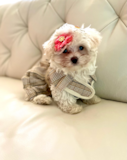 Maltipoo Puppies For Sale
Affectionate ~ Energetic ~ Gentle ~ Intelligent ~ Loving
Premier Pups offers the cutest Maltipoo puppies for sale from top Maltipoo Breeders in the country. Teacup Maltipoo and Maltipoo puppies for sale near you. A cross between the loving and joyful Maltese and the clever and agile Poodle, the Maltipoo is one of the most popular designer dogs in the country. Checking all the boxes for brains, looks, and personality, the Maltipoo puppy can turn any house into a happy home. This Maltese Poodle mix is affectionate, fun, easy to train, and even easier to love. Puffy like a cloud, friendly, loving, playful, and brilliant, the Maltipoos are certainly as gorgeous in appearance as they are in personality.
Read more
BREED INFORMATION
MALTIPOO
---
Temperament

Affectionate, Energetic, Gentle, Intelligent, Loving

Adult Weight
5-10 lbs
Adult Height
9-12 in
Life Expectancy
10-14 yrs
Rating

5.0

( reviews)
| | |
| --- | --- |
| Maintenance | |
| Training | |
| Shedding | |
| Adaptability | |
| Active | |
About the Breed
A cross between the Maltese and the Poodle, the Maltipoo is one of the most sought-after designer puppies in the United States. Their hypoallergenic, non-shedding coats make them a perfect fit for any allergy sufferers. These small dogs were bred to show love and be loved. Once in the presence of a Maltipoo, it may be hard to go to any other breed. And if that doesn't make them desirable enough, they are very easily trainable and enjoy the process.
Appearance and Grooming
These puppies have a high-quality low shedding coat and a fluffy, soft, and wool-like texture which is medium to long and varies from slightly wavy to curly. The coat can have different colors such as cream, white, or silver. They require regular brushing to keep their coats clean, and clipping of their coats once or twice a year. Trimming around the eyes, muzzle, and ears is recommended more often. The ears also need to be cleaned to get rid of dirt, debris, and moisture. This breed needs to have regular dental check-ups and nail care. It is recommended to start the grooming process in puppyhood to get the Maltipoo used to it.
Temperament
While both Poodles and Maltese dog breeds are very loving and affectionate dogs, the Maltese has a tendency to become overly assertive and reactive in certain situations and may nip if provoked. On the other hand, the Poodle, particularly the Miniature, has a milder temperament and is far more tolerant, and this tends to shine through in the Maltipoo pup.
Family and Companionship
This quintessential companion dog adores attention and loves to cuddle. The Maltipoo thrives on love and attention. He should never be forced to spend long periods alone, as he is prone to separation anxiety. Expect this puppy to be lively, inquisitive, and eager to play. They make exceptional family pets as they enjoy family interactions and playtime with children.
Exercise
Though designed for indoor life, your new puppy will still need daily exercise to stay healthy, happy, and out of mischief. They have lots of energy and if not burned in a constructive manner can result in destructive behavior. Taking short walks and both indoor and outdoor play sessions are perfect for this small pup.
Training and Socialization
Known for their intelligence, affection, sociability, and loyalty, these dogs become very attached to their owners. This in combination with the inherited intelligence of the Poodle and the sweetness of the Maltese makes training simple as they are eager to please. Early socialization is highly recommended in order for these dogs to interact with different people, pets, and places. Be sure to use positive reinforcement tactics such as food rewards, play, and praise.
List of the best Maltipoo Puppies Characteristics
Hypoallergenic Maltipoo
Hybrid Vigor - Healthy puppies - health checks are performed regularly and puppies come with a 10-year health guarantee
Bred by reputable breeders at Premier Pups
Our Maltipoos for sale come from breeders with years of experience in breeding Maltipoos
Calm and playful Maltipoo Temperament
Easily potty trained
Great for families with children
Cuddly teddy bear Appearance
Raised in homes - no puppy mills
Frequently Asked Questions
What is the difference between a F1 and F1b? A F1 generation is a Maltese and a Poodle. This is a result of crossing a Maltese with a Toy Poodle. F1b generation is a Maltipoo (F1) and a Poodle. This is a result of crossing a Maltipoo back to a Toy Poodle.
Is it difficult to train a Maltipoo? No. As with any puppy, you have to be patient and very consistent with your training.
Do Maltipoo's shed? Maltipoo's have minimal to no shedding.
Are Maltipoos good with children and other pets? Yes, they are good with children of all ages and with other family pets. Always, supervise young children around smaller dogs as they are more delicate because of their size.
What is the temperament of a Maltipoo? They are very intelligent and loving dogs. They are full of affection and have an eager to please attitude. They make for excellent companion pets.
How big will my Maltipoo get? Maltipoo's grow to between 8 to 14 inches and will weigh between 5 to 12 lbs.
Do Maltipoo's need a lot of exercise? Maltipoo's are energetic, but they do not require too much exercise.
Is the Maltipoo hypoallergenic? No dog is 100% hypoallergenic. However, the Maltipoo has hair, not fur, so they are considered low-allergenic.
What type of coat will my Maltipoo have? There are 3 types of coats so it will depend on which parent breed they take after more. They can be straight and silky, thick and curly or wavy and wiry.
How often should I feed my Maltipoo? Between 2-3 months old it is recommended to free-feed a puppy. This means that fresh food should be available to the puppy at all times. Between 3 months - 1 year your Maltipoo should be on a schedule of eating 3 meals per day. From 1 year and on most adult Maltipoo's need to have at least 2 meals per day.
How much should I feed my Maltipoo? General guidelines for feeding a Maltipoo are: • 2 to 4 lbs. 1/3 to 1/2 cups per day. • 5 to 8 lbs. 1/2 to 3/4 cups per day. • 8 to 10 lb. adult = 1/2 to 3/4 cups per day. • 10 to 12 lb. adult = 3/4 to 1 cup per day. • 13 to 16 lb. adult = 1 to 1 and 1/4 cups per day.
Do Maltipoo's bark a lot? They love to hear themselves bark! This makes for an excellent watch dog and will alert you of anything suspicious. Their barking can be controlled if nipped in the bud at an early age through proper training and socialization.
Can I leave my Maltipoo outside when I'm not home? Never leave your Maltipoo outside unattended. Although they are active and should receive daily walks they are best left indoors. Their small size makes them an easier target for predators.
What is the lifespan of a Maltipoo? The average lifespan is between 12 to 16 years.
How often should I bathe my Maltipoo? Baths should be given every 3 weeks. Any more than this can cause their skin to become very dry and flaky.
Maltipoo Breeders
Here at Premier Pups, we work hand-in-hand with our breeders. It truly takes a special breeder to assist with nourishing and raising a Maltipoo puppy properly. The footage produced in our videos is 100% real. We directly take un-staged, unedited, and only authentic scenes at our breeder locations. We only align ourselves with the best Maltipoo breeders whose standards are much higher than the rest.
Like people, the most critical moments in a puppy's life starts in the beginning. Providing a safe, natural, comfortable, and healthy environment for the nursing mother and her baby is essential. Only the nation's highest-rated Maltipoo breeders can provide the best quality of life. We spend consistent on-site time with our selected breeders and can undoubtedly say that our puppies come from a very caring environment.