PHOTOS FROM OUR CUSTOMERS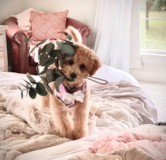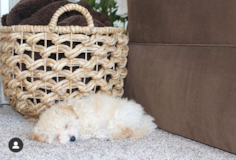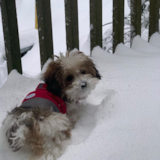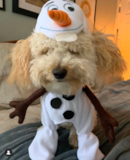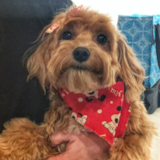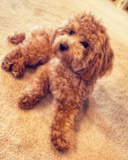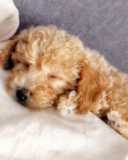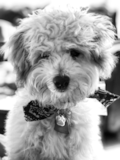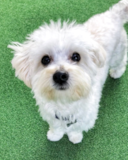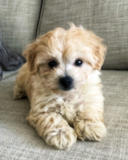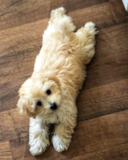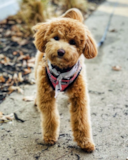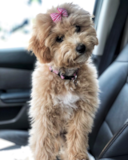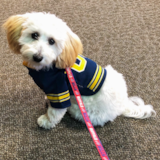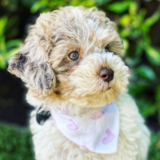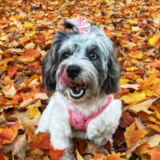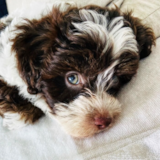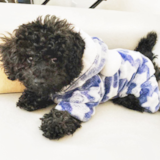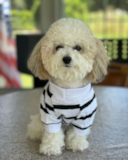 Poochon Puppies For Sale
Gentle ~ Affectionate ~ Intelligent ~ Loyal ~ Playful
Charming, friendly and highly affectionate, Poochons are delightful little treats. They are loyal and devoted, have adoring personalities and are always at the ready for a cuddle session. Poochon puppies are joyful little fluffs with bouncy paws and wiggly tails. They are lively and happy pups who love to jump around and play and they are excellent training students. Sturdy and small, Poochons have an average height between 9 to 15 inches and an average weight between 6 to 17 pounds. Poochon puppies are a mix between a Mini or Toy Poodle and a Bichon Frise.
Read more
BREED INFORMATION
POOCHON
---
Temperament

Gentle, Affectionate, Intelligent, Loyal, Playful

Adult Weight
6-17 lbs
Adult Height
9-15 in
Life Expectancy
12-15 yrs
Rating

5.0

( reviews)
| | |
| --- | --- |
| Maintenance | |
| Training | |
| Shedding | |
| Adaptability | |
| Active | |
A cross between a purebred Bichon Frise and a purebred Miniature Poodle or a Toy Poodle, the Poochon, Bichapoo, or Bichpoo first appeared on the scene back in the nineties. It has become one of the most popular modern cross breeds.
Throughout the years, these charming little dogs have found their way into the hearts and homes of many people throughout the world. Their adorable looks, high intelligence, and fun-loving attitude are inherited from both parent breeds. And their loyal and affectionate natures are what makes them one of the most in-demand designer puppies.
Appearance and Grooming
When it comes to their coat, thanks to their Poodle ancestry, they have hypoallergenic curly, low to non-shedding soft coats. This makes them a perfect choice for anyone who suffers from allergies. Their most common colors are white, apricot, black, and blue. These hypoallergenic dogs can be owned by pet owners with both mild and more severe allergies.
These beautiful dogs should be brushed daily to avoid tangles and knots and should be trimmed and groomed every 6-8 weeks if a short coat is preferred. Daily brushing for a few minutes will present the best results.
Temperament
Poochons are lively, energetic, and highly intelligent dogs that are eager to please and always ready for their next adventure. Because of their high levels of excitement they can be a little unruly at times especially when still young, which is a trait they have picked up from both the Poodle and the Bichon Frise. They are always on alert and aware of their environment, which may lead to excessive barking. However, this can be gently curbed when dogs are still young to prevent any real problem later in a dog's life.
Family and Companionship
These dogs make wonderful companions and family pets in households where the children are slightly older. They show incredible loyalty to their owners and form strong ties with their families. They should not be left alone for long periods of time as this can lead to separation anxiety.
Exercise
The Poochon does very well in both indoor and outdoor environments. Because of their energetic personalities, they require daily exercise of at least half an hour, or more, especially if they don't have access to an area where they can leisurely run around throughout the day.
Training and Socialization
Poochons are typically very easy to train, but like with all dogs, the earlier you begin the better results you will get. This is especially true with problem behaviors that may occur from anxiety, including excessive barking. These dogs are very eager to please, so training should be easy and fun.
In addition, it is very important to begin socializing your new puppy as early as possible. Their socialization should include introducing them to lots of new situations, noises, people, other animals, and dogs. Showing consistency in both training and socialization throughout the dog's life will reap the biggest benefits.
Our Poochon puppies for sale are socialized early by both their dog breeder and our staff. This is to ensure that their transition is as smooth as possible.
Frequently Asked Questions
How big does a Poochon get? A Poochon will reach an average height of 9 to 12 inches and an average weight of 6.6 to 11 lbs.
What is the temperament of a Poochon? Poochon's are sweet, loyal and eager to please. They love their humans and make for the ideal companion dog.
What is the life expectancy of a Poochon? The average life expectancy is between 12 to 15 years.
How much exercise will my Poochon need? Inheriting its energy level from both of its active parent breeds the Poochon will require daily exercise and walks for at least 30 minutes. It is important to keep plenty of safe toys available to them also as they have plenty of energy to burn.
Can a Poochon learn tricks? Yes! In fact, they love to learn new tricks as much as they love to show them off. Make sure to give them plenty of positive reinforcement and praise.
Do I need to regularly groom my Poochon? Yes. Although they have minimal to no shedding they will need professional grooming every 6 to 8 weeks to keep their coat clean, soft and manageable.
Is the Poochon the same as a Bichon Poo? Yes. They are also recognized as the Bichpoo, Bichon Poodle Mix and the Bichon Frise Poodle Mix.
Should I be aware of any major health concerns? All dogs are different and like people the older they get the more they are prone to ailments. The primary health concerns to look out for in the Poochon are epilepsy, White Shaker Syndrome, and dyskinesia, which is a type of movement disorder.
Is the Poochon aggressive? The Poochon can become aggressive if overly nervous or anxious. This can most often occur when they are put in an unfamiliar environment with other dogs. It is best to introduce them to other pets slowly and begin socialization at a very young age.
Can I leave my Poochon alone while I'm at work? Poochon's do not do well when left alone for long periods of time. If you're someone who works long days, then this may not be the best fit for you. It is best not to leave you pup longer than 4 to 8 hours.
Will my Poochon change color? Generally, poodles and poodle mixes change their coat color by the time they are 2 years old. Black poodle puppies may turn to a silver or blue, while dark brown poodles may change to a café au lait shade.
What is the average litter size of a Poochon? The average littler is 4- 6 puppies.
How much will I need to feed my Poochon? A Poochon puppy needs around ½- 1 cups of dry dog food each day. This should be split into two separate servings, once in the morning and once at dinner time. As they grow into adulthood they will need 1-2 cups split into two separate servings.
Will my Poochon get along with other dogs? Poochon's are very sociable dogs and tend to get along very well with other animals. As with any dog, proper socialization at an early age is key.
Can Poochon's swim? Yes! And they love doing it as much as they love to drink water. Always keep your little one supervised during water play as their small size makes them prone to tiring more quickly than larger dogs.
Poochon Breeders
The most critical moments in a puppy's life, like people, start in the beginning. Providing a natural, comfortable, and safe environment for the nursing mother and her baby is essential. It takes a truly special breeder to assist with the nourishing and raising of a Poochon puppy. Premier Pups uses the best Poochon breeders in the nation to provide the best quality of life. The footage produced in our videos is 100% real. We directly take un-staged, unedited, and only authentic scenes at our breeder locations. We only align ourselves with Poochon breeders whose standards are much higher than the rest. Here at Premier Pups, we spend consistent on-site time with our selected breeders and can undoubtedly say that our puppies come from a caring environment.