PHOTOS FROM OUR CUSTOMERS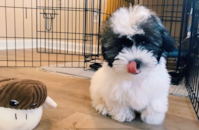 Havanese Puppies For Sale
Affectionate ~ Cheerful ~ Intelligent ~ Loyal ~ Social
Discover available Havanese puppies for sale from our nation's top Havanese Breeders. Hypoallergenic Toy & Teacup Havanese puppies for sale nationwide. Havanese puppies are happy, clever, and sweet dogs equipped with sharp intelligence and an affectionate nature. Their need to be the center of attention and their love for entertainment will have the Havanese dog perform tricks in exchange for laughs and treats. A member of the Toy group, the Havanese breed is small in stature, with an average weight between 7 to 13 pounds and an average height between 9 to 12 inches.
Read more
BREED INFORMATION
HAVANESE
---
Temperament

Affectionate, Cheerful, Intelligent, Loyal, Social

Adult Weight
7-13 lbs
Adult Height
9-12 in
Life Expectancy
12-14 yrs
Rating

5.0

( reviews)
| | |
| --- | --- |
| Maintenance | |
| Training | |
| Shedding | |
| Adaptability | |
| Active | |
Bred as a companion dog to the Cuban Aristocracy during the 1500's, and named after the Capital of its origin, the Havanese, also referred to as "the silk dog" would become the national emblem of Cuba. Now almost extinct in its founding country, the Havanese was brought to United States during the Cuban revolution in 1959 when only 11 dogs were left to save the breed from extinction. Since then the breed has thrived throughout the United States and Europe. These highly trainable and companion driven dogs make for a perfect family pet.
Appearance and Grooming
A small and sturdy gait with dark almond shaped eyes and a full muzzle this breed will never appear fragile. Despite its silky coat and minimal shedding, routine grooming is an absolute necessity for this dog breed. With its common coloring of black, blue, brown, gray, silver and white most owners opt for a shorter cut for easier maintenance. Though these puppies can also wear their hair long, they will require added brushing several times a week, if not daily and regular trims every 3 to 4 weeks.
Temperament
This toy dog breed is friendly, playful, alert and intelligent with a sweet, non-quarrelsome disposition. Aggressive behavior and shyness is not common in these dogs and should be corrected immediately if necessary. They are the most happy when they are with their owner as they form a special bond and a high level of attachment to the person they spend the most time with. Though, they prefer to stay at home, given the chance they also love to run around outdoors.
Family and Companionship
With the earned title of, "Velcro Dog" you must believe that this loyal little canine will never leave your side. They are needy dogs who are keen on lots of affection and play. Perfect for a family with children or other active pets, as they love little clowning around and spreading their affection to their adopted family and everyone they meet.
Exercise
This small purebred needs light to moderate exercise each day. A short walk or some indoor play each day will ensure your puppy is getting all of the exercise that they need. Be careful not to over exercise this little bundle of energy, as much as it will love to keep up, too much exertion is not good for its tiny frame.
Training and Socialization
Even though this highly intelligent and over eager pooch is a fast learner, they still need patience and gentle guidance as their pride can be easily hurt if scolded to harshly. Practicing praise and creating a treat based reward system will result in both a happy puppy and a happy owner.
Tags: Havanese For Sale
Frequently Asked Questions