PHOTOS FROM OUR CUSTOMERS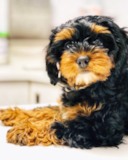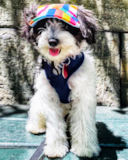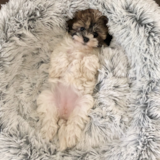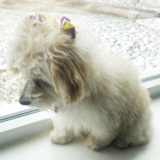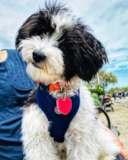 Havapoo Puppies For Sale
Intelligent ~ Cuddly ~ Affectionate
Premier Pups offers the best Havapoo puppies for sale from the nation's most reputable Havapoo breeders. The superb Havapoo puppies are a mix between the Havanese and the Poodle – Mini or Toy size. Having inherited the charismatic and cuddly personality of the Havanese, and the sharp and agile mindset of the Mini Poodle, the Havapoo is a very popular and very well-equipped dog with a delightful personality. These puppies are immensely affectionate and playful. They make ideal pets for a loving family and excellent companions for seniors. Hypoallergenic Havapoo are also perfect dogs for allergy-sufferers.
Read more
BREED INFORMATION
HAVAPOO
---
| | |
| --- | --- |
| Maintenance | |
| Training | |
| Shedding | |
| Adaptability | |
| Active | |
About the Breed
This designer breed is a cross between a Havanese and a Miniature or Toy Poodle. The Havapoo, also known as the Poovanese or Havadoodle, inherits traits from both parent breeds, resulting in a unique canine with a beautiful appearance and wonderful personality. Their ideal size and eagerness to please make them a wonderful companion dog and a perfect family pet.
The Havapoo is currently one of the Top designer dog breeds in the United States. These lovely dogs are also known as Havadoo, Havadoodle, and Havanese Poodle mix puppies. Miniature and Toy Poodles are used in this mix for their gorgeous coats, agile mindset, and endearing personalities.
Appearance and Grooming
Because they are Poodle mixes, not all Havapoos will look the same. Some may favor their Poodle genes and others may inherit a Havanese look, but most will exhibit a good mixture of both. With a small round head and dark eyes, their ears will be floppy and fall down onto their cheeks. They have a beautiful, thick, hypoallergenic coat that can be kept medium or long and can appear wavy or curly, depending on which parent breed the pup favors the most.
The most interesting thing about this breed's coat is that it can come in sixteen different color mixes, more than almost any other breed. The most common litters include black and blue, silver, chocolate, white, fawn, silver and gold, apricot, blue, brown, gray, and cream.
Temperament
If you're looking for a charismatic, friendly, and energetic family dog, the Havapoo should certainly be at the top of your list. Some Hava Poos will exhibit extrovert behaviors, while others can be docile and cuddly, enjoying most of the time staying close to their families. However, their trusting attitude and incredible sensitivity to voices do not make them a very effective watchdog.
Family and Companionship
This sweet little pooch is well-suited for most families due to its child-friendly nature and happy, playful disposition. Like most small dogs, the Havapoo can adapt to a large family home or small apartment. It is as playful as it is cuddly. This puppy will be just as happy curled up on your lap as they are socializing with other people and animals.
Exercise
Their curiosity mixed together with their sociable nature means that you can expect to spend a good amount of time out on a daily walk. Expect to walk upwards of 60 minutes per day as the charming little pups will want to get to know everyone they see (people and animals alike). When at home, you can keep them busy with lots of toys and games that activate their intelligent minds.
Training and Socialization
When it comes to training, this puppy is extremely similar to its Poodle parent, thus making training a breeze. With the right amount of coaxing and praise it shouldn't take much time at all. As with any pup, always focus on positive reinforcement and rewards-based training. Focusing on negative reinforcement and punishment will make for a nervous and anxious pet.
Frequently Asked Questions
What is a Havapoo? This hybrid is the offspring of the Poodle and Havanese.
This hybrid is the offspring of the Poodle and Havanese. On average Havapoo's will reach between 8 to 15 inches in height at full grown and weigh between 7 to 30 lbs.
What is the lifespan of a Havapoo? The average lifespan of a Havapoo is between 10 to 15 years.
Is the Havapoo a pure breed? No, but both the Poodle and Havanese parents are.
Do Havapoo's bark a lot? These dogs are not known for their barking, but they do require a lot of stimulation and play. If they get easily bored they may develop a habit of barking. It is important to keep them well exercised and busy with safe toys.
How much exercise will my Havapoo require? They are filled with energy and love to be on the go so they will need a good hour of exercise and active play each day. It is best to split up the hour into walks and backyard (or indoor) play.
Do Havapoo's require a lot of space? These are not large dogs and they easily adapt to their environment. They are just as happy in a small apartment as they are in a large home so long as they are able to get out for adequate exercise and activity. A local dog park is a good option for free play and socialization.
What type of coat will my Havapoo have? As with any mixed breed the coat and appearance will depend on which parent breed the dog takes on the most. Some Havapoo's will have long and wavy coats, taking on more of a Havenese appearance and others will have thick, curly coats like their Poodle parent.
How often will my Havapoo need to be groomed? You'll want to brush your Havapoo daily to keep their coat from getting matted or tangled, especially if you like to keep their coat a little longer. Professional grooming is recommended to keep their coat and skin healthy, nails clipped and ears cleaned every 6 to 8 weeks.
Is the Havapoo easily trainable? Having two intelligent parent breeds makes training a fairly simple process for the Havapoo. These designer hybrids thrive on positive reinforcement so be sure to be consistent and offer praise whenever they do something right. Socialization and familiarity is a big part of successfully training this dog so make sure to start introducing them to new people, places and pets at a young age.
What color will my Havapoo be? Havapoo's can be born in a variety of colors. The most common include brown, grey, tan, white or black. They can be solid in color, or have a mix of markings.
Does the Havapoo also go by other names? Yes. You most commonly will hear the Havapoo also referred to as the Poovanese, Havadoodle, or Island Mini Doodle.
What organizations and clubs are the Havapoo recognized? This hybrid mix is recognized by the American Canine Hybrid Club, Designer Dogs Kennel Club, Designer Breed Registry, Dog Registry of America, Inc. and the International Designer Canine Registry.
How much money will I spend taking care of a Havapoo? You can expect to pay anywhere from $500 to $2000 on average annually. This cost includes food, vaccines, toys, crate, leash, and other expenses such as grooming your little one might need.
How much will I need to feed my Havapoo? While your Havapoo is still growing you will need to feed them about 1 cup of dry high quality nutritious dog food daily. This is best divided into two separate meals per day, most often in the morning and evening. For Havapoo's weighing 30 pounds or more, you can give 1.5 to two cups of food per day.
Havapoo Breeders
Like people, the most critical moments in a puppy's life starts in the beginning. It truly takes a special breeder to assist with nourishing and raising an Havapoo puppy properly. Only the nation's best Havapoo breeders can provide the best quality of life. Here at Premier Pups, we work hand-in-hand with our breeders. Providing a safe, natural, comfortable, and healthy environment for the nursing mother and her baby is essential.
The footage produced in our videos is 100% real. We directly take un-staged, unedited, and only authentic scenes at our breeder locations. We only align ourselves with Havapoo breeders whose standards are much higher than the rest. We spend consistent on-site time with our selected breeders and can undoubtedly say that our puppies come from a caring environment.