PHOTOS FROM OUR CUSTOMERS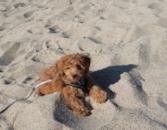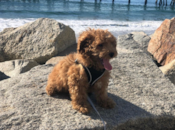 Poodle Puppies For Sale
Cheerful ~ Intelligent ~ Lively ~ Loyal ~ Playful
Elegant and fancy, highly trainable, playful, exceedingly clever, loyal and affectionate beyond measure, the Poodle is among the top 5 most popular breeds in the world and it's easy to understand why. Poodles are joyful, lively, eager to please dogs, they are adventurous, kind, family-oriented pups who love hiking, swimming, canine games and sports and any and all family activities. Poodle puppies are merry and bouncy little marshmallows, they are cuddly and sweet, they love running around, playing, making friends and they are very enthusiastic learners. The Poodle breed is divided into 3 recognized categories: Toy Poodle; Mini Poodle; Standard Poodle; and although they differ in size, one thing is for sure: they are glamorous companion pets.
Read more
BREED INFORMATION
POODLE
---
Temperament

Cheerful, Intelligent, Lively, Loyal, Playful

Adult Weight
Toy 4-6 lbs, Mini 10-12 lbs
Adult Height
Toy 6-8 in, Mini 12-14 in
Life Expectancy
12-15 yrs
Rating

5.0

( reviews)
| | |
| --- | --- |
| Maintenance | |
| Training | |
| Shedding | |
| Adaptability | |
| Active | |
The Toy Poodle became part of English history during the 18th century as a miniature to its counterpart the Standard Poodle. These charming and naturally hypoallergenic pooches were created by breeding a petite sized Poodle, with the smallest of the small puppies from new litters. Toy Poodles may be small in size, but they are proud animals. They have a graceful posture and lots of love to give.
Appearance and Grooming
With dark oval eyes, ears that hang close to their heads and long straight muzzles these tiny pooches are well proportioned. Though the coat of a poodle does not shed, they do keep growing throughout a dog's lifetime and therefore will need regular grooming every six to eight every week along with daily brushing to minimize tangles and knots. Though you never know what color your furry friend will be based on the litter, you can be guaranteed a mix of gorgeous colors including: apricot, black, blue, brown, cream, gray, red, silver, silver beige and white.
Temperament
These sweet and cheerful pooches, though shy at first, love to be around people. It is uncommon for these dogs to exhibit aggressive or protective behaviors, however if not properly trained or socialized at an early age they may become vocal and anxious. They are sure to adapt well to their new environments and into their hearts of their owners quickly.
Family and Companionship
In general, due to their kind and gentle nature, Poodles are great family dogs. They are protective and loving when it comes to their family. However, due to their tiny frame, Toy Poodles are not the best Poodle for children, since they are small and fragile. These household companions adapt quickly to their environment and will do well in large family homes or in small apartment settings.
Exercise
Though they are small, the Toy Poodle is an active dog that requires a daily walk and indoor play. Dogs that do not get to go on daily walks are more likely to display behavior problems. If you have a fenced in area in your yard this is the perfect place for them to romp around, but don't mistake this as a substitute for walking as their primal instincts still require such.
Training and Socialization
These toy size pups are remarkably intelligent and highly responsive making them one of the most trainable breeds. With patience and practice, these dogs will become well-trained and well-behaved dogs. Plenty of socialization is vital to this pup starting at a young age as it fills them with the confidence they need around people and other pets.
Frequently Asked Questions