7 Things You Didn't Know About Poodles
7 Things You Didn't Know About Poodles
Published
Friday, October 15, 2021
by
PremierPups
Poodles have been around for thousands of years and in that time, they traveled the world many times over gathering admirers among kings, noblemen, court-ladies, pharaohs, and common folk. With more impressive jobs like military canine soldiers, hunters, guardians, circus performers, therapy dogs, fashionistas, and retrievers, Poodles have done it all and their resume reads like a War and Peace book.
Stylish, friendly, loyal, fun-loving, agile, and with an Einstein IQ, Poodles check all the boxes, and quite frankly, if there were any more, they would check those too.
Read on to find out how Poodles broke the popularity charts worldwide and what makes them such amazing companion pets.
French Caniche vs German Pudelin
There is a never-ending battle of claims that surrounds the Poodle origin. While the French have named the Poodle as their national dog and claim that the breed originated from France, the Germans have better historical documentation that proves the Poodles have originated in Germany hundreds of years ago. In the old days, dogs had jobs, real working jobs. The Poodle, who is named Pudelin (splash in water) in Germany and Caniche (duck dog) in France, worked as a duck hunter and fowl retriever during his debutant days.
Although their date and place of origin are historically recognized as 1600's Germany, there have been a lot of ancient artifact discoveries (dating back to the first centuries B.C) that depict the Poodle breed ancestors.
Fancy Poodle signature look
The stylish Poodle cut – trimmed with pom-poms – that is displayed in the Canine Show Ring as a fashionable look nowadays had a very different purpose in their fowl retrieving days. More elegant than kings and queens, these fancy-looking Poodles used to dive into icy waters to retrieve game. Their signature look was meant to protect their joints from the cold, protect them from getting stuck in underwater branches, and aid their speed.
They might have misunderstood the "dress for the job you want' saying.
Poodle CV
Poodles are possibly the most versatile breed around. Their history is filled with wondrous achievements.
Military Dogs - Thanks to their hunting/retrieving job experience, Poodles became immune to the sound of gunfire and joined the battlefields. They were recruited as military dogs by German soldiers (whom they traveled with to France) and were used mostly for guard duty. They were classified at the time as the most alert, intuitive, and bravest dogs.
Circus Dogs – From battlefields and into the traveling circus, Poodles proved to be amazing circus performers. Highly trainable, eager to learn and please, gorgeous, stylish, and with a fabulous personality, Poodles conquered the stage and became the most popular breed of dog in France.
Therapy Dogs – Identified as sweet-natured, receptive to human emotion, and attentive dogs, the Poodles started working as therapy and service dogs and before long they exceeded all expectations. Their reputation precedes them today as they are among the best-equipped dogs for the job.
Best in Show – The Poodle breed has won the Best in Show title in the Westminster Kennel Club Dog Show 10 times! Standard Poodles gathered an impressive number of 5 tittles, Miniature Poodles come in second with 3 titles, and the Toy Poodles won 2 titles so far and are working on their third.
Guinness Book of World Records – a standard Poodle named Sailor has managed to break two world records in recent years. Sailor entered the Guinness Book of World Records by breaking the "Fastest 10 meters on a walking globe" and the "Fastest climb of 20 consecutive stairs on hind legs" records.
Poodles are also champions in flyball, agility, tracking, hunting, and obedience. Who knows how they fit inside their homes with all those diplomas and trophies laying around.
Poodle Popularity
During the 15th century, Poodles were the craze in France. They were considered luxurious pets and were generally seen at the side of high society French families. Around that time, housing pets was a luxury common folk couldn't afford. It was also seen as a touch-and-go subject to buy a dog that served no other purpose than to be a loving companion pet. That being said, the Poodle appeal changed the consensus and they were soon adopted as "the best dogs one could possibly wish for".
The Poodle has held the title as the most popular dog breed in the United States for 22 years in a row.
Thanks in equal measure to their stunning features, stylish hairdos, keen intelligence, and loyal nature as companion pets, Poodles still hold their high rank in the top most popular dog breeds worldwide.
Einstein Poodles
Poodles are among the most brilliant dogs in the canine world. They can be taught up to 500-word commands which is double the amount of words you can teach other breeds, they are fantastic puzzle-solvers (complex canine puzzles most of all), and they are among the fastest and most eager learners in dogdom. Some dog owners have reported that their Poodles often "check themselves out" in the mirror or that they seem to understand movies on TV. They've also been caught in the act walking around the house on their hind legs so who knows what else they do when no one is watching.
Poodles excel at everything they are trained for. They give new meaning to excellence in agility, obedience, and track training.
Doodles and Poodles
Did you know that the Poodle is the parent breed of more than 35 other breeds?
Poodles are remarkable dogs. They are very smart, easy to train, highly adaptable, generous in affection, and friendly. Their coats come in a myriad of lovely colors and they have three recognized sizes: the Standard Poodle, the Miniature Poodle, and the Toy Poodle. A 4th size – the Moyen Poodle – is only recognized in Europe, and the 5th – the teacup Poodle – is in the works. Poodles also have curly non-shedding coats and are considered hypoallergenic dogs.
Because of their hypoallergenic qualities, their diversity in size and coat colors, and their delightful personality they have been selected to help in the creation of equally remarkable hypoallergenic dogs.
Some Doodle Breeds that the lovely Poodle is a parent of are the Goldendoodle, Miniature Bernedoodle, Cavapoo, Cockapoo, Poochon, Mini Labradoodle, and the list goes on for quite some time.
Poodles as companion pets
Poodles are family-attached companion pets. Their nature is loyal; they are obedient, sociable, easy-going, and highly affectionate. When it comes to their family, Poodles are 100% attached and they have nothing less than unconditional love for their favorite humans. Mini and Toy Poodles could cuddle their families for hours on end and not show a sign of boredom.
They often follow their humans with a gaze full of admiration, love, and openness. You can hear them sigh in relief when you are next to them, and watch them become alert when you leave their side.
Another aspect that makes Poodles such amazing family dogs is the fact that they get along great with children. They are wonderful babysitters, teen entertainers, and toddler guardians. Poodles are also known to form life-lasting bonds with their human family members which makes their relationship with kids a loyal and long-lasting friendship.
One of the many things that families love about their Poodle companion pets is their playfulness. Poodles are adventurous dogs and they will jump at any opportunity to discover, explore, and have fun. They have a deep love for water written in their DNA and they are very fond of canine games and hiking trips. Simply put, Poodle puppies are happy dogs who keep their homes filled with joy, giggles, and entertainment.
Related Posts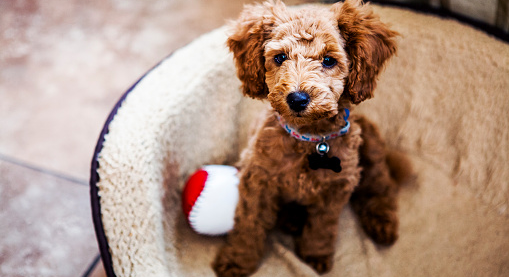 Allergies to dogs are a common thing around the world. As of 2021, it's been reported that up to 20% of the world's population suffers from pet-related allergies. Allergies to animals, especially to dogs, are triggered when the proteins that are found...
Read More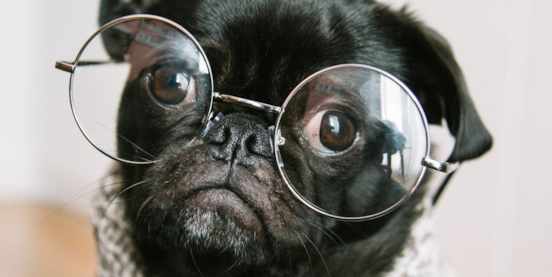 Man's best friend is undoubtedly a fascinating creature. We know that they are loyal, loving, playful, and protective of their families. But did you know……? Dogs have three eyelids? It is true! Their third eyelid is called a "haw"...
Read More