Cavapoo Breed Information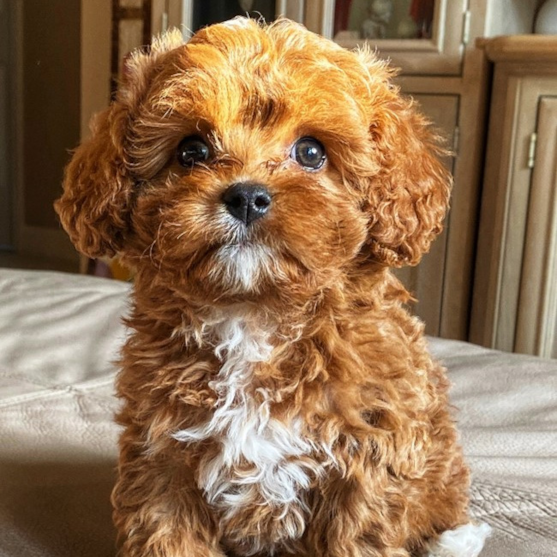 The Cavapoo, also referred to as Cavadoodle or Cavoodle is one of the most sought-after Doodle Dogs (blog on most sought-after doodle breeds). A cross between the affectionate and gentle Cavalier King Charles Spaniel and the agile and intelligent Poodle, the Cavapoo is sure to display a fantastic personality.  
Small in appearance, with a sweet round face, endearing large eyes, a button nose, and long floppy ears, the Cavapoo is truly one of the most adorable and cuddly pups.  
The Cavapoo hypoallergenic coat is soft and silky, varies from straight to wavy or curly, and comes in a variety of beautiful colors which are most commonly black, brown, tricolor, white, and yellow.  
As a doodle dog or hybrid, the Cavapoo dog (aka Cavadoodle or Cavoodle) embodies the small size of both the Cavalier King Charles Spaniel and the Mini Poodle with an average weight between 8 to 20 pounds and an average height between 9 to 14 inches.  
Affectionate, gentle, graceful, highly intelligent, outgoing, and with an agile mindset, the Cavoodle certainly inherits an amazing set of qualities from both parent breeds.  
BREED TYPE / MIX Doodle Hybrid / Poodle crossed with a Cavalier King Charles ENERGY Moderate SHEDDING Minimum TRAINING Responsive TEMPERAMENT Intelligent, Loving, Social ADULT WEIGHT 8-20 lbs ADULT HEIGHT 9-14 in LIFE SPAN 12-15 yrs
Cavapoo Characteristics
Well natured, with a calm temperament and a sweet disposition, known to be highly receptive to human emotion, the Cavapoo (Cavadoodle or Cavoodle) is an excellent therapy dog  
Sociable and outgoing, the Cavapoo puppies are the friendliest of dogs – they are friendly and affectionate with kids of all ages, other pets, and strangers  
The Cavapoo is best suited for large and small families, with or without children, singles, and seniors  
The Cavapoos live longer healthier lives due to hybrid vigor  
Cavoodle Puppies are easy to train as they love to learn and enjoy performing for an audience  
Cavapoos have hypoallergenic coats and Cavapoo shedding is minimal  
Cavoodles are highly adaptable pups – whether it's a small apartment or a big house with or without a yard, the Cavapoo is quick to adapt to any living situation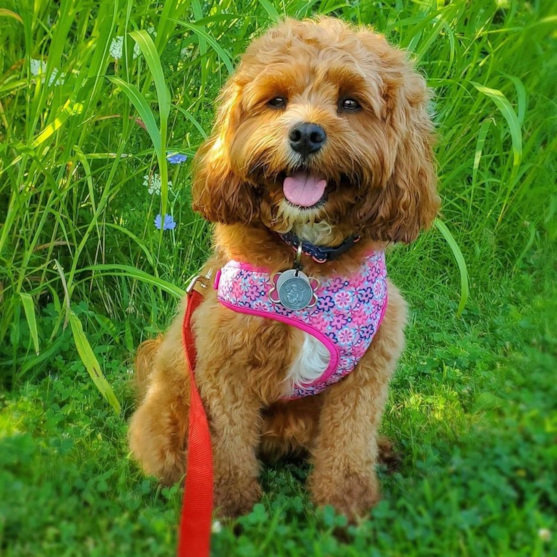 Cavapoo Breeders
WATCH VIDEO of our Breeder Care
Like people, the most critical moments in a puppy's life starts in the beginning. Providing a safe, natural, comfortable, and healthy environment for the nursing mother and her baby is essential. Only the nation's best Cavapoo breeders can provide the best quality of life. It truly takes a special breeder to assist with the nourishing and raising of a Cavapoo puppy properly. Here at Premier Pups, we work hand-in-hand with our breeders. We spend consistent on-site time with our selected breeders and can undoubtedly say that our puppies come from a caring environment. The footage produced in our videos is 100% real. We directly take un-staged, unedited, and only authentic scenes at our breeder locations. We only align ourselves with Cavapoo breeders whose standards are much higher than the rest. 
Cavapoo Appearance
The Cavapoo (Cavadoodle or Cavoodle) is small in stature, with a sweet round face, big beautiful eyes, a button nose, and long adorable floppy ears. Inheriting the small size of both parent breeds (the Cavalier King Charles Spaniel and the Poodle), the Cavapoo height reaches 9 to 14 inches and the Cavapoo weight can be anywhere between 8 to 20 pounds.  
The Cavapoo's coat is hypoallergenic (with minimal to no shedding), varies from straight to wavy or curly, and comes in a variety of stunning colors – most commonly black, brown, tricolor, white, and yellow. As with most crossbreeds, the Cavapoo can resemble either parent more or can have a balanced mix of features from both breeds. That being said, the Cavapoo does take a little more after the Cavalier King Charles spaniel in appearance, and more after the Poodle in coat qualities.  
The Cavapoo colors are also, in most cases, variations and mixes of colors from both parent breeds, with the rarest and most sought-after being:  
Black Cavapoo
Cavapoo black and white
Red Cavapoo
White Cavapoo
Apricot Cavapoo
Brown Cavapoo 
Blenheim Cavapoo
Golden Cavapoo
Merle Cavapoo
Blue Merle Cavapoo  
Black Cavapoo puppies and white Cavapoo puppies are also among the hardest to find. The Cavapoo size can vary quite a bit as well depending on the size of their Poodle parent. Mini or Toy Poodles are generally used for this Cavapoo mix. A Cavapoo adult (Cavapoo full grown) can reach up to 14 inches tall and 20 pounds heavy.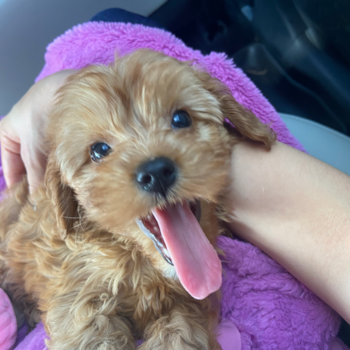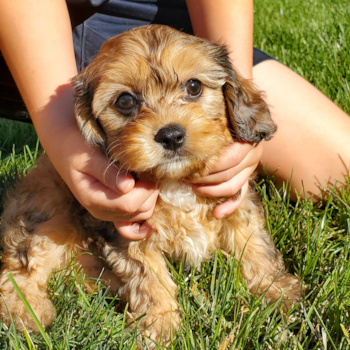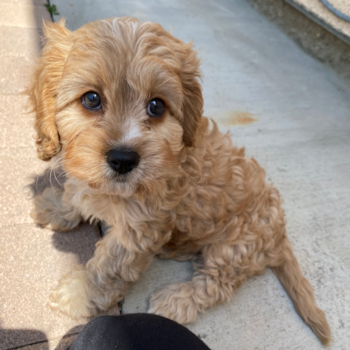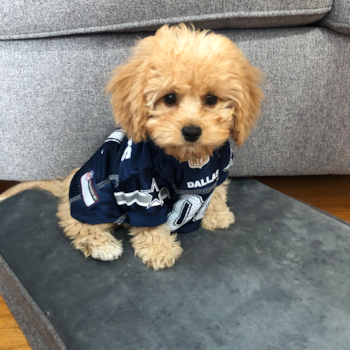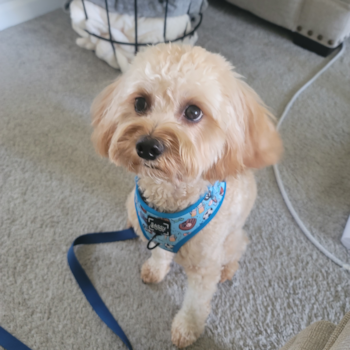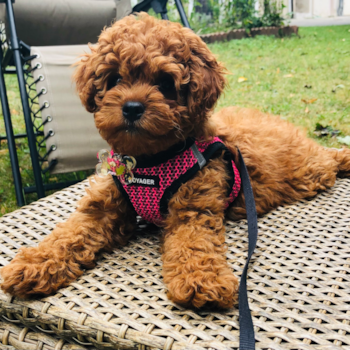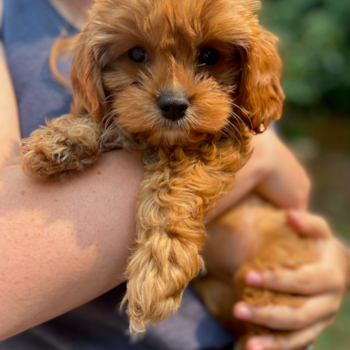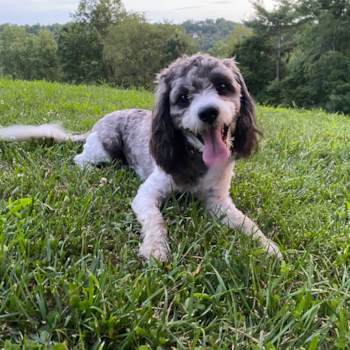 Cavapoo Temperament
The Cavapoos (Cavadoodle or Cavoodle) are kind and loyal dogs. Their friendly and cheerful nature coupled with their lack of aggression has made them one of the most sought-after dog breeds. The Cavapoo temperament is even and calm and that is perhaps their most appreciated quality – gorgeous looks aside. They do not bite or growl, they are neither jumpy nor easily scared and they love just about everyone they meet.  Relaxed, gracious, and well-balanced, the Cavapoo is fantastic with children of all ages, pets, other dogs, and strangers. Some of their favorite activities include going on long walks and meeting new people, exploring new territories, finding new friends at the dog park, and playing dog games with their human family. With their cheerful nature, their love for games, and cheeky wild side, the Cavoodle puppies will keep everyone around entertained and happy for hours. They enjoy the occasional dog trick and stunt, and they are quite fond of having all eyes on them. The Cavapoo dogs are sweet, caring, devoted, and family-oriented pups who love being included in every family activity. Although they do become greatly attached to their humans, they are not overly dependent or particularly clingy. The Cavapoo is known to be independent, and, in most cases, can be left alone for up to 8 hours each day.  
With their athletic and outgoing nature, the Cavapoos also make great hiking companions. Even though they are small toy-sized dogs that are not built for trekking through mountains, the Cavapoo does want to be involved in family adventures and is able to keep up on short hikes.  
Cavapoo Reviews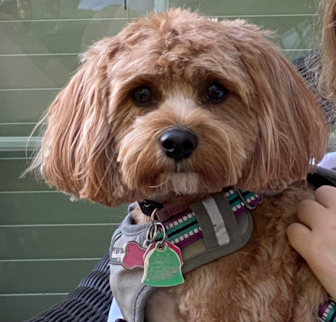 Lexi (aka Muffin)
Cavapoo Puppy
in Sutton, MA
Lexi is 2 years old and the love of our lives! She is the sweetest dog we have ever owned and loves everyone she meets! Many friends have adopted Cavapoos because they love her so much! We wish we had adopted two!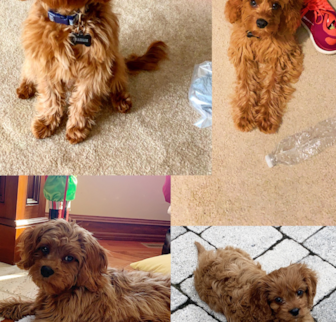 Charlie
Cavapoo Puppy
in Archbald PA
My 17 year old dog recently passed this summer. I was very interested in another dog. I aimless googled Cavapoo breeders and came across Premier pups. I started looking through their puppies and immediately fell in love. I called them and spoke to them asking several questions that were all answered. I then purchased the puppy that night. We flew him to us and I had an amazing experience. From purchase to pick up everything was smooth. We were able to FaceTime with the puppy the night before he came. They then sent us a picture of the puppy the day before his flight along with tracking. Pick up was super easy and the puppy seemed fine; not drowsy or out of it. From the minute we brought him home we've experienced nothing but love and fun with this dog. Premier pups called us to check in on him and when I brought him to his first vet visit she said this was a remarkable dog. He adapted well, was crate trained from day 1, and you could really tell he was raised and cared for properly. I would highly recommend buying a dog from here and I will definitely do it again in the future.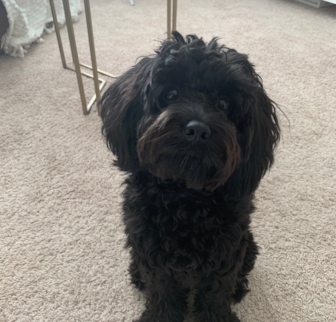 Nora
Cavapoo Puppy
in Pittsburgh,PA
We purchased Evie (now Nora) from Premier Pups and our pup is a year old now. We decided on Premier Pups after my parents got a Cavapoo from them a year earlier. Premier Pups is absolutely wonderful and made the process of getting our first dog simple and easy. They followed up multiple times to see how Nora was adjusting to our home and I thought that was super helpful!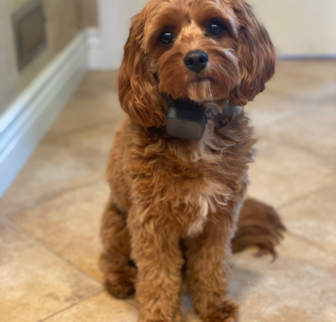 Mochi aka Alicia
Cavapoo Puppy
in San Jose CA
We adopted Mochi last July. She is a joy! She's the friendliest, happiest, most loving pup imaginable. We can't imagine our lives without her. Thanks Premier Pups!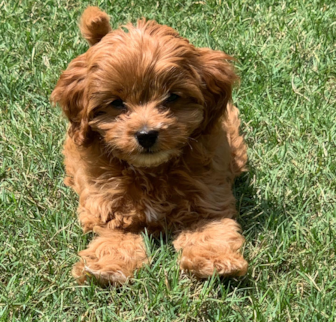 Lily-Rose (Vuitton)
Cavapoo Puppy
in Johns Creek, GA
I was looking for over a year for a dog woot it any success. I could not find a trustable company or breeder until a friend of mine told me about Premier Pups, she already has a maltipoo from premier. I was little scary about the whole internet process but from the moment I entered to the site the fears disappeared. The process was so smooth. My Lily-Rose came in a plane. The organization and the a mouth of information that they provided makes you feel so comfortable. The first visit with the vet was a success, he told me you got a very healthy puppy. When they wrote trustable breeders is true! We love Our Lily-Rose.

Paul
Cavapoo Puppy
in Beverly Hills
Paul is an amazing puppy! He's so sweet and friendly. At first, we were hesitant about having a puppy shipped over from out of state, since we wouldn't have a great idea of how his personality is like. But, turns out, he has an amazing personality! Premier pups does a great job at breeding the most adorable puppies.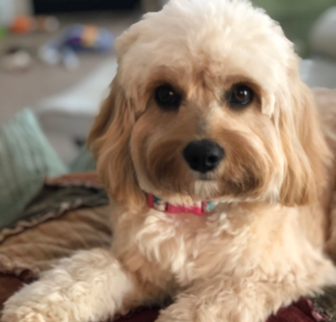 Flora now it's Patty
Cavapoo Puppy
in Dayton, Ohio
My beautiful cavapoo Patty (Flora) is 8 months old. She is a wonderful dog. Smart loves everyone and pretty. Patty is my constants companion we are having such a good time. Thank you Premier Puppies for being a top notch organization. I have recommended you to many over the past months.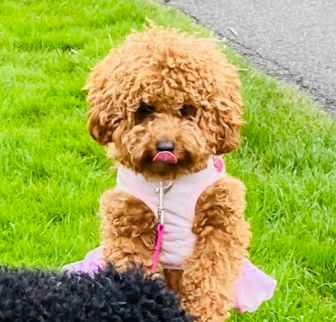 Cali
Cavapoo Puppy
in Ellington, ct
Cali just turned 1 this past weekend. Cali is the sweetest, most gentle loving dog. She loves to lay in your lap and cuddle with you. She is also friendly with other dogs and kids. We have been so blessed to have the most amazing dog join our family. Premier Pups was very organized and emailed and answered all of our questions. They picked the most perfect dog for our family. If we decide to add another dog to our family, the only place we would call would be Premier Pups.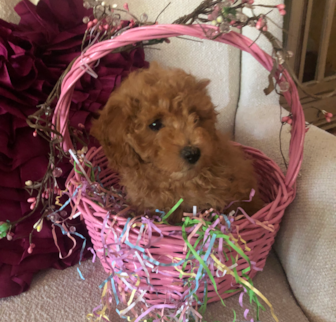 Amber
Cavapoo Puppy
in Heath, Texas
Amber is the sweetest, most loving doggie we have ever had. Premier Pups was wonderful to work with. We really appreciated their conscientious care of our puppy. They went way above the call of duty sending instructions, meds, etc., and following up on her.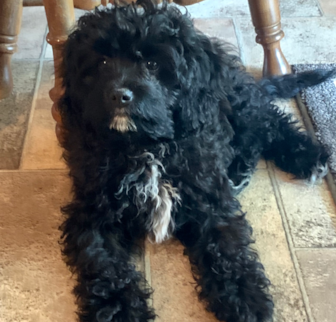 Micah
Cavapoo Puppy
in Wheeling, WV
I picked up Micah, formerly Hansel, from Premier Pups on 3/20/2021. The whole experience was wonderful. He's amazing and the perfect addition to our family. We adore him! Not to mention he has the cutest face and personality! The puppies are healthy and happy. Premier Pups provided education and exceptional follow-up. I would 100% recommend getting a puppy from them.
Cavapoo Insights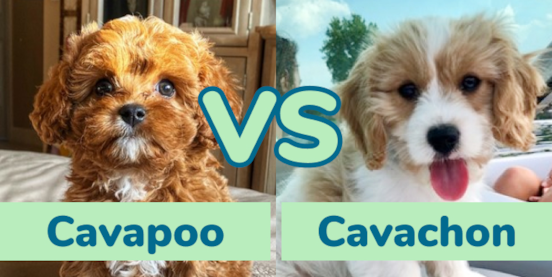 Cavapoo vs Cavachon Comparison
The Cavapoo and Cavachon are two of the most popular small breed dogs. They attribute their worldwide fame to their fabulous personalities, affectionate nature, and adorable looks. The Cavapoo and the Cavachon stand out for their remarkable abilities to adapt easily, learn quickly, and love deeply.
A puppy's love is a pure thing and, here at Premier Pups, we aim to give our loving puppies the forever homes they deserve. Our specialized team of Puppy Agents is here to help...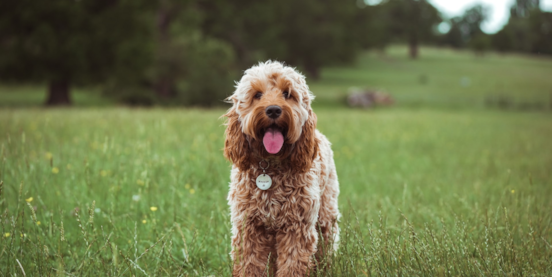 What is the Difference between F1, F1B and F2 Mixed Breed Generations?
Since their first paw-steps into the world, Designer-mixed Breeds have conquered the canine popularity charts with their unique appearance, fantastic personalities, and hypoallergenic qualities. Designer Breeds come in all shapes and sizes, personality types, and temperaments. According to individual preferences and for better control over their size, coat textures and colors, features, and personality traits, Doodle Breeds (like the Cavapoo, Mini Labradoodle, Cockapoo, Mini Goldendoodle, etc.),...
Cavapoo Care
Cavapoo Grooming
Cavapoo pups are not high-maintenance dogs but they do require regular grooming. Daily brushing is the best way to ensure their coats remain tangle and knot-free. As for bathing, Cavapoos with long hair require a bath every 2 weeks, whereas Cavapoos with short hair only require a monthly bath to keep up their gorgeous appearance. Their ears should also be checked regularly and their nails trimmed a few times per year.   
Cavapoo Exercise Needs
The Cavapoo breed is moderately active (blog – active dogs vs relaxed dogs part 1). These amazing dogs enjoy canine games and cuddles and are generally relaxed. A 30 minute walk each day coupled with some playtime indoors is enough to keep the Cavapoo healthy and happy.   
Cavapoo Health
As a crossbreed or doodle (blog – 7 reasons why you should get a doodle) dog, the Cavapoo benefits from hybrid vigor which, in simple terms, means that the Cavapoo full grown is healthier and less prone to certain health conditions that the Cavalier and the Poodle purebreds are. Although not completely immune to certain ailments, the Cavapoo breed does have a few common conditions like hip dysplasia, cataracts, allergies, luxating patella, and in some cases epilepsy.  
Cavapoo Life Span
The Cavapoo lifespan is between 12 and 15 years. As with all dogs, regardless of their size, a proper diet with just the right amount of exercise and regular vet check-ups will increase their lifespan.  
Cavapooo Training
Cavapoos are generally easy to train. They very much enjoy the attention they receive during training but can sometimes get bored if not properly motivated. Combining delicious treats with toys, praise, and play will work wonders when training a Cavapoo puppy. Housebreaking and leash training can sometimes be a tricky task, but with proper motivation, the Cavapoo puppy will become an eager and obedient student.  
Socializing a Cavapoo puppy should go smoothly as they are naturally friendly and outgoing dogs. They are also independent and can be left alone at home for longer periods of time as they are not generally prone to separation anxiety.   
Cavapoo History
The Cavapoo (Cavadoodle or Cavoodle) is a designer breed that is thought to have originated in Australia during the 19th century when the Australian breeders began mixing the Cavalier Spaniel and the Poodle in an effort to create a dog with the intelligence and agility of the Poodle and the kind temperament and sweet disposition of the Cavalier Spaniel. As they succeeded in their journey to create a new type of dog, the new doodle dog Cavapoo quickly became a favorite in both Australia and the United States. Soon after the Cavapoo puppies' popularity skyrocketed, Cavapoo breeders took on to creating yet another hybrid – Cavapoochon – a mix between a Cavalier King Charles Spaniel, a Mini Poodle, and a Bichon Frise. Because the Cavapoo turned out to be a most remarkable dog, Cavapoo breeders began working on more size variations of the doodle dog, among which the most popular are:  
Mini Cavapoo  
Toy Cavapoo  
Teacup Cavapoo  
F1 (F1 vs F1B vs F2 article) Cavapoo  
F1B Cavapoo    
Although the exact origins of the Cavoodle are yet unknown, we can take a look back at the history of the Cavalier King Charles Spaniel and the Poodle breeds to gain a better understanding of the doodle dog.  
The Cavalier King Charles Spaniel, a favorite of noble and royal families for centuries, has been long associated with a life of luxury. King Charles I was so fascinated by the small breed that the Cavalier King Charles Spaniel was eventually named after him. Being of a sweet and calm nature, the Cavalier King Charles Spaniel has often been referred to as the "Spaniel Gentle".    
The Poodle, a beautiful and versatile dog, is one of the most ancient breeds in the world. Raised as a duck hunter in Germany, the Poodle moved on to become the most adored contestant in the dog show ring and a champion of dog sports. Their proud demeanor, elegance, and affectionate nature have won the Poodles a life of luxury among kings and queens. Brilliant, loyal, and adoring, the Poodle is ranked as the second most intelligent breed in the world and is now one of the most popular breeds in the world.  
Other similar breeds that are often compared to the lovely Cavapoo breed are:  
Cavapoo vs Cavachon
Cavapoo vs Maltipoo
Cavapoo vs Havapoo
Cavapoo vs Goldendoodle
Havapoo vs Cockapoo  
Frequently Asked Questions
How big do Cavapoo's get? The average weight of an adult Cavapoo is between 15 to 20 pounds with a height of between 18 to 14 inches.
Are Cavapoo's hypoallergenic? It depends on which parent breed they take after more. If your Cavapoo has more Poodle in their genes then there is a good chance that it will be more hypoallergenic then if they had more Cavalier in their genes. It is important to note, that no dog is truly 100% hypoallergenic.
Do Cavapoo's bark a lot? They are not known for their barking, but all dogs are different. If you notice your Cavapoo beginning such habit, it must be nipped in the bud. These dogs are easily trainable so it won't be difficult.
What is the life expectancy of a Cavapoo? Cavapoo's have an average life expectancy of 11 to 15 years.
Are Cavapoo's good with children? Yes! Cavapoo's have a friendly and playful temperament which makes them an excellent companion for children. However, just like any small dog, young children should always be supervised when they are around any dog, no matter the breed.
Do Cavapoo's need a lot of exercise? The Cavapoo is energetic in its nature and therefore requires regular exercise and daily walks to remain healthy. Playing a game of tug or fetch with them along with a walk will ensure that your puppy's needs are met.
What type of coat will my Cavapoo have? Cavapoos may be curly like the Poodle or straight and wavy like the Cavalier. Once a puppy reaches the age of 6 weeks old you can see what type of coat they will have. You can get both coat types in the same litter.
What is the difference between a Cavapoo and a Cavadoodle? There is no difference. The Cavapoo and Cavoodle are both names for the Poodle and Cavalier mix. They are also known as Cavipoo, Cavadoodle, Cavapoodle, and a Cavadoo.
What coat colors do Cavapoo's have? They can be solid or multi colored. The most common colors are black, white and brown.
How much food will a Cavapoo eat each day? Because of their small stature, they don't require a lot of food. Generally, 1 cup of food per day is plenty. This should be broken up into two parts - half in the morning and half at dinner time.
What are F1 Cavapoos? F1 Cavapoos are the result of breeding a Cavalier King Charles Spaniel and a Poodle. When 2 Cavapoos are bred together, they are referred to as an F2. When an F2 Cavapoo is bred to another F2 Cavapoo, they are known as an F3. However, if an F1 Cavapoo is bred to either a Cavalier King Charles Spaniel or a Poodle, they are referred as being F1B.
Are Cavapoo puppies easy to potty train? Smaller breeds can be a challenge to housebreak, compared to the bigger breeds. However, these little ones are intelligent so with consistency and praise, it will surely be successful.
Do Cavapoos make for good watch dogs? Cavapoos are brave so you can count on them to alert you when something is amiss, but don't rely on them much for protection.
Do Cavapoos need to be groomed regularly? The Cavapoo can have different coats depending on their genes, so it us up to you to decide if you want your Cavapoo to have shorter or longer hair. It is optimal to take your little one to the groomer every 2 to 3 months to keep them clean and trim.
Is it difficult to train a Cavapoo? Not at all! Due to their smart and curious nature, these crossbreeds are easy to train. This is especially true for Cavoodles who take after their Poodle parent.