PHOTOS FROM OUR CUSTOMERS





















Cavapoo Puppies For Sale
Intelligent ~ Loving ~ Social
Partnered with the nation's top Cavapoo breeders, Premier Pups offers the best Cavapoo puppies for adoption. Hypoallergenic Cavapoos, Toy and Mini Cavapoo pups are ideal for families with children, city apartment life, senior families, new pet owners, and future pet parents who suffer from dog-related allergies. Our Cavapoo puppies are a designer doodle breed, a mix between a purebred Cavalier King Charles spaniel crossed with a Mini or Toy Poodle. They are small, cuddly, and very loyal to their pet parents. Cavapoos also inherit the small size of their parents and their most charming traits. They are not only the cutest and most adorable puppies, but they also come with the Poodle's keen intelligence and the Cavalier's sweet nature.
Read more
Frequently Asked Questions
How big do Cavapoos get? The average weight of an adult Cavapoo is between 15 to 20 pounds with a height of between 18 to 14 inches.
Are Cavapoos hypoallergenic? It depends on which parent breed they take after more. If your Cavapoo has more Poodle in their genes then there is a good chance that it will be more hypoallergenic then if they had more Cavalier in their genes. It is important to note, that no dog is truly 100% hypoallergenic.
Do Cavapoos bark a lot? They are not known for their barking, but all dogs are different. If you notice your Cavapoo beginning such habit, it must be nipped in the bud. These dogs are easily trainable so it won't be difficult.
How long do Cavapoos live? Cavapoos have an average life expectancy of 11 to 15 years.
Are Cavapoos good with children? Yes! Cavapoos have a friendly and playful temperament which makes them an excellent companion for children. However, just like any small dog, young children should always be supervised when they are around any dog, no matter the breed.
Do Cavapoos need a lot of exercise? The Cavapoo is energetic in its nature and therefore requires regular exercise and daily walks to remain healthy. Playing a game of tug or fetch with them along with a walk will ensure that your puppy's needs are met.
What type of coat will my Cavapoo have? Cavapoos may be curly like the Poodle or straight and wavy like the Cavalier. Once a puppy reaches the age of 6 weeks old you can see what type of coat they will have. You can get both coat types in the same litter.
What is the difference between a Cavapoo and a Cavadoodle? There is no difference. The Cavapoo and Cavoodle are both names for the Poodle and Cavalier mix. They are also known as Cavipoo, Cavadoodle, Cavapoodle, and a Cavadoo.
What coat colors do Cavapoos have? They can be solid or multi colored. The most common colors are black, white and brown.
How much food will a Cavapoo eat each day? Because of their small stature, they don't require a lot of food. Generally, 1 cup of food per day is plenty. This should be broken up into two parts - half in the morning and half at dinner time.
What are F1 Cavapoos? F1 Cavapoos are the result of breeding a Cavalier King Charles Spaniel and a Poodle. When 2 Cavapoos are bred together, they are referred to as an F2. When an F2 Cavapoo is bred to another F2 Cavapoo, they are known as an F3. However, if an F1 Cavapoo is bred to either a Cavalier King Charles Spaniel or a Poodle, they are referred as being F1B.
Are Cavapoo puppies easy to potty train? Smaller breeds can be a challenge to housebreak, compared to the bigger breeds. However, these little ones are intelligent so with consistency and praise, it will surely be successful.
Do Cavapoos make for good watch dogs? Cavapoos are brave so you can count on them to alert you when something is amiss, but don't rely on them much for protection.
Do Cavapoos need to be groomed regularly? The Cavapoo can have different coats depending on their genes, so it us up to you to decide if you want your Cavapoo to have shorter or longer hair. It is optimal to take your little one to the groomer every 2 to 3 months to keep them clean and trim.
Are Cavapoos easy to train? Yes! Due to their smart and curious nature, these puppies are easy to train. This is especially true for Cavoodles who take after their Poodle parent.
What is a Cavapoo? A Cavapoo is a designer breed that is achieved by crossing a Cavalier King Charles Spaniel with a Miniature or Toy Poodle.
Do Cavapoos shed? Cavapoos are known for their low-shedding coats, however it may be possible for puppies who take after the Cavalier parent to shed a bit more than those that take after the Poodle parent.
When do Cavapoos stop growing? Cavapoos typically reach their adult size by 12 months of age. Some can be fully grown at 7.5 months.
How much do Cavapoos weigh? Cavapoos can weigh as little as 8 pounds when fully grown, depending on which breed generation they belong to. Their average weight is between 8 and 20 pounds.
BREED INFORMATION
CAVAPOO
---
Temperament

Intelligent, Loving, Social

Adult Weight
8-20 lbs
Adult Height
9-14 in
Life Expectancy
12-15 yrs
Rating

5.0

( reviews)
| | |
| --- | --- |
| Maintenance | |
| Training | |
| Shedding | |
| Adaptability | |
| Active | |
Cavapoo Puppies for Sale - Characteristics
Hypoallergenic Cavapoo puppies
Our Cavapoo puppies for sale benefit from superior health due to hybrid vigor
Wide selevtion of Cavapoo puppy colors
Gentle Cavapoo temperament
Our Cavapoo puppies for sale are a mix between two highly intelligent purebred dogs - the Poodle and the Cavalier King Charles spaniel. Cavapoo puppies are very smart and responsive to their owners, making them highly trainable
Cavapoo puppies are a toy designer breed. Full-grown Cavapoo puppies can reach between 8 and 20 pounds
Cavapoo Puppies for Sale
If you love small, intelligent dogs, then you will appreciate the amazing attributes of the Cavapoo puppies, a cross between the Cavalier King Charles Spaniel and the Poodle. Also, known as the Cavadoodle or Cavoodle, this designer breed originated in Australia and has become incredibly popular in the United States due to their low shedding characteristic and obvious intelligence. Australian breeders began intentionally mixing the Cavalier Spaniel and the Poodle back in the 90s in a bid to create a puppy with the amazing qualities of both breeds.
Our Cavapoo puppies for sale, like their parents, impress with keen intelligence, a sweet-loving nature, and pure puppy love. While adopting a puppy is a beautiful journey in itself, it is also a decision that will be rewarded with unconditional love and friendship for many years to come.
Cavapoo Puppies for Sale - Appearance and Grooming
The small Cavapoo puppies have a fluffy coat that varies from straight, to wavy or curly. They come in various colors with the most common being black, brown, tricolor, white, and yellow. Due to the breed having one parent that does shed occasionally, there is a minimal possibility that your puppy may shed. F1b Cavapoo puppies for sale take after their Poodle parent more in coat qualities. They are less likely to shed, and they have better hypoallergenic qualities.
Their coat needs to be frequently brushed to avoid tangles. Brushing also helps to remove dirt, especially around the legs. The fur should be periodically cut throughout the year and more often on the legs, muzzle, and around the eyes. There are various haircuts that you can opt for when visiting a professional groomer. These include the Puppy Cut, Teddy Bear Cut, and Summer Cut.
Ideally, you should brush your puppies a few times every week and bathe them once every month. Cavapoo puppy grooming also involves cleaning your puppy's ears, trimming their nails, and brushing their teeth. To ensure that your puppy benefits from the best dental care, it is recommended to brush their teeth daily and provide them with dental chew sticks and chew toys.
The adult size depends on the breed's generation and the size of the parents used in the mix. Typically, a full-grown Cavapoo puppy weighs between 8 and 20 pounds and stands 9 to 14 inches tall at the shoulder. The size of an F1b Cavapoo puppy is on the smaller end of that scale.
Cavapoo Size Guide: How Big Do Cavapoos Get?
Temperament of Cavapoo Puppies for Sale
Just like their parent the Cavalier King Charles Spaniel, our Cavapoo puppies for sale will be very affectionate dogs that love to be with their family, but like the Poodle will require more mental stimulation. These dogs are very connected with their owners and if left alone for long periods of time can become anxious and even form a habit of barking.
Although this doesn't happen often, over spoiling them can bring on unwanted behaviors. Given that they are a mix between Cavaliers and Poodles, Cavapoo puppies have a very well-balanced temperament. They are sweet, calm, friendly, and very outgoing.
Because they take after their parents in both personality and temperament, adult Cavapoos are also very unlikely to be shy, jumpy, territorial, or aggressive. They are on their best behavior when met with strangers, kids, and other pets.
Our Cavapoo puppies for sale are also kind and caring dogs that have affection written in their genes. They love to be doted on and crave attention from their owners. If you have more pets in your home, your new puppy will be thrilled. Your puppy will share its toys gladly and make fast friends with your other pets.
Family and Companionship
These loveable lap dogs are great companions and the perfect family pets. Cavapoo puppies thrive in a family setting where there are kids to play with and pet parents to love. Because of their sweet nature, attentiveness, and high trainability, these puppies also make fantastic therapy dogs for retirees and others in need.
Our Cavapoo puppies for sale will fit right into their new environment in no time at all. Entertainment is what these fun-loving puppies do best. They enjoy being the center of attention and are fond of putting on shows and impressing people with their cute puppy tricks. Full of energy and always ready to play, these dogs are perfect for children, though because of their small size it is important to supervise during playtime.
Our Toy Cavapoos and Mini Cavapoo puppies for sale are very small dogs that need to be handled with care. It is recommended to teach younger children how to handle and play gently with small puppies. Rough handling can cause your little puppy to be injured.
Cavapoo Exercise Needs
The Cavapoo puppy is energetic in its nature and therefore requires regular exercise and walks to remain healthy. Playing a game of tug or fetch with them along with a walk will ensure that your puppy's needs are met. They do not require as much exercise as Poodles, but are a bit more outgoing than Cavaliers.
Ideally, a 30-minute walk each day coupled with a few interactive games at home, will be enough to keep your puppy happy, in great shape, and exercised. Games of fetch, tugs of war, and treat hunts are among their favorite activities to do both indoors and outdoors, so make sure to add a few of these to your daily routines. Exercising your puppy's mind is as important as exercising its body, so mental stimulation games and activities are also beneficial for your puppy's wellbeing.
Cavapoo Puppy Training and Socialization
Due to its energetic and social attitude, it is important to regularly socialize your puppy with other dogs and people throughout its life. Socialization training should begin at home in a setting that your young Cavapoo puppy is familiar with.
You can begin introducing your puppy to a new family member once every few days until your puppy is comfortable with occasional interactions. Once your puppy reaches 12 weeks and has completed all its necessary puppy vaccinations, you can move on to socializing outdoors.
Our Cavapoo puppies for sale are naturally friendly dogs that are eager to make friends with other dogs, but they can also become shy if their first interactions don't go well or are frightening. It is recommended to keep new interactions short and frequent rather than force long interactions.
The Cavapoo puppy is a fun loving and clever dog that can easily be trained and responds well to positive reinforcement in any training step. Basic commands, leash training, and housebreaking should be easy lessons for your puppy to conquer. Consistency and patience work best when training a Cavapoo puppy. Training in agility and competitive obedience is also great for these puppies as they are an intelligent breed that is eager to learn.
Before adopting one of our Cavapoo puppies for sale, you can learn more about the Cavapoo breed from our Cavapoo breed information page.
You can also learn about the "do's and don'ts" of raising a new puppy from our New Puppy Owner Guide and master puppy training with help from our blog on How to Train a Puppy.
Cavapoo Reviews

JORDAN
Cavapoo Puppy
in Palm City
BERARDINELLI Family
8/24/2020
Our 15 years old Sammy died April this year, and my daughter went into a deep depression, so I made it my purpose to find another puppy. After dealing with a lot of scammers, I stumbled into Premier Pups; crossing my fingers, I order my puppy (Jordan) a cavapoo, now named SIG SAUER. I cannot be more pleased with the attention, and service of Premier Pups. I truly believe that it was heavenly intervention that I stumbled with the website. Thank you for everything!!

Time
Cavapoo Puppy
in Indianapolis
We love Timo so much. Our experience with Premier Pups has been amazing, they truly care about helping you make a smooth transition for your pup. Their customer service is amazing! I would recommend them to anyone!

CELINE
Cavapoo Puppy
in Novato
A family friend suggested Premier Pups and we couldn't have imagined a better experience! Bela is the sweetest, most energetic, loving puppy. We couldn't have hoped for a better addition to the family. The customer service provided by the Premier Pup team is unmatched. They have been available for phone calls, emails, and even text messaging. We've been in constant contact from the beginning of the adoption process to now. Thank you for all that you do!

Bentley
Cavapoo Puppy
in Jacksonville
Sharon Collier
12/19/2021
This is Bentley. He has brought so much joy to our family. He is a sweetheart who loves to give us kisses. When we received him he was in good health and has really turned out to be a great dog! Thank you Premier Pups, this little fur baby has truly Blessed our family.

FIDO
Cavapoo Puppy
in New
We wanted our Fur baby since forever!! We debated for months whether to get a Pomeranian or Cavapoo from Premiere. We finally decided that Rocky formerly known as Fido the Cavapoo was a match for us. Rocky has brought us such great joy and we couldn't thank premiere enough. Rocky was hand delivered to us (in PA) instead of a flight due to less flights because of COVID. Waiting for him to arrive was soo nerve wrecking but the drivers at Premiere did a good job of updating me where they were and if they were running late. We were fur baby in love at first sight! Rocky is perfect and Premiere has done such an incredible job getting Rocky home safe to us. We love that Premiere also keeps in contact with us to see how Rocky is doing. Nevertheless, do not hesitate on getting your pup from Premiere! Thanks Premiere for our forever fur baby!!????????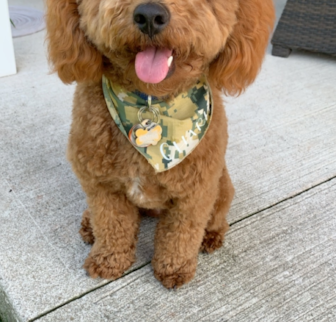 Charlie (formerly Kaiser)
Cavapoo Puppy
in Hamilton
We brought Charlie home in February 2020 and are having the best time of our lives. We were hesitant about getting a new puppy but when we researched found nothing but good about Premier Pups. They answered all our questions even before purchasing and after our purchase continued to text us with updates up until we picked him up. They even sent us videos! Even after we were home they called every day for the first week to check in and to help us with any and all adjustments. They were and continue to be very helpful and informative. Even sent a birthday text! We are delighted with our fur baby and recommend them to anyone who is thinking of purchasing a fur baby! Thank you for our great addition to the family

Italy (previously Tyra)
Cavapoo Puppy
in San Leandro
We love our pup, she is everything and more. The company is staff are very welcoming and professional. Definitely rate them 5 stars. Thank you guys for everything.

FLASH
Cavapoo Puppy
in Royal
MaryAnn Bridgewater
12/6/2020
Yesterday was Flash's first birthday and we are so happy. He couldn't be more perfect. Thank you Premier pups! We love him!

Rex
Cavapoo Puppy
in Santa Rosa
We had a great experience with Premier Pups from start to finish. Everyone was friendly and professional always making sure we knew what the process was and what we could expect. This made us feel very comfortable, and we are so happy we found Rex through this site. We love our dog!

Milo
Cavapoo Puppy
in Hollister
Manuel Espinola
4/27/2022
Premier Pups has been such a great experience. My husband researched several companies that had Cavapoo's because we wanted to make sure that we could trust the company. We are very pleased with Premier Pups customer service from the first initial request we put in for Milo (Tyson). They communicated with us through the whole process and answered all our questions and concerns. They followed up with us when we brought Milo home. It's awesome that they provide additional resources like Dr. Pup. They even called us on Milo's 1st birthday to wish him well. That shows how that they truly care about their pups. I highly recommend Premier Pups.
Cavapoo Breeders
Like people, the most critical moments in a puppy's life starts in the beginning. Providing a safe, natural, comfortable, and healthy environment for the nursing mother and her baby is essential. Only the nation's best Cavapoo breeders can provide the best quality of life. It truly takes a special breeder to assist with the nourishing and raising of a Cavapoo puppy properly.
Here at Premier Pups, we work hand-in-hand with our breeders. We spend consistent on-site time with our selected breeders and can undoubtedly say that our puppies come from a caring environment. The footage produced in our videos is 100% real. We directly take un-staged, unedited, and only authentic scenes at our breeder locations. We only align ourselves with Cavapoo breeders whose standards are much higher than the rest.