PHOTOS FROM OUR CUSTOMERS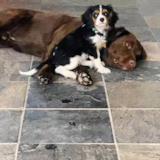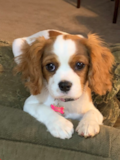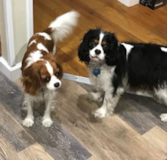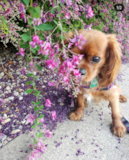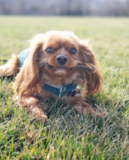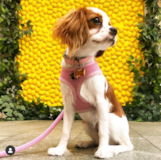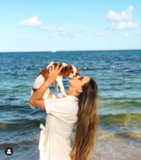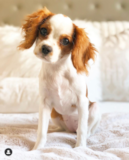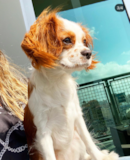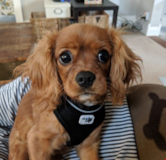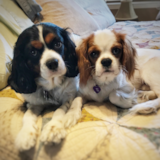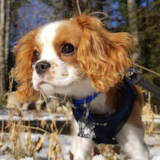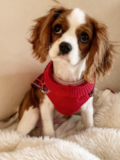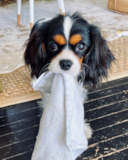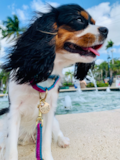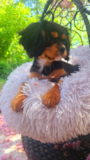 Cavalier King Charles Puppies For Sale
Affectionate ~ Cheerful ~ Courageous ~ Gentle ~ Social
Cavalier King Charles puppies for sale from Top Cavalier King Charles Spaniel Breeders. Mini and Toy Cavalier King Charles Spaniel puppies for sale nationwide. Cavalier King Charles Spaniel puppies are happy, gentle and friendly dogs who love to cuddle, entertain and impress. Funny, joyful and always ready for stunts, the Cavalier King Charles Spaniel is known for its contagious good mood. A member of the Toy group, the Cavalier King Charles Spaniel is small in stature with an average height between 12 to 13 inches and an average weight between 12 to 18 pounds.
Read more
BREED INFORMATION
CAVALIER KING CHARLES SPANIEL
---
Temperament

Affectionate, Cheerful, Courageous, Gentle, Social

Adult Weight
12-18 lbs
Adult Height
12-13 in
Life Expectancy
9-14 yrs
Rating

5.0

( reviews)
| | |
| --- | --- |
| Maintenance | |
| Training | |
| Shedding | |
| Adaptability | |
| Active | |
About the Breed
A beautiful dog that catches the hearts and eyes of everyone it passes, the Cavalier King Charles spaniel stands proud as one of America's sweetheart dogs. He is a small, toy dog breed that enjoys great popularity worldwide. The Cavalier who is also known as the English Toy spaniel is the smallest member of the American Kennel Club's Toy Group.
The Cavalier King Charles Spaniel puppies or the Cavalier Spaniels for short originated in England during the 17th century and quickly became the favorite pets of the Royal House of England. King Charles II was one of the breed's greatest admirers, owning quite a few Cavalier himself.
Recognized as one of the largest toy breeds and true to their heritage, these loyal and devoted pups make for the ultimate companion and lap dog. They are one of the most loved breed in both the United States and the United Kingdom.
Appearance and Grooming
According to the breed standard, the Cavalier has a strong, flat back and a long and silky fur with different colors like black, black and tan, grey, white, red, or cream. He has a long tail and a small body with long and pendent ears. He has a feathered tail which is carried high and moves when he runs. Because of his long coat, brushing is recommended often to minimize shedding.
Temperament
The Cavalier King Charles Spaniel has a friendly, active, and playful personality and gets along with humans and other pets. This dog is very happy to accompany its owners in daily activities. It doesn't bark excessively and is generally well-behaved. Despite these aspects, it can become suspicious around strangers. Sometimes, it tends to be shy or stubborn.
Family and Companionship
These playful puppies are just as happy to be city dogs as they are to be country dogs. They have soft and gentle natures, which make them outstanding as therapy dogs. Their sweet and affectionate personality makes them a perfect companion for anyone especially, "empty nesters," as these dogs love to cuddle and be close to their owner. Although they have a proclivity for noisy greetings, they are generally not a protective breed.
Exercise
Don't let their toy size fool you, as these dogs pack a lot of energy for their small frames. A daily walk each day and some indoor active play will surely keep your puppy in peak condition.
Training and Socialization
The Cavalier King Charles spaniel puppy's loyalty and obedience allow for this breed to be easily trained. Cavalier Spaniels are a true sporting breed and are often used in sporting competitions for their athleticism. They are often used in dog sports such as agility, flyball, and rally. Some have even shown their prowess as hunting dogs. Food rewards and positive reinforcement help ensure that training goes smoothly. Cavaliers have a soft personalities, so yelling at them is counterproductive and likely to send them into hiding. Instead, reward them every time you see them doing something that is good.
Our Cavalier King Charles spaniel puppies for sale are all about love, loyalty, and cuddles. They are a healthy dog breed that enjoys the company of people and pets just the same. These lovely dogs make excellent companions for families that have small children. They are also great for seniors, for new owners, and singles.
Frequently Asked Questions
What is a Cavalier King Charles Spaniel? The cavalier is a toy spaniel that was originally bred to warm the laps of queens of England in drafty castles and on chilly carriage rides.
Are Cavaliers good with children? Cavaliers are excellent with children, but the age of the children is an important factor in choosing a puppy. Because Cavalier puppies are so small, many breeders will not sell young puppies to families with children under the age of five. An older puppy or adult dog will be more suitable for such families. Small children should always be well supervised when around a delicate puppy.
How much grooming do Cavaliers require? Cavaliers require daily to weekly brushing to prevent tangles and mats and to maintain their long, silky coat.
How small are Cavalier King Charles Spaniels? This breed measures between 12 to 14 inches tall at the shoulders with a weight between 13 to 18 lbs.
Do Cavaliers bark a lot? No. Cavaliers are not known for being vocal, which does not make them a good choice for a watch dog. Like any dog they may let out a happy bark when there is a visitor or another dog passing by, but in general they are pretty laid back.
What is the temperament of a Cavalier? These sweet little pups are the epitome of companionship since they were initially introduced as lap dogs. They have a gentle and friendly nature making them an ideal pet for a family with children or other animals.
How much exercise will the Cavalier require? Cavaliers have quite a bit of energy so adequate exercise is very important. These dogs love games of chase and swimming, which are both excellent choices for exercise. They will also need 1 to 2 daily walks to keep them fit and healthy.
Do Cavaliers travel well? Yes! In fact, this little one will be happy to go on any errand or adventure that you plan. However, it is important to get them used to car rides and traveling at a young age.
What is the lifespan of a Cavalier King Charles Spaniel? The average life expectancy is between 8 to 12 years.
What are popular Cavalier mixed breeds? The most common mixed breeds of Cavalier are the Cockalier – Cocker Spaniel King Charles Mix, the Cavapoo – The Cavalier Poodle Mix and the Beaglier – The Beagle Cavalier King Charles Mix.
Are Cavaliers good with senior citizens? Yes! Retirees, or "empty nesters," find the companionship, temperament, small size and easy maintenance ideal. They are true companion dogs who give lots of affection and love. They are an excellent partner for seniors who need a walking partner.
What is the difference between a Cavalier King Charles and a King Charles Spaniel? A Cavalier King Charles Spaniel has a longer muzzle than their King Charles counterparts. The King Charles Spaniel has a much flatter muzzle and they have distinctly domed heads whereas Cavaliers have much flatter heads. Cavaliers have a strong scissor bite whereas a King Charles Spaniel's jaw is slightly undershot. Additionally, Cavaliers tend to be slight larger than their King counterparts. Their temperaments also differ- Cavaliers are a bit more outgoing where the Kings are a little more reserved.
Are Cavaliers okay being left alone for long periods of time? Most dogs do not enjoy being left alone, especially for long periods of time, and the Cavalier is no exception. This breed craves human interaction and attention and can develop depression and separation anxiety if left alone often or for long periods of time.
Are Cavaliers good watch dogs? If you're looking for a watch dog you may want to keep searching. This sweet little pup is all about making new friends and are happy to greet anyone who comes there way.
Are Cavaliers easy to train? Thanks to their lineage in sporting, the Cavalier has adopted the ability to learn and follow commands. They're eager to please and considered easy to train.
Cavalier King Charles Spaniel Reviews
Cavalier King Charles Spaniel Breeders
The most critical moments in a puppy's life, like people, start in the beginning. Providing a natural, comfortable, and safe environment for the nursing mother and her baby is essential. It takes a truly special breeder to assist with the nourishing and raising of a Cavalier King Charles puppy. Premier Pups uses the best Cavalier King Charles breeders in the nation to provide the best quality of life.
The footage produced in our videos is 100% real. We directly take un-staged, unedited, and only authentic scenes at our breeder locations. We only align ourselves with Cavalier King Charles Spaniel breeders whose standards are significantly higher than the rest. Here at Premier Pups, we spend consistent on-site time with our selected breeders and can undoubtedly say that our puppies come from a very caring environment.