PHOTOS FROM OUR CUSTOMERS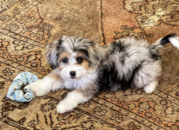 Mini Aussiedoodle Puppies For Sale
Loving ~ Energetic ~ Intelligent ~ Loyal ~ Outgoing
Mini Aussiedoodle puppies for sale from the nation's top Mini Aussiedoodle breeders at Premier Pups. Mini Aussiedoodle puppies are a doodle breed, a mix of a Mini Australian Shepherd crossed with a Mini Poodle. Like their parents, the Mini Aussiedoodle puppies are among the smartest dogs in the world. They train easily and are always eager to please their owner. They are also adventurous, gorgeous in every way, and sweet. F1 Mini Aussiedoodles are a half and half mix of a Poodle and a Mini Aussie – they come with Mini Aussie features and excellent health. F1b Mini Aussiedoodles are 75% Poodle and 25% Mini Aussie – these puppies have excellent hypoallergenic qualities and a very small stature.
Read more
BREED INFORMATION
MINI AUSSIEDOODLE
---
Temperament

Loving, Energetic, Intelligent, Loyal, Outgoing

Adult Weight
8-25 lbs
Adult Height
12-18 in
Life Expectancy
12-15 yrs
Rating

5.0

( reviews)
| | |
| --- | --- |
| Maintenance | |
| Training | |
| Shedding | |
| Adaptability | |
| Active | |
With its gorgeous hypoallergenic coat of its Miniature Poodle parent and the active nature of the Australian Shepherd, the Mini Aussiedoodle is definitely ranked as one of the most popular puppy breeds. Though, the true history the Mini Aussiedoodle remains unclear, it is certain that with the gain of designer dogs over the last several decades that this stunning dog was first bred somewhere in the 1990's. With its playful and social demeanor, these dogs require lots of love and attention and crave companionship.
Appearance and Grooming
With ears that hang down, small black almond shaped eyes, and a medium sized muzzle of that of the Australian Shepherd and its straight to curly, soft and silky coat like that of the Poodle, makes this puppy the perfect mix of both parent breeds. Their coats include the colors white, blue, black, yellow, brown, red, silver and gray. Brushing of their fur 2 to 3 times a week is recommended as well as regular trips to the groomer to keep their coats clean and their nails trimmed.
Temperament
Protective but not aggressive, these dogs can be quite easy going and surprisingly attentive. They are often very in tune with their owner's attitudes and emotions and will react accordingly. This breed is as playful and active as it is cuddly and calm. Known for their tendencies to become bored quickly, you can curb this with proper amounts of toys and playtime.
Family and Companionship
A perfect companion this loyal and loving dog will make for an excellent addition to the family. With strong traits of adaptability and affection your new puppy will surely get along well with children and other pets. Because of their friendly nature, it is not a good idea to bring one of these into your home as a watchdog, but rather a member of the family.
Exercise
With its strong desire to play and heightened curiosity your new companion will need exercise throughout the day and the opportunity to run and show off their agility talents. A recommended two walks a day with some backyard playtime should be plenty to keep them healthy and happy. Because of their curious nature and need to socialize make sure to keep an eye and leash on your puppy at all times when in social areas and gatherings.
Training and Socialization
Considered to be an extremely bright dog that is eager-to-please, they listen and obey well to commands making training a fairly easy task. Practicing patience with positive reinforcement and a rewards-based approach to training will surely reward you with a long, happy, and healthy relationship with your pooch. As with training, early socialization is recommended as it will help your sociable pups personality to shine.
Frequently Asked Questions