CALL OR TEXT ANYTIME 740-809-3074
Aussiechon Puppies For Sale
Snuggly ~ Lively ~ Intelligent
Also Showing
Similar Breeds
Click the
x
to Remove Breed(s) from Listing Below
BREED INFORMATION
---
| | |
| --- | --- |
| Maintenance | |
| Training | |
| Shedding | |
| Adaptability | |
| Active | |
A cross between a Mini Australian Shepherd and a Bichon Frise, the Aussie Chon has the intelligence, charisma and spirit of the Aussie, and a low shedding and hypoallergenic coat of the Bichon Frise.
Frequently Asked Questions
REVIEWS
AUSSIECHON
---
Cookie is a very energetic and super cute puppy. We love her so much. She's a very friendly puppy and she loves play time with her chewy toys. She's a great addition to our family. Thanks Premier Pups
Millie has been a great addition to our family! She is sweet and so smart! Having a new puppy in the house has definitely been an adjustment, but we are so glad that we got Millie. Premier Pups has answered all of our questions - We would recommend them to anyone!
My husband and I explored many options when considering purchasing our 1st puppy. We wanted a small breed that our 5yo daughter would feel comfortable around. We learned about Premier Pups and reached out to someone who posted a review. She responded to us immediately and gave awesome reviews of her experience. So we sealed the deal with Premier Pups and our experience has been great. Oreo arrived on 7/2/20. The staff were responsive and answered our questions. They even sent me a video demonstrating how to administer the preventative meds as my pup would not open her mouth. I would definitely recommend Premier Pups. The process was easy & straight forward. Now we are just waiting to hear what the Vet says at her 1st appt. Given what I see now, I think the Vet will approve as well.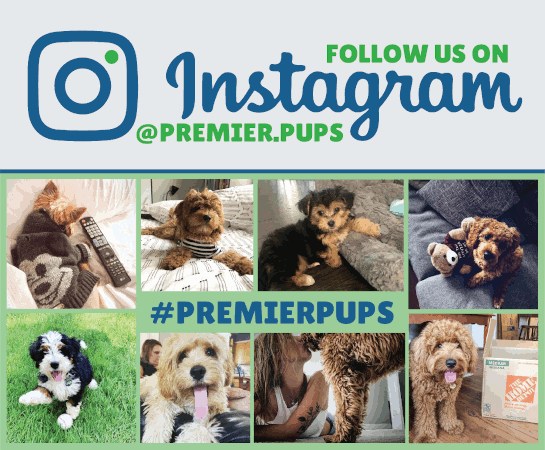 PREMIER HEALTH STANDARDS
Tracking the Health & Care of Our Puppies
On-Site Nose-to-Tail Veterinarian Inspections