Mini Goldendoodle Breed Information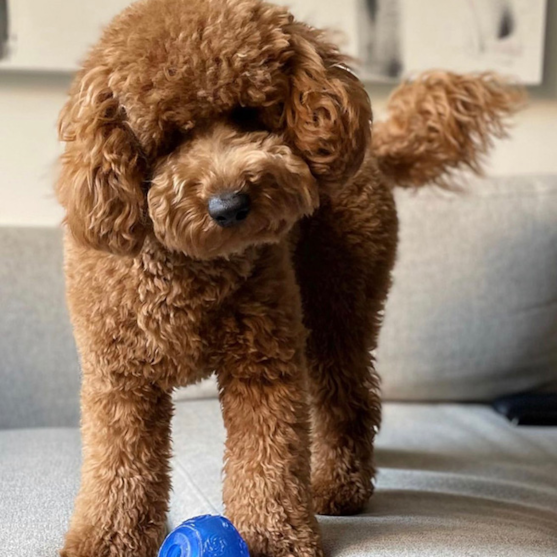 Small, happy, with a bit of spunk and a great deal of love to give, the Mini Goldendoodle puppy makes for a perfect little companion pet. Mini Goldendoodles are joyful dogs that love cuddles, adventures, and most importantly, their humans. They have an adoring behavior towards children and are quite keen on pleasing and impressing their owners. One of the favorite doodle dogs in America, the Mini Goldendoodle is a cross of a Miniature Poodle and a Golden Retriever. These cute puppies inherit all the best qualities their parents have to offer. They are intelligent, loyal, friendly, and as sweet as can be.  
BREED TYPE / MIX Doodle Hybrid / Poodle crossed with a Golden Retriever ENERGY Moderate SHEDDING Minimum TRAINING Responsive TEMPERAMENT Affectionate, Intelligent, Loving, Social ADULT WEIGHT F1B: 20-35 lbsF1: 25-45 lbs ADULT HEIGHT 13-22 in LIFE SPAN 10-14 yrs
Mini Goldendoodle Characteristics
The Mini Goldendoodle breed is also known as Mini Groodle, Mini Goldiepoo, Mini Goldenpoo, and Golden Retriever Mini Poodle mix
Playful, fun, and entertaining, Mini Goldendoodles are one of the best dog breeds for children
The Miniature Goldiepoos are as friendly as they come – they are friendly and good with children of all ages, other dogs, pets, and even strangers
Mini Goldendoodles are known to feel at home with large and small families as well as with singles, couples, and seniors
Easy to adapt, train, and groom, the Mini Goldendoodle puppies are a perfect fit for first time pet owners
Mini Goldendoodles live longer healthier lives due to hybrid vigor 
The Miniature Groodle is known to quickly adapt to both hot and cold climates
The sweet, gentle, and loyal nature of the Mini Goldiepoos makes them excellent therapy and emotional support dogs
Mini Goldendoodles have low-shedding coats and hypoallergenic qualities
Highly adaptable – whether it's a small apartment or a large house, the Mini Goldenpoo is quick to adapt to any living situation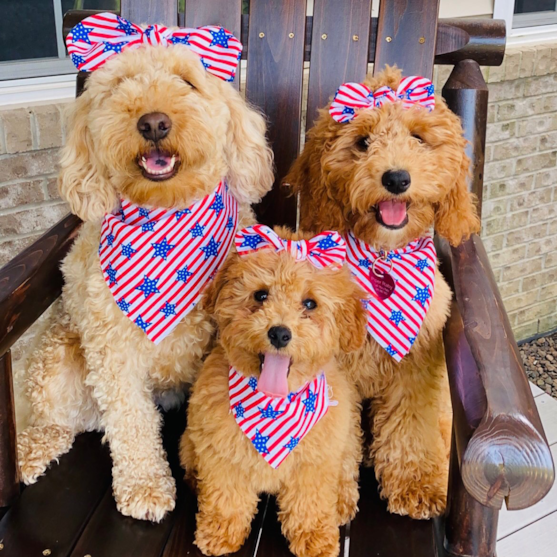 Mini Goldendoodle Breeders
WATCH VIDEO of our Breeder Care
The most critical moments in a puppy's life, like people, start in the beginning. Providing a natural, comfortable, and safe environment for the nursing mother and her baby is essential. It takes a truly special breeder to assist with the proper nourishing and raising of a Miniature Goldendoodle. Premier Pups uses the best Mini Goldendoodle breeders in the nation to provide the best quality of life for our puppies.
The footage produced in our videos is 100% real. We directly take un-staged, unedited, and only authentic scenes at our breeder locations. We only align ourselves with Mini Goldendoodle breeders whose standards are much higher than the rest. Here at Premier Pups, we spend consistent on-site time with our selected breeders and can undoubtedly say that our puppies come from a caring environment.
Mini Goldendoodle Appearance
Small to medium in size and perfectly stunning, the Mini Goldendoodle is a truly sweet sight to see. These petite Mini Goldendoodles have adorable puppy faces, shiny round eyes, dark button noses, and endearing floppy ears. They appear sporty-athletic and display a friendly and warm demeanor.  
The Mini Goldendoodle size can differ depending on which breed generation they belong to. An adult Mini Goldendoodle stands at 13 to 22 inches tall and has an average weight of 20 to 45 pounds. An F1b Mini Goldendoodle full grown can weigh anywhere between 20 to 34 pounds.  
The coat of the Mini Goldendoodle comes in a myriad of colors that can vary from black, copper, white, cream to gray, apricot to red apricot, golden, red, and yellow. Their coats can have various looks and textures as well with some Mini Goldendoodles inheriting the Golden Retriever's shaggy fur, some inheriting the Poodle's curly fur and some, a perfectly balanced combination of both.
Among the most popular Mini Goldendoodle colors are:
Red Mini Goldendoodle
White Mini Goldendoodle
Black Mini Goldendoodle
Brown Mini Goldendoodle
Merle Mini Goldendoodle
The Mini Goldendoodle has a low-shedding coat and is considered a hypoallergenic dog breed.  
Mini Goldendoodle Temperament
Their gentleness, kindness, and patience, their empathic, sweet, and affectionate nature, coupled with their intelligence and happy demeanor are all qualities that make the Miniature Goldendoodles the best qualified dogs for service work, emotional support, and therapy jobs. Mini Goldendoodles are highly intelligent dogs that love to be mentally stimulated and to learn new tricks. They are easy to groom and simple to train and they make great companion pets for first-time pet owners.  
Affectionate, gentle, and playful, the Mini Goldendoodle is known to be fantastic with children of all ages. Highly entertaining with a knack for tricks and stunts, these dogs can keep kids as well as adults entertained for hours on end.
Sociable, outgoing, and with a friendly nature, the Mini Goldendoodles are known to make fast friends with everyone they meet. They lack aggression and are fond of human and canine interactions. These dogs are extroverted, brave, curious, and energetic. They have a strong love for water, great passion for games and nature, and they make wonderful hiking companions.
These gorgeous little dogs inherit the agility and intelligence of the Poodle, the sweet and loyal nature of the Golden Retriever, and the cuddly good looks of both parent breeds. 
Mini Goldendoodle Reviews

Shyann (Adora)
Mini Goldendoodle Puppy
in Bolingbrook,Illinois
Cheryl and John Furmaniak
9/24/2021
Shyann's adoption was amazing. Premier Pups were caring and answered any questions. Shyann has two older sisters. Sophie and Skye. Skye is like a Momma to her and shows her the ropes of the house. They have full rein off the home and just a few puppy issues and a talking to helped. She loves snuggling in bed whether with me or Skye and Sophie. She is a mini and still small at 16 weeks. We love ❤️ her and so do the Grandkids. Thank you for your kindness. Cheryl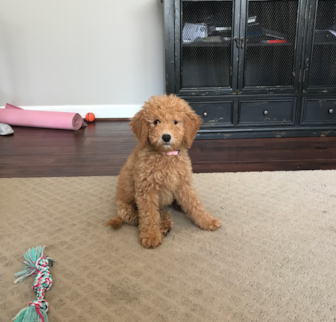 Rosie
Mini Goldendoodle Puppy
in Virginia
I highly recommend getting a puppy from here! Rosie is so cute and sweet! Picking up our puppy was very easy And quick!!

Wrigley (Formerly Sawyer)
Mini Goldendoodle Puppy
in Tampa, FL
Kiersten Schorgl
5/12/2020
I was very wary of any place that I would get my first dog from. I did all the research for local places for Mini Goldendoodles, but stumbled upon Premier Pups, and knew this was the place to get my pup. My one concern of a place too far to drive to was having him in cargo for flights. Wrigley ( Formerly Sawyer), had two flights to get to me. One to Atlanta, and one to Tampa. I was able to track his flight the whole way, a picture was sent to me of him during transfer in Atlanta, and picking him up from cargo was easy & Wrigley was unbothered from the journey. I've heard horror stories of people who got "mini" Goldendoodles, and they're now 90-140 lbs. Wrigley is now a year and a half old, full-grown, and 25 lbs- a typical mini size. He's the most amazing dog, constantly learning, and so cuddly and sweet to every person and dog. The only thing I wish I knew about this breed is how often they need to be groomed. After about 8 months old, it's an every 6 week process, which gets expensive. A small cost to a worthwhile companion though. The one concern I voiced about my process with Premier Pups afterward the whole ordeal was swiftly handled. I received a call from the owner who apologized and corrected the small problem. 10/10 will use for my next puppy.

Jax AKA Jax
Mini Goldendoodle Puppy
in Gahanna Ohio
Leslie and Mike Shivley
6/12/2020
We had lost our Rat Terrier of 13 years in 2019. We swore never again. (never say NEVER!) Jax became available the day after Valentines Day. I scheduled a surprise "Drive By" and picked 3 pups to look at. We live about 30 min. away! We never got to the second or third pup. Jax stole my wife's heart, tears started flowing and the credit card came out! I realize now I never really truly loved our past dogs. Jax is that kind of dog that steals your heart runs around the room daring you to catch him and when you get it back it's way better than we when he stole it! Premier Pups was amazing before during and after the sale. There followup process is second to none! The Med. package and support is perfect. Having dogs through out my 62 years I can easily say Premier Pups is by far the best way to go and highly recommend!

Maisie
Mini Goldendoodle Puppy
in Quincy, MA
Seamless puppy buying experience. Jacob and Roger were always responsive towards answering our questions throughout the whole process. We are happy to have Maisie (aka Tayla) here as a part of our family.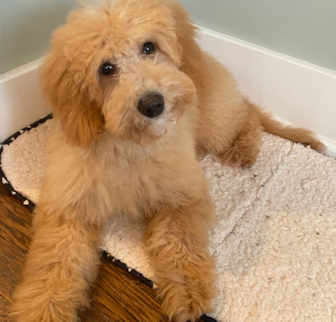 Cody
Mini Goldendoodle Puppy
in Pittsburgh PA
This is Cody (formerly named Armani), a Mini Goldendoodle, whom we adopted on November 7, 2020. He has been an absolute joy. He's very sociable, energetic, confident, and loves everybody--dog and human alike--that he meets. He has been perfectly healthy, with absolutely no issues at all. He's robust and growing--5 pounds when we adopted him, 14 pounds now (01/26/21). Everyone who sees him remarks on how incredibly cute he is. He also seems to be quite clever, solving puzzles and learning new commands very fast, not that he always follows those commands yet, of course! We're happy dog owners and very pleased with our decision to get a puppy (our first ever) from PremierPups.

Hagrid (previously Perry)
Mini Goldendoodle Puppy
in Forest City, NC
My family has been looking for and researching mini golden doodles for several months. We never could quite find one that seemed just perfect until we found Premier Pups. We fell in love with Hagrid (previously Perry) at first sight! Premier has been so helpful, even from the first time that I messaged them! I had so many questions because we have never bought an animal online and I thought it would be a scary, overwhelming process. They answered every question and made it easy and have been in contact with us since the day we made the purchase. We are extremely pleased with every aspect of Premier and we couldn't have found a more perfect fit for our family! Hagrid is the new baby and he is loving it!

Jordy
Mini Goldendoodle Puppy
in Ewa Beach hawaii
Was definitely nervous ordering a dog online... but it was the best decision I ever made in my life! Had been dreaming of a goldendoodle for years and my Jordy boy is so much better than I ever could have imagined. He is the sweetest little boy with the most beautiful coat I have ever seen! Being an F1 there was a chance he would shed, but he hasn't shed at all! Premier pups was amazing from start to finish. They let me FaceTime him before making a decision and that did me in! If I ever were to get Jordy a sibling it would absolutely be from premier pups.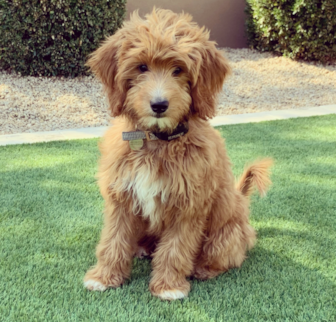 Stella (formerly Liv)
Mini Goldendoodle Puppy
in Scottsdale,AZ
Stella has been such a great addition to our family! We had a great experience with premier pups! She is smart, loving and adorable at 6 months old!!

Talia
Mini Goldendoodle Puppy
in Powell,OH
We searched for a mini Goldendoodle for over a year and could never find one in a shelter. I was scared to buy a dog online, never seeing it or where it came from. But I kept coming back to Premier's website every day. I fell in love with this girl who was named Scarlett, renamed Talia. We picked her up at 9 weeks, weighing 3 lbs 8 oz. She is 5 months now, weighing 9 lbs, and is the absolute joy of our home. She is so loving, playful and easy to train. We bell trained her and she is for the most part potty trained....except when someone comes to the house and she is so excited to see them she just can't contain it!! She has learned to sit, stay, paw and we are working now on lay down. We have never had a dog before so we were so anxious, but Premier made it easy for us. Talia is a healthy and growing mini who we are simply swooned over.
Mini Goldendoodle Insights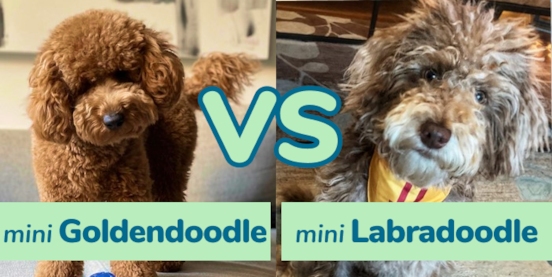 Mini Goldendoodle vs Mini Labradoodle Comparison
Cute fur-babies that will melt your heart on sight – that is what the Mini Goldendoodle and Mini Labradoodle are. Two bundles of joy that were created for companionship, love, and fun, these perfect little dogs impress with their loving personalities and adorable looks. The Mini Goldendoodle and Mini Labradoodle are two immensely popular and well-loved small dog breeds. Choosing between them can be quite difficult as they are both easy to train, non-aggressive, friendly, and very affectionate....

Hollywood's Latest Trend – Doodle Dogs
Ever since the 1950s, Doodle Dogs have been an ever-rising trend around the world. Apart from their astonishing looks, allergy-friendly qualities, and big brains, these gorgeous pooches have also been 'labeled' and seen as fashion dogs. They've been owned by pop singers and movie stars, and some of them even made it to the White House.
The craze with these dogs started just as the new doodle puppies...
Mini Goldendoodle Care
Mini Goldendoodle Grooming Requirements  
Mini Goldendoodles are low maintenance when it comes to grooming. Their grooming needs depend on the length of their coats. A Mini Goldendoodle that sports a short coat will require one weekly brush whereas a Mini Goldendoodle that has a long coat will require two to three brushings per week to avoid tangles and matting. In both cases, they need to be bathed once every month or so. It is recommended to clip their nails as they grow and clean their ears regularly.
Mini Goldendoodle Exercise Needs
Mini Goldendoodles are playful and active dogs. They enjoy going on hiking trips, camping adventures, and swimming. They also love to be included in all family activities and play canine games like frisbee, fetch, and find-it. Mini Goldendoodles don't mind spending their day cuddled on their owner's lap and are just as happy lazing around as they are running freely outside. A 30-minute walk and some active playtime at home each day is enough to keep them fit and content.
Mini Goldendoodle Health  
The Mini Goldendoodle is generally a healthy dog breed with very few health concerns. As a mix of two purebred dogs, the Mini Goldendoodle benefits from hybrid vigor which in simple terms means better health than its parents. By adding a new gene pool to the mix, certain health conditions that purebreds are prone to are canceled out. Hybrid dogs like the Mini Goldendoodle are less prone to the same ailments their parent breeds suffer from. That being said, there are certain conditions these dogs can develop such as hypothyroidism, patellar luxation, allergies, ear infections, Von Willebrand Disease, Elbow dysplasia, and retinal atrophy.
Mini Goldendoodle Lifespan
The Mini Goldendoodle lifespan is between 12 and 16 years. Mini Goldendoodle life expectancy can increase with a proper exercise regime, regular vet checks, and superior quality dog food.  
Mini Goldendoodle Training
Mini Goldendoodles are highly trainable dogs. They are both agile and smart, have eager to please personalities and can be easily trained. These cute puppies love to impress, so training in tricks is an activity they will always be anxious to partake in.  
Leash training and socializing a Mini Goldendoodle puppy should be an easy task. They make friends fast with other dogs, pets, and humans alike, and they love to discover and explore novel places.  
Mini Goldendoodles are family-attached dogs and leaving them alone for extended periods of time can lead to separation anxiety. It is recommended to leave them alone for a few minutes at a time when they are puppies, to help them adjust to some alone time and to avoid any future behavioral issues.  
Mini Goldendoodle History
Mini Goldendoodle puppies appeared soon after their larger cousins – the Standard Goldendoodles – in 1969. Created as a new breed of hypoallergenic guide dogs, Mini Goldendoodles and Standard Goldendoodles were an instant hit. The world came to favor these dogs for their extroverted personalities, devotion, and jovial disposition.  
Mini Goldendoodles are a mix of a Golden Retriever and a Miniature Poodle.  
With their rise in popularity during the 1990's, the Mini Goldendoodle would spread out through three generations:  
A first-generation Mini Goldendoodle (known as an F1 Mini Goldendoodle) is a cross between a purebred Golden Retriever and a Miniature Poodle.
A second-generation Mini Goldendoodle (known as an F1B Mini Goldendoodle) is a mix between an F1 Mini Goldendoodle and a Miniature Poodle.  
A third generation Miniature Goldendoodle (known as an F2 Mini Goldendoodle) is a cross between two Mini Goldendoodles.  
More information on the differences between breed generations.
The Mini Goldendoodle is young compared to other breeds and doesn't have an extensive history. To better understand these doodle dogs, we can look at the histories of their parent breeds – the Golden Retriever and the Poodle.  
Although their origin is a bit of a mystery, with some claiming they originated by crossing a Water Spaniel with a Retriever, and others saying they originated from a pack of Tracking Sheepdogs, what history has taught us is that the Golden Retriever, as we know it today, has been a loving and loyal friend of humans for centuries. A favorite companion of hunting parties, the Golden Retrievers have been famous throughout history for their strength, speed, agility, and devotion.  
With a history full of achievements, the Poodle is one of the most versatile dog breeds in the world. The Poodle has been a duck hunter, a circus performer, a therapy dog, a k9 military soldier, a show dog, and a most beloved companion pet throughout history. Represented In art, literature, and poetry around the world, the Poodle is and has been one of the most adored dog breeds in history. Elegant in appearance, with an agile mindset, and a loving personality, the Poodle has been a favorite of aristocrats and noble families for centuries. The Poodle is now a renowned beauty in the show ring, a star in movies and cartoons, and a champion in dog sports.  
Today, Mini Goldendoodles are one of the most popular dog breeds in the United States, Europe, and Australia. Mini Goldendoodle breeders are currently working on creating smaller versions like micro Mini Goldendoodle and teacup Mini Goldendoodle.  
Frequently Asked Questions
How big will my Mini Goldendoodle get as an adult? At full growth the average height of a Female Minature Goldendoodle is between 17-19 inches with an average weight of 20-35 lbs. For Male Miniature Goldendoodles their average height is between 16-17 inches with an average weight of 18-30 lbs.
What types of coats do Miniature Goldendoodles have? They can have a straight, wavy or even a curly coat. You can best tell what type of coat your puppy will have when they reach about 6 weeks of age.
What colors do Miniature Goldendoodles come in? These pups can come in solid colors or with patterns. The most common colors include: cream, fawn, brown, isabella, grey, red and black.
What is the difference between F1, F1B, and F2? F1 is a breeding of a Golden Retriever and a Poodle. The standard doodle would be with a standard size poodle and the mini would be with a mini size poodle. F1B is a breeding of an F1 Goldendoodle with a Poodle. This means 75% poodle and 25% golden retriever. F2 results from breeding F1 golden parents. This results in a 50% golden retriever-50% poodle ratio.
Do Miniature Goldendoodles make good service/therapy dogs? Yes! Their friendly nature, strong intuition and unmatched intelligence, allows them to excel in areas of service and therapy.
Are Miniature Goldendoodle's considered a breed? Currently, a miniature goldendoodle is considered a "Hybrid Designer Breed" and the AKC does not recognize them as a pure breed at this time.
Are Miniature Goldendoodles hypoallergenic? Miniature Goldendoodles are a cross breed and therefore their coats can vary. Some do not shed at all and some have light shedding that occurs. Generally speaking, they are a great choice for allergy sufferers.
Should I be concerned with any common health problems? Because this Miniature Goldendoodle is considered a hybrid the only genetic diseases they can be prone to would be those shared by both the Golden Retriever and the Standard Poodle, both of which have no major concerns. As with any dog as they begin to age you can expect common concerns. For this hybrid they may be prone to CHD, PRA, VonWillebrand's, Elbow and patella disorders.
What is the life expectancy of a Miniature Goldendoodle? The average life expectancy is 10 to 15 years.
Are Miniature Goldendoodles good with kids? Yes! Aside from their loving and sweet temperament, Miniature Goldendoodles make great pets for families with kids or just friends visiting with children. These dogs are very energetic and love to run and play with kids.
Does my Miniature Goldendoodle need to be groomed regularly? It depends on the look you're going for. Ideally Miniature Goldendoodles with a longer hair length need professional grooming every 6-8 weeks. If you like to keep your Mini with a shorter clip, they will need professional grooming every 8-10 weeks.
What is best for me- a male or female? If you're looking for a more active Miniature Goldendoodle then you may want to think about a female. Though, the males are still active they have a tendency to be more laid back.
How active is the Miniature Goldendoodle? Miniature Goldendoodles energy levels are average. In addition to a daily walk they will need about a half to an hour of play each day to stay fit and trim.
Are they sociable? Yes, very much so. Miniature Goldendoodles are highly sociable dogs who form long-lasting bonds with their humans.
What is the temperament of a Miniature Goldendoodle? Goldendoodles are loyal, gentle and affectionate. They have the obedience of the golden retriever and the intelligence of the Poodle. They are sociable animals who love to be around the company of people.