Teddy Bear Breed Information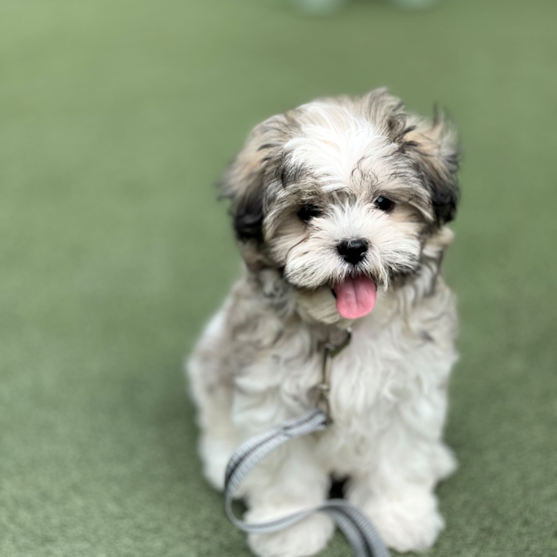 Teddy Bear puppies are a mix between a Shih Tzu and a Bichon Maltese (Teddy Bear Mal-Shi) or a mix between a Shih Tzu and a Bichon Frise (Teddy Bear Shichon). Truly a teddy bear in appearance, the Teddy Bear's hypoallergenic coat is soft and fluffy and comes in a variety of gorgeous colors which are most commonly white, brown, black, grey and yellow. A designer hybrid, the Teddy Bear dog embodies the small size of the Shih Tzu averaging in weight between 6-14 lbs and height between 9-12 in.  Entertaining and outgoing, cuddly and affectionate, calm temperament and eager to please personality are just some of the many traits that make the Teddy Bear pup a truly wonderful addition to any family.
BREED TYPE / MIX Hybrid / Shih Tzu crossed with a Maltese or Bichon ENERGY Moderate SHEDDING Minimum TRAINING Responsive TEMPERAMENT Affectionate, Independent, Intelligent, Loving, Out-Going, Playful ADULT WEIGHT 6-14 lbs ADULT HEIGHT 9-12 in LIFE SPAN 12-14 yrs
Teddy Bear Characteristics
The Teddy Bear is friendly all around – friendly with kids, other pets and strangers
Cuddly and warm, the Teddy Bear is an excellent therapy dog
Highly adaptable – whether it's an apartment, a farm or anything in between, the Teddy Bear is known to easily adapt to any living situation
The Teddy Bear is best suited for large and small families with or without children, singles and seniors
Fully hypoallergenic non-shedding Teddy Bear coat
The Teddy Bear is easy to train and loves learning and performing new tricks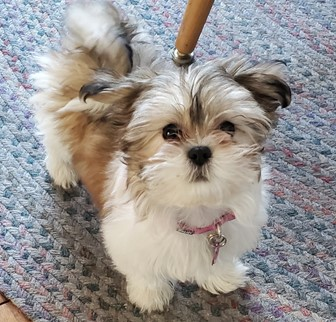 Teddy Bear Breeders
WATCH VIDEO of our Breeder Care
It truly takes a special breeder to assist with nourishing and raising a Teddy Bear puppy properly. Like people, the most critical moments in a puppy's life starts in the beginning. Providing a safe, natural, comfortable, and healthy environment for the nursing mother and her baby is essential. Only the nation's best Teddy Bear breeders can provide the best quality of life. Here at Premier Pups, we work hand-in-hand with our breeders. We spend consistent on-site time with our selected breeders and can undoubtedly say that our puppies come from a caring environment. The footage produced in our videos is 100% real. We directly take un-staged, unedited, and only authentic scenes at our breeder locations. We only align ourselves with Teddy Bear breeders whose standards are much higher than the rest. 
Teddy Bear Appearance
Small in stature, with an average height of 9-12 in and an average weight of 6-14 lbs the Teddy Bear is considered to be a toy dog breed. With its body covered in a soft fluffy coat, a round face with sparkly round eyes, a small precious nose, cute hanging ears and a puffy short tail that curls on its back, it is truly a Teddy Bear. The Teddy Bear coat is hypoallergenic and comes in a variety of colors, most commonly white, brown, black, grey and yellow. It is beneficial for the Teddy Bear to wash trim and brush its coat periodically.









Teddy Bear Temperament
Playful, friendly and gentle, the Teddy Bear loves to play with kids, is an attention seeker and adores spreading joy to the people around it. Always happy, excited and well-mannered with a calm temper and loving personality, the Teddy Bear is easy to train and always eager to learn and perform. When play time is over, its sweet and affectionate Teddy Bear nature takes over and is instantly ready for cuddle time.
Teddy Bear Reviews

Maddie
Teddy Bear Puppy
in Princeton, WV
As a first time pet owner, I was nervous and unsure what to expect. The process and follow up was extremely helpful. Now, I can't imagine life without Maddie. She is so friendly and affectionate! She is almost 8 months old and still as sweet as she was on day 1. If you are on the fence, I would definitely recommend the addition of one of these little ones! Thank you Premier Pups, my life has been greatly enriched by Maddie Rose! ??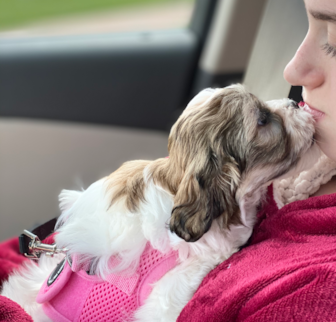 Lili
Teddy Bear Puppy
in Birmingham
We bought this dog on Thursday, April 16 th and my daughter loves her

Zsa Zsa
Teddy Bear Puppy
in CA
Premier Pups service has been excellent! Would highly recommend. Zsa Zsa (formerly Bailey) has been an absolute blessing to our family. You can rest assured with Premier Pups that they deal with only the best breeders. Zsa Zsa came to us perfectly healthy and she has such a sweet disposition. The support and care Premier Pups provides is truly exceptional and first class all the way for both you and your fur baby!

Charlie
Teddy Bear Puppy
in Westerville
I spent several months looking for the right fit for me and several times almost hit that button to just buy a puppy. It though never felt right until I saw the face of this little guy. He was the "one", I knew it and still shuddered at the fact of paying so much money for a dog! I closed my eye and hit the purchase key, and received an immediate response that he was mine. I remember the day I was to pick him up, wondering "what did I do" I like to sleep in, get up and meditate, have my coffee etc and now my world was about to change!! I cannot tell you how much I love this little guy, he is perfect and by 8pm every night, he is done for the day. I put him in his very comfy crate and he sleeps until I come and get him in the morning! Getting up and going out in the cold is not a big deal to me, he is my buddy, I am so happy with my purchase, and the service that came with him.

Elsie
Teddy Bear Puppy
in Detroit, MI
Stacie Blackledge
6/18/2021
We got Elsie (formally Vivian) in November 2020. We made the drive from Detroit to Premier Pups to pick her up and it was a super easy experience. She is my first small breed dog and they called and checked on us numerous times as well as answered my calls when I had questions. Elsie is the sweetest dog, and loves every member of our family equally. She has been our bright spot during quarantine.

Winnie
Teddy Bear Puppy
in Winter Park
Melissa Caligiuri
12/9/2020
We couldn't be happier with our sweet Winnie Bear! She is now a year old and just the best pup. Our experience with Premier Pups was excellent. So grateful to have Winnie in our family!

Neuman
Teddy Bear Puppy
in Las Vegas, NV
We couldn't be more happy with our fur baby! He truly is what a healthy puppy should be. Ozzie (formerly known as Neuman) is great with our kids and is loved by everyone. Our experience with Premierpups could not have been any better, they are a Five star company who genuinely cares about all there pups!

Baxter (formally obrien)
Teddy Bear Puppy
in Eugene, or
I adopted my teddy bear puppy Nov 23rd 2020. My puppy is healthy and happy. I am very happy with my the adoption from Premier Pups. My daughter came to visit on New Years and fell in love with Baxter. I told her how happy I was with my adoption from Premier pups that she adopted a teddy bear pup Ed from premier pups that will be available for her family on Jan 17th!

Harley (Tonya) and Lucy (Tiffany)
Teddy Bear Puppy
in Radcliff, Ky
We began looking for our new pups after our 14 year old Pomeranian brothers passed several years ago, from the moment we did the research to finally picking them up yesterday the entire staff and process was incredible. Follow up call today to check on them with more care and concern on how they were adapting and if we had any questions. Took them to our Vet today (same one who cared for our poms) and she said the checkup was great with no concerns and they were well cared for during the 8 weeks with no concerns or issues. If you are planning to purchase Pups this is definitely the place. I will continue to refer any of my friends and family.

Lady (formerly Erin)
Teddy Bear Puppy
in Texas
We absolutely love our Teddy Bear pup. She's incredibly healthy and the sweetest dog we have ever known. She loves playing with all my children and there's not a mean bone in her body. Lady has truly been a blessing to our family and she makes us laugh on a daily basis. I highly recommend Premier Pups and plan to get another pup again in a year or so
Teddy Bear Insights

The Poochon and Shichon are two of the most incredible designer dog breeds in the canine kingdom. These two cuties are playful, affectionate, loyal, and highly trainable. They are fun playmates for kids, excellent trick performers, and lovey-dovey family dogs. If your choice comes down between the two, read on to learn more about their qualities, what they share and how they are different.
A puppy's love is a pure thing and, here at Premier Pups, we aim to give our loving...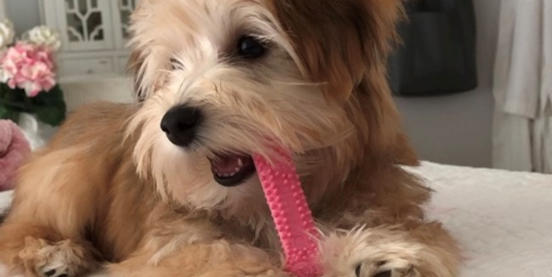 A designer dog is a cross between two different purebred dogs. This means that a designer puppy is a mixed breed and has parents from two separate breeds.
By crossing two highly popular breeds that have the most desirable personality traits, a new and improved breed is achieved. The designer puppy inherits a combination of wonderful traits from both parent breeds and a fashionable look. Designer puppies also develop hybrid vigor,...
Teddy Bear History
Although the exact origins of the Teddy Bear breed are unknown, we can look back at the history of the Shih Tzu breed, the Maltese breed and the Bichon Frise breed to better understand the designer hybrid breed.
The Shih Tzu, one of Teddy Bear's parent breeds is said to be one of the oldest of dog breeds and a favorite of emperors. There are cultural depictions of the Shih Tzu dog breed in chinese art dating back to the 6th century. The parent breed of the Teddy Bear is said to be a dog with royal attitude and rightfully so as they were raised to live in palaces and please emperors.
The Maltese breed is said to be part of the canine world aristocracy. A dog of royalty and nobility, the Maltese breed has been represented in paintings, ceramics and literature for centuries. The Maltese dogs are among the most mannered small sized pets, obedient and vigorous but also joyful and playful.
Centuries ago, the Bichon Frise breed was very popular in France and Spain, appearing in royal family portraits in both countries. It is said that during the 16th century, sailors brought the Bichon Frise from Tenerife to Europe where it quickly stole the hearts of court ladies with its affectionate and sweet nature, soon becoming a court favorite. 
Frequently Asked Questions
What kind of dog is a Teddy Bear? Teddy bears are designer dogs, which are the result of two or more breeds. Most commonly, their parents are Shih Tzu and Bichon Frise's, Shih Tzu and Maltese or Bichon-Poodle mixes.
What are the Teddy Bear breeds? The Teddy Bear breed includes the Zuchon, Pomeranian, Poochon, Shih Poo, Mini Goldendoodle, Maltipoo, MorkieSchnoodle, Cavapoo, Malshi , Cairnoodle, Cockapoo, Westiepoo, Shorkie, Pomapoo, Yorkipoo, Pomchi, Peekapoo and Cavachon.
How big are Teddy Bear dogs? Most Teddy Bear breeds measure between 8 and 12 inches at the shoulder and weigh between 9 to 16 lbs.
What type of coat does the Teddy Bear have? These pups have soft and fluffy coats that have minimal to no shedding. Their hair can be kept long or short depending on the style you are going for.
What is the temperament of the Teddy Bear dog? These breeds are friendly, loving, playful and devoted to their owners. They have the tendency to be needy and don't like to be left alone for long periods of time. They have an adventure seeking spirit and are always ready for a new adventure.
What is the lifespan of a Teddy Bear? The average lifespan is between 12 to 18 years.
Are Teddy Bears aggressive? No, they're not known as an aggressive breed.
What are common health concerns of the Teddy Bear? The most common health concerns of the Teddy Bear Breed include epilepsy, eye issues, hypothyroidism and hip dysplasia.
How much exercise will a Teddy Bear need? Though they are small they still require a bit of exercise. Twice daily short walks in addition to active play like fetch or tug will be enough to keep these little ones healthy.
Are Teddy Bears easy to potty train? Potty training should be a fairly simple process as long as there is consistency with their training. They will need to be taken out often when they are puppies- even during the night.
Are Teddy Bears a good fit for families? They are a wonderful choice for a family pet. These attention seeking pups thrive on love and happiness and don't like to be left alone. They will quickly attach to all members of the family.
What clubs or organizations are the Teddy Bear's registered under? They are registered under the American Canine Hybrid Club.
Are Teddy Bear's smart? These dogs are very intelligent, which makes training fairly easy as they are eager to please and love to be rewarded for good behavior.
Can I register my Teddy Bear with the AKC? No. Currently, the American Kennel Club does not recognize hybrid breeds.
Do Teddy Bear's need regular grooming? Yes. Teddy Bear's will need regular scheduled professional grooming appointments every 6 to 8 weeks to keep their coats and skin clean and healthy and nails trimmed.