Love in Time for Christmas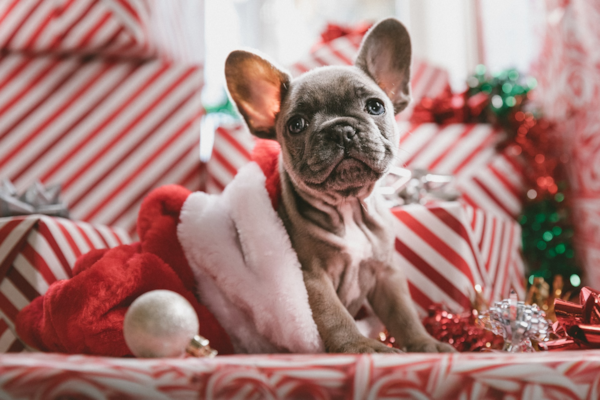 Love in Time for Christmas
Published
Tuesday, November 30, 2021
by
PremierPups
Christmas is just around the corner. It's time to hang the big Christmas socks and stock up on hot cocoa and wine. Bring out the scented candles, the comfy pillows, and the warm puffy blankets, and join in on the wonderful Christmas spirit. Replace your regular coffee mugs with Christmas-themed ones and make sure to update your carol playlist. One more thing. Deck the halls and get a puppy! Don't forget to plan ahead for the most special gift this year. That one gift that will make this Christmas the best Christmas EVER. Plan ahead and bring love home in time for Christmas.
🎶 Deck the halls and get a puppy
Fa la la la la, la la la puppy
'Tis the season to be jolly
Fa la la la la, la la la puppy 🎶
At Premier Pups, NOW is our favorite time of the year. It's the time of year when grandparents, husbands and wives, sisters and friends, parents, sons, and daughters, all reach out to find that one perfect gift for their loved ones. We are blessed to share in the joyful anticipation our customers experience when adopting a puppy to gift for Christmas.
Adopt a puppy for Christmas and unlock a new level of joy this season.
The world might be in disagreement on many things right now, but the one thing that everyone can agree on is that getting or gifting a puppy for Christmas is bliss. Whether you're a child, a parent, or a grandparent, receiving a puppy for Christmas translates to pure happiness. On the other hand, when you gift someone a puppy, you are also gifting love, strong bonds, and a long-lasting friendship. Not many gifts can match up to these two.
Adopt a puppy for your children
Gifting your children with a puppy for Christmas is the ultimate surprise. The emotions, the happy tears, the laughter, and the joyful moments that are felt as you're gifting your child with a cute puppy in a huge bow, are priceless. And just as priceless are the years that follow. As your child grows up with his or her puppy, they learn about friendship, compassion, and the art of being responsible for another being. They have a forever friend to play with and a magnificent teacher of important lessons. At Premier Pups, we are happy to recommend our top puppies for families with children. Our best breeds for kids include the Maltese, Maltipoo, Mini Bernedoodle, Havapoo, and the Cavalier King Charles Spaniel. These puppies are calm-tempered, sweet, playful, and docile. They make the jolliest of gifts.
Adopt a puppy for your seniors
Your seniors need a forever friend too, especially one that can provide them with peaceful companionship and unconditional love. And Christmas is the time to make that move and gift them with joy. Whether your seniors are your parents, grandparents, or family friends, getting them a puppy will change their lives for the better and they will thank you for it. Find the right puppy breed that will motivate them to go out more and join them on the couch for sweet snuggles on relaxing evenings, and grant them this special Christmas gift. At Premier Pups, our sweetest puppies that seniors love include the Shih Tzu, French Bulldog, Shorkie, Pug, Pembroke Welsh Corgi, Bichon Frise, and the lovely Havachon.
Adopt a puppy for yourself
Now, who's to say you can't adopt a sweet puppy for yourself this Christmas? Hot cocoa and the cutest snuggle buddy make the best combination for a relaxing, peaceful, fun, and perfect Christmas. So do an adventurous puppy and a mountain of snow! Winter is coming and so are the snowball wars. If you want this Christmas to be fun-filled, relaxing, and overrun with love, it's time to take the plunge and adopt a cute puppy for yourself. Here are a few puppies that our Premier Pups families say are the best sidekicks for adventures and the cutest cuddle buddies: the Teddy Bear dog, Pomsky, Mini Goldendoodle, Cavapoo, Cockapoo, Havanese, and Mini Aussiedoodle.
Adopt a puppy for your friends
Yes! Their "ugly" Christmas sweaters are nothing short of beautiful this season. Their Christmas lights are shining brightly and their Christmas tree is just gorgeous this year. Their decorations are on point and so is their cooking. But they are the biggest Christmas fans you know and you want to gift them with something truly special this year. Would something fluffy with a cute ribbon on top make their day? Say, a happy little creature that wags its fluffy tail uncontrollably and enthusiastically? A merry and bright puppy to bring a jolly vibe into their homes? We believe that Santa's little helpers are puppies. They are the gift of love. We are excited to recommend our most loving and lovable puppies that you can gift your friends this Christmas. These are the Mini Labradoodle, Morkie, Pomeranian, Aussiepom, Poochon, and the magnificent Poodle.
Christmas is ten times better with a happy puppy prancing and dancing around. Before you adopt a puppy or puppies, make sure that you are fully committed and prepared to care for them, meet their needs, and provide them with a warm and loving environment.
Related Posts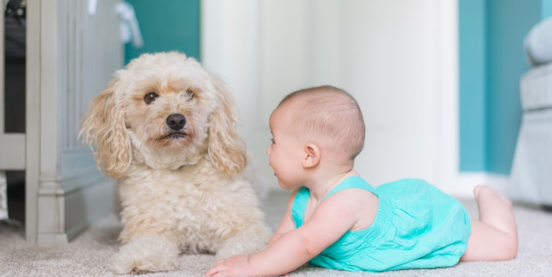 Fun household, joyful companionship, lessons on the art of compassion and responsibility, friendship, and love are just a few of the many wonderful things a dog brings to a family with children. Dogs are remarkable creatures capable of much more than we give them...
Read More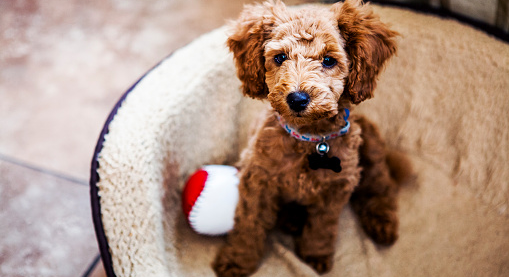 Allergies to dogs are a common thing around the world. As of 2021, it's been reported that up to 20% of the world's population suffers from pet-related allergies. Allergies to animals, especially to dogs, are triggered when the proteins that are found...
Read More