Shorkie Puppies For Sale
Affectionate ~ Energetic ~ Friendly ~ Loving ~ Sweet
Shorkies are spunky little fluffs that can swim in a bowl, sleep in a cup, and fit in a purse with plenty of room to spare. These pups are known for their affectionate nature, loyalty, and fearless personalities. They love to love and protect their favorite humans, they thrive on attention, and they have no real concept of their non-ferocious looks and size. In their minds, Shorkies see themselves as alligator-looking dogs, and although that is far from their actual appearance, they do have the big personalities to match the courageous beasts they envision to be. These little pups are spirited, friendly, loving, and very intelligent. They have a knack for mischief, a dash of stubbornness, and a whole lot of love to give.  The dream dog Shorkie is a designer mixed breed, a cross between a Shih Tzu and a Yorkshire Terrier.  
Read more
BREED INFORMATION
SHORKIE
---
Temperament

Affectionate, Energetic, Friendly, Loving, Sweet

Adult Weight
6-14 in
Adult Height
4-10 lbs
Life Expectancy
13-16 yrs
Rating

5.0

( reviews)
| | |
| --- | --- |
| Maintenance | |
| Training | |
| Shedding | |
| Adaptability | |
| Active | |
A newer designer dog breed, the Shorkie is a cross between a Yorkshire Terrier and a Shih Tzu, these tenacious and protective pooches have no idea they are a small dog. They are toy sized dogs who have plenty of energy and lots of love to give. They are fiercely loyal to their owners and because of this, can become anxious when parted from them.
Appearance and Grooming
This small breed with their thin legs and wispy tails, have a decent amount of muscle on their bodies. They have a rounded face and a short muzzle. Most take after their Yorkie parent with a straight or a slightly wavy coat. To touch it is usually soft and sleek. As they are a hybrid, Shorkies can come in a range of colors including Black and Tan, Brown and White, Gold, Red and Gold, Black & White. Though not 100% hypoallergenic, this breed has very minimal shedding and with regular brushing it would be almost unnoticeable.
Temperament
These dogs are generally sociable and enjoy the company of people and other dogs. They are playful but also know when it's time to relax. Similar to their parent breeds they are alert and vocal, making them great watchdogs. However, their bark is definitely worse than their bite.
Family and Companionship
A spirited, stubborn and intensely loyal protector, the Shorkie is best suited for adult only homes, or those with experienced older children. They don't like to be left alone for long periods of time and can become anxious and moderately destructive. Early socialization will help to ease their anxiety.
Exercise
Despite their small size, these dogs are energetic and active. They can easily walk for up to an hour each day (if they feel like it) their stubborn personalities may prefer to stay curled up on the couch instead of going for a walk. It is recommended to exercise these pups 30-60 minutes each day to keep them healthy and fit.
Training and Socialization
Though these dogs are highly intelligent, their stubborn characteristics can make training difficult. This breed thrives on routine and becomes despondent when yelled at. It is important that you train them consistently and don't become frustrated. One or two short, 15 minute training sessions a day is best and make sure they master what they are learning before moving on to the next command or trick. As with most dogs, positive reinforcement and encouragement will always make for the best results and a happy pup. These dogs are not hard to socialize as their curiosity makes them want to meet people and animals of all ages. When socializing with other dogs keep an eye on them as their small size. Because these mighty little dogs think that are much larger than they actually are they can get easily hurt in rough play with larger dogs.
Frequently Asked Questions
What is a Shorkie? The Shorkie is a cross breed with a Shih Tzu and a Yorkshire Terrier as its parents.
What was the Shorkie bred for? The Shorkie was developed as a lap dog companion.
How much does the Shorkie weigh? The average Shorkie weighs between 7 to 16 lbs.
What is the lifespan of a Shorkie? The average life expectancy of a Shorkie is between 12 to 14 years.
How tall is a Shorkie? The average full grown Shorkie measures between 7 to 8 inches at the shoulder.
What are common health concerns that affect the Shorkie? The most common health concerns that affect this breed include, Brachycephalic Airway Syndrome, Luxating Patellar, Hypomagnesemia and Hypocalcemia, Kidney problems, dysplasia, Liver problems and Eye.
Does the Shorkie shed? Shorkie's are a fairly low shedding breed.
How often does the Shorkie need to be groomed? You should brush your Shorkie once or twice per week. They will require regular scheduled professional grooming appointments every 6 to 8 weeks to keep their coats trimmed and clean and their nails clipped.
What breeds are similar to the Shorkie? The breeds that are the most similar to the Shorkie include, the Borkie - Beagle Yorkie mix, a Corkie - Cocker Spaniel Yorkie mix and a Snorkie – The Miniature Schnauzer Yorkie mix.
What color coats do the Shorkie's have? The Shorkie's most common coat colors include, red and gold, black and white, black and tan, or brown and white.
Does the Shorkie make a good watch dog? They sure do. Small and mighty, this breed is very devoted to and protective of its family. They will let their owner know anytime a stranger is approaching or something seems amiss.
Can the Shorkie be left alone? The Shorkie gets very attached to its owner and family and doesn't like to be left alone. If left for extended periods of time, the Shorkie can develop separation anxiety and destructive behaviors.
Do Shorkie's make good family pets? Yes, though they don't do well with families that have small children. Because of the small size they can be easily hurt when playing with small children. Children often see them as toys or "stuffed animals" and don't understand how to be gentle.
What is the temperament of the Shorkie? This breed is a brave and spirited soul that will protect its family and display a strong sense of loyalty and devotion. They are an excellent companion dog, but they don't like to be left alone.
Does the Shorkie bark a lot? Yes. This little one is always on alert and loves to hear themselves, "speak". They are full of enthusiasm and have a natural desire to guard their "castle" and their family. They also don't take kindly to teasing and will be sure to put anyone or pet in their place.
Shorkie Reviews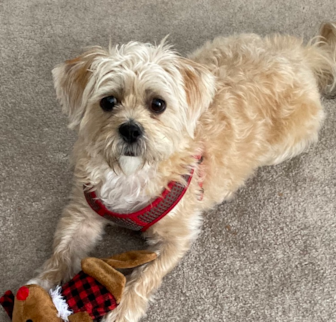 Teddy
Shorkie Puppy
in Troy
Dennis and Gloria Denomme
1/11/2021
Teddy will be one year on March 3,2021. He is getting to be such a big boy, so smart! He has a ton of energy and likes a lot of attention. He has such a loud bark, for such a small dog! Teddy is such a fun addition to our family, and we love him dearly. He is sweet and friendly! We were so happy to find premier pup, and Teddy!!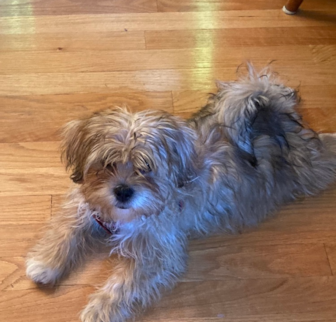 Teddy
Shorkie Puppy
in Troy
Gloria and Dennis Denomme
6/30/2020
Teddy (Almond) was awesome on the 4 hour drive home from Premier pup on May 6,2020. At his first vet check, our vet remarked how health he was! Teddy is 4 months old, and a wild and crazy pup! He is so smart, and he is such a character. He has brought such joy to our family! I would highly recommend premier pup, their customer service is wonderful! Any questions I had prior to purchasing Teddy, and after bringing Him home were answered right away! We purchased the pup pee poo palace, and Teddy loves his crate. He slept thru the night after two weeks. We love our little Teddy, and so happy we found him!! Thank you premier pup.

Teddy
Shorkie Puppy
in Troy
We brought Teddy (Almond) home on May 6 2020. He was perfect on the 4 hour ride home to MI. We are getting used to each other, and his sweet, spunky personality. He is such a funny, curious little guy! He makes us laugh, and certainly keeps us on our toes! He gets wild and then conks out! He is a joy, and so darn cute! He looks like a Teddy Bear!! We appreciate the great customer service provided by premier pup. We had to stay in our car upon arrival due to coved 19, but Dan brought Teddy out, along with instructions, and supplies. We purchased the pup pee poo palace, and really think it's great.
Shorkie Breeders
Like people, the most critical moments in a puppy's life starts in the beginning. It truly takes a special breeder to assist with nourishing and raising an Shorkie puppy properly. Only the nation's best Shorkie breeders can provide the best quality of life. Here at Premier Pups, we work hand-in-hand with our breeders. Providing a safe, natural, comfortable, and healthy environment for the nursing mother and her baby is essential.
The footage produced in our videos is 100% real. We directly take un-staged, unedited, and only authentic scenes at our breeder locations. We only align ourselves with Shorkie breeders whose standards are much higher than the rest. We spend consistent on-site time with our selected breeders and can undoubtedly say that our puppies come from a caring environment.