PHOTOS FROM OUR CUSTOMERS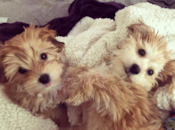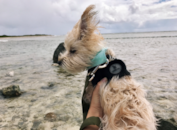 Morkie Puppies For Sale
Affectionate ~ Energetic ~ Loving ~ Loyal ~ Playful
Partnered with our Nation's top Morkie Breeders, Premier Pups offers the cutest Morkie puppies for sale. Toy & Teacup Morkie puppies for sale nationwide. Morkies are adorable, fun, playful, and feisty little fluffballs. They love playtime as much as cuddle time, thrive on attention, and enjoy being spoiled. Sweet, affectionate, devoted, and family oriented, Morkie puppies were bred to love and to be loved. Intelligent, loyal, and spirited, the Morkie has a big personality beautifully wrapped in a stunningly cute little body. These feisty little toy dogs max out at 9 inches tall and weigh and average of 5 pounds. The Morkie is a designer dog – a cross between a purebred Maltese and a purebred Yorkshire Terrier.
Read more
BREED INFORMATION
MORKIE
---
Temperament

Affectionate, Energetic, Loving, Loyal, Playful

Adult Weight
5-8 lbs
Adult Height
6-10 in
Life Expectancy
12-15 yrs
Rating

5.0

( reviews)
| | |
| --- | --- |
| Maintenance | |
| Training | |
| Shedding | |
| Adaptability | |
| Active | |
A crossbreed between the Maltese and the Yorkshire Terrier, the Morkie, also affectionately known as the Yorktese or Morkshire Terrier was first bred in the 1990's here in the United States as a designer puppy. Since then it has gained considerable popularity for its perfect combination of intelligence and beauty. While, these dogs make for sweet, loyal and loveable pets, they can often become quite bullheaded and territorial if not properly trained early on. Prior experience with a smaller breed is recommended.
Appearance and Grooming
Though the coats tend to be soft, rather long and hypoallergenic with colors typically ranging from solid white to black and tan and every color and combination in between, it is difficult to predict each litter. The unpredictable diversity is what makes these pooches so desirable. Regardless of its coat, this crossbreed needs to be brushed several times a week to keep the coat from matting or tangling. In addition to routine brushing, regular bathing is important to keep their coat healthy and lush.
Temperament
Despite their tiny size this breed makes for a spirited and intelligent pet. Its inherited sense of fearlessness and energy from its Maltese parent shines through as these dogs are easily excitable and happy to greet anybody they meet. Underneath all of that energy and sometimes mischief these dogs are true lap dogs with a truly sweet and loving nature.
Family and Companionship
It is an obedient and loyal pup and its friendly personality helps it to make fast connections. It doesn't like to be alone and suffers when it's not appreciated and loved. It loves to play or curl up on the couch for a nap and requires frequent human companionship. Its loyalty and devotion tends to make this devoted dog very protective of its owner and family. As an adaptable and easy going pooch and while their size makes them ideal pets for apartment dwellers, they can be a problem for your neighbors as they love to bark. When left alone, this little yapper will bark until someone comes home to be with him, which doesn't bode well for good relationships with close neighbors. This loveable ball of fluff is perfect for an owner who can take them wherever they go.
Exercise
This breed doesn't require too much exercise. A couple of brisk walks throughout the day and some active play time will provide the exercise your puppy needs to stay healthy and fit. Morkies should never be left off leash to or unattended during outside play unless they are in a securely fenced in area. If you live in an area where birds of prey are known to roam, you must pay particular attention not to leave your pooch unattended.
Training and Socialization
It has the Yorkshire's intelligence and therefore is easily trainable, however it can be a little bit stubborn which may require a gentle, firm and patient trainer. It is imperative for it to be properly trained at a young age. These pint size puppies have strong personality traits and think they are much larger than they actually are and as such may try to dominate their owner and smaller animals.
Frequently Asked Questions