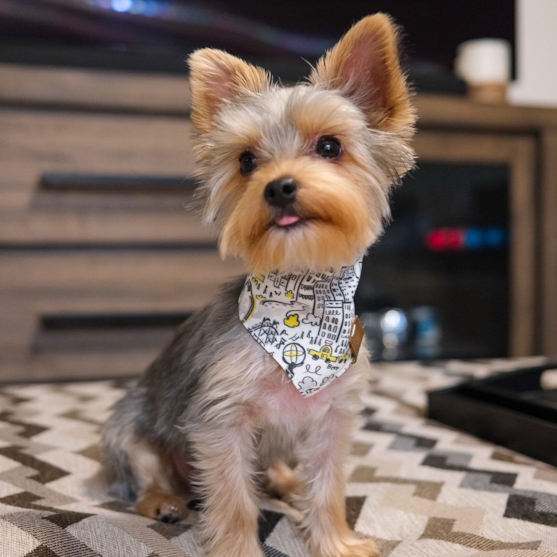 Yorkshire Terriers (Yorkies) are feisty, adventurous and spunky little dogs. They are sporty and wild, cuddly and affectionate, and they love to travel and explore. They are highly devoted family-oriented dogs.  Yorkshire Terriers have amazing, colorful personalities. They are loving, fun, playful, and fond of attention. They love to perform tricks and they are great at canine sports.  Yorkies are elegant toy-sized dogs with an average weight between 4 and 6 pounds and an average height between 8 to 9 inches. they have a glamorous long silky hypoallergenic coat, sparkly dark eyes, a little black nose, and small pointy ears.  
BREED TYPE / MIX Purebred ENERGY Moderate SHEDDING Minimum TRAINING Determined TEMPERAMENT Courageous, Energetic, Independent, Playful ADULT WEIGHT 4-6 lbs ADULT HEIGHT 8-9 in LIFE SPAN 10-16 yrs
Yorkshire Terrier Characteristics
Alert, protective, and vigilant, the Yorkshire Terrier is a great watchdog
Yorkie puppies are easy to train. They are known to be obedient and fast learning students
Adventurous and explorers at heart, Yorkshire Terriers are wonderful travel companions
The Yorkshire Terriers have a long lifespan with an average of 16 to 18 years
Highly receptive, affectionate, and devoted, the Yorkie has a great reputation as a therapy dog
The Yorkie is a hypoallergenic dog with a low-shedding coat
Yorkie puppies are highly adaptable, they are comfortable in small apartments as well as in big homes
Yorkies are fit for both active and laid-back lifestyles
Friendly and out-going, the Yorkshire Terrier is great with children and household pets
The Yorkie is an affectionate, cheerful dog best suited for families, singles, seniors, and first-time pet owners
According to the AKC, the Yorkie dog is the 10th most popular dog in the United States
The Yorkie dog breed is recognized by the American Kennel Club since 1885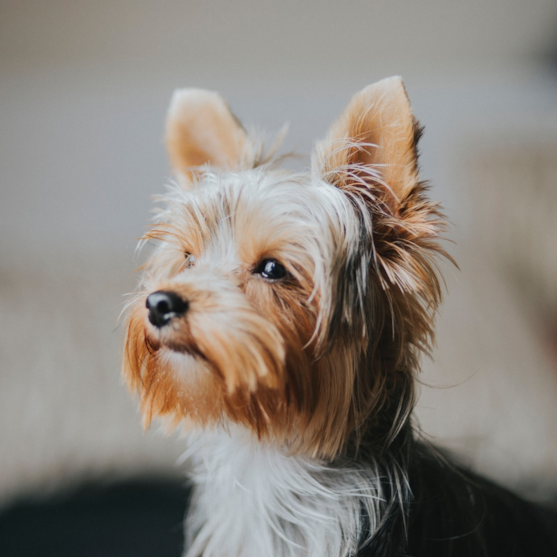 Yorkshire Terrier Breeders
WATCH VIDEO of our Breeder Care
Like people, the most critical moments in a puppy's life starts in the beginning. It truly takes a special breeder to assist with nourishing and raising a Yorkshire Terrier Puppy properly. Only the nation's best Yorkie breeders can provide the best quality of life. Here at Premier Pups, we work hand-in-hand with our breeders. Providing a safe, natural, comfortable, and healthy environment for the nursing mother and her baby is essential. The footage produced in our videos is 100% real. We directly take un-staged, unedited, and only authentic scenes at our breeder locations. We only align ourselves with Yorkshire Terrier breeders whose standards are much higher than the rest. We spend consistent on-site time with our selected breeders and can undoubtedly say that our puppies come from a caring environment.
Yorkshire Terrier Appearance
Gracious and elegant in appearance, with their heads held high, the Yorkshire Terriers carry themselves in a proud and confident manner.
A member of the Toy Group, the Yorkshire Terrier is small in stature averaging in weight from 4 to 6 pounds and in height from 8 to 9 inches for an adult Yorkie (full grown Yorkie).
The Yorkie size can differ based on breed type and sex. A female Yorkie is slightly smaller than a Yorkshire Terrier male. Teacup Yorkie, Miniature Yorkie (or Mini Yorkie), Toy Yorkie, and Micro Yorkie are smaller versions of the standard Yorkshire Terrier. A full grown Teacup Yorkie is also slightly smaller than a standard Yorkie.  
The Yorkie has a small compact and well-proportioned body, a medium length muzzle, dark sparkly eyes, and small pointy ears.  
The Yorkshire Terrier coat is made of a long straight, silky, and soft glossy hair that has very light shedding and is hypoallergenic. The breed standard Yorkie colors are golden tan with steel blue. Although Yorkie puppies are born with a much darker coat, the lighter shades on the coat will develop into the standard breed colors as they mature.  
Although their official recognition is yet unclear, Yorkies can be found in various sizes and colors. The most sought-after types of Yorkies are:
Parti Yorkie
Teacup Yorkie
Toy Yorkie
Miniature Yorkie – Mini Yorkie
Micro Yorkie
Micro Teacup Yorkie 
Other popular Yorkie colors include:
White Yorkie
Black Yorkie
Chocolate Yorkie
Merle Yorkie
Black and White Yorkie
Blonde Yorkie
Brown Yorkie
Silver Yorkie
Black and Brown Yorkies  
Among these colors, there are a few that are categorized as rare Yorkie colors. These include solid colors like silver, brown, white, black, and blonde, as well as parti colors like black and brown, and black and white.  
Yorkshire Terrier Temperament
Energetic, playful, and happy, the Yorkshire Terrier loves to run and hike, fetch and chase, and will greatly enjoy a game of "hide my treats so I can go seek." The Yorkie is a strong, speedy, and athletic little dog who loves canine sports and performs really well in agility, rally, and obedience.  
Popular for possessing all the qualities of a larger dog, the Yorkie is a feisty, fearless, and protective little warrior who will not be intimidated by any dog no matter the size.  
The Yorkshire Terriers are bold, have a curious nature and are tenacious explorers who like to check things out and be aware of every little corner of their surroundings.  
The Yorkies are fun, spunky, independent little dogs who are more than happy to keep themselves entertained with a toy.  
Loving, cuddly and affectionate, the Yorkshire terriers are a hundred percent devoted to their human family; they are quite fond of attention and they very much enjoy performing, entertaining, and being applauded by an audience. 
Yorkshire Terrier Reviews

Rocky
Yorkshire Terrier Puppy
in Los Angeles, CA
Alyson Messenger
10/14/2021
Rocky joined our family a little over a year ago. He was just the infusion of joy and hope that our pandemic-weary family needed! Rocky is the sweetest dog ever. He's smart, loving, and mischievous in that way that all terrier owners understand. Rocky has brought so much laughter and happiness to our family that it's hard to imagine our family without him. Thank you Premier Pups for sending us such a wonderful, healthy, happy puppy. We love Rocky dearly!

king
Yorkshire Terrier Puppy
in OH
Mr. & Mrs. Ty Keith
12/19/2020
We purchased King in September he is now . We love him so dearly , after our lost of our baby prince (teacup) Yorkshire. King was a perfect fit for our family . He is so handsome and healthy . We highly recommended premiere pups !! Their breeds are true and great customer service . We call them with any questions and they have the answer . Will be purchasing again soon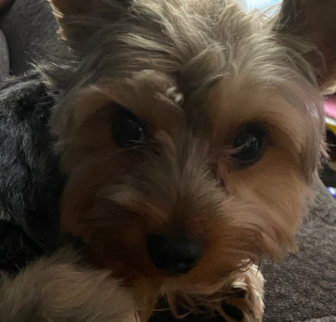 Bear
Yorkshire Terrier Puppy
in Summit point, wv
We bought bear back in February of 2018. He was the best decision we've ever made. He is so smart and nutty (especially after his bath). He is like a little kid because he always looks in our bags for a new toy when we get back from the store. He gets so excited for a new toy. He will get on the back of the couch with a toy in his mouth to show us when we come in the door. He does have anxiety and doesn't like car rides at all which I hate because I wanted a dog I could take with me everyplace I went but I do t love him any less. I wouldn't trade him for the world. Now I have a new grandson in the house (2mths old) and he has adapted to having him there and loves giving him nose and ear kisses. I highly recommend this place for your beloved family member. Bear was and is completely healthy and lovable. If I ever want another I will be coming back here for sure.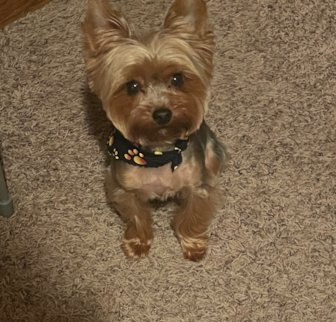 Chaise
Yorkshire Terrier Puppy
in Clarksburg, WV
Cody and Aimee Ash
3/1/2021
I have already posted one review, but thought I'd provide an update. We have had Chaise now for over 2 years and he is the sweetest little guy. He brings so much love and plenty of laughs in our lives. I can't thank Premier Pups enough for being accommodating and providing us with the best little baby.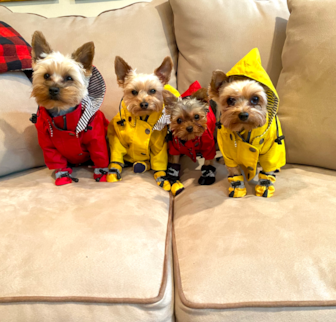 Nugget, Scrappy and Woogie
Yorkshire Terrier Puppy
in Syracuse, NY
I got Nugget Chipperman (formerly Trigger) 3 years ago as a companion to my older Yorkie, Simba, but then decided he eventually needed a younger brother as Simba was getting a little older. So, then came Scrappy Doodles (formerly Jenkins), who is now just under 2-years-old, and since I was on a roll with having the youngsters, I decided "why not have 2 puppies since I haven't slept in 6 months as it is?!" In came Woogie Bandit, and they are the closest pack of brothers I could ever hope for! I have no regrets at all getting any of my three boys from Premier Pups, and I'm sure in the future....far future now, as I am just starting to sleep again after Woogie just turned 1 in October....they'll get another brother one day.

Daisy (previously Izzie)
Yorkshire Terrier Puppy
in Germantown, MD
I am very happy with my dog ??daughter ??. The service of the Premier Puppies is very good, I am very happy and satisfied.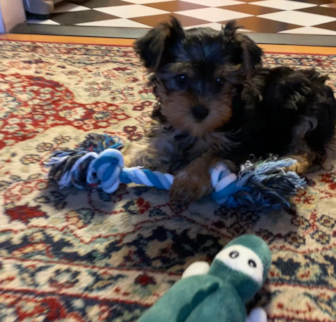 Jermey
Yorkshire Terrier Puppy
in New York
Arun, Ami, and Isha
7/27/2020
We got Jermey just this Friday, we love him so much!! It seems that he has adapted well to the city noises, as he sleeps through the honking of cars. He's super playful and loving! Thank you Premier Pups!!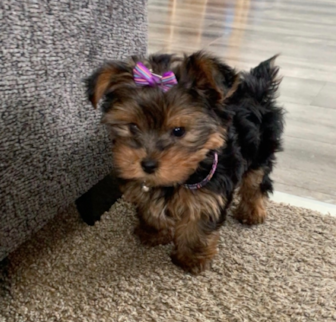 "Bella" Chanel
Yorkshire Terrier Puppy
in Toledo Ohio
Karen Richardson
5/12/2020
I have been monitoring Premier Pups site for a long time before finally making a pup purchase. I was very skeptical about making the online purchase and not being able to see the actual pup in person. Well, the transaction was very easy after watching the Informational videos. The pick up was very easy and professionally done. The puppy was actually the exact pup that I purchased. Chanel has been with us a week now, healthy as can be. Premier Pup Associates communicated daily, emailed weekly expectations, and made sure everything was covered to assist us with the transition. I'm very grateful and happy that I took this chance. Thank you Premier Pups!!!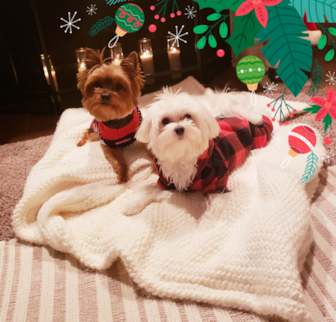 Lorenzo & Gio
Yorkshire Terrier Puppy
in Mentor, OH
My family & I adopted our Yorkie-Lorenzo, 5 years ago, and our Maltese-Gio, last March. They have brought so much joy into our lives (and becoming the best of buds.) Premier pups has always been excellent at reaching out periodically to check in on the boys. I didn't hesitate for a second to go through them again to adopt our second. Quick to respond, always available if you have any concerns, and has a very clean & welcoming facility. My pups have always been healthy and happy. I would gladly adopt a 3rd from premier pups-(if the hubs let's me) ;)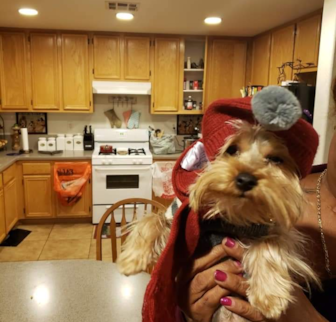 MISTER
Yorkshire Terrier Puppy
in Victorville ca
Cynthia Franklin
12/30/2020
Mister is the best thing happen to my life.He been a part of me since he was 8wks ..He will be 3yrs old June 2021..l am so thankful ??for my investment.
Yorkshire Terrier Insights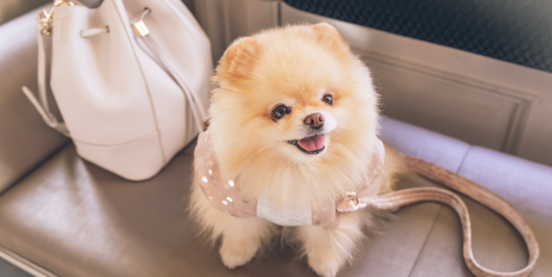 Choosing the best dog breed for apartment living can be a tricky task. Some dog lovers believe that being small is all it takes for a dog to be suited for apartment life but that is not always the case.
Coming home to a loving bundle of joy is a dream come true, but there are a few other things to keep in mind when choosing your new apartment-friendly puppy.
Your neighbors, kids, and pets in the building, new faces, distractions, and quiet hours, are all things you...
Yorkshire Terrier Care
Yorkshire Terrier Grooming Requirements
Yorkshire Terriers are generally easy to groom. They require a daily brush to keep their coats tangle and knot free and to avoid matting of the hair. It is recommended to give Yorkies a bath every 4 to 6 weeks to keep their coats clean, silky, and smooth.  
It is beneficial to trim the hair around their eyes and ears, and clip their nails regularly. Their teeth should also be brushed regularly, preferably twice a month at home, and once every few months at the groomer for a more professional canine dental care routine.
As Yorkies are considered one of the most fashionable dog breeds in the world today, they come with a few signature looks and popular Yorkie haircuts. Some Yorkie owners opt for Teddy Bear Yorkie haircuts, while others choose Yorkie cuts like the popular Yorkie puppy cut or the Yorkie short hair clip.  
Yorkshire Terrier Exercise Needs
Yorkies are toy-sized dogs and don't have high exercise needs. They enjoy long walks, canine games of tag and find, dog sports, adventures, and snuggles on the couch with their favorite humans. A short walk or two of a combined 30 to 40 minutes each day and some active playtime indoors are enough to keep the Yorkie healthy, fit, and content.
Yorkshire Terrier Health  
As with all big and small dog breeds, Yorkies are not immune to health concerns. Although they are a healthier breed than others, they can develop certain conditions such as hypoglycemia, luxating patella, obesity, liver shunt, and periodontal disease. To avoid any or all of these health issues, it is best to provide Yorkies with a well-balanced diet and plenty of exercise, and make sure to avoid any type of rough play that may injure the dog.  
Yorkshire Terrier Lifespan  
The Yorkie lifespan is between 16 to 18 years, although there have been cases of Yorkies living much longer than that. The oldest living Yorkie is currently 28 years old. To increase the Yorkie life expectancy, it's best to stick to a strict well-balanced diet, provide plenty of exercise, and never miss a vet check.  
Yorkshire Terrier Training
Yorkie puppies are smart, easy-going dogs. They are known to be quick learners when it comes to both basic commands and more intensive training. They are great in sporting competitions and can be trained in advanced agility, rally, and obedience. Combining active playtime with training sessions will works best with Yorkie puppies. It is recommended to use a calm tone of voice, positive reinforcement, and treat rewards when training a Yorkie puppy.  
Socializing and leash training a Yorkshire Terrier should go smoothly. They are naturally friendly and outgoing, and they love discovering novel places.  
Yorkies are not overly-dependent dogs. They can be left alone for a few hours without the risk of them being yappy or destructive. They are not generally prone to separation anxiety, but it is always best to gradually get them adjusted to some alone time before leaving them alone for extended periods of time.  
Yorkshire Terrier History
From a hard-working utility dog to a most adored cuddly lapdog, the Yorkshire Terrier, also known as Yorkie, has quite the colorful history.
At the beginning of the 19th century, Yorkshire Terrier ancestors arrived in England alongside Scottish workers who came seeking jobs in the industrial region of Yorkshire. Soon after their arrival, the Yorkies displayed great hunting skills and started being used as utility dogs – rodent hunters in the mills and mines of Yorkshire.
Before long, the proud and elegant Yorkshire Terrier caught the eye of the wealthy court ladies and by the mid 1800's it became a fashionable luxury pet associated with wealth in the Victorian age.  From there on, in 1870, the Yorkies made their way to America where they were officially recognized as a breed and given the name "Yorkshire Terrier".
A show dog with many impressive titles won, a war hero who saved lives during World War II, and the first therapy dog in history, the Yorkshire Terrier has gathered an amazing number of achievements throughout history. Greatly love around the world, with more notable admirers like President Richard Nixon, Audrey Hepburn, and Natalie Portman (all of whom owned a Yorkie), the Yorkshire Terrier has been, and is, to this day one of the most popular toy breeds in the world.  
Over the past few decades, as their popularity reached its peak, Yorkies started being used as a parent breed to several Yorkie mix breeds.  
The most popular Yorkie mixes in the United States are:
Morkie – Maltese Yorkie mix
Yorkie Poo – Yorkie Poodle mix
Yorkie Chon – Yorkie Bichon
Shorkie – Shih Tzu Yorkie mix
Chorkie – Yorkie Chihuahua mix
Yorkie Pom – Yorkie Pomeranian mix
Havashire – Havanese Yorkie mix  
Other Yorkshire Terrier mix breeds are:
Snorkie – Schnauzer Yorkie mix
Dorkie – Dachshund Yorkie mix
Yorkie Russell or Jorkie – Jack Russell Yorkie mix
Pugshire – Pug Yorkie mix
Yorksky – Yorkie Husky mix
Corkie – Corgi Yorkie mix
Borkie – Beagle Yorkie mix
Carkie – Cairn Terrier Yorkie mix
Frequently Asked Questions
What is the lifespan of a Yorkshire Terrier? The average lifespan is 11 to 15 years.
Are Yorkshire Terriers aggressive? They can be. This breed is very territorial, independent and fearless which can lead to aggressive behaviors. Proper training and socialization at an early age can help to eliminate these aggressive behaviors.
How big do Yorkshire Terriers get? The adult Yorkshire Terrier measures between 8 to 9 inches in height and weighs between 3 to 7 lbs.
What type of coat does the Yorkshire Terrier have? This breed has a long fine single coat that often has a glossy or silky texture.
Do Yorkshire Terriers bark a lot? Yes. This has a lot to do with their hunting and terrier lineage. They bark when they are excited, agitated or just want to communicate.
Do Yorkshire Terriers shed a lot? No. A Yorkshire Terriers coat is actually made of hair and not fur so they only shed minimally, much the same as human hair loss.
Is a Yorkshire Terrier hypoallergenic? No dog is truly hypoallergenic, however because this breed has hair they will carry less pet dander, which makes them an excellent breed for those who suffer with allergies.
What is the temperament of a Yorkshire Terrier? These small and mighty dogs are brave and confident. They are fearless and fun and always willing and ready to play. Alternatively, they also enjoy plenty of lap time on the couch and cuddles with their owners and family.
How much exercise does the Yorkshire Terrier need? This breed has a moderate energy level so they will need a couple of walks each day. Short strolls in addition to some indoor or outdoor active play each day will be plenty to keep them healthy.
Do Yorkshire Terriers like being left home alone? Though they are known for their independence, they don't like being left alone. They can develop separation anxiety or destructive behaviors if left alone for long periods of time. They'd be much happier going wherever you go.
Are Yorkshire Terriers good with children? They can be, but it requires a fair amount of training and socialization for both the Yorkshire Terrier and the child or children. This breed can become easily agitated and aggressive if provoked.
Does the Yorkshire Terrier go by other names? Yes, they are most commonly referred to as a "Yorkie".
Does the Yorkshire Terrier change colors as it ages? Yes. Puppies are born black and their coats turn blue-and-tan as they mature.
Where did the Yorkshire Terrier originate? The Yorkshire Terrier originated in Yorkshire county in northern England during the 19th century.
At what age does a Yorkshire Terriers ears stand up? The Yorkshire Terrier's ears will begin to stand between the ages of 6 and 8 months.