PHOTOS FROM OUR CUSTOMERS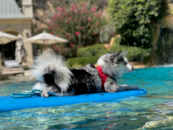 Pomsky Puppies
Spunky ~ Enthusiastic ~ Affectionate ~ Friendly
Pomskies are spunky, enthusiastic and friendly wolfish dogs. They are known to be highly affectionate, cheerful and fiercely loyal dogs with big hearts and a positive energy about them. Like little rays of fluffy sunshine, Pomsky puppies are joyful and cuddly, they love to bounce around and play, and are quick to pick up on tricks. With an average weight between 20 to 30 pounds and an average height between 10 to 15 inches, pointy elfish ears and eyes that could melt an iron heart, the Pomsky is adorable beyond measure.
Read more
BREED INFORMATION
POMSKY
---
Temperament

Spunky, Enthusiastic, Affectionate, Friendly

Adult Weight
18-30 lbs
Adult Height
10-15 in
Life Expectancy
13-15 yrs
Rating

5.0

( reviews)
| | |
| --- | --- |
| Maintenance | |
| Training | |
| Shedding | |
| Adaptability | |
| Active | |
Pomskies are a crossbreed between a Pomeranian and a Siberian Husky. Since the first born Pomsky in 2009, this designer mixed breed has been gaining in popularity with dog lovers across the United States and throughout the world as breeders continue to achieve the perfect mix. Being a descendent of two highly active parents, Pomskies have a lot of energy and require a lot of exercise. These highly intelligent dogs make for great companions, though their double coat with longer hair means they aren't the best for dog owners with allergies.
Appearance and Grooming
The Pomsky is a small/medium-sized dog with a beautiful silky coat that many dog lovers find endearing. Though, because of their thick coat they have the tendency to shed quite a bit. Regular brushing will reduce shedding, especially during the warmer months, when shedding is at its peak. Their colors vary from white, black and grey, similar to their Husky ancestors.
Temperament
They have a friendly and playful nature that requires a moderate amount of attention. They are very loyal and eager to please and therefore, don't like to be left alone for long periods of time as they can become very bored and may show signs of aggression.
Family and Companionship
It can be hard to predict what personality characteristics a Pomeranian Husky mix will inherit, and so this breed is best suited for households made up of adults and/or older children. They have a highly energetic personality and will thrive with an active family who enjoys the outdoors. Because of their generally small size this breed is adaptable to living in an apartment or in a larger home.
Exercise
These lively puppies need a lot of mental stimulation and exercise. They are an active breed that adapts well to its owners routine. They require a short to moderate walk along with active playtime each day. If given enough proper exercise, this small and mighty dog can often be athletic enough to participate in dog sports as agility, obedience and rally.
Training and Socialization
Pomskies are intelligent with a streak of independence, which may require more patience than most dogs. This can prove to be quite challenging for even the most experienced owner. Training and socialization is as important for the dog as it is its owner and should begin at a very early age.
Frequently Asked Questions