PHOTOS FROM OUR CUSTOMERS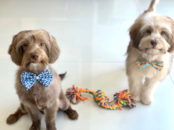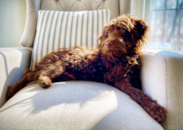 Mini Labradoodle Puppies
Loyal ~ Obedient ~ Playful ~ Charming
The Mini Labradoodles are the friendliest of dogs, they are fun, easygoing and gentle, they enjoy canine games like chase, fetch and Frisbee, and they thrive on cuddles and love. Energetic, friendly and full of life, the Mini Labradoodles make wonderful jogging and hiking companions, they are known to enjoy a good swim and a long stroll and they are very fond of adventures. The Mini Labradoodle puppies are happy, energetic and bright little bundles of joy; they are loving and eager to please, they love to play and cuddle, and they are excellent training students. A cross between a Labrador Retriever and a Mini Poodle, the Mini Labradoodle may take after one parent breed or the other in appearance or it may have its own unique look with an added bonus of a hypoallergenic coat.
Read more
BREED INFORMATION
MINI LABRADOODLE
---
Temperament

Loyal, Obedient, Playful, Charming

Adult Weight
16-25 lbs
Adult Height
14-17 in
Life Expectancy
12-15 yrs
Rating

5.0

( reviews)
| | |
| --- | --- |
| Maintenance | |
| Training | |
| Shedding | |
| Adaptability | |
| Active | |
First bred in 1988 by and an Australian breeder, the Mini Labradoodle is a cross between a Miniature Poodle and a Labrador Retriever. Originally developed for companionship and its odorless and hypoallergenic coat, the Mini Labradoodle has become the "it" dog and has gained increasing popularity here in the United States since its inception. Their incredible versatility of an easily trainable and adoring temperament as well as their social nature makes them a perfect family pet.
Appearance and Grooming
With two very different parent breeds, it can be difficult to know what each puppy will look like. Some litter pups take on more characteristics of the Poodle parent and others the Labrador. Their coat may resemble that of a Poodle: long, curly and thick, or they may have fur that resembles that of a Labrador: short, straight and dense with color variations of black, brown, chocolate, cream, golden, silver and white. This breed has a double coat which may require daily brushing depending on the thickness. They will also need regularly scheduled professional grooming appointments every 4 to 6 weeks.
Temperament
Earning the title, "world's most loving dog", and rightfully so, this smart, sweet and sassy pup has more than enough love to go around. With both parent breeds being family friendly happy-go-lucky breeds, it is no surprise that this puppy will have the same fun loving nature.
Family and Companionship
Perfect for families with children of all ages, the Mini Labradoodle is certain to fit in anywhere. This sweet dog will need plenty of love and attention, so staying away for long periods of time is not ideal for the overall emotional health of this breed. Because of their smaller size they can thrive in all environments, be it a city apartment or in a rural setting with lots of land. Keep in mind, your puppy will need lots of exercise and play so make sure you have plenty of places to let them run and sniff.
Exercise
Taking on the energetic tendencies of both parents, the mini labradoodles are extremely active dogs who enjoy going for walks, runs, and even swims like that of the Poodle, but like that of the Retriever namesake they love to play and retrieve things. Be prepared to keep them busy and spend at least an hour of active play time with them each day. They can be pretty active chewers and seekers of mischief, so giving them something to play with is imperative.
Training and Socialization
Inheriting the intelligence of the Poodle parent will not only make this dog super trainable, but also a wonderful option for a service or therapy dog as its natural intuition makes it easily adaptable to people and places. However, it is very important beginning the moment you bring your mini Labradoodle puppy home that you start exposing it to new places, people and other dogs. Early socialization is paramount in the overall wellness of this unique breed.
Frequently Asked Questions