PHOTOS FROM OUR CUSTOMERS





Havachon Puppies For Sale
Affectionate ~ Gentle ~ Patient
The Havachons are sweet-natured, sassy, playful, and fun dogs known for their spontaneous bursts of bouncy joy and unconditional love. These pups love to cuddle, entertain, and make friends, and they are very fond of canine sports, games, and chew toys. With a Havachon around, boredom is not on the table. These fun pups exude a positive energy that brings on a desire for adventure. Socializing in dog parks, long walks, games of fetch, flyball, trips to the beach, and short hikes are what they crave and ask of their pet parents. The charming Havachons are a designer breed, a cross between a Havanese and a Bichon Frise.
Read more
BREED INFORMATION
HAVACHON
---
Temperament

Affectionate, Gentle, Patient

Adult Weight
9-17 lbs
Adult Height
9-15 inches
Life Expectancy
12-15 years
Rating

5.0

( reviews)
| | |
| --- | --- |
| Maintenance | |
| Training | |
| Shedding | |
| Adaptability | |
| Active | |
About the Breed
The Havachon, also recognized as the Bichonhavanese and Frise Havanese is a designer cross dog breed between the Havanese and the Bichon Frise. Although there is little known about the origin of this hybrid cutie, what we do know is that both parent breeds are descendants of the ancient Barbichon group making these puppies ideal companions and lap dogs.
Appearance and Grooming
Their coats vary in texture and waviness depending on which parent breed they take after most. Regardless of the parent breed, you can be assured that they will have expressive dark eyes with a black nose and tails that curl upwards toward their backs. Their double hypoallergenic coats are shown in white, cream, grey, black, brown, silver, and blue. Brushing 3 to 4 days a week is encouraged to keep them from getting tangled and matted. Also, regular trimmings and nail clippings should be every 6 to 8 weeks.
Temperament
The Havachon is an extremely playful and comical little pup that absolutely loves to entertain. They can be considered a class clown of sorts. These dogs are very trusting and loyal and adore being surrounded by family and loved ones.
Family and Companionship
This sweet puppy is extremely family oriented and is suitable perfectly for first-time dog owners. Sociable in nature, they get along with children and other family pets. They are very alert to unusual noises and strangers, which makes them excellent watchdogs. Though they have a bit of a stubborn and independent streak, they do not like to be alone. These pooches adapt well to any indoor living environment as long as they are socialized well at an early age.
Exercise
The Havachon will be happy in any activity as long as they are right by your side. It is recommended that they receive daily 30 to 40-minute walks and ample free time to play with their toys either in a fenced-in area or space within the home that allows them room to romp around freely. It is also recommended that Havachon owners keep their sweet dogs on a daily walking routine to avoid any health issues developing from lack of exercise.
Training and Socialization
These dogs have independent tendencies, making it crucial for them to be trained properly at a young age. Their intelligence makes training easier if using a rewards-based program with a bit of praise and recognition. But do be careful, too much overindulgence and these witty little pooches can be training you. Early socialization will assure that your new puppy is introduced to new sights, sounds, and people that will ease any anxiety that may form within this breed in later years.
Frequently Asked Questions
What is a Havachon? A Havachon is a designer cross breed between a Havanese and a Bichon Frise.
How tall is the Havachon? The average height a Havachn is between 9 to 12 inches at the shoulder.
How much does the Havachon weigh? On average the Havachon weighs between 10 to 15 lbs.
What is the temperament of a Havachon? This breed is very sweet and affectionate with a lot of energy for such a small dog. They also have a stubborn streak that can become problematic if not corrected at an early age through training and socialization. Most importantly these little ones just love being part of a family.
How much exercise will my Havachon require? It is important to take your puppy on a daily walk. 20-30 minutes will be plenty. They will also need active play throughout the day to keep them busy. It is best to have safe toys available for them to play with and chew.
How much grooming does the Havachon require? You'll need to brush your pup at a minimum of a couple of times per week to prevent mattes and tangles. You will also want to get your Havachon on a regular schedule with a professional groomer to keep their coat and nails trimmed.
Is the Havachon known by other names? Yes, they are also referred to as a Frise Havanese and Bichon Havanese.
What type of coat does the Havachon have? Their coats are often short with a silky texture. Most Havachon's have a curly or wavy coat.
What colors do the Havachon's come in? The Havachon can be born with a white, black, silver, blue, brown, golden, tan, salt & pepper, cream or gray coat.
What is the lifespan of the Havachon? The average life expectancy is between 12 to 15 years.
Is the Havachon hypoallergenic? This breed is categorized as hypoallergenic, though it is important to recognize no dog is 100% hypoallergenic. This breed has minimal to no shedding, which makes them an excellent choice for those who suffer from pet allergies.
What is an F1 and an F2 Havachon? An F1 is a crossing of a pure breed Havanese with a Pure breed Bichon Frise. An F2 is a cross breed of a two Havachons.
Is the Havachon difficult to train? This breed is curious, which makes them quick learners. They are very intelligent and eager to please. With consistency and positive reinforcement your little one will be obeying commands in no time.
Is the Havachon recognized by the AKC? The American Kennel Club does not recognize mixed breeds. However, both parent breed are recognized by the AKC.
What clubs and organizations recognize the Havachon? Havachon's are recognized by the American Canine Hybrid Club, the Designer Breed Registry, the Designer Dogs Kennel Club, the Dog Registry of America, Inc. and the International Designer Canine Registry.
Havachon Reviews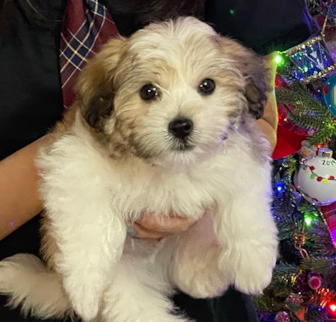 TANGO
Havachon Puppy
in San Antonio
My story started right after we donated our yellow Labrador to a service dog organization. We needed a smaller dog for our family and started looking online for reputable breeders, but none were known to be trustworthy. I was warned to buy online, for the reason that many dog websites are pure scams. Finally, my wife found "Premier Pups", which at the beginning, I was extremely impressed with how the website was created but worried that this was a "To good to be true deal", which decided to contact Premier Pups directly to gather information about them and see if they were scammers or not. Long story short, we decided to order a "Havachon" from Premier Pups. Our customer experience from start to finish was amazing. Customer Care was always available by texting, email, or a phone call away. We received "TANGO" a few days ago (23 December 2021) and yesterday was his first veterinary visit, which the doctor reported "TANGO" is currently in excellent health condition. All I can say is thanks to Premier Pups we have a beautiful and healthy puppy. Two thumbs up to everyone who took care of us during our puppy purchase. I will refer Premier Pups to friends and family for future puppy purchases.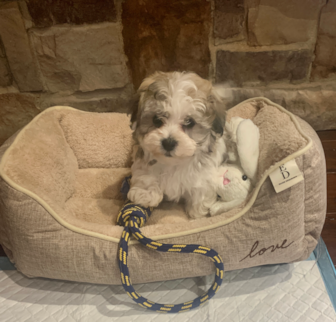 BOSCO
Havachon Puppy
in Chillicothe
We couldn't be happier with our Premier Pup, Bosco!! He is a perfect fit for our family! He's healthy, happy and we couldn't love him more :) We're looking forward to many years of adventures with our Bosco??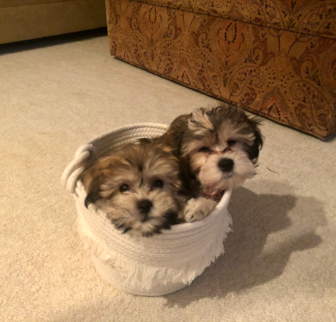 HUGGIE
Havachon Puppy
in Novi
My family has nothing but positive things to say about the people at Premier Pups; we cannot thank them enough. When we picked up Teddy and Laney, they each came with a bag of supplies (food, medicine, and directions); it helped greatly with the transition. The follow-up care was also amazing. They truly care about the well-being of our puppies, even after coming home. All of our questions and concerns were addressed in a timely manner prior to bringing them home. We worked closely with Dan and he made everything within our process as smooth as possible. I would gladly adopt from Premier Pups again in the future and highly recommend them to friends and family. Teddy (Havachon) and Laney (Teddy Bear) are truly little bundles of joy. Our little nuggets already have such a strong bond and connection, acting like brother and sister. They are always found napping and playing together. They are sweet in temperament, but also playful bounding around the house. It is so fun having young puppies in the house again.
F1B HAVACHON PUPPY
1lb 10oz @ 5.6 weeks
Details
F1B HAVACHON PUPPY
1lb 10oz @ 5.6 weeks
Details
Havachon Breeders
Like people, the most critical moments in a puppy's life starts in the beginning. It truly takes a special breeder to assist with nourishing and raising an Havachon puppy properly. Only the nation's best Havachon breeders can provide the best quality of life. Here at Premier Pups, we work hand-in-hand with our breeders. Providing a safe, natural, comfortable, and healthy environment for the nursing mother and her baby is essential.
The footage produced in our videos is 100% real. We directly take un-staged, unedited, and only authentic scenes at our breeder locations. We only align ourselves with Havachon breeders whose standards are much higher than the rest. We spend consistent on-site time with our selected breeders and can undoubtedly say that our puppies come from a caring environment.