PHOTOS FROM OUR CUSTOMERS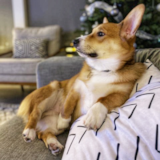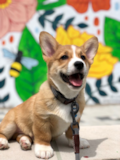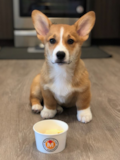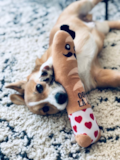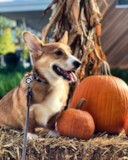 Pembroke Welsh Corgi Puppies For Sale
in PremierPups Ohio
Pembroke Welsh Corgis are lively, outgoing, playful, and highly affectionate dogs. Famous for being the favored pets of royals for centuries, Corgis are among the top 10 most popular breeds in the United Kingdom and the United States. Although small and often referred to as "dwarf dogs", these adorable-looking pooches have great speed, agility, and an even greater capacity for learning. They are exceedingly bright, loyal, kind, and caring. Some of the features that these pups are adored for are their contagious good mood, excellent behavior around children, and eagerness to please their owners. Find adorable Pembroke Welsh Corgi puppies for sale at Premier Pups.
Read more
BREED INFORMATION
PEMBROKE WELSH CORGI
---
Temperament

Gentle, Kindly, Sweet, Playful

Adult Weight
22-31 lbs
Adult Height
10-12 in
Life Expectancy
12-15 yrs
Rating

5.0

( reviews)
| | |
| --- | --- |
| Maintenance | |
| Training | |
| Shedding | |
| Adaptability | |
| Active | |
Pembroke Welsh Corgis
Welcome to our world of enchanting Pembroke Welsh Corgi puppies for sale, a delightful breed admired for its distinctive looks, vibrant personality, and a rich history that stretches back over a thousand years. Hailing from Pembrokeshire, Wales, these charming puppies have long been cherished as agile cattle herders, proving their value in both work and companionship.
Known as a close cousin to the Cardigan Welsh Corgi, the Pembroke Welsh Corgi distinguishes itself with its unique features and characteristics. They might be small in stature, but these puppies pack a punch with their sheer endurance and intelligent minds. Their breed isn't simply a corgi dog; they are a heritage that effortlessly entwines work and play into a single lovable package.
Corgi Appearance
The Pembroke Welsh Corgi is a compact but powerful dog, known for its low-set body, stout legs, and charming, expressive face. Their coat colors can vary, featuring beautiful shades of black and tan, fawn, or red that shine brightly against their often white, fluffy undersides.
Among the corgi breeds, the Pembroke's fox-like appearance is particularly striking, attributed to their pointed ears, sparkling eyes, and distinct bushy tail. This breed often carries a royal air about them, a quality that's made them favorites of Queen Elizabeth II and countless other dog lovers worldwide.
Corgi Temperament
Corgis are the embodiment of big personalities in small packages. Their intelligent, lively nature, paired with an exceptional eagerness to please, makes them delightful companions. They are smart, versatile, and incredibly social, making them suited to families and individuals alike.
Known for their initial purpose to herd cattle, Pembroke Welsh Corgis are naturally gifted with a strong instinct and an agile mind. They are always ready for an adventure or a challenge, and they thrive in environments where their minds and bodies are regularly stimulated. Despite their working origins, they are remarkably adaptable and can thrive in both rural and urban settings.
Their vibrant personality is an aspect loved by owners worldwide. Though Pembroke Welsh Corgis might be pint-sized, their hearts and spirit are immense.
Corgi Care
As with any dog breed, owning a Pembroke Welsh Corgi comes with its set of responsibilities, from grooming to exercise, health care, and training. Luckily, these little bundles of joy are relatively low maintenance, needing just the right balance of attention and care.
Grooming
The coat of a Pembroke Welsh Corgi is double-layered, with a weather-resistant undercoat and a longer topcoat. Regular brushing helps keep shedding under control and maintains the coat's health, regardless if your corgi is black and tan, fawn, or red. Weekly grooming sessions can be a bonding time between you and your corgi, where they enjoy your undivided attention and care.
Exercise Needs
Born to herd cattle, these dogs are energetic and love to be kept busy. Daily walks, playtime, and mental stimulation through games or obedience training are crucial to keep your Pembroke Welsh Corgi healthy and happy. Their love for activity makes them an ideal companion for outdoor adventures.
Health
When it comes to the health of your Pembroke Welsh Corgi, preventive measures and regular check-ups are key. At Premier Pups, our puppies come with a 10-year health guarantee, because we're not just interested in the sale; we're committed to their lifelong wellbeing. Despite this, like any other breed, corgis can be prone to certain genetic conditions, which is why we ensure each puppy's health before they join your family.
Training
Training your Pembroke Welsh Corgi can be an enriching experience. Their intelligence and eagerness to please make them quick learners. However, their herding instincts can sometimes translate to a stubborn streak, so patience, consistency, and positive reinforcement are essential when training.
Welcoming a Corgi Home
Bringing a Pembroke Welsh Corgi puppy into your home is a joyous occasion filled with excitement and anticipation. As professional dog breeders, we ensure our corgi puppies are raised with the utmost care, love, and attention. Our commitment extends to providing you with all the guidance needed to transition the puppy into its new home seamlessly.
When you choose a Pembroke Welsh Corgi puppy from Premier Pups, you're not just getting a pet; you're welcoming a new member into your family. And with our 10-year health guarantee, you can rest assured that your puppy is starting its journey on the right paw.
Let us help you make this exciting step of welcoming a corgi into your home a memorable and joyful experience. Our adorable Pembroke Welsh Corgi puppies for sale are just a click away, ready to fill your home with endless love and puppy kisses!
Frequently Asked Questions
Is the Pembroke Welsh Corgi hypoallergenic? No. This breed sheds quite a bit each day so they are not recommended for any person who has allergies to pets or dander.
How much exercise does the Pembroke Welsh Corgi need? The Corgi has a moderate energy level and thus needs a fair amount of exercise each day. Twice daily walks are recommended in addition to some active play like fetch or tug. They also make for an excellent jogging partner.
Does The Pembroke Welsh Corgi get along well with children? Yes! The Corgi loves children, especially those willing to play games. They make for excellent gentle and fun companions.
How big is the Pembroke Welsh Corgi? The Pembroke Welsh Corgi measures between 10 to 12 inches at the shoulders and weighs between 24 to 28 lbs. on average.
What is the lifespan of a Pembroke Welsh Corgi? The average lifespan is 12 to 14 years.
How often does my Pembroke Welsh Corgi need to be groomed? The Corgi is not high maintenance when it comes to grooming, but they will need a weekly or biweekly brushing to help control shedding. They will also need their nails trimmed regularly.
What are common health concerns for the Pembroke Welsh Corgi? The most common health problems found in Pembroke Welsh Corgis are Elbow and Hip Dysplasia, Eye Disorders, Cardiac Issues, Degenerative Myelopathy, and Von Willebrand's Disease.
What colors are the Pembroke Welsh Corgis? They can be found in many colors. The most common are fawn, red, sable, blue, black & tan and black & white.
What does the word Corgi mean? It actually has different meanings. It is Celtic for "dog" or cor for "dwarf" and gi for "dog."
Where does the Pembroke Welsh Corgi originate? Wales, United Kingdom.
What breed classification does the Pembroke Welsh Corgi fall under? In accordance to the American Kennel Club (AKC) they fall under the working group, formerly the herding group.
What other names is the Pembroke Welsh Corgi known as? They can be identified as PWC, Corgi or Pembroke.
How much living space does my Pembroke Welsh Corgi need? Because of their moderate levels of energy these pups need some space to move and run around. Though, they don't need a huge area to run, they won't do well in an apartment.
What is the personality of a Pembroke Welsh Corgi? This breed is very intelligent, friendly, gentle and has a high level of tolerance which makes them perfect for children and other pets. They love to be in the company of others and are always up for an adventure or game. Their eager to please attitude makes them very trainable.
Does the Pembroke Welsh Corgi make a good guard dog? Not exactly-this little one is more about making friends than fending off strangers. They do however make a good watch dog as they will bark to alert their family of any approaching strangers or if something is out of place.
Pembroke Welsh Corgi Breeders
Like people, the most critical moments in a puppy's life starts in the beginning. It truly takes a special breeder to assist with nourishing and raising an Pembroke Welsh Corgi puppy properly. Only the nation's best Corgi breeders can provide the best quality of life. Here at Premier Pups, we work hand-in-hand with our breeders. Providing a safe, natural, comfortable, and healthy environment for the nursing mother and her baby is essential. We only align ourselves with Pembroke Welsh Corgi breeders whose standards are much higher than the rest. We spend consistent on-site time with our selected breeders and can undoubtedly say that our puppies come from a caring environment.