PHOTOS FROM OUR CUSTOMERS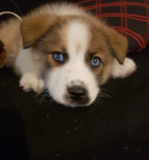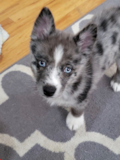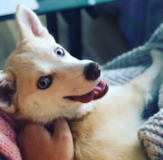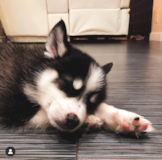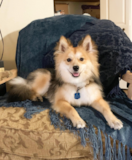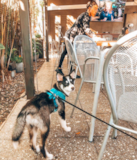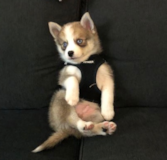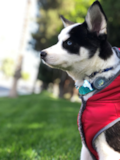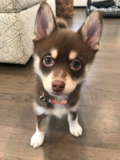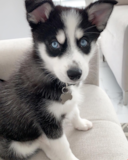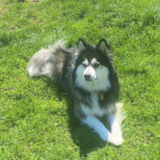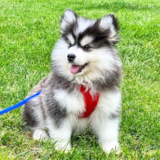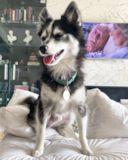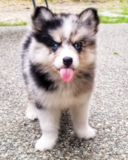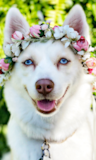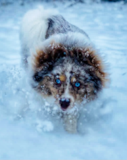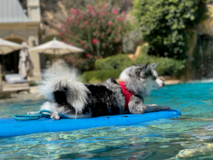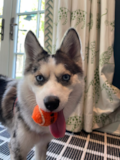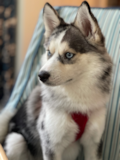 Pomsky Puppies For Sale
in PremierPups Ohio
Spunky ~ Enthusiastic ~ Affectionate ~ Friendly
Pomskies are spunky, enthusiastic and friendly wolfish dogs. They are known to be highly affectionate, cheerful and fiercely loyal dogs with big hearts and a positive energy about them. Like little rays of fluffy sunshine, Pomsky puppies are joyful and cuddly, they love to bounce around and play, and are quick to pick up on tricks. With an average weight between 20 to 30 pounds and an average height between 10 to 15 inches, pointy elfish ears and eyes that could melt an iron heart, the Pomsky is adorable beyond measure.
Read more
BREED INFORMATION
POMSKY
---
Temperament

Spunky, Enthusiastic, Affectionate, Friendly

Adult Weight
18-30 lbs
Adult Height
10-15 in
Life Expectancy
13-15 yrs
Rating

5.0

( reviews)
| | |
| --- | --- |
| Maintenance | |
| Training | |
| Shedding | |
| Adaptability | |
| Active | |
About the Breed
Pomskies are a crossbreed between a Pomeranian and a Siberian Husky. Since the firstborn Pomsky appeared in 2009, this designer mixed breed has been gaining in popularity with dog lovers across the United States and throughout the world as breeders continue to achieve the perfect mix. Being a descendant of two highly active parent breeds, Pomskies have a lot of energy and require a lot of exercise. These highly intelligent dogs make for great companions, though their double coat with longer hair means they aren't the best for dog owners with allergies.
Although this designer breed is not yet recognized by the American Kennel Club, it does have its own club and is a member of the Pomsky Owners Association - POA.
Appearance and Grooming
The Pomsky is a small/medium-sized dog with a beautiful silky coat that many dog lovers find endearing. Though, because of their thick coat, they have the tendency to shed quite a bit. Regular brushing will reduce shedding, especially during the warmer months, when shedding is at its peak. Their colors vary from white, black, and grey, similar to their Husky ancestors.
Temperament
They have a friendly and playful nature that requires a moderate amount of attention. They are very loyal and eager to please and therefore, don't like to be left alone for long periods of time as they can become very bored and may show signs of aggression.
Family and Companionship
It can be hard to predict what personality characteristics a Pomeranian Husky mix will inherit, so this breed is best suited for households made up of adults and/or older children. They have highly energetic personalities and will thrive with an active family that enjoys the outdoors. Because of their generally small size, this designer breed is adaptable to living in an apartment or in a larger home.
Exercise
These lively puppies need a lot of mental stimulation and exercise. They are an active breed that adapts well to their owners' routines. They require a short to moderate walk along with active playtime each day. If given enough proper exercise, this small and mighty dog can often be athletic enough to participate in dog sports such as agility, obedience, and rally.
Training and Socialization
Pomskies are intelligent with a streak of independence, which may require more patience than most dogs. This can prove to be quite challenging for even the most experienced owner. Training and socialization are as important for the dog as it is for its owner and should begin at a very early age. To make sure these adorable dogs and puppies are properly trained, it is recommended that Pomsky owners be consistent and practice obedience lessons daily with their pups. Potty training should begin as soon as the puppy arives home.
Like the parent dogs in the Pomsky family, these pups can become bored easily when not enticed or properly motivated. Rewards and positive reinforcement are a must when training them.
Pomsky Puppies Characteristics
Pomsky puppies are a cross between a Siberian Husky and a Pomeranian
Excellent family dogs - Pomsky puppies love to play and make fantastic companions for families with children
Healthy puppies - Pomsky puppies and parents go through regular health testing to ensure there are no health concerns
Vaccinations dewormings and health checks are up-to-date at the moment of adoption - 8 weeks of age
Hybrid Vigor - first-generation F1 Pomsky puppies benefit from superior health as a result of crossbreeding two purebred dogs
The breeding program follows the highest standards of the code of ethics
No puppy mills
No waiting list
Frequently Asked Questions
What is a Pomsky? A Pomsky is a designer dog breed that is made from a female Husky and a male Pomeranian.
Are Pomsky's hypoallergenic? No, these pups have a double coat of heavy hair that sheds.
Do Pomky's shed a lot? Yes, this breed tends to shed a bit more than other similar breeds. However, the shedding can be minimized by brushing your Pomsky every day.
How big is an adult Pomsky? When a Pomsky reaches full maturity they measure between 10 to 15 inches at the shoulder and weigh on average between 20 to 30 lbs.
What is the lifespan of a Pomsky? The average lifespan is between 13 to 15 years.
What does F1, F1b, F2 mean? F1 is a first generation Pomsky using a Pomeranian (father) and a Husky (mother). F1b is the result of a Pomsky being bred (usually) to a Pomeranian to achieve smaller sizes. (75% Pomeranian, 25% Husky). F2 is F1 Pomskies breeding with F1 Pomskies and this will be the standard once breeders achieve the results they want. This will make the breed much more predictable.
Are Pomsky's good with children? Pomsky's get along very well with children if they are properly socialized starting at a young age. Children should always be supervised when playing or interacting with any dog for both the child and the pup's safety.
Are Pomsky's easily trainable? This breed is very intelligent and eager to learn and please its owner. They do adopt a bit of the Pomeranian temperament and can be a little stubborn, but with consistency and plenty of positive reinforcement (which they love) you'll have this one trained in no time.
Are Pomsky's good family pets? Yes! This breed loves to keep its "pack" together. They are affectionate, playful, energetic and love to be the center of attention. They make a great addition to any family.
Does the Pomsky have any common health concerns? Because this breed is still new there isn't much in the area of health related issues.
What is a Foxy Pomsky? The "Foxy" Pomsky combines the longer body of the Husky with the slim bone structure and frame of the Pomeranian. They have a long pointed nose and ears, and a smooth short reddish colored coat that resembles of a Fox.
Can be Pomsky's be left alone? The Pomsky is a sociable breed that loves the attention of its family so they don't like to be left alone for long periods of time. They are prone to separation anxiety if left alone for long periods over time.
Do Pomsky's like to swim? This breed isn't a big fan of the water, but that doesn't mean that they all don't like the water, just keep them out of the deep areas as they are not strong swimmers.
What is a Teacup Pomsky? A Teacup Pomsky is the smallest size of the breed that's available.
Does the Pomsky require a lot of grooming? Yes, this breed has a thick double coat that requires daily brushing and regular scheduled grooming appointments to keep their coats clean and shedding under control.
Pomsky Breeders
Like people, the most critical moments in a puppy's life starts in the beginning. Providing a safe, natural, comfortable, and healthy environment for the nursing mother and her baby is essential. Only the nation's best Pomsky breeders can provide the best quality of life. It truly takes a special breeder to assist with the nourishing and raising of a Pomsky puppy. Here at Premier Pups, we work hand-in-hand with our breeders. We spend consistent on-site time with our selected breeders and can undoubtedly say that our puppies come from a caring environment. The footage produced in our videos is 100% real. We directly take un-staged, unedited, and only authentic scenes at our breeder locations. We only align ourselves with Pomsky breeders whose standards are much higher than the rest.