PHOTOS FROM OUR CUSTOMERS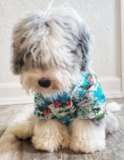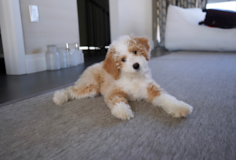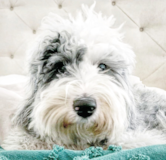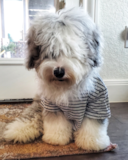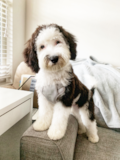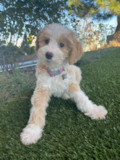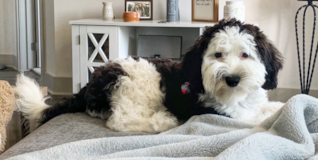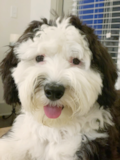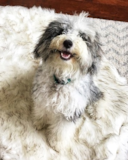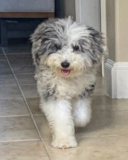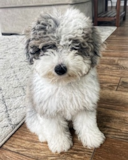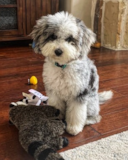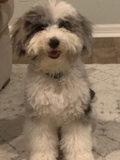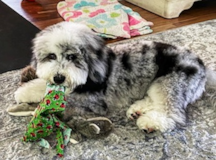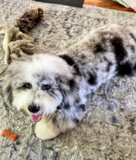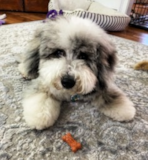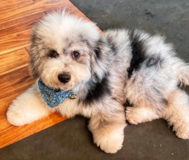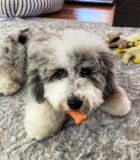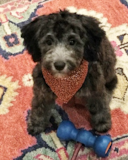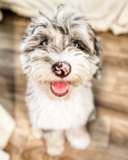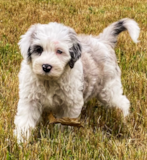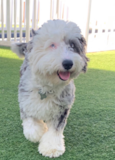 Mini Sheepadoodle Puppies For Sale
in PremierPups Ohio
Intelligent ~ Loving ~ Friendly ~ Gentle
Kind, cuddly, merry, and gentle, Mini Sheepadoodle puppies are true sweetheart dogs, they are generous in affection, attentive and obedient and they love to impress their human family by any means. With a delightful personality and a bit of a wild side, the Mini Sheepadoodles are "live in the moment" type of dogs, they are brilliant and easy to train, they enjoy canine sports and games, and they are always ready for an adventure. Fluffy, cuddly, and gorgeous, the Mini Sheepadoodle is a small dog with an average weight between 25 to 45 pounds and an average height between 15 to 20 inches. The fabulous Mini Sheepadoodle puppies for sale are a cross between a Old English Sheepdog and a Mini Poodle.
Read more
BREED INFORMATION
MINI SHEEPADOODLE
---
Temperament

Intelligent, Loving, Friendly, Gentle

Adult Weight
25-45 lbs
Adult Height
15-20 in
Life Expectancy
12-15 yrs
Rating

5.0

( reviews)
| | |
| --- | --- |
| Maintenance | |
| Training | |
| Shedding | |
| Adaptability | |
| Active | |
The Mini Sheepadoodle also referred to as, Sheepapoo, Sheeppoo, and Sheepdoo, is a cross between an Old English Sheepdog and a Miniature Poodle. Like its larger counterpart which has a standard Poodle parent, the Miniature version enjoys ever-rising popularity.
First believed to be bred by the United States Army in the 1960's it has since become known that these designer dog puppies have actually been bred as early as the 18th century. In spite of having long and fluffy hair, these dogs are hypoallergenic and have minimal shedding. Their sweet and affectionate nature makes them one of the most sociable hybrids. They are fantastic family pets and make quite loyal companions.
Appearance and Grooming
These puppies favor the looks and color of the Sheepdog parent without fur-covered eyes. Their coats have beautiful white markings and patterns. Some of them have blue eyes, which may occur both in the Mini Poodle or Toy Poodle and the Sheepdog. Their black and white "shaggy" coat is inherited from their parent breeds and requires regular coat maintenance. Daily brushings help to prevent knots and tangles. Regular trips to the groomer are also recommended. Trimming and nail clipping are recommended every 2 to 4 weeks.
Temperament
These friendly, loving and obedient dogs are not only loyal but extremely outgoing and playful. Though generally very well-behaved, they do have quite a bit of energy so they need an adequate amount of play time both indoors and outdoors each day.
Family and Companionship
Their affectionate and loving nature makes them ideal family or therapy dogs. They do especially well with families who have children as they are the descendent of parents who are keen on being in a group or pack. These are very friendly and sociable animals who don't like to be alone. They are great pets for both experienced and inexperienced dog owners.
Exercise
Regular walks and runs are very important for these active dogs. Twice daily walks/runs as well as plenty of toys for mental stimulation will be sure to keep your puppy busy as well as engaged. They also love outdoor adventure so if you're looking for a hiking or swimming companion, this is the perfect match.
Training and Socialization
Early socialization and training are an important part of owning a Mini Sheepadoodle, so make sure it is something you give priority to. These dogs respond well to positive training, rewards and praise using a firm tone and being consistent. Their need to please attitudes and loyalty to their owners makes these puppies very easily trainable. Their desire to be sociable from a young age is something that needs to be nurtured throughout their adolescent and adult lives, as this makes up for a large part of their personality and behavior.
Frequently Asked Questions
Is the Miniature Sheepadoodle hypoallergenic? Though no dog is truly hypoallergenic the Miniature Sheepadoodle is considered in the hypoallergenic category and is a great choice for allergy sufferers.
What is the lifespan of a Miniature Shepadoodle? The average life span is 12 to 15 years, but they can live upwards of 17 years of age.
Do Miniature Sheepadoodle's make good service and therapy dogs? Yes. They have a calm demeanor and an affectionate nature that makes them very approachable. They make wonderful therapy dogs and their intelligence makes them the perfect candidate for service training.
Do Miniature Sheepadoodle's do well around water? Yes, they love water! Both the Poodle and the Old English Sheepdog love being in the water and this carried down into the Miniature Sheepadoodle.
What is the difference between a Miniature Sheepadoodle and a Standard Sheepadoodle? The only difference is their size. A standard Sheepadoodle will typically weigh between 70 to 90 lbs. If a Sheepadoodle weighs under 35 lbs. they are considered a Miniature. There is also "Micro Mini" which refers to any Sheepadoodle weighing under 30 lbs. "Micro Sheepadoodles" are typically F1B (3/4 Poodle).
How big will my Miniature Sheepadoodle be as an adult? Mini Sheepadoodle's will grow to be 17 to 20 inches tall with an average weight of 30 to 45 lbs.
What colors are Miniature Sheepadoodles's available in? The most common colors are black, white, black & white and red & white.
What does a Miniature Sheepadoodle's coat look like and how do I maintain it? Their coat is soft and wavy. They do require regular brushing a few times per week and to be professionally groomed about every 6-8 weeks.
What size crate should I get for my Miniature Sheepadoodle? A 30 inch tall single or double door wire crate will big enough for your little one to use as they grow.
What toys can I give my Miniature Sheepadoodle puppy? The best toy's for teething pups is rubber chewy toys. Please avoid hard toys such as bones as their teeth are still brittle and may cause breakage- these can be introduced once the puppy reaches 6 months old. It is also recommended to keep them away from stuffed toys to avoid choking hazards.
What type of collar should I get for my puppy? You'll want to get an adjustable harness (x-small), as it is more comfortable for the puppy, and they won't feel choked around their neck. A Miniature Sheepadoodle's neck size is approximately 6-8 inches at only a couple of months old.
What is the temperament of a Miniature Sheepadoodle? Miniature Sheepadoodle's are calm, sweet, and affectionate. They love to be in the company of people and form a strong emotional bond to their owners and families. They get along great with other animals and children.
Are Miniature Sheepadoodle's easy to train? These loveable dogs are highly intelligent and eager to please. They will have no trouble understanding your commands after a short amount of training and will be happy to obey and show off what they've learned.
Can I leave my Miniature Sheepadoodle home alone when I'm at work? This little one does not like to be left alone for long as they are prone to suffering from separation anxiety which is a result of their loving caring nature. If you're someone who works long hours this is probably not the best choice for a pet.
Does the Miniature Sheepadoodle go by other names? Yes. Both Miniature and Standard Sheepadoodle's can be referred to as Sheepdogoodle, Sheepapoo, Sheeppoo, Sheepdogdoodle and Sheepdoo.
Mini Sheepadoodle Reviews
Mini Sheepadoodle Breeders
It truly takes a special breeder to assist with nourishing and raising a Miniature Sheepadoodle puppy properly. Like people, the most critical moments in a puppy's life starts in the beginning. Providing a safe, natural, comfortable, and healthy environment for the nursing mother and her baby is essential. Only the nation's best Mini Sheepadoodle breeders can provide the best quality of life. Here at Premier Pups, we work hand-in-hand with our breeders. We spend consistent on-site time with our selected breeders and can undoubtedly say that our puppies come from a caring environment. The footage produced in our videos is 100% real. We directly take un-staged, unedited, and only authentic scenes at our breeder locations. We only align ourselves with Mini Sheepadoodle breeders whose standards are much higher than the rest.