PHOTOS FROM OUR CUSTOMERS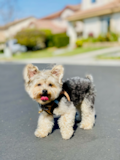 Yorkie Chon Puppies For Sale
Active ~ Playful ~ Intelligent ~ Loyal
Yorkie Chons love to love! They are very fond of people and love the attention that comes with being so precious looking. Our Yorkie Chon puppies for sale are happy, cuddly, energetic, and playful little fur babies. They are bright and easy to train with eager-to-please personalities. Cute and tiny, the Yorkie Chon has an average weight of 6 to 8 pounds and an average height of 9 to 12 inches. Yorkie Chons (aka York-Chon) are a cross between a Yorkshire Terrier and a Bichon Frise. Sweet, friendly, joyful, and adorable. Yorkie Chon puppies are delightful little treats that make wonderful companion pets.
Read more
BREED INFORMATION
YORKIE CHON
---
Temperament

Active, Playful, Intelligent, Loyal

Adult Weight
6 - 8 lbs
Adult Height
9 - 12 in
Life Expectancy
10-12 yrs
Rating

5.0

( reviews)
| | |
| --- | --- |
| Maintenance | |
| Training | |
| Shedding | |
| Adaptability | |
| Active | |
About the Breed
The Yorkie Chon is a beautiful little dog that is also recognized as the Yorkie Bichon, Yo Chon, Borkie, and Yorkshire Frise. This designer dog is a cross between the Bichon Frise and Yorkshire Terrier. Though they have been around for a few decades, their popularity has dramatically increased over the last 10 years due to their low maintenance and friendly nature.
Appearance and Grooming
This toy dog, with a blunt muzzle, black nose, round skull and eyes, and a long tail, has a dense and hypoallergenic coat that makes it a perfect pet for allergy sufferers. Regular monthly trimmings are important for this breed as well as daily brushing. Their dense hair can become tangled and knotted easily. Depending on their parents, your designer breed puppy can be a combination of many colors including, black, blonde, brown, cream, dark, brown, golden, gray, and white.
Temperament
Their energetic spirit partnered with their strong sense of curiosity is sure to keep you on your toes. Though it won't be spilt evenly, this puppy will inherit combinations of different characteristics of its parents. The boisterous and vocal nature of this high-pitch barker makes for a great watch dog. They are very fond of people and love to get attention. However, their curiosity and sometimes stubborn ways can prove destructive if left alone too long.
Family and Companionship
With a mild temperament and a streak of independence, these dogs make for the perfect companion as they don't need constant attention. Though they do love human companionship, leaving them to entertain themselves for too long can prove to be destructive as they tend to get bored. With their fun-loving and playful personality, they make for great additions to a family with children and other pets. It is important to supervise play as these delicate pups think they are large and will not back down. In addition to a family unit, they also fit in perfectly with singles and seniors living in an apartment or house, with or without a yard.
Exercise
This breed is naturally active, so they don't require an overly strenuous exercise regimen every day. Though small walks are recommended, allowing them to play freely indoors with plenty of toys will surely burn plenty of calories and help to keep them healthy and trim.
Training and Socialization
You can expect your Yorkie Chon to be a lively and intelligent little dog. Beginning training at an early age is very important for these pups as they show a high level of intelligence and interest at a very young age in learning how to do tricks.
Socialization is also important at a young age as your new puppy may start showing negative behaviors, such as territorial aggression, fearfulness, or excessive barking. If these traits are not corrected immediately they can be difficult to change as your dog ages.
Frequently Asked Questions
What is a Yorkie Chon? A Yorkie Chon is a hybrid breed created by crossing a Bichon Frise and a Yorkshire Terrier.
Does the Yorkie Chon go by other names? Yes. They are also referred to as the Yorkie-Bichon, Yo-Chon, Borkie, and Yorkshire Frise.
How much does the Yorkie Chon weigh? The average weight of a Yorkie Chon is between 6 to 9 lbs.
How tall is the Yorkie Chon? The Yorkie Chon Measure between 9 to 12 inches.
Where did the Yorkie Chon originate? The Yorkie Chon was developed right here in the United States.
Is the Yorkie Chon hypoallergenic? No. This breed actually has a fairly thick coat that sheds quite a bit.
What colors does the Yorkie Chon come in? The Yorkie can be golden, white, black, brown, grey, dark brown, blonde, cream or a combination of these colors.
Does the Yorkie Chon require a lot of exercises? These little pups are energetic and on the move so they won't need much in the way of additional exercise. A short daily stroll should be plenty to keep them fit and healthy.
What is the temperament of the Yorkie Chon? The Yorkie Chon takes on strong personality traits from each of its parent breed. They are energetic, playful and loving attention seekers with a streak of independency and stubbornness.
How much grooming does the Yorkie Chon require? The Yorkie Chon should be brushed regularly with a grooming brush in order to avoid matting and tangles and also to pick up loose hairs that can be shed onto the floor. Regular scheduled grooming appointments are also necessary to keep their coats trimmed and cleaned as well as their nails, ears and teeth cleaned.
What possible health issues are associated with the Yorkie-Chon? The most common health concerns with this breed include, but are not limited to eye problems, Legg-Calve-Perthes, dental problems and hypothyroidism.
Does the Yorkie Chon bark a lot? The Yorkie-Chon is known to be vocal, but can be trained at an early age to calm an overabundance of barking tendencies.
Does the Yorkie-Chon get along with other pets? The Yorkie Chon can get along well with other animal as long as it is socialized at an early age; taking it to the dog's park, or visiting friends with pets will help the Yorkie-Chon to socialize.
Is the Yorkie Chon registered with the AKC? Currently, they American Kennel Club doesn't recognize mixed breeds, therefore they are not registered with them.
How much will I need to feed my Yorkie Chon? The Yorkie Chon should be fed ½ cup of high quality dry pet food with lots of vitamins and nutrients separated into two separate meals each day.
Yorkie Chon Breeders
The most critical moments in a puppy's life, like people, start in the beginning. Providing a natural, comfortable, and safe environment for the nursing mother and her baby is essential. It takes a truly special breeder to assist with the nourishing and raising of a Yorkie Chon puppy. Premier Pups uses the best Yorkie Chon breeders in the nation to provide the best quality of life. The footage produced in our videos is 100% real. We directly take un-staged, unedited, and only authentic scenes at our breeder locations. We only align ourselves with Yorkie Chon breeders whose standards are much higher than the rest. Here at Premier Pups, we spend consistent on-site time with our selected breeders and can undoubtedly say that our puppies come from a caring environment.