PHOTOS FROM OUR CUSTOMERS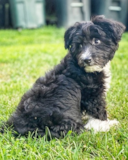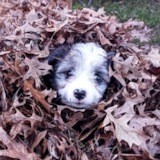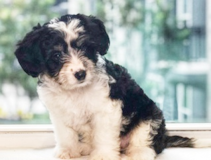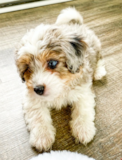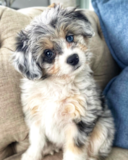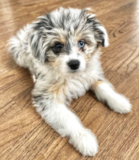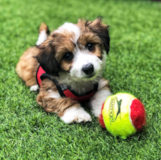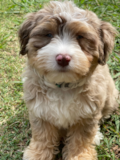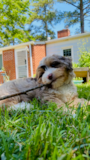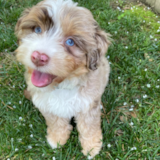 Aussiechon Puppies For Sale
Affectionate ~ Clever ~ Charming ~ Playful
Charming, clever, affectionate, and playful, the Aussiechon is one of the most popular designer breeds in the United States. Aussiechons are lively, outgoing, and highly social pups. They are huge fans of dog parks and make fast friends with everyone they meet. With a cheerful nature and an infectious good mood, Aussiechons can light up any room. Aussiechon puppies are fun-loving, cheerful little things. They are fluffy and cuddly; they enjoy playtime and snuggles and are very easy to train. Aussiechons are adorable and small. They have an average weight between 8 and 20 pounds and an average height between 10 to 18 inches. Aussiechon puppies are a mix between a Miniature Australian Shepherd and a Bichon Frise.
Read more
BREED INFORMATION
AUSSIECHON
---
Temperament

Affectionate, Clever, Charming, Playful

Adult Weight
8-20 lbs
Adult Height
10-18 in
Life Expectancy
12-15 yrs
Rating

5.0

( reviews)
| | |
| --- | --- |
| Maintenance | |
| Training | |
| Shedding | |
| Adaptability | |
| Active | |
A delightful mix between a Mini Australian Shepherd and Bichon Frise, the Aussiechon has been one of America's favorite dog breeds for generations. These adorable soft and light shedding pups love their family and are a pleasure to be around. Much like its parent Bichon Frise, the Aussiechon is also a very intelligent and sociable breed.
Appearance and Grooming
Appearing with both straight and wavy coats, Aussiechon pups are low shedding and can be found in a variety of colors ranging from white, to tan, to brown, to black, and or a mix of these colors. They do well with routine brushing and occasional grooming to keep their coats shiny, fluffy, and healthy-looking.
Temperament
The Aussiechon is considered to be a friendly, playful, energetic, and intelligent dog. They are full of charm and known to make fantastic companions. With loyalty and an eagerness to please, this breed has been a top breed in the United States for years.
Family and Companionship
With a tolerant demeanor, Aussiechons do well around families that have children. They enjoy companionship and family time. They are not an aggressive breed of dog which is one of the reasons families of all sizes adore them. A walk in the park or an evening spent on the couch, your Aussiechon will happily be by your side.
Exercise
Aussiechon pups are energetic and love to play. Your pup will greatly benefit from a daily exercise routine of about thirty minutes each day. They enjoy basic walks, chasing a ball, and many other forms of outdoor activities. A routine exercise routine will allow your pup to look and feel his best.
Training and Socialization
The product of two very trainable parent pups, the Aussiechon is quick to learn new tricks and the rules of your home. They enjoy the attention received after showing off a new trick and are eager to please. They do well around other people and pets and will bond with your family quickly. The key to thorough training is consistency and being patient.
Frequently Asked Questions
What is an Aussie Chon? The Aussie Chon is a designer cross between a Mini Australian Shepherd and a Bichon Frise.
What is the height of an Aussie Chon? The Aussie Chon measures between 10 to 18 inches at the shoulder.
How much does the Aussie Chon weigh? On average the Aussie Chon weighs between 8 to 20 lbs.
What is the lifespan of an Aussie Chon? The average lifespan of an Aussie Chon is between 12 to 15 years.
Is the Aussie Chon hypoallergenic? No dog is truly hypoallergenic, however, it inherits a low shedding coat from its Bichon Frise parent, which makes them a good choice for allergy sufferers.
What is the temperament of an Aussie Chon? The Aussie Chon is an intelligent and friendly breed with high spirits and lots of charm.
Aussiechon Breeders
Like people, the most critical moments in a puppy's life starts in the beginning. It truly takes a special breeder to assist with nourishing and raising an Aussiechon puppy properly. Only the nation's best Aussiechon breeders can provide the best quality of life. Here at Premier Pups, we work hand-in-hand with our breeders. Providing a safe, natural, comfortable, and healthy environment for the nursing mother and her baby is essential.
The footage produced in our videos is 100% real. We directly take un-staged, unedited, and only authentic scenes at our breeder locations. We only align ourselves with Aussiechon breeders whose standards are much higher than the rest. We spend consistent on-site time with our selected breeders and can undoubtedly say that our puppies come from a caring environment.