PHOTOS FROM OUR CUSTOMERS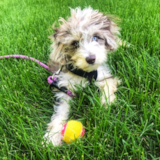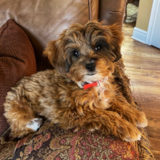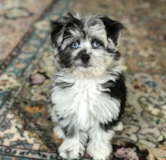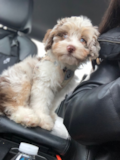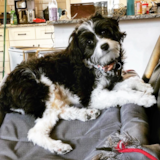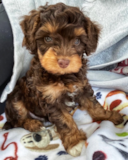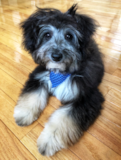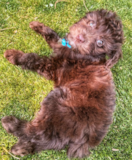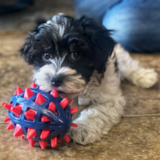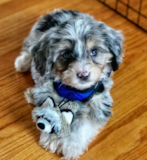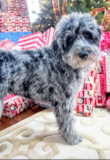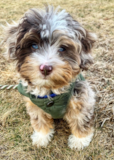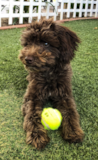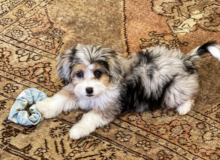 Mini Aussiedoodle Puppies For Sale
in PremierPups Ohio
Loving ~ Energetic ~ Intelligent ~ Loyal ~ Outgoing
Mini Aussiedoodle puppies for sale from the nation's top Mini Aussiedoodle breeders at Premier Pups. Mini Aussiedoodle puppies are a doodle breed, a mix of a Mini Australian Shepherd crossed with a Mini Poodle. Like their parents, the Mini Aussiedoodle puppies are among the smartest dogs in the world. They train easily and are always eager to please their owner. They are also adventurous, gorgeous in every way, and sweet. F1 Mini Aussiedoodles are a half and half mix of a Poodle and a Mini Aussie – they come with Mini Aussie features and excellent health. F1b Mini Aussiedoodles are 75% Poodle and 25% Mini Aussie – these puppies have excellent hypoallergenic qualities and a very small stature.
Read more
BREED INFORMATION
MINI AUSSIEDOODLE
---
Temperament

Loving, Energetic, Intelligent, Loyal, Outgoing

Adult Weight
8-25 lbs
Adult Height
12-18 in
Life Expectancy
12-15 yrs
Rating

5.0

( reviews)
| | |
| --- | --- |
| Maintenance | |
| Training | |
| Shedding | |
| Adaptability | |
| Active | |
About the Breed
With the gorgeous hypoallergenic coat of the Miniature Poodle parent and the active nature of the Australian Shepherd, the Mini Aussiedoodle is ranked as one of the most popular puppy breeds in the world, and for good reason. Though the history of the Mini Aussiedoodle remains unclear, it is believed that like many of the designer dogs that have appeared over the last several decades, this stunning dog appeared at the beginning of the 1990s. Dog breeders at that time aimed to create crossbreed dogs that would inherit all the lovely qualities of two distinct breeds. The Mini Aussiedoodle is a good example of their success.
The Mini Australian Shepherd and Poodle parents are incredibly smart dogs. And their high intelligence is one trait that Mini Aussiedoodles carry proudly. They are renowned for their intelligence and are one of the easiest dog breeds to train.
With their playful and social demeanor, these dogs require lots of love and attention and are very fond of companionship. They make cute and loyal companion dogs for any type of owner.
Although they have only been around for a few decades, Mini Aussiedoodles are ranked as one of the most popular mixed breeds in the world.
Appearance and Grooming
Mini Aussiedoodles have ears that hang down, small black almond-shaped eyes, and a medium-sized muzzle. They have the Australian Shepherd's features with the straight to curly, soft, and silky coat of the Poodle. These adorable features make this puppy the perfect mix of both parent breeds.
Mini Aussiedoodle coats include the colors white, blue, black, yellow, brown, red, silver, and gray. Like the Standard Aussiedoodle, the Miniature version can also come in blue merle and red merle. Brushing their fur 2 to 3 times a week is recommended. Regular trips to the groomer also help to keep their coats clean and their nails trimmed.
Temperament
Protective but not aggressive, these dogs can be quite easy-going and surprisingly attentive. They are often very in tune with their owner's attitudes and emotions and will react accordingly. This breed is as playful and active as it is cuddly and calm. Known for their tendencies to become bored quickly, you can curb this with proper amounts of toys, mental stimulation, and playtime.
Family and Companionship
A perfect companion, this loyal and loving dog will make for an excellent addition to the family. With strong traits of adaptability and affection, your new puppy will surely get along well with children and other pets. Because of their friendly nature, it is not a good idea to bring one of these dogs into your home as a watchdog, but rather as a member of the family.
Exercise
With its strong desire to play and heightened curiosity, your new companion will need exercise throughout the day and the opportunity to run and show off its agility talents. A recommended two walks a day with some backyard playtime should be plenty to keep these dogs healthy and happy. Because of their curious nature and need to socialize, these dogs will want to run straight into a crowd. It is recommended to keep an eye (and leash) on your puppy at all times when in social areas and gatherings.
Training and Socialization
Considered to be an extremely bright dog that is eager to please, the Mini Aussidoodle will listen and obey commands easily. These aspects make training them a fairly easy task. Practicing patience with positive reinforcement and a reward-based approach to training will surely reward you with a long, happy, and healthy relationship with your pooch. As part of training, early socialization is recommended. This will help your sociable pup's personality shine.
Frequently Asked Questions
What is a Miniature Aussiedoodle? A Miniature Aussiedoodle is a hybrid mix between a Poodle and an Australian Shephard.
How big will my Miniature Aussidoodle get? A Mini Aussiedoodle will grow to be 15 inches to 17 inches with a weight between 15 to 35 pounds.
What is the average life span of a Miniature Aussiedoodle? The average life span is 10 to 12 years of age.
Are Miniature Aussiedoodle's easily trainable? These intelligent pooches are eager to please, which makes training easy. But keep in mind, like any dog the best results come from starting training very early and socializing your little one.
Do Miniature Aussiedoodle's like to swim? Yes! These pups love the water. In fact, you may have a hard time getting them out!
Do Miniature Aussiedoodle's make good working dogs? Absolutely. Both Australian Shephards and Poodles are working breeds and that carries into their kin. These energetic pups with their eager to please attitude love to be given tasks.
What colors are Miniature Aussiedoodle's available in? Miniature Aussiedoodle's come in mostly mixed colors that can include, white, blue, silver, red, brown, gray, black.
Are Mini Aussiedoodle's a good family pet? They are friendly dogs who are devoted to their families and make excellent pets.
Do they get along well with other animals? Yes. But as with any dog, early socialization is best to get these little once acquainted with other animals.
Does the Miniature Aussiedoodle's shed? Most are non-shedding, but some can lose a little bit of hair.
How much exercise and activity do they require? Miniature Aussiedoodle's are bursting with energy and are always ready to go. They will need daily walks (2 is better) and plenty of active play each day. They love to swim, which is a great way to burn off some energy.
How often should they be groomed? The Miniature Aussiedoodle has minimal grooming requirements. Most are non-shedding, but some can lose a little bit of hair. Brushing your dog once a week is adequate.
What size crate should I have for my Miniature Aussiedoodle? A medium sized crate, will give them ample room to keep them comfortable.
What is the temperament of a Miniature Aussiedoodle? This friendly pooch is full of love and devotion and is eager to please. They are bursting with energy and they love to play.
Are they suitable for families? Yes, in fact they thrive in a family. They need to be with their humans all the time and soak up as much attention as they can get.
Mini Aussiedoodle Reviews
Mini Aussiedoodle Breeders
Here at Premier Pups, we work hand-in-hand with our breeders. It truly takes a special and unique breeder to assist with nourishing and raising a Miniature Aussiedoodle puppy properly. The footage produced in our videos is 100% real. We directly take un-staged, unedited, and only authentic scenes at our breeder locations. We only align ourselves with Mini Aussiepoo breeders whose standards are much higher than the rest.
Like people, the most critical moments in a puppy's life start in the beginning. Providing a safe, natural, comfortable, and healthy environment for the nursing mother and her baby is essential. Only the nation's best Mini Aussiedoodle breeders can provide the best quality of life. We spend consistent on-site time with our selected breeders and can undoubtedly say that our puppies come from a very caring environment.