PHOTOS FROM OUR CUSTOMERS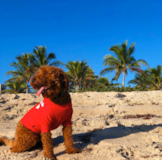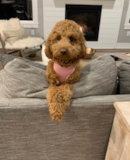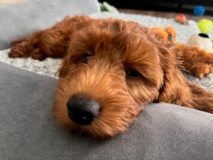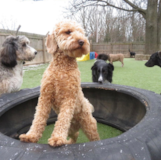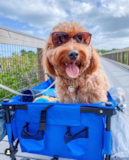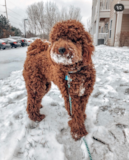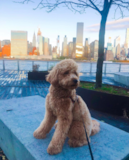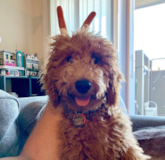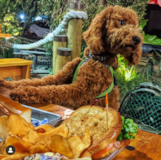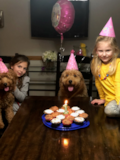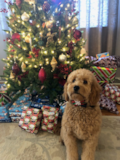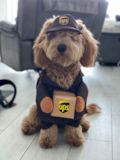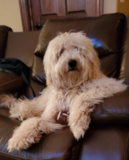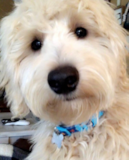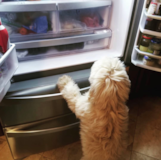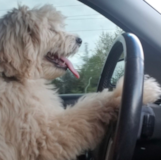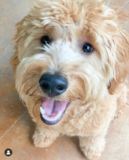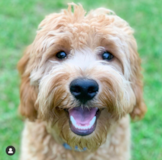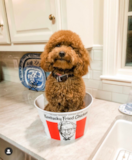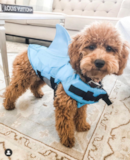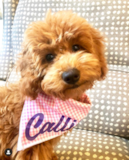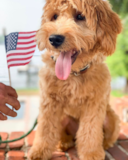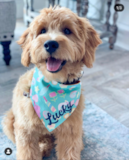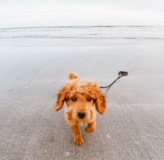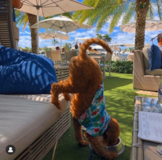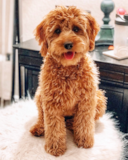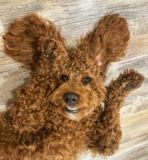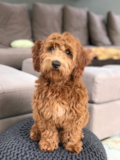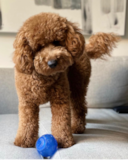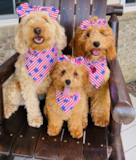 Mini Goldendoodle Puppies For Sale
in PremierPups Ohio
Affectionate ~ Intelligent ~ Loving ~ Social
Premier Pups offers the best variety of Mini Goldendoodle puppies for sale. F1, F1b Mini Goldendoodle & F1b Toy Goldendoodle puppies for sale available. Small, happy, with a bit of spunk and a great deal of love to give, the Mini Goldendoodle puppy makes for a perfect little companion pet. Mini Goldendoodles are joyful dogs that love cuddles, adventures, and most importantly, their humans. One of the favorite doodle dogs in America, the Mini Goldendoodle is a cross of a Mini Poodle and a Golden Retriever. These cute puppies inherit all the best qualities their parents have to offer.
Read more
BREED INFORMATION
MINI GOLDENDOODLE
---
Temperament

Affectionate, Intelligent, Loving, Social

Adult Weight
F1B: 20-35 lbs/F1: 25-45 lbs
Adult Height
13-22 in
Life Expectancy
10-14 yrs
Rating

5.0

( reviews)
| | |
| --- | --- |
| Maintenance | |
| Training | |
| Shedding | |
| Adaptability | |
| Active | |
Goldendoodle Mini for Sale
Characteristics of Mini Goldendoodle for sale:
Hypoallergenic Goldendoodle puppies
One of the most popular mixed-breed puppies in the United States
Small Mini Goldendoodle size
Wide variety of Mini Goldendoodle puppy colors
Excellent Mini Goldendoodle puppy temperament
Mini Goldendoodle hybrid vigor
Best cuddle doodles
Hybrid breed
10-year health guarantee - genetic tested
Mini Goldendoodle pups make excellent furry friends and family members
Bred by reputable breeders - our responsible dog breeders are held to the highest standards in breeding mini Goldendoodles
About the breed
First bred in 1969 between a Golden Retriever and a Miniature Poodle, the Mini Goldendoodle puppy was originally created as a hypoallergenic guide dog. Gaining popularity in the early 1990s these beautiful mini doodle dogs would spread out over three generations.
A first-generation Mini golden doodle puppy is known as an F1 Mini Goldendoodle. This is the puppy of a purebred Golden Retriever crossed with a Miniature Poodle. This mix is 50% poodle and 50 golden retriever.
A second-generation puppy is known as an F1B Mini Goldendoodle. This is the puppy of an F1 cross bred with a Miniature Poodle. The F1B is 75 Poodle and 25% golden retriever.
A third generation is known as F2 Goldendoodle mini. This is where a puppy has two Mini Goldendoodle parents.
Learn more about Standard, Toy & Mini: Goldendoodle Difference and Breed Generations
Our Mini Goldendoodle puppies for sale were bred to display the same desirable characteristics as the Poodle and Golden Retriever breeds. This Golden retriever Poodle mix inherits some of the Poodle's hypoallergenic qualities as well as an abundance of wonderful personality traits from both of its parents. Most widely known for their affectionate, friendly, gentle, and intelligent traits, Goldendoodle puppies are often used in a variety of mental and physical activities including agility, hunting, narcotics detection, obedience, retrieving, and search and rescue.
Appearance and Grooming
The colors of a Miniature Goldendoodle puppy coat can vary from black, copper, white, and cream to gray, golden, apricot and red apricot, golden, red, white, and yellow. Its coat also varies a lot in look and texture. Some pups have fur that is shaggy like a Golden Retriever, others have curls like a Poodle, and some are perfect hybrids. Mini Groodle puppies don't shed too much but need regular brushing and occasional bathing. Ideally, you should brush your puppies up to three times every week to keep their hair smooth and tangle-free. Bathing can be done every 4 to 6 weeks, whereas ear and teeth cleaning should be done at least every few days.
Get more tips on grooming from our Grooming your Dog at Home Guide.
Our Mini Goldendoodle puppies for sale are bred by crossing a Golden Retriever with a Mini Poodle. As one of their parents (the Golden Retriever) is an occasional shedding dog and the other (the Poodle) is a non-shedding dog, their hypoallergenic qualities very much depend on who they take after more. A puppy that is a half and half mix of its parents will likely be a semi-hypoallergenic, low-shedding dog.
For an F1b Mini Goldendoodle – that is the puppy of an F1 back-crossed with a Mini Poodle, the chances of an adult F1B Mini being hypoallergenic are very good as this dog is 75% Poodle.
Goldendoodles currently come in 4 size varieties: Standard, Mini, Toy, and Teacup.
Standard adult size is typically an average of 40 to 50 pounds with a height of 17 to 20 inches. There are also larger Goldendoodles that can weigh up to 90 pounds and reach a height of 24 inches full grown
Full-grown Mini Goldendoodle puppies can weigh up to 40 pounds and reach a maximum height of 22 inches
Petite or Toy Goldendoodles typically weigh 10 to 20 pounds and grow between 10 and 16 inches at the shoulder
Teacup Mini Goldendoodle puppies generally grow to 10-12 inches and can weigh as little as 7 pounds
Miniature Goldendoodle Size - There are a few key factors that should be considered in order to determine the Mini Goldendoodle size (adult size). The breed's parents' size and the breed's generation play a big role in determining what the size of an adult Mini will be. Typically, a full-grown Mini adult weighs between 20 and 40 pounds and stands at 12 to 22 inches tall, not considering the breed's generation.
F1b Mini Goldendoodle Adult Size - As a mix between an F1 Mini Goldendoodle backcrossed with a Miniature Poodle, the F1b Mini puppy will have a smaller size than its F1 counterpart. The typical weight for an adult F1b Mini Goldendoodle is between 20 and 30 pounds. The adult weight of an F1b Mini Goldendoodle can be less than 20 pounds if its F1 Mini Goldendoodle parent is backcrossed with a Toy Poodle.
Teacup Goldendoodle Full Grown - The teacup is most often an F2 generation puppy. This puppy has two Mini Goldendoodle parents. A teacup full grown usually weighs around 15 pounds.
Temperament
Our Mini Goldendoodle puppies for sale are joyful companions that are loyal, brave, and obedient. Most of all, they enjoy human company, cuddles, and fun games. Their temperament depends on heredity, training, and socialization. Mini Goldendoodle's general characteristics are curiosity, playfulness, gentleness, and patience. They will bark and alert their owner when visitors or intruders appear. They also have protective behavior and act fearlessly towards aggressors in order to protect their families.
Out of all mini doodle breeds, these puppies are among the most suitable for families with kids due to their playful, energetic, and affectionate temperament. Goldendoodles are very good with children. They are also a very energetic breed that can keep up with active owners and teenagers that enjoy going on hikes, bike runs, or any type of outdoor adventure.
Complete breed description of the Mini Goldendoodle
Exercise Needs
Being smaller dogs, our Mini Goldendoodle puppies for sale do not require nearly as much exercise. This is not to say that these dogs don't have their fair share of energetic personalities and will often grow bored if not regularly exercised. A recommended 20-to-30-minute walk, twice a day, and some added play time will be sure to help them burn some energy. In addition to games of fetch and chase, these lovable pups also love to swim so it is beneficial to allow them to go for a few swims during summertime as well as a form of exercise.
Mini Goldendoodle Puppy Training and Socialization
The influence of the parent breeds results in a dog that loves to learn and is eager to please its owner. They are known for forming a strong bond with their owner during the training phase, which may lead to separation anxiety, so in addition to taking them for walks to encourage socialization make sure to leave your puppy at home alone for little bits of time in the beginning to eliminate their fear. Consistent, fun, and short training sessions will make this breed easy to train.
Our Mini Goldendoodle puppies for sale are sociable and get along well with other pets and humans, but they still need early socialization to prevent aggressive behavior. It is recommended to expose them to different environments, places, people, and experiences to help them become well-rounded adult dogs. They are easy to train as they are eager to learn and to please their owner. The trainer should use reinforcement methods such as praise and rewards for motivation. Mini Goldendoodle puppies are also known to form strong attachments to their owners. They shouldn't be left alone for long periods of time without prior training, as they may suffer from separation anxiety.
Goldendoodle Mini for Sale
Premier Pups is partnered with the most reputable Mini Goldendoodle breeders in the nation to offer you the best variety of Mini Goldendoodle puppies for sale. Our Goldendoodle mini puppies are vet-checked, healthy, and ready to love you unconditionally for many years to come.
Check out other mini doodles for sale near you
Frequently Asked Questions
How big do Mini Goldendoodles get? At full growth the average height of a Female Minature Goldendoodle is between 17-19 inches with an average weight of 20-35 lbs. For Male Miniature Goldendoodles their average height is between 16-17 inches with an average weight of 18-30 lbs.
What types of coats do Miniature Goldendoodles have? They can have a straight, wavy or even a curly coat. You can best tell what type of coat your puppy will have when they reach about 6 weeks of age.
What colors do Miniature Goldendoodles come in? These pups can come in solid colors or with patterns. The most common colors include: cream, fawn, brown, isabella, grey, red and black.
What is the difference between F1, F1B, and F2? F1 is a breeding of a Golden Retriever and a Poodle. The standard doodle would be with a standard size poodle and the mini would be with a mini size poodle. F1B is a breeding of an F1 Goldendoodle with a Poodle. This means 75% poodle and 25% golden retriever. F2 results from breeding F1 golden parents. This results in a 50% golden retriever-50% poodle ratio.
Do Miniature Goldendoodles make good service/therapy dogs? Yes! Their friendly nature, strong intuition and unmatched intelligence, allows them to excel in areas of service and therapy.
Are Miniature Goldendoodles considered a breed? Currently, a miniature golden doodle is considered a "Hybrid Designer Breed" and the AKC does not recognize them as a pure breed at this time.
Are Miniature Goldendoodles hypoallergenic? Miniature Golden doodles are a cross breed and therefore their coats can vary. Some do not shed at all and some have light shedding that occurs. Generally speaking, they are a great choice for allergy sufferers.
Should I be concerned with any common health problems? Because this Miniature Golden doodle is considered a hybrid the only genetic diseases they can be prone to would be those shared by both the Golden Retriever and the Standard Poodle, both of which have no major concerns. As with any dog as they begin to age you can expect common concerns. For this hybrid they may be prone to CHD, PRA, VonWillebrand's, Elbow and patella disorders.
How long do Mini Goldendoodles live? The average life expectancy is 10 to 15 years.
Are Miniature Goldendoodles good with kids? Yes! Aside from their loving and sweet temperament, Miniature Groodles make great pets for families with kids or just friends visiting with children. These dogs are very energetic and love to run and play with kids.
Does my Miniature Goldendoodle need to be groomed regularly? It depends on the look you're going for. Ideally Miniature Golden doodles with a longer hair length need professional grooming every 6-8 weeks. If you like to keep your Mini with a shorter clip, they will need professional grooming every 8-10 weeks.
What is best for me- a male or female? If you're looking for a more active Miniature Goldendoodle then you may want to think about a female. Though, the males are still active they have a tendency to be more laid back.
How much exercise does a Mini Goldendoodle need? Miniature Golden doodles energy levels are average. In addition to a daily walk they will need about a half to an hour of play each day to stay fit and trim.
Are they sociable? Yes, very much so. Miniature Golden Doodles are highly sociable dogs who form long-lasting bonds with their humans.
What is the temperament of a Miniature Goldendoodle? Golden doodles are loyal, gentle and affectionate. They have the obedience of the golden retriever and the intelligence of the Poodle. They are sociable animals who love to be around the company of people.
Do Mini Goldendoodles shed? Depending on their breed generation and who they take after more, these dogs can be low to moderate shedders.
When do Mini Goldendoodles stop growing? The Mini Goldendoodle can reach its adult size as early as 8 months. Some may continue growing until they reach 12 months of age.
What is a Mini Goldendoodle? A Mini Goldendoodle is a hybrid breed that is achieved by crossing a poodle and a golden retriever.
How much do Mini Goldendoodles weigh? These dogs typically weigh between 18 and 35 pounds when fully grown.
Do Mini Goldendoodles bark a lot? Although they are not considered a very vocal breed, Mini Golden doodles can be talkative when they have something to say. They are known to alert to visitors and can be vocal at times.
What is an f1b Mini Goldendoodle? The F1b is the puppy of an F1 Mini Goldendoodle back-crossed with a Mini or Toy Poodle.
Are Mini Goldendoodles good apartment dogs? Yes! Mini Golden doodles make fantastic apartment dogs as they are very friendly, sociable, and well-behaved indoors. Their size is ideal for apartment living, as is their temperament.
Are Mini Goldendoodles easy to train? As a mix between two of the most intelligent dog breeds in the world, Mini Golden doodle puppies are incredibly smart and easy to train. They are fast learners that pick up on commands quickly.
Can F1B Mini Goldendoodle's have high energy Absolutely! You are mixing a relaxed large breed dog with a poodle. Poodles can be very high energy and the F1B will have 75% poodle when you are breeding for the Mini size. A majority of the Mini Goldendoodle puppies will have moderate energy but some can have higher energy level.
Mini Goldendoodle Reviews