5 Fun Christmas Activities Your Dog Will Love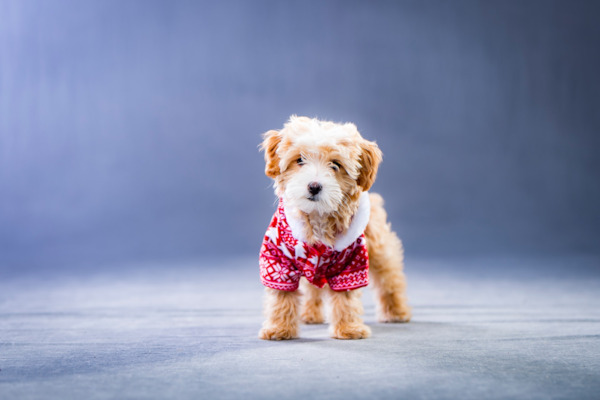 Published
Friday, December 10, 2021
by
Elena R.
We wish you a merry puppy and a happy new dog!
Whether you've welcomed a new puppy into your life or have been a pet parent for a while now, we want to make sure that both you and your fur baby have a truly wonderful Christmas this year and end 2023 in style. The bundles of everlasting joy that we call our fur-babies spend every day of the year showering us with love and teaching us the true meaning of friendship.
This year, we want to repay their dedication, loyalty, and love with a fun-filled holiday season. Christmas is just a few steps away and, in honor of our four-legged friends and the joy they gift us each day, we've prepared a list of 5 fun activities they can genuinely enjoy during this holiday season.
Table of Contents
Time to Become a Dogster Chef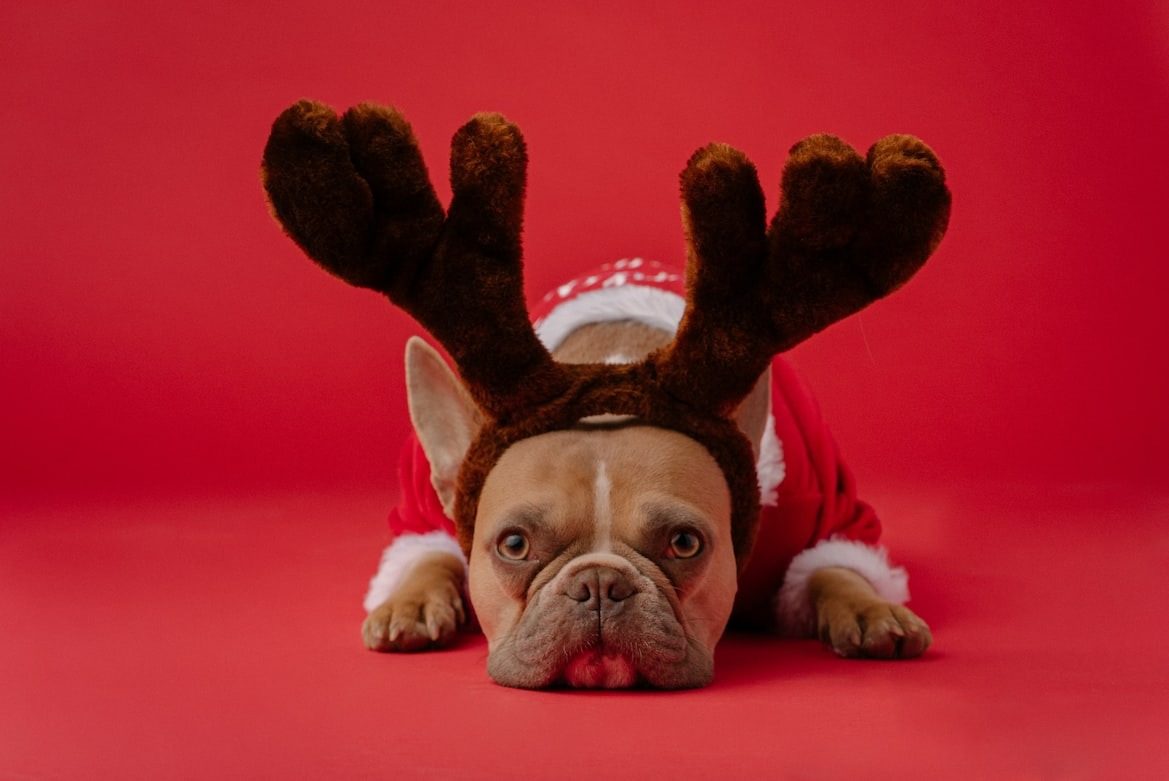 Do you spend endless hours in the kitchen baking goodies and preparing festive meals for Christmas all while hopeful puppy eyes stare up at you? We know that look all too well. So, this year, instead of feeding them dry kibble after their super noses sniff delicious wonders all day, we'd like to encourage pet parents to share the chef's hat and indulge in some cooking/bonding activities with their fur babies.
This year, you can play the choosing game with your dogs and allow them to pick out their favorite Christmas meals and desserts. You can go with the two-choice game, which includes holding dog-friendly vegetables in each hand and allowing them to choose between them, or the multi-choice one in which you lay multiple vegetables on a tray and have them pick one out. Once your dogs pick their favorite item, you can move on to the next category with cooked white meat and dog-friendly fruit.
By the end of the game, your dogs will have picked out their favorite vegetable, meat, and fruit which you can use to create a delicious Christmas meal specifically designed by and for your dog. You can mix these up every day during the holiday season and give your dog the festive treats it craves and deserves. This activity takes little time, and you are guaranteed to have a happy, well-fed, and thankful dog.
It's all Fun and Games this Winter Season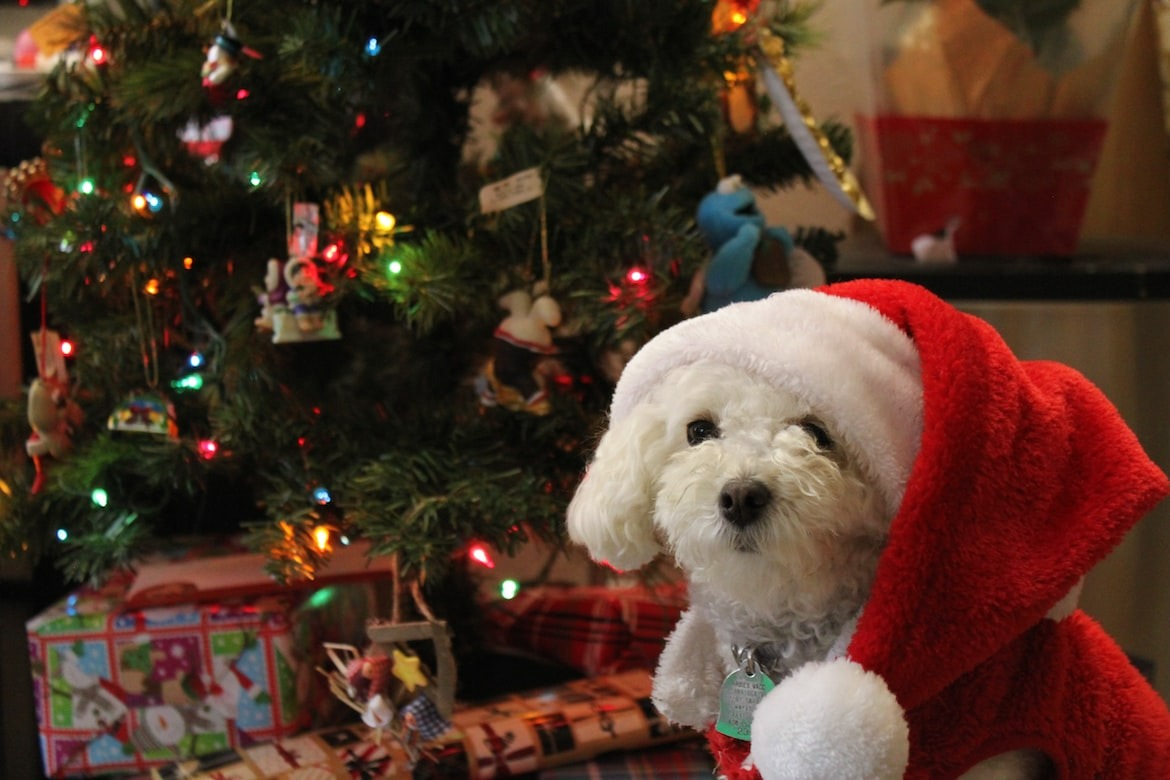 Let there be happy paws, dog smiles, and excited tails this season. If you're the proud parent of a Pomsky, Golden doodle, or Aussiedoodle, get ready for snowball fights, winter hikes, and lots of sightseeing. If you have an energetic dog that loves snow, now is the time to dust off the ski suit, put your warm boots on, and conquer those winter activities with your pooch. This holiday season, give your dog the opportunity to create the cutest paw prints in the snow.
Let them dive in piles of fresh snow and take them hiking on the best trails you know. Entice them in a friendly chase and grant them the pleasure of fetching their favorite ball through snowy fields. Winter activities are plenty and your dog probably loves them all. Your fur baby will not only have tremendous fun exploring the snowy world but will also get to burn off those extra Christmas treat calories.
Bonding by the Fire
Another activity dogs love dearly, besides eating delicious Christmas treats and playing in the snow, is cuddling and relaxing glued to their humans on the couch during a peaceful holiday evening. Your fur-baby adores being the center of your universe and, since bellies are full and energy is spent, there is nothing left to do than to indulge in an evening of sweet cuddles and well-deserved doting. What better way to show your dog love and appreciation this season than to spoil him/her with belly rubs, head massages, and tight hugs?
Winter Strolls and Christmas Lights
Once all your cooking and decorating is done, dare to take your little bundle of joy on a long evening stroll around the neighborhood. You can admire neatly decorated houses, while your dog can say "henlo" to every four-legged friend that passes by. The days leading up to Christmas can become exhausting for both you and your little fur-baby. You might feel overwhelmed by all the things you want to be perfect for the big day, and your dog will surely feel it too.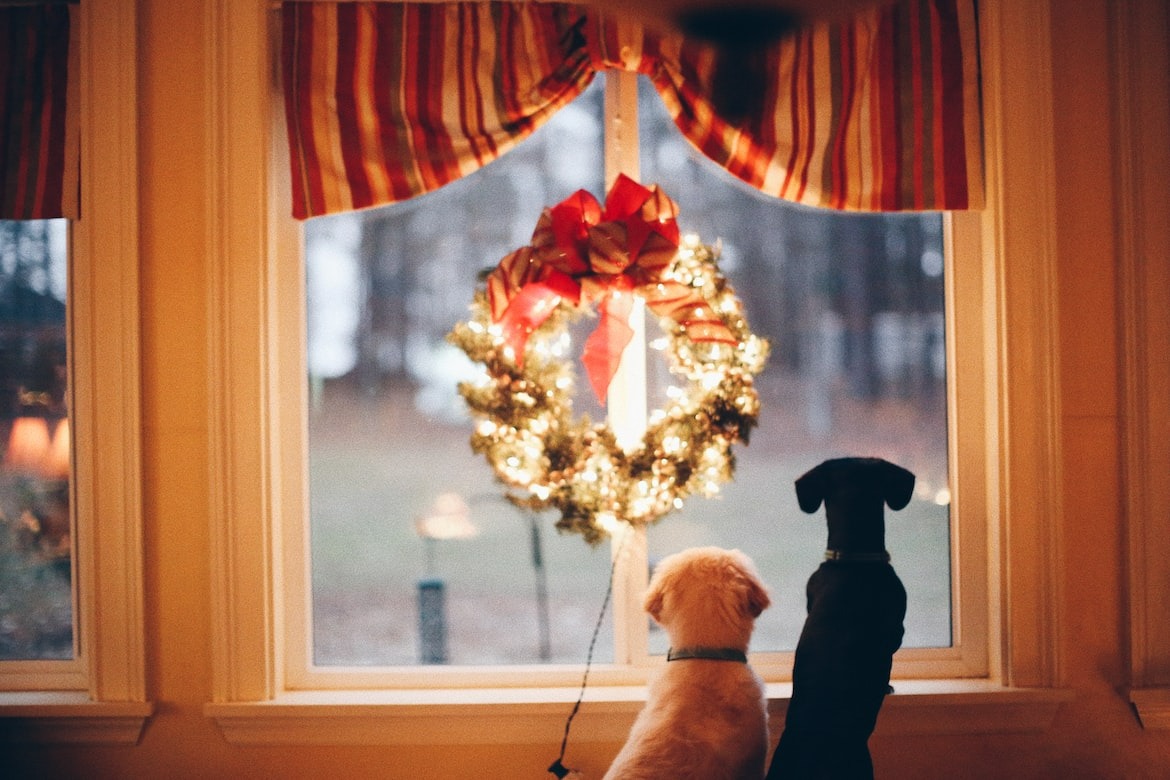 Creating an evening routine where both you and your puppy can get some exercise and breathe in some much-needed fresh air, can be highly beneficial. Your dog will love and welcome long evening walks, and this activity will be a wonderful opportunity for you to recharge your holiday magic.
Gifts from Santa Paws
Who doesn't love unwrapping nicely packed Christmas gifts? If you're thinking dogs, it's not them. They love tearing paper to shreds. It's the Grinch and he's no fun. You may think that dogs don't feel the same level of excitement as we do, but in reality, they probably feel it more. If they get a sniff of a treat under that wrapping paper or squeak a wrapped toy by accident, their joy will ensue, and paper shreds will fly across the room.
One of the most exciting activities during Christmas day is the unwrapping of gifts. This year, our wish is that every puppy gets to feel the joy of unwrapping a present on Christmas morning. That their Christmas stockings are filled with treats and cookies and that Santa Paws brings them their favorite chew toys and games.
Related Posts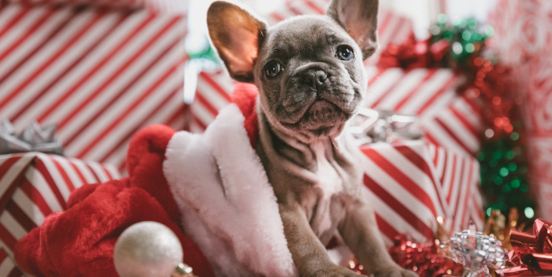 Christmas is just around the corner. It's time to hang the big Christmas socks and stock up on hot cocoa and wine. Bring out the scented candles, the comfy pillows, and the warm puffy blankets, and join in on the wonderful Christmas spirit. Replace your regular...
Read More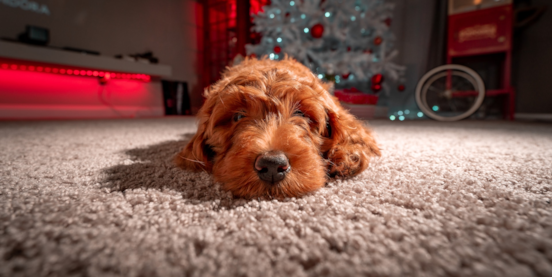 The Pawlidays are almost here and they are going to be especially memorable this year if you're a new puppy parent. Paws will be dancing and prancing, ornaments will be flying, and puppy presents will be chewed open. The days ahead will be joy-filled and...
Read More
Frequently Asked Questions
What are some fun Christmas activities I can do with my dog? Some fun Christmas activities for your dog include cooking and sharing festive meals, playing in the snow, cuddling by the fire, taking evening strolls to see Christmas lights, and unwrapping Christmas gifts.
How can I include my dog in Christmas meal preparations? You can include your dog in Christmas meal preparations by playing a choosing game. This involves offering them dog-friendly vegetables, meats, and fruits and allowing them to pick their favorites. You can then use these ingredients to create a delicious Christmas meal specifically designed by and for your dog.
What are some outdoor winter activities my dog might enjoy? If your dog enjoys the snow, they might enjoy activities like snowball fights, winter hikes, and fetching their favorite ball through snowy fields. These activities can help them burn off extra energy and calories.
How can I create a relaxing holiday evening for my dog? You can create a relaxing holiday evening for your dog by spending time cuddling and showing them affection. This could include giving them belly rubs, head massages, and tight hugs.
How can I make the unwrapping of Christmas gifts fun for my dog? Dogs often enjoy the excitement of unwrapping gifts. You can make this a fun activity for your dog by wrapping their Christmas treats and toys and allowing them to tear the paper to find their gifts.