PHOTOS FROM OUR CUSTOMERS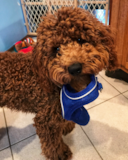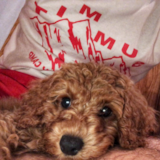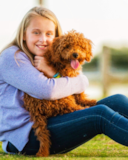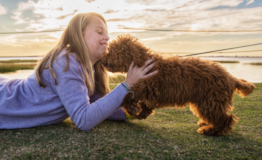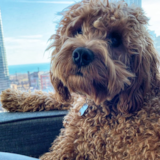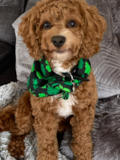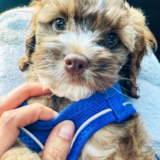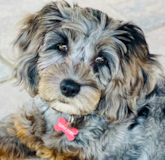 Cockapoo Puppies For Sale
Outgoing ~ Intelligent ~ Friendly ~ Loving ~ Active
Cockapoo puppies for sale from the nation's most reputable Cockapoo breeders. Toy and Petite Cockapoo puppies for sale & F1b Cockapoo puppies for sale with nation-wide delivery. Sweet and cuddly, highly affectionate, friendly, and cheerful, Cockapoo puppies are cute little joy bringers who most of all love to love. A cross between a Cocker spaniel and a Mini Poodle, the Cockapoos (Cockerpoos or Cockapoodles) are the happiest of dogs. They are known to joyfully bounce around from one room to the next and they have an infectious "I love life" attitude. Cockapoo puppies are very clever, loyal, and a treat to have around.
Read more
BREED INFORMATION
COCKAPOO
---
Temperament

Outgoing, Intelligent, Friendly, Loving, Active

Adult Weight
12-25 lbs
Adult Height
10-15 in
Life Expectancy
13-16 yrs
Rating

5.0

( reviews)
| | |
| --- | --- |
| Maintenance | |
| Training | |
| Shedding | |
| Adaptability | |
| Active | |
About the Breed
A cross breed of the Cocker Spaniel and the Miniature Poodle, the Cockapoo is recognized as the very first designer dog breed and one of the most popular designer breeds around. They are small in size, affectionate, energetic and very intelligent. While the exact origins of the Cockapoo breed are unknown, they have become increasingly popular since the 1960s. Cherished for their even temperament, low shedding hair, and small size, Cockapoos pack a lot of personality and style into a small package.
The breed is recognized by the American Cockapoo Club.
Appearance and Grooming
The Cockapoo inherits the Poodle's hypoallergenic, low-shedding coat so you can rest assured your home won't be covered in pet hair. Brushing the coat of the Cockapoo once a day is the best way to make sure that both the dog and your home stay clean. Their soft coats can range from straight to slightly curly or wavy. Because these dogs have hair instead of fur, they do need to be groomed regularly. When it comes to color options, considering that both the Cocker Spaniel and Poodle come in a wide range of coat colors, the Cockapoo will offer the same broad spectrum of colors and color combinations.
Temperament
Known for their extreme affection and sociability, these loving dogs exude a cheerful and friendly personality. They take to training well and are quick learners that are eager to please their owners. On the other hand, if they are not shown the love and attention that they need they become bored and have been known to exhibit destructive behavior. These beautiful hybrid breed dogs are a good fit for any type of owner. They're great for families and they also do well with a single owner.
Family and Companionship
Full of love and positive energy, the Cockapoo is perfect for anyone who is seeking companionship. As a people-oriented companion dog, the Cockapoo is the perfect fit for any dog lover that looks for a pleasant and easy-going dog. They love running around and playing as much as lounging on the couch next to your side. They are extremely family-friendly, and senior-friendly, and will thrive amongst kids of any age.
Exercise
Your new puppy will need to enjoy daily walks and short play sessions. Playing a game of fetch or allowing the dogs to run and burn their energy will keep them not just happy, but also healthy and in great shape. So, you will need to dedicate approximately half an hour to your dogs every single day, taking them on walks, playing with them, and making sure they have the physical activity they need.
Training and Socialization
Their high intelligence and desire to please their owners combine to make a breed that excels in training. It is important to ensure that their training is started at an early age and is followed through to ensure that behavioral problems don't present themselves throughout adolescence. Because these pups are always eager to please, they show a lot of sensitivity to being scolded. Any negative interaction can greatly affect your little pup's mood and development. This breed excels at agility training and solving puzzles, so ensuring that your regimen includes these activities is recommended for both a healthy and happy companion.
Our Cockapoo puppies are bred by professional dog breeders with years of experience in breeding programs, specifically in breeding Cockapoo puppies. The puppies are socialized early by both our staff and our reputable breeders to ensure they have a smooth transition to their new home. The puppies as well as their parents go through routine health testing to ensure they are happy and healthy.
Frequently Asked Questions
What is the average life expectancy of a Cockapoo? The average life span of a cockapoo is 13 to 16 years.
Are Cockapoo's hypoallergenic? No one dog is truly hypoallergenic however, since they have Poodle blood they are deemed hypoallergenic. They have minimal shedding and are a great choice for those that suffer with allergies.
Are Cockapoo's aggressive? They can be. With proper socialization and training at an early age this can become quickly controlled.
How big do Cockapoo's grow to be? A Cockapoo can reach between 11 to 14 inches in height and weigh anywhere between 12 to 18 lbs. The Maxi Cockapoo can reach 15 inches tall and can weigh anywhere around 19 to 30 lbs.
Do Cockapoo's bark a lot? Cockapoo's aren't known to bark a lot. If they are trying to alert their owner or feel something is suspicious they will bark. They will often bark when strangers approach their home or immediate environment.
Are Cockapoos good with children? Most Cockapoo puppies and dogs do extremely well with children. They love to be in the company of people and are very affectionate and intelligent pets.
What is a F1 Cockapoo? A first generation Cockapoo (F1) is a Cockapoo puppy resulting from the breeding of a Cocker Spaniel and a Poodle.
What is a F2 Cockapoo? A second generation Cockapoo (F2) is a Cockapoo puppy resulting from the breeding of an F1 Cockapoo to another generation of Cockapoo.
Is it hard to train a Cockapoo? Cockapoo's are very intelligent dog's which makes training easy. However, you must be consistent and start their training at a very young age for best results. Make sure to give lots of praise and reassurance as these puppies want nothing more than to please their humans.
What type of coat does a Cockapoo have? The coat of a Cockapoo falls into three different categories. There is the "woolly" coat, which is a tightly curled coat; the "fleecy" coat, which is a softer curl that is less coarse; and the "satin" coat which is a dog that is smooth, silky and has very little wave, if any.
What is the difference between a Cockapoo and a Cavapoo? The main difference is their size. Cockapoo's tend to be larger than Cavapoo's when they are full grown. Their temperaments are very similar but Cavapoo's are slightly less active.
What colors is the Cockapoo available in? The most common colors for a Cockapoo include, black, white, buff, cream, apricot, red, brown or a mix of any of the above colors.
What is the temperament of a Cockapoo? Cockapoos tend to inherit the affectionate, loving and friendly natures common with both parent breeds. They are highly intelligent, easy to train and inherit much of the poodle's enthusiasm. They are very sociable animals and love to be in the company of people.
Is the Cockapoo a new designer dog mix? No. The earliest of what has become known as designer dogs, Cockapoo's were first created by accident in the United States during the 1960s.
Will my Cockapoo get along well with my other dogs? Yes. However, it is important to introduce your Cockapoo to your other dogs slowly and never leave them unsupervised while they are just getting to know each other. Cockapoo's love other animals as much as they love people, but they can also become very anxious if provoked.
Cockapoo Breeders
At Premier Pups, we only align ourselves with Cockapoo breeders whose standards are much higher than the rest. Like people, the most critical moments in a puppy's life starts in the beginning. Providing a safe, natural, comfortable, and healthy environment for the nursing mother and her baby is essential. We spend consistent on-site time with our selected breeders and can undoubtedly say that our puppies come from a caring environment. It truly takes a special breeder to assist with nourishing and raising a Cockapoo puppy properly. Only the nation's best Cockapoo breeders can provide the best quality of life.
Here at Premier Pups, we work hand-in-hand with our breeders. The footage produced in our videos is 100% real. We directly take un-staged, unedited, and only authentic scenes at our breeder locations.