Mini Portidooodle Breed Information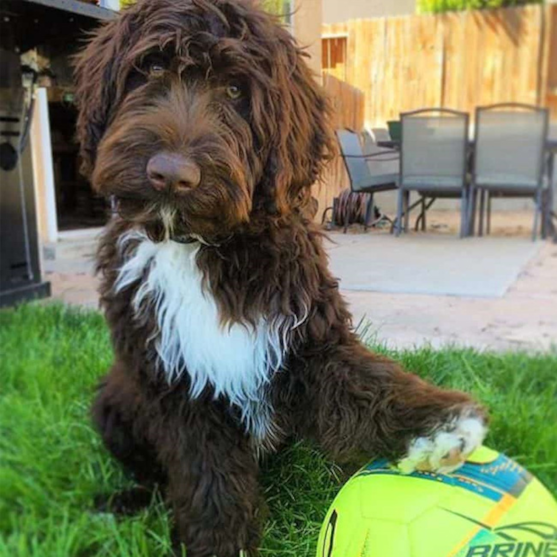 Mini Portidoodles are playful, loving, and happy-go-lucky dogs. They enchant with a cheerful attitude and a great love for all things fun. These gorgeous pups are very fond of water, dog sports and games, and most importantly, their family. Known to form strong attachments, the Mini Portidoodles are entirely dedicated to their humans. They enjoy entertaining with comical tricks, are affectionate, fun, and wonderful with children. As great family dogs, Mini Portidoodle pups bring a great deal of love, joy, and laughter into their lucky-to-have-them home.  The Mini Portidoodle is a Designer Doodle Breed, a mix between a Portuguese Water Dog and a Mini Poodle.  
BREED TYPE / MIX Doodle Hybrid / Poodle crossed with a Portuguese Water Dog ENERGY Moderate SHEDDING Minimum TRAINING Responsive TEMPERAMENT Happy, Docile, Sweet, Playful ADULT WEIGHT 14-28 lbs ADULT HEIGHT 10-20 in LIFE SPAN 12-15 yrs
Mini Portidoodle Characteristics
The Mini Portidoodle is also known as Mini Portipoo and Mini Portidoo
Non-shedding and hypoallergenic, the Mini Portidoodle is a great fit for those suffering from pet-related allergies
Curious, fun, and adventurous, the Mini Portipoo makes a wonderful travel/adventure companion  
Mini Portidoodle hybrid vigor
Entertaining, lively, and sweet, the Mini Portidoodle is the ideal playmate for children
The Mini Portidoodle tolerates both hot and cold weather
Highly adaptable – Mini Portidoodle pups are quick to adapt and comfortable in both small apartments as well as large homes
The Mini Portipoo puppy is easy to train, eager to please, highly intelligent, and an amazing first dog for novice owners
Alert and vigilant, the Mini Portidoodle is an efficient watch-and-alarm dog
The Mini Portidoodle can be trained easily and is an amazing candidate for therapy work  
Outgoing, friendly, and highly sociable, the Mini Portidoo makes fast friends with other dogs and other household pets
The Mini Portidoodle is a fantastic companion pet for families with or without children, singles, and active seniors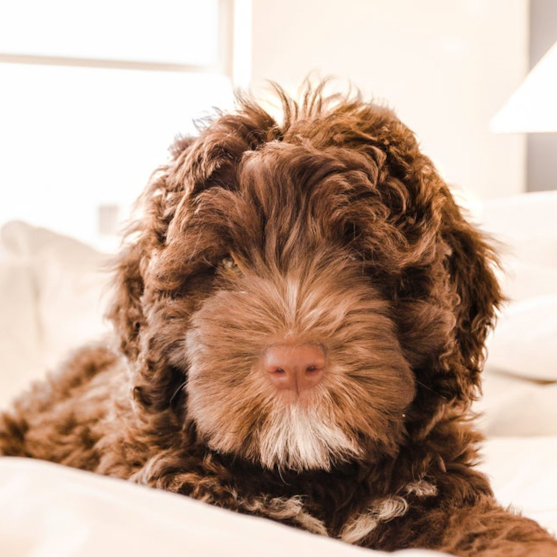 Mini Portidoodle Breeders
Like people, the most critical moments in a puppy's life starts in the beginning. It truly takes a special breeder to assist with nourishing and raising an Mini Portidoodle puppy properly. Only the nation's best Mini Portidoodle breeders can provide the best quality of life. Here at Premier Pups, we work hand-in-hand with our breeders. Providing a safe, natural, comfortable, and healthy environment for the nursing mother and her baby is essential.
The footage produced in our videos is 100% real. We directly take un-staged, unedited, and only authentic scenes at our breeder locations. We only align ourselves with Mini Portidoodle breeders whose standards are much higher than the rest. We spend consistent on-site time with our selected breeders and can undoubtedly say that our puppies come from a caring environment.
Mini Portidoodle Appearance
The Mini Portidoodle is a cuddly, sporty, and gorgeous-looking dog. With a cheerful disposition and a friendly demeanor, the Mini Portidoodle (Mini Portipoo) appears docile, approachable, happy, and sweet. The Mini Portidoodle has a sturdy-built body, a long fluffy tail, a medium-length muzzle, cute floppy ears, and dark expressive eyes. The Mini Portidoodle coat is of medium length, soft, and curly or wavy in texture. It is low-shedding, hypoallergenic, and can come in various colors and color combinations that include white, black, brown, cream, gray, merle, sable, with various patterns and markings. Small to medium in size, the Mini Portidoodle weighs between 14 to 28 pounds and stands at 10 to 20 inches tall.  
Mini Portidoodle Temperament
The Mini Portidoodles (Mini Portipoo) are sweet, loyal, and happy dogs who love their family most of all. They are great with family children, docile with their fur siblings, loyal to their owners, and entertaining for the whole family. They love performing random tricks and are known to be very receptive to their family's needs.  These unique dogs exude happiness and are friends with everyone they meet. They are energetic, playful, outgoing, and fond of fun activities. They enjoy social interactions with dogs and humans alike, family adventures, canine games, dog sports, chew toys, jogs, and cuddles. As the offspring of two water-loving dog breeds, the lively Mini Portidoodles love to splash in puddles, swim in lakes, jump in beach waves, and chase sprinklers.  
Mini Portidoodle puppies are small, adorable, and fluffy bundles of joy. They love to play, bounce, zoom, chase, chew, and get cuddled, pampered, and spoiled. As the fur-babies of two exceedingly bright dog breeds, the Mini Portidoodle puppies are fast learning students, excellent people-pleasers, and eager learners. They pick up on basic tricks and commands impressively fast and are quite eager to move on to more complex training.  
Mini Portidoodle Insights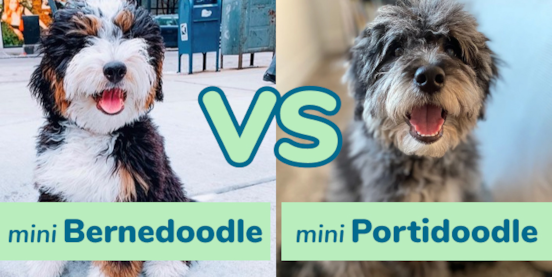 Mini Bernedoodle vs Mini Portidoodle Comparison
A warm-hearted dog that resembles a cuddly teddy bear or a fun family dog that loves games and adventures – meet the Miniature Bernedoodle and the Miniature Portidoodle. These two dog breeds are among the most popular doodles in the canine kingdom. They are favored for their joyful personalities, keen intelligence, and eagerness to please. Both the Mini Bernedoodle and Mini Portidoodle train easily and are generous with affection. They are a fantastic fit for a wide variety of families,...
Mini Portidoodle History
The Mini Portidoodle dogs are the newest members of the Doodle Breed world. A hybrid mix between a purebred Portuguese Water Dog and a purebred Miniature Poodle, the Mini Portidoodle first appeared in the United States in the past few years. By mixing two highly popular dog breeds, professional breeders aimed to create a hybrid that would possess the hypoallergenic qualities, keen intelligence, agility, and fun nature of both parent breeds. A gift to the world, the Mini Portipoo breed impressed from the get-go and is one of the most sought-after designer breeds. As a modern Doodle, the Portidoodle breed doesn't have much history, so to better understand it, we can take a look at the history of the Portuguese Water Dog and Poodle parent breeds.
The Portuguese Water Dog, also known as Cao de Agua (dog of water) is a centuries-old breed that originated in Portugal. These remarkable dogs were considered the fisherman's best friends as they would often be seen on Portuguese fishing ships along the coast of Portugal. With their webbed paws, excellent swimming capabilities, and great love for water, the Portuguese Water Dogs were trained to lure fish into nets, retrieve fishing gear and nets from the water, and act as messengers between fishing vessels. When fishing ships joined the modernized era, the Portuguese Water dogs moved on to become loyal, affectionate, and treasured companion pets.  
The Poodles, famous for their big brains, gorgeous looks, and sweet nature, are a breed with a most impressive history. Developed in Germany, Poodles have been long admired for their stunning looks, retrieving skills, performance with the traveling circus, therapy work, companionship, and sporting titles. Officially recognized by the AKC for their three sizes (Standard Poodle, Miniature Poodle, and Toy Poodle), Poodles, regardless of their size, never fail to impress with their agility, friendliness, and learning skills. They are considered the second most intelligent dog breed in the world and the top breed in many countries.