Shih Poo Breed Information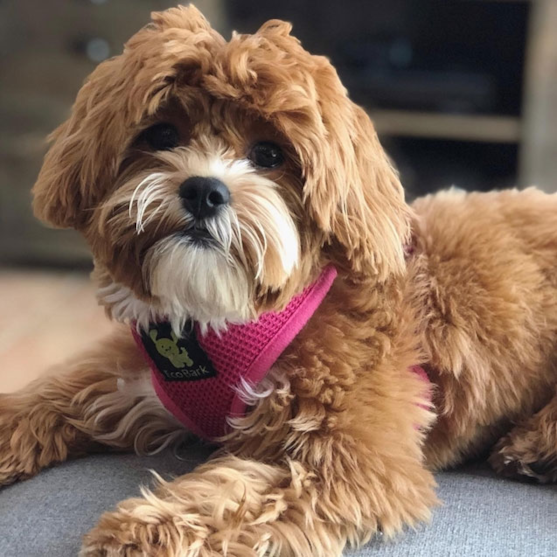 Shih Poos are gentle, sweet, family-oriented dogs that thrive on attention and love deeply. Cute and cuddly, clever and attentive, these adorable pups make wonderful family companion pets. Shih Poo puppies are adorable, joyful little teddy bears who love to play and cuddle.  
A highly sought-after designer Doodle dog, the Shih Poo is a cross between a Shih Tzu and a Mini or Toy Poodle. Precious, fluffy and small, Shih Poos have an average weight between 8 and 18 pounds with an average height between 8 to 17 inches.   
BREED TYPE / MIX Doodle Hybrid / Poodle crossed with a Shih Tzu ENERGY Moderate SHEDDING Minimum TRAINING Responsive TEMPERAMENT Clever, Affectionate, Gentle, Loyal, Loving ADULT WEIGHT 8-18 lbs ADULT HEIGHT 8-17 in LIFE SPAN 10-15 yrs
Shih Poo Characteristics
The Shih Poo sheds very little and is considered hypoallergenic
Incredibly sweet and loving, the Shih Poo is a magnificent emotional support dog
Shih Poo dogs are highly adaptable - they are more than happy to live in both small city apartments and large country side homes
Not overly vocal, yet vigilant and alert, the Shih Poos are efficient watch dogs
Shih Poo puppies are playful and highly social. They are friendly with children, other pets, and strangers
Small, easygoing, and non-aggressive, the Shih Poos are wonderful travel companions  
The Shih Poo adapts well to both active and laid-back lifestyles
Cheerful and attentive, the Shih Poo is best suited for families with or without children, singles, and seniors
The Shih Poos live longer healthier lives due to hybrid vigor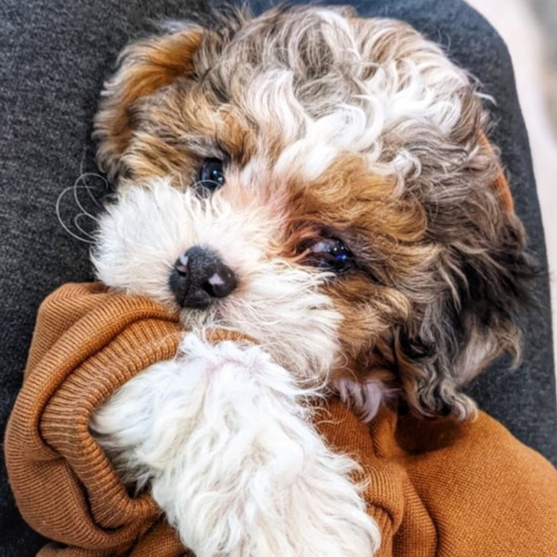 Shih Poo Breeders
WATCH VIDEO of our Breeder Care
Like people, the most critical moments in a puppy's life starts in the beginning. Providing a safe, natural, comfortable, and healthy environment for the nursing mother and her baby is essential. It truly takes a special breeder to assist with the nourishing and raising of a Shih Poo puppy. Here at Premier Pups, we work hand-in-hand with our breeders. We spend consistent on-site time with our selected breeders and can undoubtedly say that our puppies come from a caring environment. Only the nation's best Shih Poo breeders can provide the best quality of life. The footage produced in our videos is 100% real. We directly take un-staged, unedited, and only authentic scenes at our breeder locations. We only align ourselves with Shih Poo breeders whose standards are much higher than the rest. 
Shih Poo Appearance
The Shih Poos, or as some like to call them the Shih Tzu Poo, are beautiful little dogs that sport features from the royal Shih Tzu and the fancy Poodle. Small in stature, the Shih Poo size can reach a height of 8 to 17 inches. Depending on which of their parents they take after, these cute dogs can weigh anywhere between 8 and 18 pounds for a full-grown Shih Poo. Their coats can also vary between straight, wavy, and curly. The Shih Poos can inherit the stunning curly coat of their Poodle parent, the beautiful long straight coat of their Shih Tzu parent or they may have a unique combination of both. Although they can sport different looks and sizes, the Shih Poos do have some common features between them. They have a well-proportioned, sturdy-built body, a medium length muzzle, dark round eyes, and a button nose. Their ears are slightly rounded and floppy, and their tails are fanned. Because they are a crossbreed, these fashionable dogs might appear with patterns and markings that are common with their Shih Tzu parent. Their coats can come in combinations of two or more colors, or have a solid coloring. Shih Poo colors include white, black, brown, apricot, brindle, and gray. Hypoallergenic Shih Poo qualities are excellent as these dogs shed very little and don't produce much dander.  
Shih Poo Temperament
Affectionate, fun, cuddly, and sweet, the Shih Poo (also known as Shi-poo, Shoodle and Shih Doodle) dogs are ideal family companion pets.  
The gorgeous Shih Poo puppies are happy, cheerful little dogs with an infectious good mood. They love to be pampered and spoiled and are known to repay their family in return with lots of kisses and cuddles. Social, outgoing and friendly, Shih Poo dogs very much enjoy playtime in dog parks where they can interact and make friends with other dogs.
Shih Poo puppies are bright and energetic little fluffs with a mind of their own. They love to run around, bounce and play just as much as they love to crash on a lap and cuddle for hours on end. The Shih Poo puppies are also known to be a bit on the stubborn side and will respond best to yummy rewards and praise-based training (perhaps a cheerleader or two to help with the process).
The lovely Shih Poo is a non-aggressive, loyal, and devoted dog, with a calm temperament and a lot of love to give. Their greatest quality is their remarkable ability to sense their family's needs. They are known to thrive as emotional support dogs and have a great reputation for cheering up everyone they meet.  
Curious in nature and explorers at heart, Shih Poos like to be aware of their surroundings and will inspect every inch of the house twice over just to be sure nothing is missed. They love to meet new people; explore new places and they are small enough to travel everywhere.  
The Shih Poo pups are affectionate and crave attention, but they are not overly dependent. A squeaky chew toy (their favorite) is a great way to keep them busy and content when they are alone. 
Shih Poo Reviews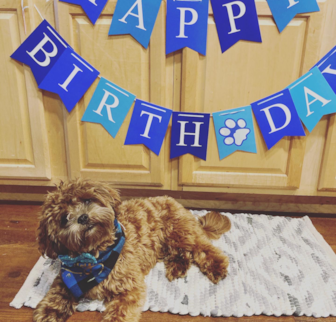 Frankfurt aka "Frankie Baby"
Shih Poo Puppy
in New Carlisle,OH
We adopted Frankie on May 14, 2020. He is a Shipoo. He just turned 1 year old on March 16, 2021. Frankie has been such a wonderful addition to our family. He's so loving, has a spunky personality, and loves to follow my husband and I around. Love, love, love him!!!!

Poppy Luna formerly known as Oreo
Shih Poo Puppy
in Greer, SC
My little baby, Poppy Luna (formerly known as Oreo) arrived about a week ago. I had thought about getting another dog for a while and with COVID-19 and working from home being our new realities, I decided it was the perfect time. My priority was finding a dog that would be compatible with my 13 year old chihuahua boy, Gizmo. Of course, like any responsible dog owner, I checked the shelters first but due to the very specific requirements I had, I could not find the right pup. Those requirements were mostly because of Gizmo as he would be the absolute priority in my decision. It would have to be a puppy because of his age and the potential lack of adaptability with an older dog. I wanted it to be a female dog since he generally seems to get along better with girls. And I wanted it to be a non-shedding bread due to this being the second dog in my home. After searching and contacting shelters, I stumbled across premierpups and instantly fell in love with Poppy Luna. She arrived safe and sound at GSP airport about two weeks after my offer had been accepted. Gizmo and her have since become best friends, she goes to work with me every day (whether at home or at my office), she is super friendly with people and other dogs, and crate training with the pup pee poo palace has become a breeze. After only two very short nights with much crying and little sleep, she actually sleeps quietly in her crate. Although appreciated, I did not need any of the wet food or karo syrup sent with her. She started eating her hard food instantly. We had our first vet visit two days ago and she is absolutely happy and healthy. I really could not be happier. Thank you so much, premierpups.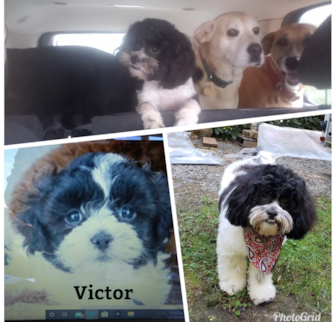 Victor
Shih Poo Puppy
in South Charleston, WV
Carolyn Honaker-Cottle
1/5/2021
After losing our little boy Colby, who was a Shih Tzu Poodle mix, we had a huge hole in our hearts. After debating whether we should get another dog (we had 5), we decided to take Victor (we named him Giles after my great, great grandfather.....all our dogs are named after family members) another Shih Tzu Poodle mix. He has helped heal that empty spot left by Colby. He will be 1 year old on January 17th and has brought us so many smiles, something we badly needed in 2020. Giles is probably the happiest dog we've ever had. From day one he loved all his brothers and sisters and they eventually grew to tolerate him very well (he likes to chew their ears and legs). What a great fit for us!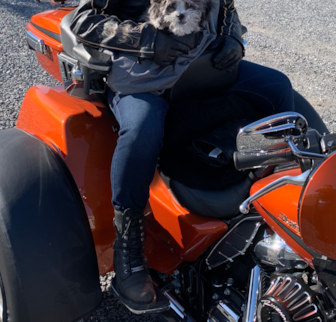 Formerly Echo
Shih Poo Puppy
in Néw Iberia Louisiana
Renee' Shoalmire
1/18/2021
Snowball formerly Echo. He loves attention and he gets a lot of it. He went on his first motorcycle ride. He was born 10/03/2020. He is now 15 weeks old. Everyone we come across says oh look how cute. He is a Lil bundle of joy. Our experience with premier pups was great. Would recommend them.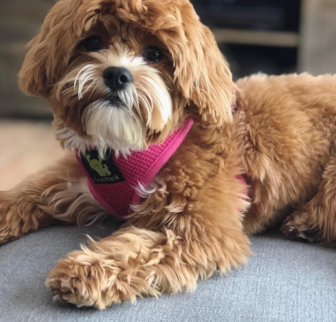 CaliBear
Shih Poo Puppy
in Miami, FL
Our Cali Bear is a dream doggie! We got her a little over a year ago and she has become one of the family! She's simply perfect! The experience with Premier Pups was nothing less than PERFECTION! They were amazing even after Cali came home! We are looking into getting a Cavapoo in the next year from PP! ??

Clara aka Aspyn
Shih Poo Puppy
in Silver Spring Maryland
We got Clara aka Aspyn December 2020 and she has been been such a joy to our family. Premier pups from day 1 has been phenomenal from the communication, delivery , follow up not just on the first day it's almost a year and they still check on our puppy . I would recommend Premier pups to anyone looking to get a puppy for a forever home.

Daisy
Shih Poo Puppy
in Venice, CA
We adopted Daisy (fka Reba) just before the holidays last year. Premier Pups made the process so seamless from the moment she arrived in LA - providing food, ample instructions & frequent check-ins to make sure these first time puppy parents were settling in alright with their little girl. Daisy isn't just the cutest animal; she also has the sweetest disposition & quirkiest personality that has brought so much joy to our whole family. We can't imagine life without her & are so thankful to Premier Pups for helping us find her! We will definitely be back to find her a little brother sometime soon.

Serenity Fern Letsch
Shih Poo Puppy
in Fairfield, Ct
Olivia and Melissa Letsch
7/30/2020
Oh my gosh our little darling Serenity came into our lives only 2 months ago. Our whole family loves her to death. I cant even imagine what my life would be without her. She is my little pal and most of all my new best friend. She is the cutest and gives so many licks and cuddles 24/7. She is so affectionate and has gotten so big since we first got her. I would just like to say that Premier Pups made it so easy through the process of getting her and was so sweet with helping along the way of our journey. Premier Pups is defiantly the best and if your looking for a cute little side chick to make your life even more worth its while, check out the cutest pups they have to offer. My life is now complete with my baby Serenity and all my love goes out to her!!! #SHIHPOOareagirlsbff

Rosie
Shih Poo Puppy
in Marysville ohio
Rosie is six now and our sons are high school guys now. She still has their heart and is our family princess. Lol. She is so spoiled but she is also so flipping smart. We think she knows what we talk about and she could give Lassie a run for his money on communication. She loves vacation trips in the van and protects our yard from cats and squirrels. She will drop everything she's doing for a good sip of beer, only if it's an IPA. She doesn't like the light stuff. Oh Rosita. She knows what she wants.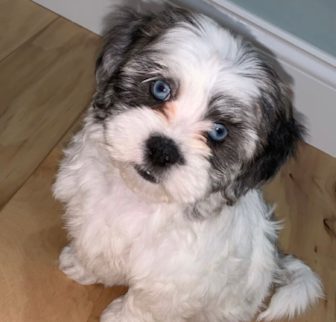 Chloe (Orginally Adele)
Shih Poo Puppy
in Ventnor, New Jersey
First, We cannot say enough positive things about PremierPups! From the beginning to end, everything went so smoothly. We received our puppy on February 28th via transport by vehicle. Between the purchase of our puppy, Chloe, to when we received her, the company kept in full contact with us and provided us daily information on how Chloe was doing and what we needed for her arrival. We had to meet staff to pick up our Chloe. They were prompt with time. Our puppy was received very clean and healthy looking. We were provided with her shot records, food and information needed for Chloe. This past week since having her, Premier Pups has remained in contact with us checking to see how our Chloe is doing. We couldn't be more happy. She is a healthy little puppy who likes to eat a lot and provide kisses. We love her so much! We definitely would recommend Premier Pups to anyone. Thanks Premier Pups for your great customer service and providing a healthy puppy to us.
Shih Poo Insights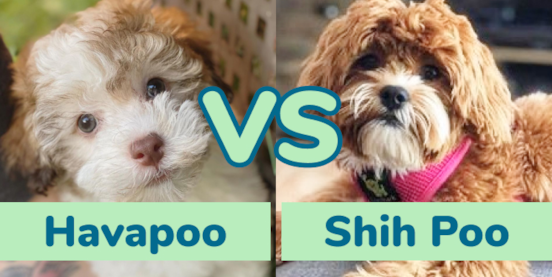 Havapoo vs Shih Poo Comparison
The Havapoo and the Shih Poo are two fantastic doodle dogs that know no limit when it comes to loving their humans. They are sweet, cuddly, and playful, and they love being with their people more than anything else. Both of these small doodle breeds are renowned for their intelligence, toy-like appearance, and darling nature. If your dream is to be the pet parent of a gorgeous bundle of joy, one that will impress you with cute tricks and steal your heart every day, join us on our journey to uncover...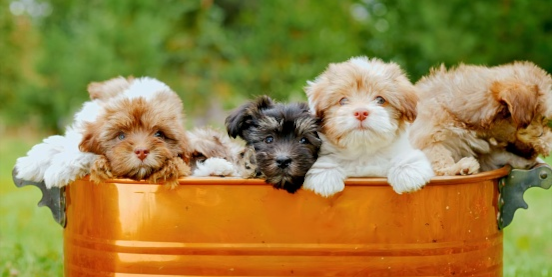 In part 1 of Doodle Dogs Explained, we answered a few general questions about doodle breeds – what they're like, how they are created, and how they came to be. In Part 2, we introduced you to the lovely Mini Doodle breeds that we can't get enough of. Now it's time to tell you all about the magnificent Toy Doodle breeds that are not only incredibly adorable, smart, and loving, but also small enough to fit in a purse.
What is a Toy Doodle breed?
A...
Shih Poo Care
Shih Poo Grooming Requirements
The Shih Poos have moderate grooming needs. Shih Poos with longer coats require a daily brushing to keep them tangle free and avoid matting, whereas Shih Poos with shorter coats require one weekly brushing. It is recommended to bathe the Shih Poos twice every month. Their nails should be trimmed regularly and ears and eyes cleaned as needed.
Shih Poo Exercise Needs
Shih Poos are moderately active dogs. They enjoy long walks, games of chase and fetch, cuddles, and fun activities they can do with their human family. Two brisk walks every day and some indoor games are enough to keep the Shih Poo a happy and healthy dog.  
Shih Poo Health  
Although they are generally healthy as a breed, there are certain conditions Shih Poo dogs can develop. Some of these include hip dysplasia, cataracts, dental issues, patellar luxation, and progressive retinal atrophy. Some Shih Poos can also be prone to excessive weight gain, which is why it is recommended to keep them on a strict diet.
Shih Poo Lifespan  
The Shih Poo lifespan is an average of 10 to 16 years. A nourishing environment, high quality dog food, and a proper exercise routine, will help to increase the Shih Poo life expectancy.
Shih Poo Training
Shih Poos are very bright dogs but they can sometimes be stubborn when it comes to training. The best way to train a Shih Poo is to keep training sessions short and fun, and include lots of delicious treats. Proper motivation and patience are always required when training a puppy. Some tend to be eager and attentive learners while others get bored or distracted easily. Reward based training and positive reinforcement methods will help when training a Shih Poo puppy.
Socializing and leash training Shih Poos is best done when they are puppies. Although they are friendly and social by nature, it is beneficial for them to meet new people and get used to exploring new places early on. Introducing them to new experiences and other pets will help them grow into well-behaved dogs later on.  
Shih Poo History
The Shih Poo is a new and highly sought-after designer Doodle Breed. Also referred to as the Shi-poo, Shoodle and Shih Doodle, this hybrid puppy is a cross between a purebred Shih Tzu and a purebred Miniature or Toy Poodle.  
By combining the sweet affectionate nature of the Shih Tzu with the agile mindset and hypoallergenic qualities of the Poodle, professional breeders aimed to gift the world with a new and amazing breed. In the year 2000, in the United States, Shih Poo breeders achieved their goal and created the sweet crossbreed that would go on to steal the hearts of many.  
The Shih Poo is the fur baby of two ancient and highly popular breeds. Although the Shih Poo breed is new and doesn't have much history yet, we can take a look back at the history of the Shih Tzu and Poodle parent breeds to better understand the designer Doodle breed.  
The Shih Tzu is one of the most ancient breeds in dog history. A dog of royalty, the Shih Tzu has been raised among emperors and kings and has been a favorite companion pet at royal courts around the world. The Shih Tzu has been represented in Chinese culture through paintings and drawings, dating as far back as the 6th century. Also referred to as "lion dogs" in Chinese history, the Shih Tzu dogs are as athletic and agile as they are cuddly and cute. The Shih Tzu is known to excel at canine agility sports and is a most adored companion pet worldwide.  
The Poodle, a dog of many talents, is a member of the world canine aristocracy. Sophisticated, versatile and exceedingly bright, the Poodle has gathered a great number of achievements throughout its breed history. Having originated in Germany as a working dog used in hunting, the Poodle moved on to perform in the travelling circus across Europe. The Poodles impressed with their extraordinary performance and stunning looks wherever they traveled and soon found favor among the aristocrats and nobility of Europe and the United States. Poodles are champions at a wide variety of canine sports, famous cinematic stars, and greatly loved companion pets.
Frequently Asked Questions
What is a Shih Poo? A Shih-Poo is a mixed breed dog that is a cross between the Shih Tzu and a Toy Poodle.
How small are Shih Poo's? Shih Poo's measure between 8 to 18 inches in height and can weigh between 8 to 18 lbs.
What coat colors are available? The coat color of a Shih Poo will vary. They can come in black, brown, white, cream, apricot, gold, red and brindle or a combination of all or some of those colors.
Will I need to regularly groom my Shih Poo? Yes. Daily to a few times per week brushings along with regular scheduled professional grooming appointments every 4 to 6 weeks will keep your little ones coat soft and clean.
Will a Shih Poo make for a good family pet? Shih Poo's are sweet and loving in nature and get along with everyone, but are best suited for older people who are retired or not as active. Because of the Shih Poo's small stature, they can be easily injured by overly excited children. They also really enjoy the company and comfort of older people.
Are Shih Poo's easily trainable? Shih Poo's are very intelligent and eager to please, but they also come with a bit of a stubborn streak. With patience and consistency, they will be trained in no time.
How much exercise will my Shih Poo need? Since they are smaller dogs, they will require less exercise. Daily walks between 20- 30 minutes will be plenty to keep them fit and active. They also love to have indoor play, so make sure to keep lots of safe toys available to them.
What is the life expectancy of a Shih Poo? The average life expectancy of a Shih Poo is between 14 and 17 years.
What is the temperament of a Shih Poo? These spirited little pups are full of love and energy. They are companion dogs, so they thrive in the company of others, but prefer the company of older adults.
Do Shih Poo's bark a lot? Like most small breeds, Shih Poo's tend to bark more than larger breeds, but they are not as yappy as some toy breeds. Training them to control their barking is best when it is corrected at a very young age.
Does the Shih Poo shed a lot? No, they have very minimal shedding. They make for great companions for those that suffer with allergies.
What kind of coat does the Shih Poo have? The coat can vary depending on which parent they take after more. Their coat can be wavy and wiry like the poodle or soft and straight like the Shih Tzu. It may also be a healthy mix of both.
Do they adjust well to their living environment? Yes, they adjust very well. They are just as happy and content in a small apartment as they are in a big home.
Are Shih Poo's anxious dogs? Shih Poo's tend to get anxious when left alone. They need to be around people, so it is best not to leave them for long periods of time. If they become too upset or anxious they can get destructive.
Can I register my Shih Poo with the American Kennel Club (AKC)? No. Unfortunately, the AKC doesn't register cross breeds.