PHOTOS FROM OUR CUSTOMERS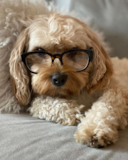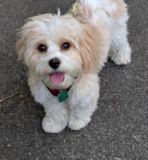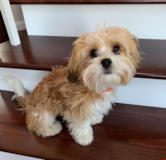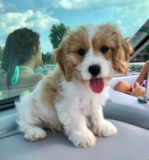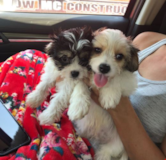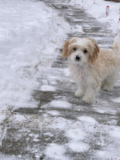 Cavachon Puppies For Sale
Affectionate ~ Friendly ~ Loving ~ Playful ~ Sweet
Cavachon puppies for sale from Premier Pups Cavachon breeders. Apricot Cavachon and Toy Cavachon puppies for sale. Available Cavachon for sale nationwide. Sweet, charming, fluffy, and cuddly with an infectious jolly mood, the Cavachon puppies make one of the best family companion pets. These furry bundles of joy are lively, playful pups that lack aggression, enjoy training, and love being spoiled. Adopt a Cavachon puppy and you'll get a forever friend that will love you to the stars and back again. The cute Cavachon puppies are a new hybrid breed designed for blissful companionship. They are a cross between a purebred Cavalier King Charles Spaniel and a purebred Bichon Frise.
Read more
BREED INFORMATION
CAVACHON
---
Temperament

Affectionate, Friendly, Gentle, Loving, Playful, Sweet

Adult Weight
10-20 lbs
Adult Height
12-13 in
Life Expectancy
10-17 yrs
Rating

5.0

( reviews)
| | |
| --- | --- |
| Maintenance | |
| Training | |
| Shedding | |
| Adaptability | |
| Active | |
About the Breed
Cavachon puppies are a hybrid breed between the Cavalier King Charles Spaniel and Bichon Frise. Originating in the United States in 1996, the Cavachon quickly earned its place on the list of designer dog breeds. This lovable lap dog makes an incredible companion dog and tends to form an extremely close bond with its owner. Because of their strong connection, they don't like to be left alone, so if you're someone who travels or spends a lot of hours at the office this may not be the best fit.
Appearance and Grooming
The Cavachon is a lovely designer breed that enchants with its small size, expressive eyes, and cheerful disposition. Its long to medium-length and silky fur and hypoallergenic coat makes it a perfect pet for anyone suffering from allergies. Their coat can appear wavy or straight with a few different color variations, most commonly white with tan, apricot, red, brown, and sometimes with black markings.
Unlike other designer breeds, their parents' coats will be good guide to your puppy's color. Because of their long fur, they need trimmings once or twice a month depending on the season and the climate. They also need brushing a few times a week to avoid knots and tangles.
Temperament
Following in the paw steps of its parents, this charming little puppy is sure to have a sweet, people-loving temperament. As long as they spend time with their owners, they are certainly going to be happy and easy to please. Their playful and friendly nature allows them to get along well with other animals and children. However, like many small dogs, they can become overly protective as they exhibit "small dog" syndrome. Ensuring proper socialization and training at a young age will surely help to curb this.
Family and Companionship
These little teddy bears make the perfect companion for anyone who is looking for a low-maintenance lap dog. They adapt easily to whatever living conditions they are in and will not mind living in apartments or big family homes. They fit in well with a family or with someone who is single or retired. Because they love human interaction so much, they will not do well if left alone for long periods of time. They are great with children and make excellent family dogs.
Exercise
Though very playful, they are not particularly high-energy dogs and only require moderate exercise. A daily short walk and some active playtime at home will suit them perfectly.
Training and Socialization
The Cavachon's moderate-to-high level of intelligence and obedience helps to make training much simpler. 30-minute training sessions each day are just right for this puppy. In addition, early socialization will help your new pet be calm in the presence of other people and pets and ease its separation anxiety when its owner leaves. These puppies are easy to socialize and potty train.
Frequently Asked Questions
What is the difference between a Cavachon and a Cavapoo? A Cavachon is a cross breed between a Bichon Frise and a Cavalier King Charles Spaniel, whereas the Cavapoo is a cross breed between a Poodle and a Cavalier King Charles Spaniel.
Are Cavachon's hypoallergenic? The Cavachon is not truly hypoallergenic, though they have a coat very similar to their Bichon Frise parent and therefore shedding is minimal to none making them a great option for those who suffer from pet allergies.
How much does the Cavachon weigh? The Cavachon on average weighs between 10 to 14 lbs. at full grown.
How tall is the Cavachon? At full growth the Cavachon measures between 10 to 13 inches.
What is the lifespan of a Cavachon? The average life expectancy of a Cavachon is between 13 to 15 years.
What colors are Cavachon's? This designer hybrid most commonly is born with colors including white with tan, apricot, red, brown and sometimes with black markings.
How much exercise does the Cavachon require? This breed will require a moderate amount of exercise. A daily walk and some active play each day at a combined minimum of 30 minutes will be enough to keep your Cavachon healthy for years to come. They also love to play, so having lots of toys for independent play is important, especially for chewing.
Is the Cavachon a sociable dog? Yes, this breed loves to be the center of attention. They will socialize very well with other people and other dogs if socialization is started at a young age.
What is the temperament of a Cavachon? This breed sure loves its humans, which can make them a bit clingy. They are extremely loving, gentle and devoted pets making for an excellent companion. They are active and playful and are always up for an adventure as long as they are with their owner or family.
Can the Cavachon be left alone? This breed can be left alone, but it wouldn't be suggested to leave them alone for long periods of time as they become very attached to their owners and family. Being left alone for extended periods of time can create separation anxiety and destructive behavior.
What is an F1 Cavachon? An F1 Cavachon is the first-generation crossbreed between the Cavalier King Charles Spaniel and the Bichon Frise.
Are Cavachon's aggressive? Absolutely not, in fact these hybrids are quite the opposite. They take on the gentle and mild manner temperament of their parent breeds.
Does the Cavachon require a lot of grooming? No, these designer dogs are fairly low-maintenance and require less grooming compared to other designer breeds. A brushing a few times per week will help to keep their coat shiny and prevent it from matting and tangling. Professional grooming appointments every 6 to 8 weeks are recommended to keep their coat trimmed as well as their nails clipped and their ears and teeth cleaned.
How much will I need to feed my Cavachon? At full grown your Cavachon will need about 1 cup of high quality dry dog food each day. This should be separated into two separate meals.
Is the Cavachon easy to train? They're easier to train in comparison to other dogs because of their high level of intelligence and curiosity. Consistency, patience and lots of positive reinforcement and praise will have this little one trained in no time.
Cavachon Breeders
Like people, the most critical moments in a puppy's life start in the beginning. It truly takes a special breeder to assist with nourishing and raising a Cavachon puppy properly. Only the nation's highest-rated breeders can provide the best quality of life. Here at Premier Pups, we work only the best Cavachon breeders. Providing a safe, natural, comfortable, and healthy environment for the nursing mother and her baby is essential.
The footage produced in our videos is 100% real. We directly take un-staged, unedited, and only authentic scenes at our breeder locations. We only align ourselves with Cavachon breeders whose standards are much higher than the rest. Here at Premier Pups, we work hand-in-hand with our breeders, spend consistent on-site time, and can undoubtedly say that our puppies come from a caring environment.