Cavachon Breed Information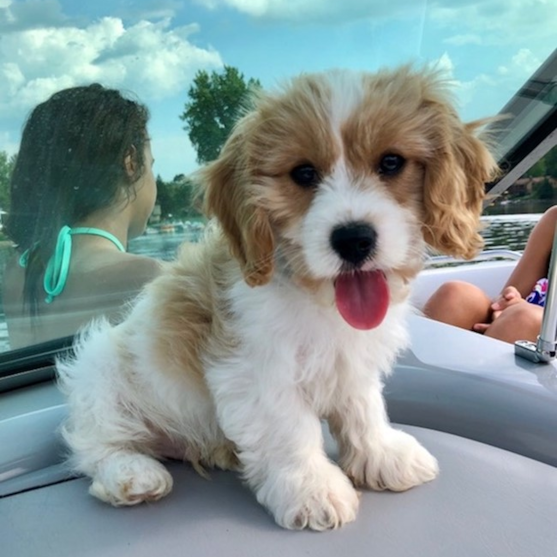 Sweet, charming, fluffy, and cuddly with an infectious jolly mood, the Cavachon puppies make one of the best family companion pets. These furry bundles of joy are lively, playful pups that lack aggression, enjoy training, and love being spoiled. Adopt a Cavachon puppy and you'll get a forever friend that will love you to the stars and back again. The cute Cavachon puppies are a new hybrid breed designed for blissful companionship. They are a cross between a purebred Cavalier King Charles Spaniel and a purebred Bichon Frise. 
BREED TYPE / MIX Hybrid / Cavalier King Charles crossed with a Bichon Frise ENERGY Moderate SHEDDING Minimum TRAINING Responsive TEMPERAMENT Affectionate, Friendly, Gentle, Loving, Playful, Sweet ADULT WEIGHT 10-20 lbs ADULT HEIGHT 12-13 in LIFE SPAN 10-17 yrs
Cavachon Characteristics
Cavachon puppies are a lovely crossbreed of a Bichon Frise and a Cavalier King Charles spaniel
Also known as Cavalier Bichon and Bichon King Charles, the Cavachon is currently the 10th most popular designer puppy in the United States
The Cavachons are loyal and devoted dogs who love their human family above all else
Hypoallergenic Cavachon with low-shedding coat
Accepting, calm, and lovable, the Cavachon has a delightful personality and is fantastic with children. Cavachons love everyone they meet. They're great with cats, dogs, other house pets, and even strangers
Cavachons live longer, healthier lives due to hybrid vigor
Easy to train, easy to groom, and eager to please, the Cavachon puppy is the perfect fit for families with or without children, singles, senior owners, and first-time pet owners
The Cavachons are highly adaptable to both calm and active lifestyles
Always in a cheerful uplifting mood, the Cavachon is an excellent therapy dog
The Cavachon is moderately active, loves to cuddle, and thrives in both small apartments as well as big homes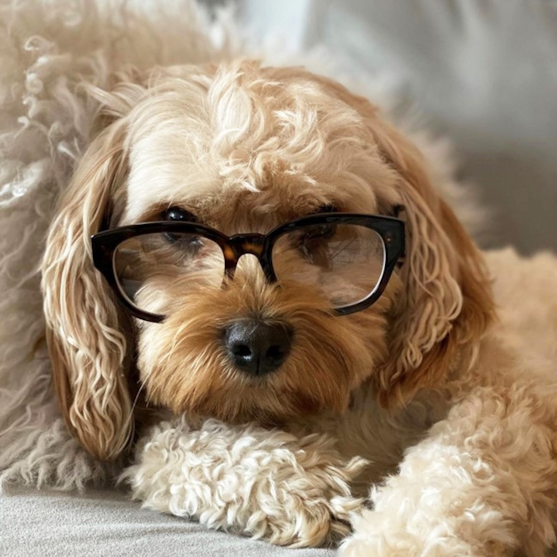 Cavachon Breeders
WATCH VIDEO of our Breeder Care
Like people, the most critical moments in a puppy's life start in the beginning. It truly takes a special breeder to assist with nourishing and raising a Cavachon puppy properly. Only the nation's highest-rated breeders can provide the best quality of life. Here at Premier Pups, we work only the best Cavachon breeders. Providing a safe, natural, comfortable, and healthy environment for the nursing mother and her baby is essential.
The footage produced in our videos is 100% real. We directly take un-staged, unedited, and only authentic scenes at our breeder locations. We only align ourselves with Cavachon breeders whose standards are much higher than the rest. Here at Premier Pups, we work hand-in-hand with our breeders, spend consistent on-site time, and can undoubtedly say that our puppies come from a caring environment.
Cavachon Appearance
The Cavachon dog is a sweet, cuddly-looking fur baby that charms the world with its tiny size, excited tail wags, and cute playful paws. The first thing you'll notice about these beautiful dogs is that they are always happy. They walk, bark, and cuddle happily, all while appearing perfectly content and loving. As these designer puppies are a mix of two dissimilar-looking dogs, you will find that each one is unique. The Cavachon size can present different heights and weights for each adult Cavachon. That being said, a full grown Cavachon will stand at 13 inches or less, while the Cavachon weight will vary between 10 and 20 pounds. The Cavachon puppies will inherit traits and features from both of their parents. Generally, they will appear with a long bushy tail that is worn upwards and curled, a small dark-colored nose, big round eyes, and floppy ears. The Cavachon has a small, compact, and sturdy body covered in a soft medium to long silky coat that can vary from straight to wavy and sometimes curly. The Cavachon is hypoallergenic and low-shedding and can come in a variety of colors and color combinations. Cavachon colors include white; white with tan; black with tan; apricot; red; brown; sable, and sometimes tricolor. Adult Cavachon dogs are famous for retaining their forever-young puppy looks and joyous personalities well into their teen years.  
The most popular Cavachon puppies are the blenheim Cavachon, the apricot Cavachon, the tri color Cavachon, and the black and white Cavachon. There are also different size variations of the Cavachon breed like the Teacup and Toy Cavachon.  
Cavachon Temperament
The Cavachon is a lively, happy, and spunky little dog that shares the same love for the outdoors as its parents do. This happy dog enjoys games and activities like swimming, hiking, going on camping trips, and fetching. Social, joyful, fun, and a wonderful travel companion, the Cavachon is always excited to discover new places, meet new people, and make new friends.  
Cavachon puppies are bright, curious, and eager to please their owner. They are known to excel at learning and will find training to be a very fun activity. Cavachon dogs are known to be very loving, loyal, and devoted. They thrive on attention and have unconditional love for their human family. Their temperament is calm and they display affectionate gestures towards everyone they meet. Because their nature is docile, the Cavachon puppies make great additions to a family with small kids. These puppies are mild and sweet, often growing up to be naturally well-behaved adult dogs, especially around children.
Although Cavachons crave attention and are known to often become their owner's second shadow, they are not overly dependent and are more than capable of keeping themselves occupied with a chew toy when there is no one around. 
Cavachon Reviews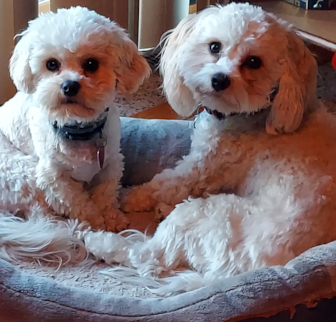 Kody & Kash
Cavachon Puppy
in North Smithfield RI
Claire & Bob Pelletier
4/21/2021
Kody flew home to us March 2, 2020 and Kash April 15 2019. They have been nothing but a joy to have. Premier Pup is wonderful. Everything they said would take place did right down to the last 1 min on their flight. I would recommend this site to anyone. We never thought that we would end up having 2 dogs. They get along very well. It's fun to watch them play and chase each other around. I would highly recommend Premier pup.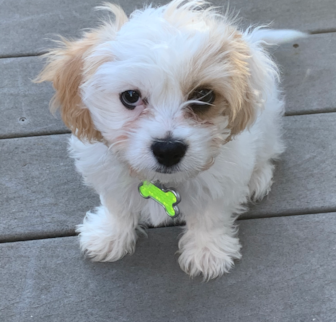 June
Cavachon Puppy
in Denver, Colorado
Baby June joined our family a little over a month ago and we couldn't be happier. After much research about small breed dogs, I came across Premier Pups in an internet search. The website was incredibly easy to use and we found several puppies we immediately became interested in. We decided on the Cavachon breed and my daughter selected June, (we kept the name the breeder gave her.). The customer care of the Premier staff is excellent. They answered all my questions and sent 2 videos of June once she arrived on their sight. They were wonderful about flying our puppy out when it wasn't too hot and walked us through our first week with our little one. Our family has fallen in love with our very sweet, spunky, and funny June. I would recommend Premier to anyone. I'm very grateful to have found Premier Pups.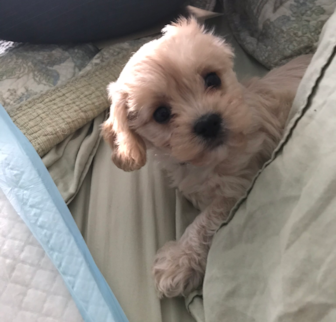 Griffin (originally Chuck)
Cavachon Puppy
in Vero Beach, Florida
Lilly Di Giacomo
4/1/2020
What a pleasure it is to work with Premier Pups! From choosing your pup to delivery, and all the support beyond, they are exceptional. Whether you've been a dog owner all your life or are new to the experience, Premier Pups takes the stress and worry out of bringing your new pup into your fold. I live in Florida and on the day of Griffins flight it was rather warm here. Laws prevent pups from being delivered in excessive temperatures so his flight was changed several times on his arrival date. Premier was amazing in keeping us informed and worry free. They were available by phone well into the night, connecting with us by phone at 1 a.m. after his long day of travel. Our pup arrived happy and healthy, and we knew we had a concerned and caring partner in Premier. Rest assured that Premier Pups has their puppies best interest at heart and know exactly what they're doing. Thanks so much Lacey and all the staff at Premier!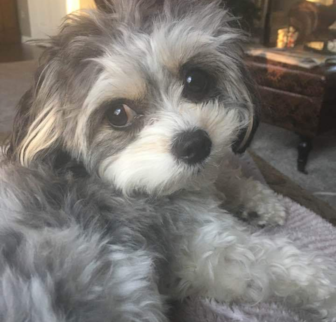 Bailey
Cavachon Puppy
in michigan
Great experience purchasing our pup Bailey - She has been an amazing addition to our family. I would highly recommend getting a dog from them abd in dact did as my neighbor ended uo getting one a year later. Both dogs are anazing!

Bambino "Marley"
Cavachon Puppy
in Tampa, Fl
I love my baby! He was bought as Bambino and now Marley!!!!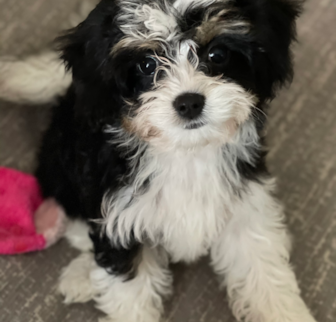 Kate @ Princess Grace
Cavachon Puppy
in McKinney, Texas
Right after Christmas I went on your website looking for the dog I've always wanted. I normally rescue and have loved all my animals with all my heart but I knew it was time to get one I could carry with me on my journeys. ?? Princess Grace has captured everyone's heart that has met her. I had someone yesterday tell me she was the cutest dog they'd ever seen. I think she is! She is my bundle of joy! Thank you to Premier Pups for making my dream come true! You have answered every phone call and guided me through my first 4 weeks with her. Tmrw will be her 12 week birthday.??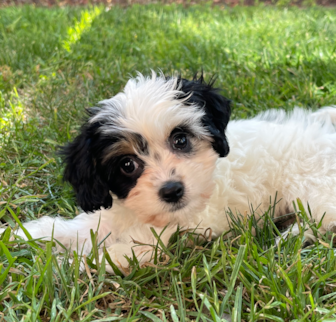 Kya (Carly)
Cavachon Puppy
in San Jose, California
Michael Wunderlich
5/10/2021
Awesome service all around. I really am pleased with the service from the initial phone call with the team walking through the process, the constant emails on updates, even text messages about checking my email and if I still need to submit anything. I had good support from the moment I ordered through the flight and even after my pup arrived home with me. Kya (originally Carly) is the sweetest little puppy. She instantly warmed up to my family and has already made this place her home. Her happiness is an extension of our own. I can't wait for her to grow with us and watch her have a happy life with us. I will definitely refer premier pups to everyone in the future I was that pleased with my experience. Thank you!!!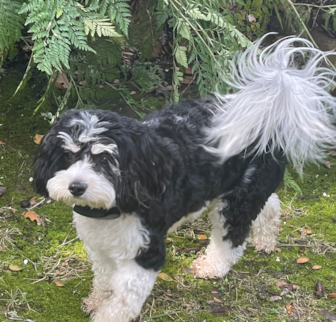 Abby aka Miranda the Cavachon
Cavachon Puppy
in Healdsburg, Ca
Abby, aka Miranda the Cavachon, first came to us at 2 months old and weighed 3lbs and 10 oz. Now she is one year old and weighs 16 lbs. She was potty trained through the night as soon as she arrived and was filled with sweet puppy energy. We are so glad to have her puppy snuggles in our family and highly recommend Premier Pups. Their staff helped us every step of the way to finding a puppy that has melted our hearts.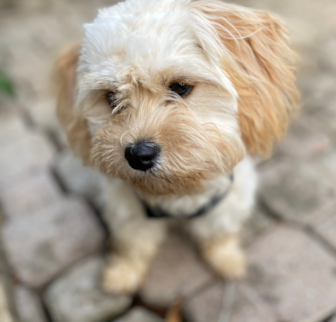 Bam!
Cavachon Puppy
in Westerville, Ohio
Bam! (Bambino) has been an excellent addition to our family. He is great with the kids, very smart and lovable. He was born December of 2019 and would love to hear how his siblings are doing (all original names began with 'B'. We actually visited the facility before bringing him home. It is gorgeous, clean and staff are wonderful. Rest assured, these puppies are taken good care of. I highly recommend Premier Pups!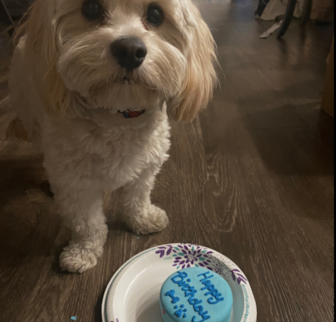 Bailey
Cavachon Puppy
in Sacramento, CA
Madelyn Lister
12/19/2020
Since my boy just turned 1, I figured it was time to write a review. There are no words to say how thankful I am that I found premier pups and get my first fur baby! Bailey, previously known as Barkley, was 100% CLEARLY taken care of from the minute he was born till he arrived at the airport for me to pick him up. The whole processes was very straight forward from the beginning with Premier Pups there to answer any questions after. Premier pups stayed in contact with us for a few weeks after his arrival insuring we had no other questions and making sure Baileys transition was going well. Since we've gotten him, we've recommended Premier Pups to everyone, and we get stopped by a lot of people because of how cute he is! If you're questioning still on whether to go with premier pups or not, I can ensure you you've found the best! When the time is right for me to get Bailey a friend, I will definitely be going through them again.
Cavachon Insights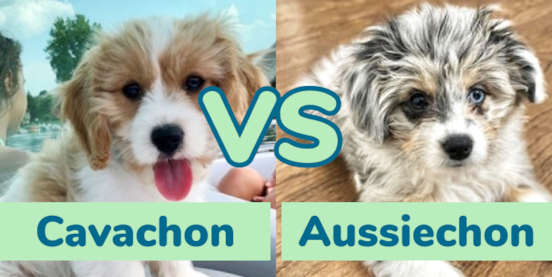 Cavachon vs Aussiechon Comparison
The Cavachon and Aussiechon are two well-loved breeds that stand out with their delightful personalities, keen intelligence, and happy-go-lucky attitude. Apart from their wonderful nature and stunning unique looks, the Cavachon and Aussiechon are also easy to train, fond of games and snuggles, and highly affectionate. Choosing between these two fur-babies can be a true challenge as they are both remarkable companion pets that love deeply and look as if they are made of magic. Read on to learn...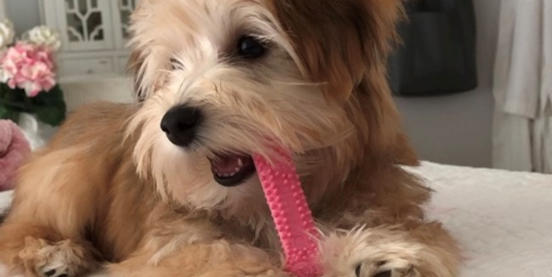 A designer dog is a cross between two different purebred dogs. This means that a designer puppy is a mixed breed and has parents from two separate breeds.
By crossing two highly popular breeds that have the most desirable personality traits, a new and improved breed is achieved. The designer puppy inherits a combination of wonderful traits from both parent breeds and a fashionable look. Designer puppies also develop hybrid vigor,...
Cavachon Care
Cavachon Grooming Requirements  
Cavachons shed very little and are low maintenance when it comes to grooming. Brushing their coats twice a week and bathing them once a month is enough to keep their coats from matting or becoming tangled. Their ears, however, need regular cleaning, preferably once a week, and their nails trimmed every other month. Brushing your Cavachon's teeth regularly will also help them avoid dental issues.
Cavachon Exercise Needs  
Cavachons are not overly active dogs. They enjoy canine games like hide and seek, chase, fetch, and frisbee, as much as they enjoy napping and lazing around on a relaxed day. One or two brisk walks a day along with some play time at home are recommended to keep the Cavachon happy and in great shape.  
Cavachon Health
The Cavachon breed is generally much healthier than the breeds that make up the Cavachon mix. Although these dogs can develop certain health issues that are common with their parents, their hybrid vigor protects them from developing serious disease. That being said, common Cavachon health issues may include allergies, dental problems, eye conditions, and patellar luxation that is common is small dogs.  
Cavachon Lifespan
The Cavachon dog breed has a lifespan of 10 to 15 years. Although the Cavachon life expectancy is generally 15 years for most dogs, there are some dogs that exceed this limit with flying colors. Some Cavachon dogs live up to be more than 17 years old. To ensure that your little fur-baby lives a long and happy life, always make sure you provide plenty of love, good quality dog food, enough exercise, and regular vet checks.  
Cavachon Training  
Cavachon puppies are easy to train. They like learning new things and enjoy the attention they get when they show off newly learned tricks. Combining play time with training offers the best results when training a Cavachon puppy. They respond well to reward based training and positive reinforcement. It helps to have their favorite treats and toys on hand while training them and use gentle approaches.
Cavachons are highly affectionate, family attached dogs. Because of this, they can sometimes be prone to feelings of anxiety and loneliness when they are left alone for too long. This is best dealt with during puppyhood to avoid any destructive behavior in the future. Leaving the Cavachon puppies alone at home for a few minutes at a time is the best way to ensure they don't develop separation anxiety or any of the destructive behaviors that come with it. 
Cavachon History
One of the most popular designer hybrid breeds today, the Cavachon, who is also known as "the Cavalier Bichon" or "the Bichon King Charles", is a cross between a purebred Cavalier King Charles Spaniel and a purebred Bichon Frise. The sweet, lovable Cavachon puppies were first introduced to the world during the 1990's in North America. By crossing a Cavalier King Charles Spaniel with a Bichon Frise, Cavachon breeders aimed to create a healthier, affectionate, and joyful pup that would inherit the hypoallergenic coat of the Bichon and the brilliant mind and happy demeanor of the Cavalier.  
Although the Cavachon dog breed is fairly new and without much history to it, we can take a look back at the history of the Cavalier King Charles Spaniel and the Bichon Frise parent breeds to better understand the designer hybrid breed.  
The Cavalier King Charles Spaniel also referred to as "the Spaniel Gentle" or "the Comforter", is an elegant and graceful dog with a sweet personality and a brilliant mind. A centuries old breed, the Cavalier King Charles Spaniel is considered to be part of the canine world aristocracy. Their gentle and loving personality, sharp intelligence, and happy demeanor have earned the Cavalier King Charles Spaniels a place in the hearts of royals throughout history.  
The Bichon Frise also referred to as "Bichon Tenerife", is an adorable looking, clever and merry dog with a big heart that originated in Tenerife during the 14th century. Their toy like appearance, joyful attitude, and cuddly nature have won the Bichon Frise the favor of the French and Spanish nobility. Greatly loved at royal courts around the world, the Bichon Frise has often appeared in famous paintings alongside members of royal families. A natural born entertainer, a cuddly lap dog, and a loyal and loving companion pet, the Bichon Frise is and always has been one of the most loved dog breeds in the world.  
The Cavalier King Charles spaniel and the Bichon Frise were selected for the Cavachon mix due to their gentle nature and well-balanced temperament. The Cavalier King Charles spaniel breed is also the parent to Cavapoo, Cavapom, and Cava-tzu puppies. The Bichon Frise breed also has a few crossbreed puppies of its own like the Aussiechon, Poochon, Pomachon, Yorkie Chon, and Zuchon puppies. 
Frequently Asked Questions
What is the difference between a Cavachon and a Cavapoo? A Cavachon is a cross breed between a Bichon Frise and a Cavalier King Charles Spaniel, whereas the Cavapoo is a cross breed between a Poodle and a Cavalier King Charles Spaniel.
Are Cavachon's hypoallergenic? The Cavachon is not truly hypoallergenic, though they have a coat very similar to their Bichon Frise parent and therefore shedding is minimal to none making them a great option for those who suffer from pet allergies.
How much does the Cavachon weigh? The Cavachon on average weighs between 10 to 14 lbs. at full grown.
How tall is the Cavachon? At full growth the Cavachon measures between 10 to 13 inches.
What is the lifespan of a Cavachon? The average life expectancy of a Cavachon is between 13 to 15 years.
What colors are Cavachon's? This designer hybrid most commonly is born with colors including white with tan, apricot, red, brown and sometimes with black markings.
How much exercise does the Cavachon require? This breed will require a moderate amount of exercise. A daily walk and some active play each day at a combined minimum of 30 minutes will be enough to keep your Cavachon healthy for years to come. They also love to play, so having lots of toys for independent play is important, especially for chewing.
Is the Cavachon a sociable dog? Yes, this breed loves to be the center of attention. They will socialize very well with other people and other dogs if socialization is started at a young age.
What is the temperament of a Cavachon? This breed sure loves its humans, which can make them a bit clingy. They are extremely loving, gentle and devoted pets making for an excellent companion. They are active and playful and are always up for an adventure as long as they are with their owner or family.
Can the Cavachon be left alone? This breed can be left alone, but it wouldn't be suggested to leave them alone for long periods of time as they become very attached to their owners and family. Being left alone for extended periods of time can create separation anxiety and destructive behavior.
What is an F1 Cavachon? An F1 Cavachon is the first-generation crossbreed between the Cavalier King Charles Spaniel and the Bichon Frise.
Are Cavachon's aggressive? Absolutely not, in fact these hybrids are quite the opposite. They take on the gentle and mild manner temperament of their parent breeds.
Does the Cavachon require a lot of grooming? No, these designer dogs are fairly low-maintenance and require less grooming compared to other designer breeds. A brushing a few times per week will help to keep their coat shiny and prevent it from matting and tangling. Professional grooming appointments every 6 to 8 weeks are recommended to keep their coat trimmed as well as their nails clipped and their ears and teeth cleaned.
How much will I need to feed my Cavachon? At full grown your Cavachon will need about 1 cup of high quality dry dog food each day. This should be separated into two separate meals.
Is the Cavachon easy to train? They're easier to train in comparison to other dogs because of their high level of intelligence and curiosity. Consistency, patience and lots of positive reinforcement and praise will have this little one trained in no time.