Mini Bernedoodle Breed Information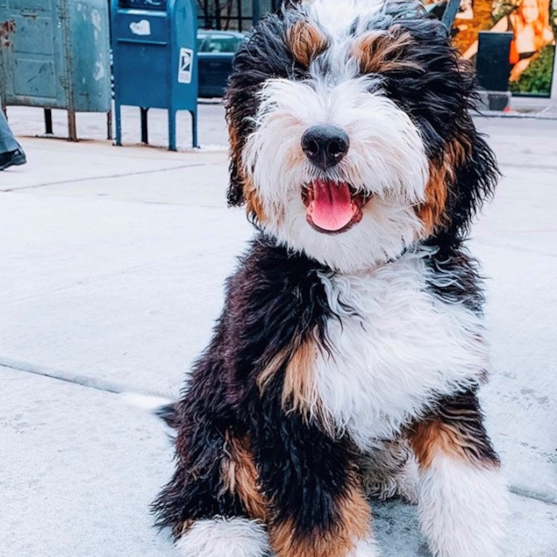 Highly intelligent, well-mannered, out-going, friendly, happy, and cuddly, the Mini Bernedoodle puppies are excellent companion pets for both active and laid-back families.  Small to medium in size, adorable, with sweet oval shaped eyes, a black nose, cute floppy ears, and a puffy tail, with an average height between 13 to 22 inches and an average weight between 30 to 50 pounds, and a fluffy coat, the Mini Bernedoodle is as stunning as they come.  The Mini Bernedoodle, also referred to as the Mini Bernese Poodle, the Mini Bernadoodle or the Mini Berniedoodle, a fairly new and popular doodle breed, is generally a cross between a Bernese Mountain Dog and a Miniature Poodle.  
BREED TYPE / MIX Doodle Hybrid / Poodle crossed with a Bernese Mountain Dog ENERGY Moderate SHEDDING Minimum TRAINING Responsive TEMPERAMENT Playful, Friendly, Intelligent, Affectionate, Gentle ADULT WEIGHT F1: 30-50 lbsF1B: 20-30 lbs ADULT HEIGHT 13-22 in LIFE SPAN 12-15 yrs
Mini Bernedoodle Characteristics
Mini Bernedoodles live longer healthier lives due to hybrid vigor
Non-aggressive, well-mannered, friendly, and gentle, the Miniature Bernedoodles are great with children of all ages, dogs, cats, other household pets, and even strangers
The Mini Bernedoodle (Mini Bernese Poodles, Mini Berniedoodle or Mini Bernadoodle) is confortable in both hot and cold climates
Highly intelligent, receptive, and easy to communicate with, the Mini Bernedoodle is very easy to train  
The Mini Bernedoodles are kind, cheerful, and caring dogs - they make excellent therapy dogs
Highly adaptable, the Mini Bernedoodles adapt easily to both small apartments and large houses as well as to both active and calm lifestyles
The Mini Bernedoodles have low shedding coats and are considered to be hypoallergenic dogs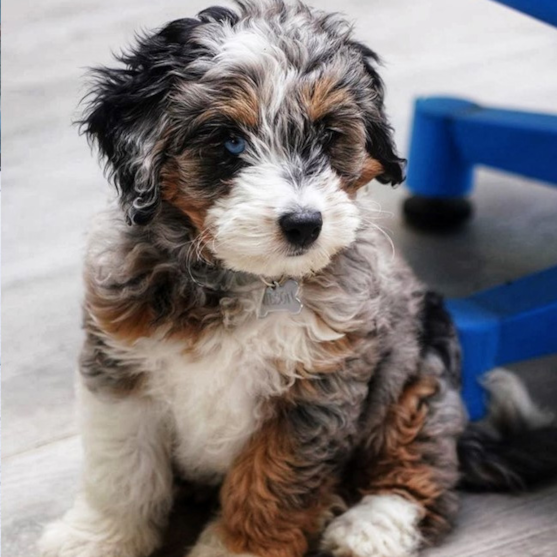 Mini Bernedoodle Breeders
WATCH VIDEO of our Breeder Care
At Premier Pups, we only align ourselves with Mini Bernedoodle breeders whose standards are much higher than the rest. Like people, the most critical moments in a puppy's life start in the beginning. Providing a safe, natural, comfortable, and healthy environment for the nursing mother and her baby is essential. We spend consistent on-site time with our selected breeders and can undoubtedly say that our puppies come from a caring environment. It truly takes a special breeder to assist with nourishing and raising a Miniature Bernedoodle puppy properly. Only the nation's best Mini Bernedoodle breeders can provide the best quality of life. Here at Premier Pups, we work hand-in-hand with our breeders. The footage produced in our videos is 100% real. We directly take un-staged, unedited, and only authentic scenes at our breeder locations.
Mini Bernedoodle Appearance
The Mini Bernedoodle (Mini Bernadoodle, Mini Berniedoodle or Mini Bernese Poodle) is small to medium in size, with an average weight between 30 to 50 pounds for an F1 Mini Bernedoodle, between 20 to 30 pounds for an F1B Mini Bernedoodle, and between 25 to 35 pounds for an F2 Mini Bernedoodle, and an average height between 12 to 22 inches. The beautiful Mini Bernedoodle has a sturdy-built body, a sweet face, expressive oval shaped eyes, cute floppy ears, a black nose, and a puffy tail.  The Mini Bernedoodle coat is semi to fully hypoallergenic with minimal to no shedding. Their coats can vary from straight to wavy or curly (depending on which side of the family the Mini Bernedoodle takes after – the Bernese Mountain Dog parent breed or the Miniature Poodle parent breed), and comes in various color combinations of black, white, and brown.  









Mini Bernedoodle Temperament
The Mini Bernedoodle is an easy-going, well-mannered, highly trainable dog with a joyful personality and a big heart. Mini Bernedoodles enjoy walks, hiking, swimming, fetching, running, and any outdoor activities they can do with their family. They make great adventure companions and they love to run and play as much as they love to cuddle. Goofy and fun, active and adventurous, calm, cuddly, and quiet, the Mini Bernedoodle can adapt to any lifestyle.  Sweet, affectionate, loyal, and devoted, the Mini Bernedoodles are known to form life long bonds and love their human family unconditionally. 
Mini Bernedoodle Reviews
Porter
Mini Bernedoodle Puppy
in LA
Christopher Bailes
3/18/2020
The staff with premier pups were very personable and available to answer all of my questions. Porter is my first pup and it was a seamless and great experience!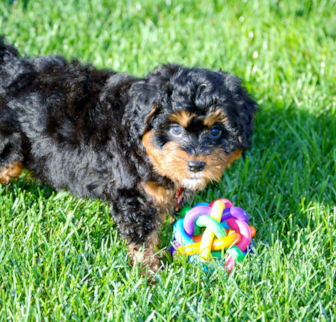 Bernie
Mini Bernedoodle Puppy
in Eagan, MN
I knew I wanted a mini Berne Doodle, with a Google search came his picture from Premier Pups, it was love at first sight. We called to get information and Troy was very helpful in answering all our questions. Immediately we felt comfortable with Premier Pups and a few days later we picked up our Bernie and he is a happy, healthy, friendly puppy. The staff updated us on his care and vaccinations and provided the needed supplies for the trip home. We love our little Bernie and appreciate the attention and service provided by Premier Pups. Rose O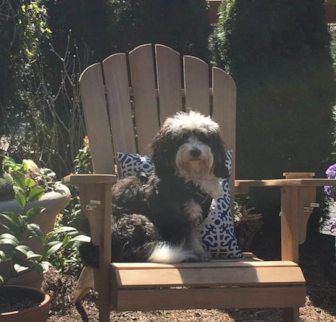 Coco Channel
Mini Bernedoodle Puppy
in Gearhart, Oregon
Coco is such a love and wonderful addition to our family. Loves the beach, making friends, walks, kisses and just hanging out........premier pups are the best! Thank you ??????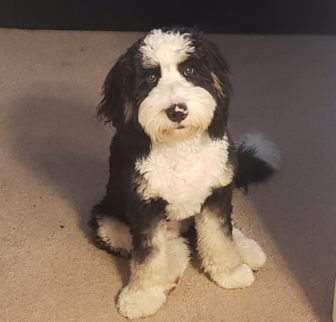 Miles
Mini Bernedoodle Puppy
in Henderson Colorado
Hi, My name is Miles, formally known as Julius. First meeting Miles, it was love at first sight. As soon as I picked him up from the airport, as he came out of his carrier I swear he hugged me as if he knew I was there to love him with all my heart. Miles has been very easy to train. I live in a condo so for him to pick up potty training so easily was a blessing. He knows sit, stay, lay down, leave it, take it and he can shake with whatever paw you point at. Miles is an amazing family dog and loves to play with kids. Socializing him with other dogs was very easy as well. Even as a puppy he is still very lazy and can get rid of energy very quickly. His favorite thing to do is stop at benches and watch the people around him. He doesn't bark at other dogs that bark at him, he just kind of looks at them like they're being dumb. He does have some separation anxiety in the very beginning and still gets upset when I leave. He isn't alone for long, so if you do have a lifestyle that requires you to leave them in a kennel for an extended amount of time, mini bernedoodles might not be a good choice. Premier puppy is definitely the right place to go through. Not only did they send the proper medication he needed for his transition but they also called up to 3 days later making sure that Miles was the right fit. I will always reccomend Premier puppy for your next family member!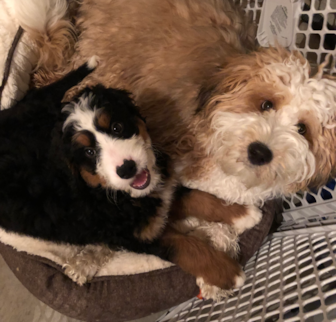 Toby ( formerly Dex)
Mini Bernedoodle Puppy
in Prospect, Kentucky
We picked up our first mini bernedoodle, Cooper, from Premier Pups back in November (dog pictured on the right). He fit perfectly into our family and had an awesome temperament! This was especially evident with our two young children! We noticed quickly he was very playful and social and loved meeting/playing with dogs in our neighborhood. We tossed around the idea of getting him a puppy friend and one day I was browsing Premier Pup's webpage and saw Dex. I knew he was the one! We went and picked him up on May 24th. We named him Toby and couldn't wait to bring him home to meet Cooper! They were instant buddies and it has been so neat to watch them together. We absolutely love our mini bernedoodles and have had TWO very positive experiences at Premier Pups! I'd like to personally thank Andrew for being so personable and helpful at our most recent visit to Premier Pups!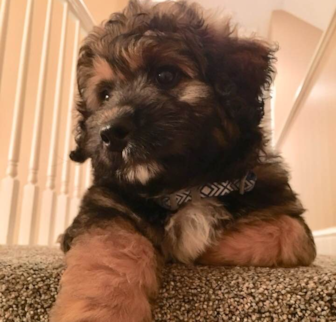 Loki formally known as Benson
Mini Bernedoodle Puppy
in Pittsburgh
Martina and Steve Bauer
8/6/2018
We are very pleased with our new puppy. The vet commented as to how healthy he is. His heart and lungs sound strong. The puppy trainer remarked that he has great hips because of the "Superman" way he lays with his hind legs behind him. He is on his way to becoming an Emotional Support Animal.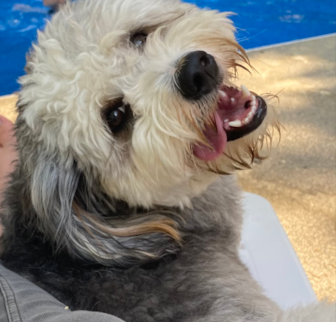 Pippa
Mini Bernedoodle Puppy
in Cortlandt, NY
When we decided to get a dog, I was so hesitant to do so from a website. However, this has been the most incredible dog, and the experience was seamless! We got a mini Bernedoodle for our young family, and she is a dream. She is about 1.5 years and the sweetest girl in the whole world. There is not a single mean bone in her body - which is exactly how I wanted it! I would be too stressed to have a serious "guard dog" in the home that needed to be trained so as to not hurt people. She is smart and super loyal - doesn't like to let me or my husband out of her sight. She is also not too hyper after the first year, which is a exactly why I picked this breed over the Goldendoodle. I highly recommend a mini Bernedoodle, and I highly recommend Premier Pups!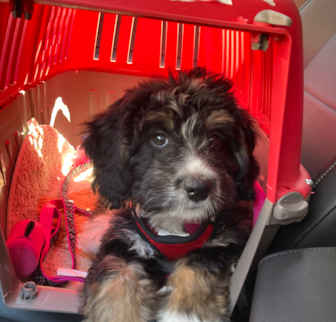 Rosie (formerly Lunetta)
Mini Bernedoodle Puppy
in Gig Harbor, WA
We were nervous to buy a pup online, but our experience was fantastic. Premier Pups answered the phone every time I called both before and after her flight. Rosie contracted a little cough after her flight and PP responded promptly to my concerns and had already sent her all meds needed. When I took her to the vet, she got a clean bill of health and our vet was impressed with the dewormers that were sent. Rosie was obviously well socialized before we got her. She does not frighten easily around my children, slept in her crate from the first night with no problems, goes everywhere with us and is just a super sweet, healthy pup. When we are ready for another dog, we will use Premier Pups again.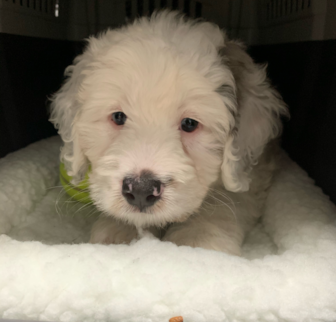 Chance
Mini Bernedoodle Puppy
in Redmond, WA
Courtney Christie
10/8/2020
My fiance and I have been looking for a dog for four months. We stumbled upon the Premier Pups website by accident, and it has changed our lives forever. We found our future family member and within a week had placed the deposit and picked him up from our local airport! We are so amazed how easy the process was and how supportive and helpful the staff at Premier Pups have been. Talk about peace of mind! Our little peanut has adjusted beautifully to our new life together. We cannot say enough amazing things about this program, the support they offer, and the excitement we have felt over the past 5 days!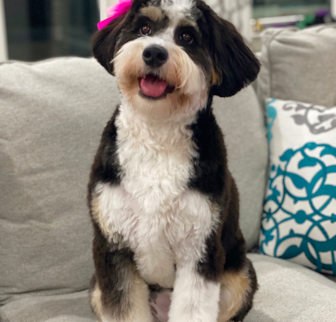 Lilly
Mini Bernedoodle Puppy
in Niceville, FL
Michelle Coughlin
10/10/2020
We purchased our Lilly in March of 2020. She is the absolute best dog ever. It was so easy to potty train her and I am amazed at how smart she is. She is very social and loves to play with other dogs. Lots of energy so she needs lots of walks and playtime. Loves the swim!!! We had a great experience with premier pups and the travel process. We are even looking at getting a second dog in the future.
Mini Bernedoodle Insights

Mini Goldendoodle vs Mini Bernedoodle Comparison
There are so many amazing Doodle Breeds in the world today that choosing between them often seems like an impossible task. If your choice comes down to Mini Goldendoodle vs Mini Bernedoodle, here are a few things to help with the decision.
A puppy's love is a pure thing, and here at Premier Pups, we aim to give our loving puppies the forever homes they deserve. Our specialized team of Puppy Agents is here to help you with the selecting process to make sure your new pup fits...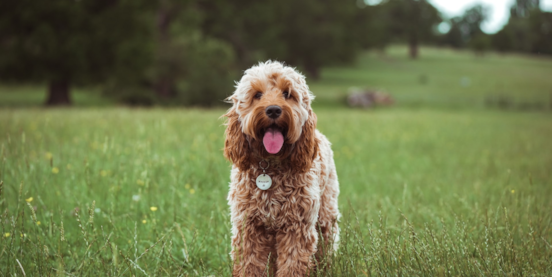 What is the Difference between F1, F1B and F2 Mixed Breed Generations?
Since their first paw-steps into the world, Designer-mixed Breeds have conquered the canine popularity charts with their unique appearance, fantastic personalities, and hypoallergenic qualities. Designer Breeds come in all shapes and sizes, personality types, and temperaments. According to individual preferences and for better control over their size, coat textures and colors, features, and personality traits, Doodle Breeds (like the Cavapoo, Mini Labradoodle, Cockapoo, Mini Goldendoodle, etc.),...
Mini Bernedoodle History
The Mini Bernedoodle (Mini Bernese Poodle, Mini Bernadoodle or Mini Berniedoodle), a cross between a purebred Bernese Mountain Dog and a purebred Miniature Poodle, is a fairly new and highly sought-after designer doodle breed. First bred during 2003 in Ontario, Canada, and with an instant rise in popularity, the Mini Bernedoodle is now classified in three different generations:  A first - generation Mini Bernedoodle (known as an F1 Mini Bernedoodle) is when a puppy has a purebred Bernese Mountain Dog parent and a purebred Mini Poodle parent; A second - generation Mini Bernedoodle (known as F1B Mini Bernedoodle) is when a puppy has an F1 Mini Bernedoodle parent and a purebred Mini Poodle parent;  A third - generation Mini Bernedoodle (known as an F2 Mini Bernedoodle) is when a puppy has two Mini Bernedoodle parents.  Although the Mini Bernedoodles are quite new as a breed and do not have much history, we can take a look back at the history of the Bernese Mountain Dog and the Poodle parent breeds in order to better understand the designer doodle breed.
The gorgeous, hard-working, well-mannered, loving, and loyal Bernese Mountain Dogs have their origins in Switzerland in the Swiss Alps. Intelligent and agile, with great tracking, herding, and guarding skills, the Bernese Mountain Dog is well equipped and loves having a job to do. With the ability to be both a hard-working dog as well as a loving, loyal companion pet, the Bernese Mountain Dog has been well loved and appreciated across the world for centuries. 
The Poodle has been depicted in drawings on artifacts dating as far back as 200 B.C and is believed to be one of the most ancient breeds in the world. Proud, graceful, and elegant, with a sharp intelligence and a loving nature, the Poodle has been a cherished companion of royal families and aristocrats for centuries. Hard-working, highly trainable and ranked as second most intelligent dog breed in the world, the Poodle is and always has been a very popular breed and for good reason. 
Frequently Asked Questions
How big do Miniature Bernadoodle's get? Miniature Bernedoodles measure in between 18-22 inches at the shoulder and are usually between 25 to 50 pounds, but can be as small as 15 pounds and as large as 65 pounds.
What amount of exercise will Miniature Bernedoodle's need? They require a moderate amount of exercise. Two to three daily walks as well as some active play should be plenty to keep this pup busy. They're always up for an adventure and make for great running partners. They also love hikes and swimming!
Are Miniature Bernedoodle's registered? Because they are a mixed breed they are not recognized by the AKC and therefore cannot be registered.
What colors do Miniature Bernedoodle's come in? These beauties come in pure black, black-and-white, black-and-brown or tri-color (black, white and brown).
What is the temperament of the Miniature Bernadoodle? These dogs make for the ultimate companion as they are friendly, playful, affectionate and sociable dogs. They are great choice for a family with children and/or elderly parents as they have a gentle demeanor.
Do Miniature Bernedoodle's make good therapy dogs? Yes! In fact, they make excellent therapy dogs as they are easy to train, very intelligent, extremely gentle and love to work.
What is a Teddy Bear Bernedoodle? A Teddy Bear Bernadoodle is a mix of a Miniature Bernedoodle and an Australian Bernedoodle, they are smaller than the mini and more compact and square.
Does the Miniature Bernedoodle's shed? Miniature Bernedoodle's are very low shedding. The curlier the coat, the less shedding will occur. It is recommended to brush them once or twice a week and have them professionally groomed every 8 to 12 weeks.
Will my Miniature Bernedoodle get along with my other dogs? Dogs just like people have their own personalities, so one can never be 100% certain. In general, however, Bernedoodle's get along great with other dogs no matter the breed. Never leave dogs unsupervised until you are certain they get along.
What type of family's are Miniature Bernedoodle's best suited for? Because of their active nature, Miniature Bernedoodle's are a great fit for families with children or active singles. They are also a great companion for seniors who like to get out for daily walks and exercise.
What is the average life expectancy of a Miniature Bernedoodle? The average life expectancy is between 12-15 years of age, though it is not uncommon for them to live upwards of 17 years.
What type of coat do Miniature Bernedoodle's have? Their coats can vary depending on which parent they take after more. Their coat can be straight to wavy to curly. The curlier the coat, the less shedding will occur.
Should I socialize my new puppy? Socialization is so important for a new puppy. It is recommended that they are socialized in a safe and secure area until your little one has been fully immunized (approximately 16 weeks old).
Can I take my Miniature Bernedoodle hiking and swimming? You sure can! They are excellent swimmers and love to hike and run.
Are Miniature Bernedoodle's recognized by the American Kennel Club (AKC)? The AKC does not recognize mixed breeds therefore, Miniature Bernedoodle's are not recognized by them.