Customer Reviews

NEUMAN
Teddy Bear Puppy
in LAS VEGAS
We couldn't be more happy with our fur baby! He truly is what a healthy puppy should be. Ozzie (formerly known as Neuman) is great with our kids and is loved by everyone. Our experience with Premierpups could not have been any better, they are a Five star company who genuinely cares about all there pups!

Shyann (Adora)
Mini Goldendoodle Puppy
in Bolingbrook
Cheryl Furmaniak
9/24/2021
Shyann's adoption was amazing. Premier Pups were caring and answered any questions. Shyann has two older sisters. Sophie and Skye. Skye is like a Momma to her and shows her the ropes of the house. They have full rein off the home and just a few puppy issues and a talking to helped. She loves snuggling in bed whether with me or Skye and Sophie. She is a mini and still small at 16 weeks. We love ❤️ her and so do the Grandkids. Thank you for your kindness. Cheryl

STEPH
Puppy
in Mesa
I guess what everyone wants to know is about shipping... Shipping went well. There was a minor mishap with her original flight and I was notified IMMEDIATELY. Like 4am in the morning immediately. She was driven from Ohio to Chicago... from Chicago she was flown to Arizona. Her nanny was so sweet! She was about 2lbs (or less) when I got her so I appreciate the extra precautions to make sure she got to me alive. I got calls, texts and emails making sure she was doing well. The emails were most helpful. They were super long and the extremely important information was in bold red. Lol. Long story short, I love her so much.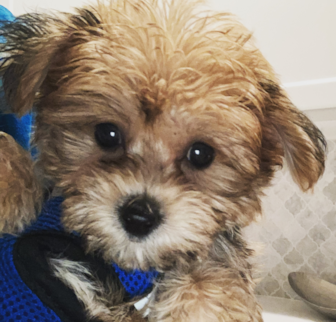 Jackson
Yorkie Chon Puppy
in Plaincity
We purchased our Yorkie Chon in July. We couldn't be happier with our newest family member! Our vet said that Jackson (now named Teddy) was healthy and strong! Premier Pups offered us a wonderful experience! We will be back again one day!

ADAM
Teddy Bear Puppy
in Renton
I was hesitant about buying a puppy online without getting a chance to see the little one first. And then the thought of a plane journey for a puppy was also scary. However premier pups really went out of the way to ensure us that this was perfectly fine. The response to queries at all times of the day have been prompt. Infact I once sent an email at midnight and heard back In 10 minutes. The customer service top notch. They have been following up everyday on him. It's been a great experience so far. We have spoken to Denato, Chelsea, Michelle and Jacob FaceTimed is to see Archie the night before he flew home. Very grateful for this level of service. Especially for new owners like us. The extra reassurance Premier pups provides goes a long way. The only thing I would recommend is getting the peepoopalace before the pup arrives so that training is consistent. Right now he is ruling the house and is nothing short of a King.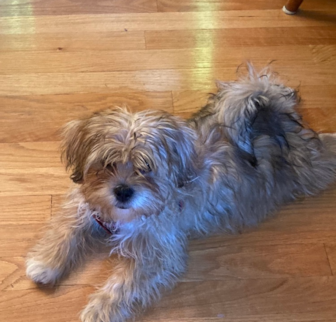 Teddy
Shorkie Puppy
in Troy
Gloria and Dennis Denomme
6/30/2020
Teddy (Almond) was awesome on the 4 hour drive home from Premier pup on May 6,2020. At his first vet check, our vet remarked how health he was! Teddy is 4 months old, and a wild and crazy pup! He is so smart, and he is such a character. He has brought such joy to our family! I would highly recommend premier pup, their customer service is wonderful! Any questions I had prior to purchasing Teddy, and after bringing Him home were answered right away! We purchased the pup pee poo palace, and Teddy loves his crate. He slept thru the night after two weeks. We love our little Teddy, and so happy we found him!! Thank you premier pup.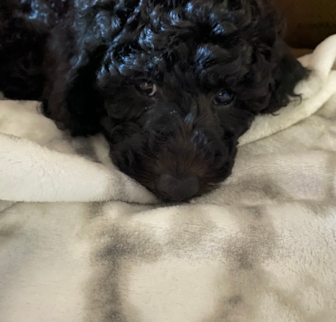 HUGO
Mini Goldendoodle Puppy
in Prunedale
Just picked up my new puppy Blitzen (aka Hugo) yesterday and he's already made a big impression on our family. Everybody loves him. He is the sweetest puppy ever. Very lovable, playful, cuddly, and smart. He loves to run around and play even with the little kids and other pets in the family. But he also loves to take time to cuddle and rest. Thank you so much to Premier Pups for going above and beyond with their customer service to make sure I got Blitzen as soon as possible even with the holiday and covid. He is the perfect little puppy.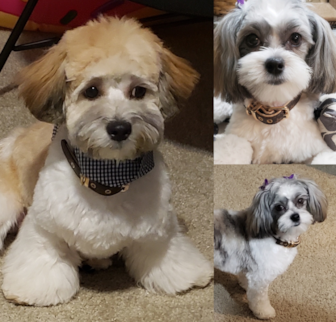 CASSANDRA
Teddy Bear Puppy
in Lawrenceville
I absolutely love Premier Pups! Word of mouth is everything. My brother & sis-law purchased a maltipoo ( they have 3 pups now. All from Premier pups). I kept her for a week while they were on vacation and fell in love. I purchased Bailey ( formally Cassandra) shortly afterward. I had her shipped to me. The experience from the purchasing, to the follow up on her flight departure and arrival, and on the first couple weeks of her adjustment to her new home was exceptional. I was scared, like any new fur baby mom but any questions I had were answered very quickly. The staff is wonderful and extremely helpful. So much so, that 2 months later me, my brother and Sis -law purchased our 2nd pups. This time we made the 8hr journey to the wonderful facility. It was nice and clean. The facility was picturesque. We had a wonderful experience on the pickup too. My furbabies are now 9 months and 7 months and I love them to death. My brother/wife picked up their 3rd fur baby two weeks ago. Even though I was tempted, 2 are enough for me. Plus the puppies get together once a month and they have a ball! THANKS PREMIER PUP FOR YOUR GREAT SERVICE AND QUALITY BREED DOGS!

IVY
Cavapoo Puppy
in Moseley.
My husband and I had lost our ruby Cavalier King Charles Spaniel in June 2018 and were having a tough time moving on. I heard of Premier Pups from a friend and decided to 'just look'. Once we saw Ivy, we knew she was meant for us. The staff were all so helpful and kind through the entire process. They calmed my fears and kept me informed during her flights from Ohio to Virginia. After Ivy joined our family, the staff checked in on us often for weeks just to make sure everything was going smoothly and to answer questions. I can't say enough good things about Premier Pups. And I can't imagine life without our Ivy!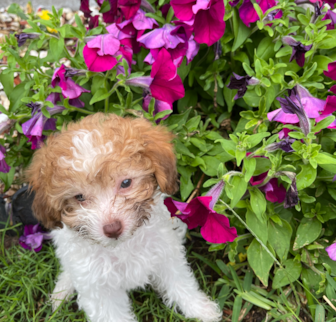 MEADOW
Poodle Puppy
in Metairie
Meadow, now knows as Mocha is absolutely adorable! She was shy at first and now loves to be around everyone and running around everywhere. Premiere pups has been in touch and making sure she's okay at all times. I cannot wait to adopt another fur baby from premier pup!??
Customer Photos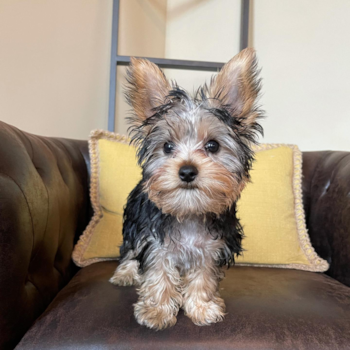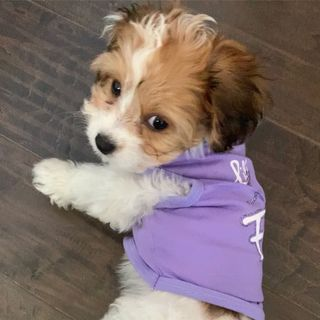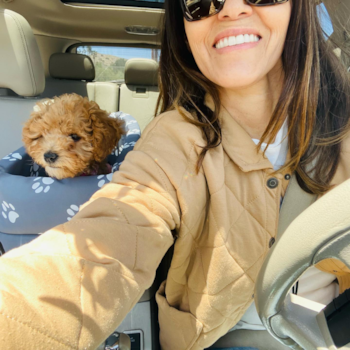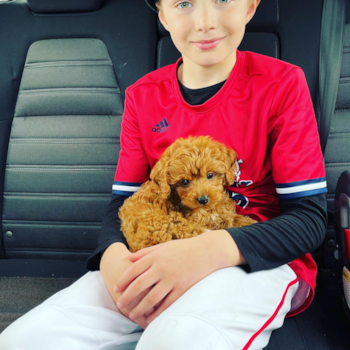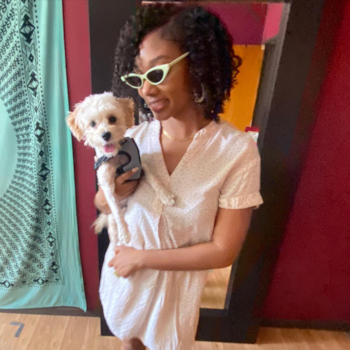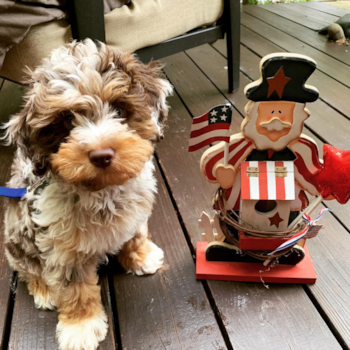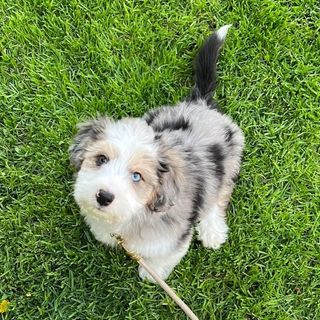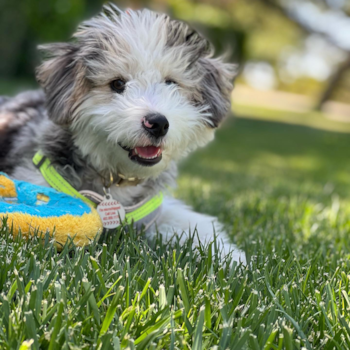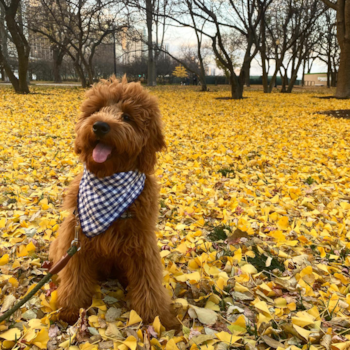 Post photos of your puppy as it grows! Premier Pups and our network of trusted breeders love receiving updated photos of the puppies. Posted pictures will appear in the puppy photo gallery and breed information page for everyone to enjoy.